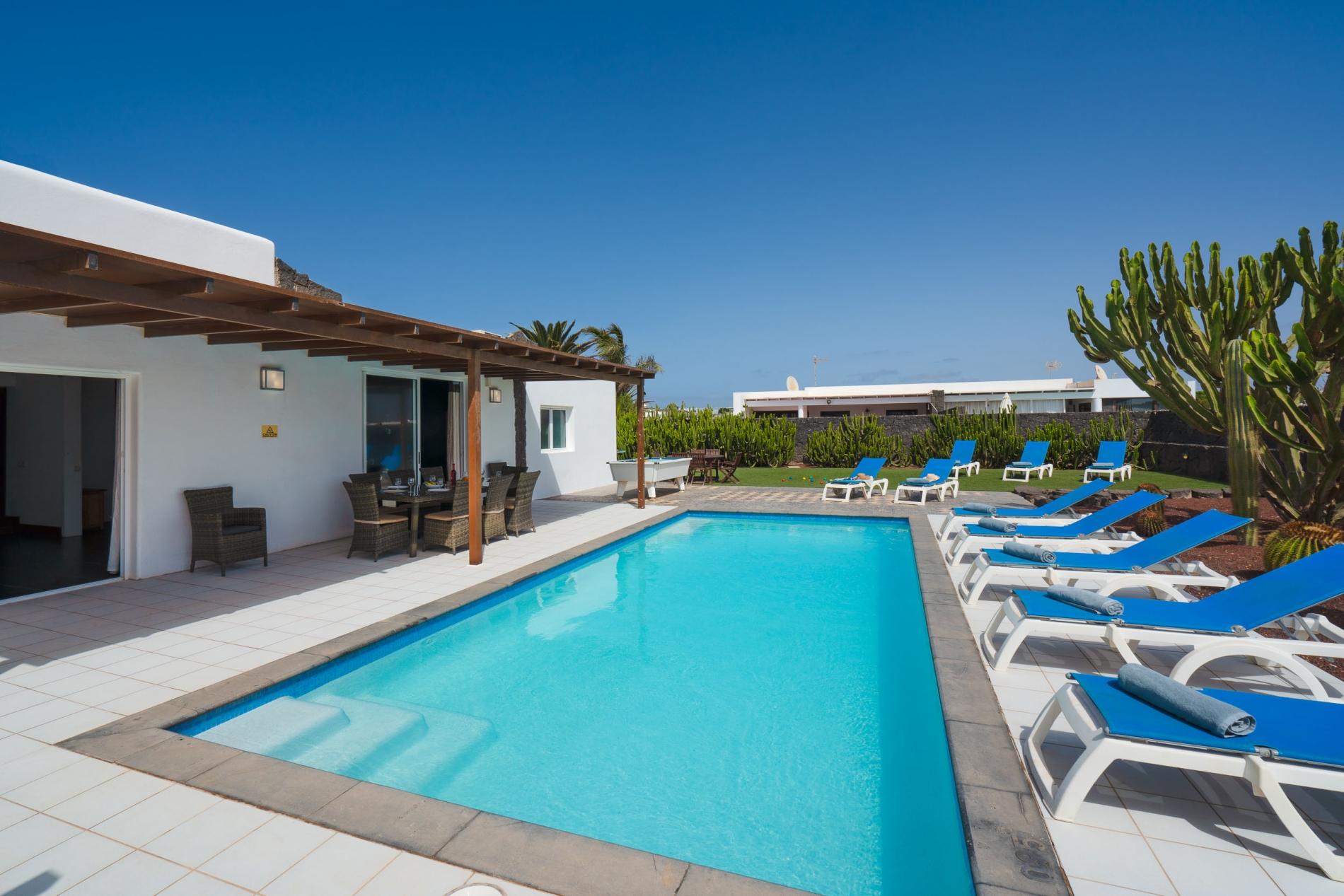 Overview
Sleeping up to 10 in comfort, Villa Princesa Irene is ideal for larger groups or 2 families holidaying together. Conveniently located an equal distance from the centre of Playa Blanca and beautiful Playa Flamingo Beach, you'll find a great range of sights and activities on offer, just walking distance away.
Inside, the villa features modern and stylish decor throughout. The spacious open-plan lounge, dining and kitchen area is ideal for entertaining and benefits from additional light thanks to the sliding glass doors which open out onto the pool terrace.
Sleeping arrangements are split over 5 bedrooms, with 3 doubles and 2 twin rooms, featuring coin-operated air conditioning throughout – guaranteeing a comfortable night's sleep. 2 of the double rooms include ensuite bathrooms, while a third bathroom is shared by the other 3 rooms. Villa Princesa Irene's flexible and accommodating layout makes it ideally suited to both families and groups of friends – with space for everyone to spread out.
Outside, the spacious tiled terrace and cactus garden surround a beautiful private swimming pool. When the sun reaches its peak, the freestanding pergola is ideal for catching some afternoon shade while staying outdoors. And if you're looking for activities, kids and adults alike will love the outdoor pool and table tennis table.
Stepping out of the living room, you'll find a shaded al fresco dining area and a purpose build BBQ adjacent, offering a relaxed outdoor dining space for breakfast, lunch and dinner.
Flat screen TV with some UK channels, spacious seating area, open plan to indoor dining and kitchen

Microwave, oven, hob, fridge/freezer, dishwasher, coffee machine, toaster, kettle

Washing Machine

Double bed, air conditoning, double wardrobes, ensuite bathroom, doors to living room and to pool terrace

Large wetroom with WC and twin washbasin

Double bed, air conditoning, double wardrobes, ensuite bathroom

Shower over bath, WC, bidet and washbasin

Double Bed, double wardrobes, air conditioning, shares family bathroom

Twin Beds, built in wardrobes, air conditioning

Twin Beds, Built in wardrobes, air conditioning

Shower over bath, WC, bidet and washbasin
Additional Information
A 20% deposit is required to secure your booking with the balance payable 30 days before your arrival. Reservations under 30 days from the date of arrival must be paid in full.
We accept card payments and there is no commission for payments on credit card. You will be contacted by email shortly after your reservation regarding payment options.
Prices shown in the price guide are for the villa itself regardless of the number of guests, they are subject to change with individual circumstances – to obtain a total price, please use the calendar to select your arrival and departure dates.
An infant is classed as a child using a cot.
14 December 2019 – 22 December 2019
£245.00
23 December 2019 – 05 January 2020
£245.00
06 January 2020 – 07 February 2020
£185.00
08 February 2020 – 23 February 2020
£245.00
24 February 2020 – 27 March 2020
£185.00
28 March 2020 – 19 April 2020
£340.00
20 April 2020 – 22 May 2020
£185.00
23 May 2020 – 31 May 2020
£245.00
01 June 2020 – 30 June 2020
£175.00
01 July 2020 – 17 July 2020
£235.00
18 July 2020 – 30 August 2020
£415.00
31 August 2020 – 16 October 2020
£235.00
17 October 2020 – 01 November 2020
£330.00
02 November 2020 – 18 December 2020
£185.00
19 December 2020 – 25 December 2020
£425.00
26 December 2020 – 03 January 2021
£425.00
04 January 2021 – 05 February 2021
£185.00
06 February 2021 – 28 February 2021
£245.00
01 March 2021 – 26 March 2021
£185.00
27 March 2021 – 11 April 2021
£340.00
12 April 2021 – 30 April 2021
£185.00
01 May 2021 – 09 May 2021
£245.00
10 May 2021 – 21 May 2021
£185.00
22 May 2021 – 30 May 2021
£245.00
31 May 2021 – 30 June 2021
£175.00
01 July 2021 – 16 July 2021
£235.00
17 July 2021 – 05 September 2021
£415.00
06 September 2021 – 15 October 2021
£235.00
16 October 2021 – 31 October 2021
£330.00
01 November 2021 – 17 December 2021
£195.00
18 December 2021 – 09 January 2022
£425.00