Playa Blanca Restaurant Guide
With an array of amazing restaurants, Playa Blanca is the perfect holiday hotspot for food lovers. But where do you plump for if you are a first time visitor to the resort and don't want to rely on the recommendations of websites such as TripAdvisor?
Consistency is a key issue for many local eateries, as staff can come and go on a regular basis. So we've put together our recommendations of the best local restaurants, in no particular order, who are known for their reliable levels of quality and service. These are restaurants to head for if you're looking for a bit of a treat or to celebrate a special occasion. There are, of course, also plenty of great value fish restaurants and tapas bars dotted around the resort, too. If you've enjoyed a special meal in any of these Playa Blanca restaurants or want to make an additional recommendation, please do let us know.
---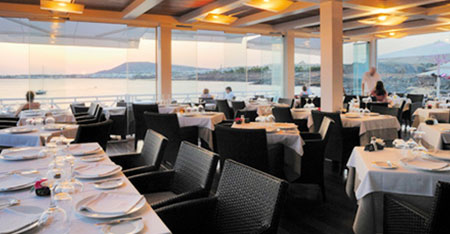 Restaurant El Mirador
Praised for its consistently high levels of presentation and quality cooking, El Mirador is owned by a family from Barcelona with a long and successful track record in the restaurant game. And that shows in every aspect of the dining experience here, from the welcome and the décor through to the quality of the ingredients and the more creative dishes on offer.
Located right on the seafront close to the Marina Rubicon, El Mirador is housed in a modern building that utilises a lot of wood and glass in its design, offering great views for diners as a result. The menu is best described as modern international with plenty of creative twists, and main courses include slightly more unusual items such as cod with ratatouille and apple alioli and grilled duck breast in miso sauce. On average, starters come in at around €8 and mains €15.
Opening hours
Opening daily 12.00 to 22.00
Contact Information
Tel: 0034 928 519427
Web: http://www.elmiradorlanzarote.es/en/
---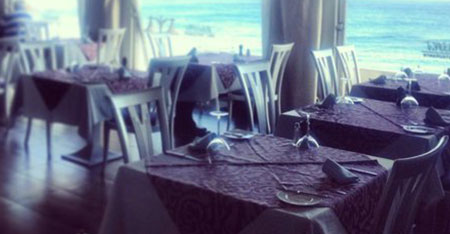 Romantica
Located right on the seafront in the centre of town and boasting great views as a result, Romantica is one of the most impressive restaurants in Playa Blanca and a definite cut above the bulk of the other eateries in this part of the resort. This restaurant is highly popular with tourists – so make sure you book if you want to bag a window seat.
The food is every bit as impressive as the vistas and is best described as fusion cuisine. This includes mains such as solomillo al foié, con reducción de Oporto y Pedro Ximénez, y cebollitas caramelizadas – a prime sirloin steak with foie gras, served with a reduction of port, sherry and caramelised onions.
Opening Hours
Daily 18.00 to 23.00
Contact Information
Tel: 0034 928 517166
---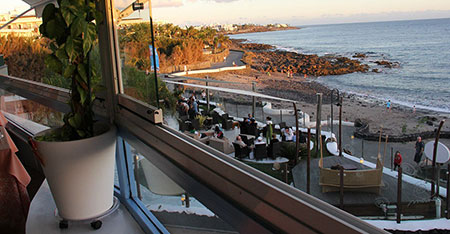 Sebastyan's
This unique, Greek restaurant is located in the La Mulata Commercial Centre close to the Natura Palace hotel and is well worth seeking out should you fancy sampling cuisine from another part of the Med other than Spain.

The menu features all of the typical Greek standards, with starters encompassing dips such as humous and tzatiki as well as other options such as saganaki – or fried greek cheese to you and me!
Whilst the mains range from fish through to more traditional meat based favourites such as lamb kleftiko and beef dolmades.

One of our favourite features here is the extensive wine cellar – offering a range of choice encompassing countries other than just Spain that extends way beyond the usual list available in most local eateries.
Opening Hours
Daily, 12.00-11.00
Contact Information
928 349679
---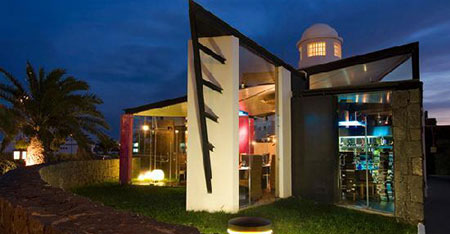 La Cocina de Colacho
Playa Blanca's leading 'designer' restaurant, La Cocina de Colacho makes a big impression from the off thanks to its sleek and modern architecture, created by Angel Garcia Puertas. Thankfully, it's not all style over substance here either, thanks to the guiding hand of head chef Nicholas Machin, the Lanzarote-born figurehead of the restaurant known to most by his nickname Colacho. Having earned his chops in local restaurants, Nicholas now has his own establishment serving a selection of classic dishes using locally-sourced ingredients but with a decidedly contemporary twist. This includes a 5 course tasting menu that changes every week and is available for just €35 per head. Opening hours are limited though, so booking is essential.
Opening Hours
Open Mon and Wed only 18.30 to 23.30
Contact Information
Tel: 0034 928 519691
Web: www.laconicadecolacho.com