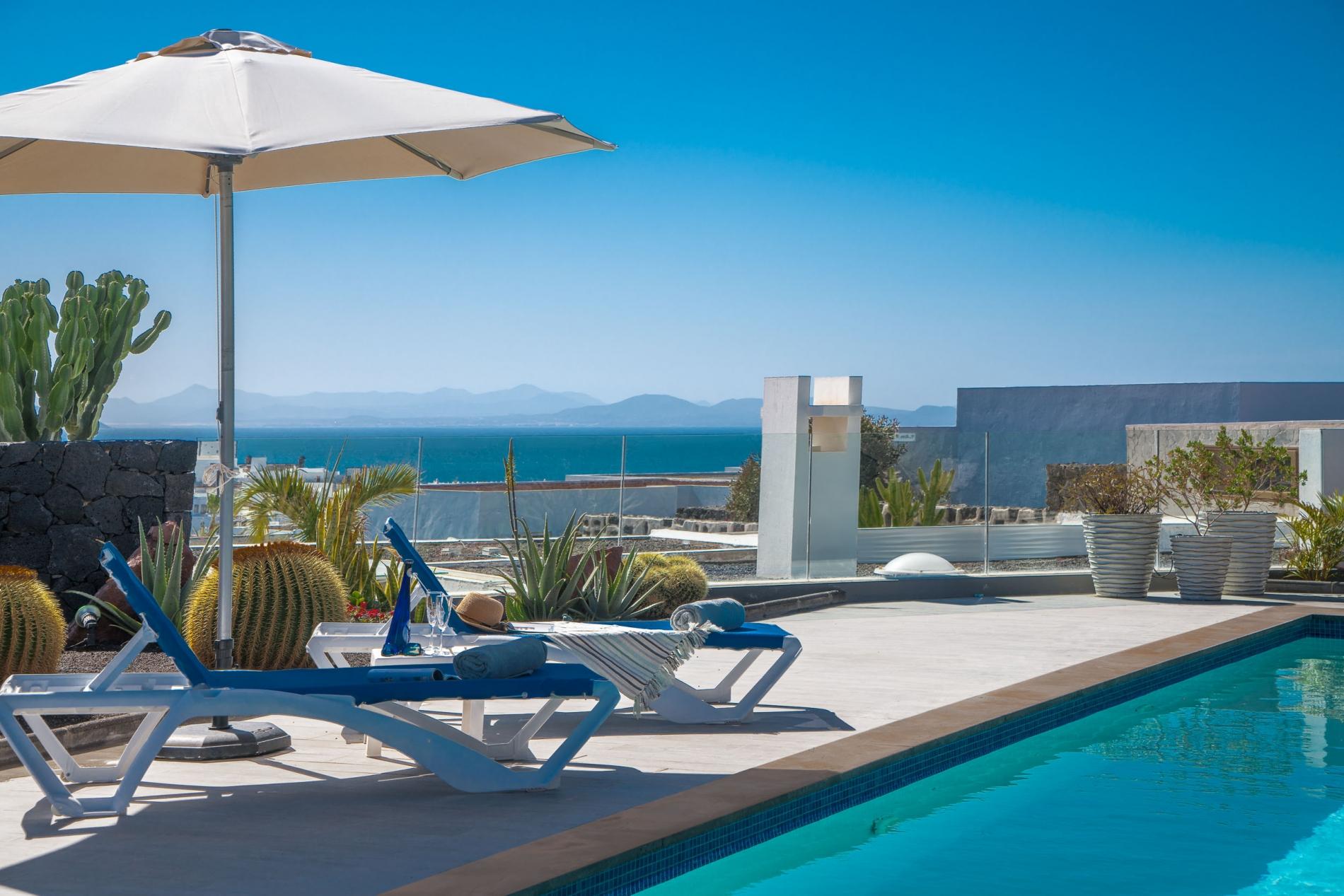 Overview
Situated in the beautiful Las Coloradas neighbourhood in Lanzarote, Playa Blanca's resort centre is just a stone's throw to the west. With the stunning beaches of Papagayo – as well as the bars and restaurants of the El Pueblo complex walking distance away – you'll find everything you need and more within easy reach of Villa Paloma.
The villa benefits from an elevated position, with a vast terrace and swimming pool offering plenty of privacy as well as spectacular sea views and panoramas over Playa Blanca, Lanzarote. Split over two levels, the terrace is where you'll spend most of your time at Villa Paloma. It's outdoor living at its finest! On the upper terrace, the covered al fresco dining area, outdoor furniture and purpose built BBQ are great for entertaining and meals with a view. Head down to the lower terrace and you'll find a 13 metre swimming pool and an extensive sunbathing area – separated by a gate for peace of mind.
When you do decide to head indoors, the light, airy and spacious rooms feature contemporary decor throughout. Recently refurbished, Villa Paloma offers air conditioning in both the living room and bedrooms – guaranteeing a comfortable night's sleep on warm and humid days. And while we don't expect you'll tire of the pool and panoramic views, if you fancy some time in the shade, a well-equipped games room can be found just off the lower terrace, kitted out with both ping-pong and pool tables.
Sleeping up to 6 across 2 doubles and 1 twin bedroom, there's room for the whole family to spread out, and with 3 bathrooms, you're sure to have a comfortable stay on your next break at Villa Paloma, Lanzarote.
Microwave, oven, hob, dishwasher, fridge/freezer, washing machine

Flat screen TV with some English Channels, air-conditioning, DVD player, open access to dining area, doors to pool terrace

King size bed, double wardrobes, air-conditioning, doors to pool terrace, ensuite bathroom

Twin beds, double wardrobes, air-conditioning, doors to pool terrace, ensuite bathroom

Double bed, double wardrobes, air-conditioning, doors to pool terrace, ensuite bathroom

Bath and shower over, separate walk in shower, WC and twin washbasin, views from picture window (you can block this with an opaque blind!)

Walk in Shower, WC and single washbasin

Shower cubicle, WC and single washbasin.
Wonderful week

Malcolm & Ruth, March 2019

We had a wonderful week at Villa Paloma. We have stayed in the area before, but this villa was definitely the best one we have seen so far. The large, heated pool was great, as was the surrounding deck area. The outside area is quite private. The plentiful outdoor furniture was in good condition. Inside, there was good attention to detail and the furniture and beds were comfy, and there were extra towels. Everything was of high quality and the kitchen was well-stocked equipment-wise – there were even sharp knives! The villa was clean and overall well-maintained. Optima's service was very good and when we had a problem, they were quick to help us. We accidentally locked ourselves out on the pool deck – one of the sliding door handles was loose and did not stay in the unlocked position when we shut it. I called Optima and they were there within 15 min. A minor suggestion for the kitchen is to add some pot holders. We would definitely stay at Villa Paloma again. We love the area and the experience we had was great.
Excellent service

Margaret, Brian and Catherine, March 2019

Excellent service from Optima for the 2nd time. The villa was lovely, everything you need for a great holiday. The views were wonderful and the terrace and pool area are so private and very quiet. Ideal for a relaxing break. We cannot thank Optima enough for their help with our request which was sorted and greatly appreciated, nothing seems to be too much trouble for them. We will be booking again hopefully.
Wonderful villa

Posted to Airbnb, March 2019

Wonderful villa with a very large heated pool, good location, you couldn't ask for more.
Stunning sea views

Wendy, August 2018

Our 2nd time booking with Optima Villas and again service both in UK and in resort 2nd to none. Villa was fabulous with stunning sea views. Great outside space and sun all day. Supermarket and good restaurants all within walking distance so no need for a car.
Extremely impressed

Raymond, August 2018

We had a fantastic time at Villa Paloma. Would definitely recommend the villa and would not hesitate to stay there again. The rooms were beautiful, the outside areas were safe and very clean/well looked after, and the place had everything we hoped for. The pool was amazing and was a perfect temperature. The views from the terraces were fantastic. The area itself was very quiet which was perfect for us. All in all, we were extremely impressed with the villa and with Optima and will definitely be considering Optima for Booking our next holiday.
The villa was outstanding

Noel John, July 2018

Our stay was fantastic thanks. The villa was outstanding. It catered for all our needs and more. Service from you and the team first class. We will definitely be back.
The most amazing holiday

Dawn, March 2018

We have just returned home from Villa Paloma and had the most amazing holiday. Perfect location, well appointed villa and great service from Optima Villas. From quote to booking then onto arriving at the villa the service has been friendly, informative and professional. More than happy to recommend. Thank you.
Have had a lovely holiday in a fantastic villa,

Evelyn & Caroline, July 2017

Have had a lovely holiday in a fantastic villa. Accommodation fabulous and outdoor space is tremendous! We have enjoyed lots of local bars and restaurants- especially Casa Carlos just down from Paloma. Hired a car but public transport was excellent. We have really enjoyed our time in lanzarote! Will not hesitate to recommend Optima Villas!
Fantastic time

Deborah, April 2016

I just wanted to say what an fantastic time our family had at villa Paloma last week , the property is amazing and your staff who called in regularly to do the pool etc were all very helpful. We will no doubt be renting it again sometime in the future when we are all back out together in Playa Blanca.
Wonderful Week

Graham H., February 2016

Beautiful villa in a select location within walking distance of coastal path and Papagayo beaches.3 adult couples suited the villa as each couple had private facilities well separated from each other. The outdoor eating area was well used and the heated pool was just great. The table tennis and pool tables are on the lower level and of good quality. All in all a wonderful week and we would consider booking again if we decide to return to Playa Blanca in the future.
Sincere thanks for the quality of both the villa and your attention to ensuring our holiday went without a hitch

Doug and family, August 2014

Diana, Now 4 days since we returned from our 7 day stay at Paloma and we just want to go back ! Please accept our sincere thanks for the quality of both the villa and your attention to ensuring our holiday went without a hitch. Our two families had a ball and enjoyed everything about the villa. The standard of the accommodation was excellent throughout, making this most definitely at the high end of self-catering. We normally take either a cruising or all inclusive hotel holiday, but this year thought we would 'give it a try'. We were never let down and most certainly will use Optima again in the future – we're already looking at getting leave dates sorted now so that a booking can be made. Well done to all your staff and we look forward to seeing you again. Doug and family – Villa Paloma
Additional Information
A 20% deposit is required to secure your booking with the balance payable 90 days before your arrival. Reservations under 90 days from the date of arrival must be paid in full.
We accept card payments and there is no commission for payments on credit card. You will be contacted by email shortly after your reservation regarding payment options.
Prices shown in the price guide are for the villa itself regardless of the number of guests, they are subject to change with individual circumstances – to obtain a total price, please use the calendar to select your arrival and departure dates.
An infant is classed as a child using a cot.
04 January 2021 – 05 February 2021
£180.00
06 February 2021 – 28 February 2021
£220.00
01 March 2021 – 26 March 2021
£180.00
27 March 2021 – 11 April 2021
£280.00
12 April 2021 – 30 April 2021
£180.00
01 May 2021 – 09 May 2021
£220.00
10 May 2021 – 21 May 2021
£180.00
22 May 2021 – 30 May 2021
£220.00
31 May 2021 – 30 June 2021
£180.00
01 July 2021 – 16 July 2021
£220.00
17 July 2021 – 05 September 2021
£350.00
06 September 2021 – 15 October 2021
£220.00
16 October 2021 – 31 October 2021
£280.00
01 November 2021 – 17 December 2021
£180.00
18 December 2021 – 09 January 2022
£350.00
10 January 2022 – 11 February 2022
£180.00
12 February 2022 – 06 March 2022
£220.00
07 March 2022 – 10 April 2022
£180.00