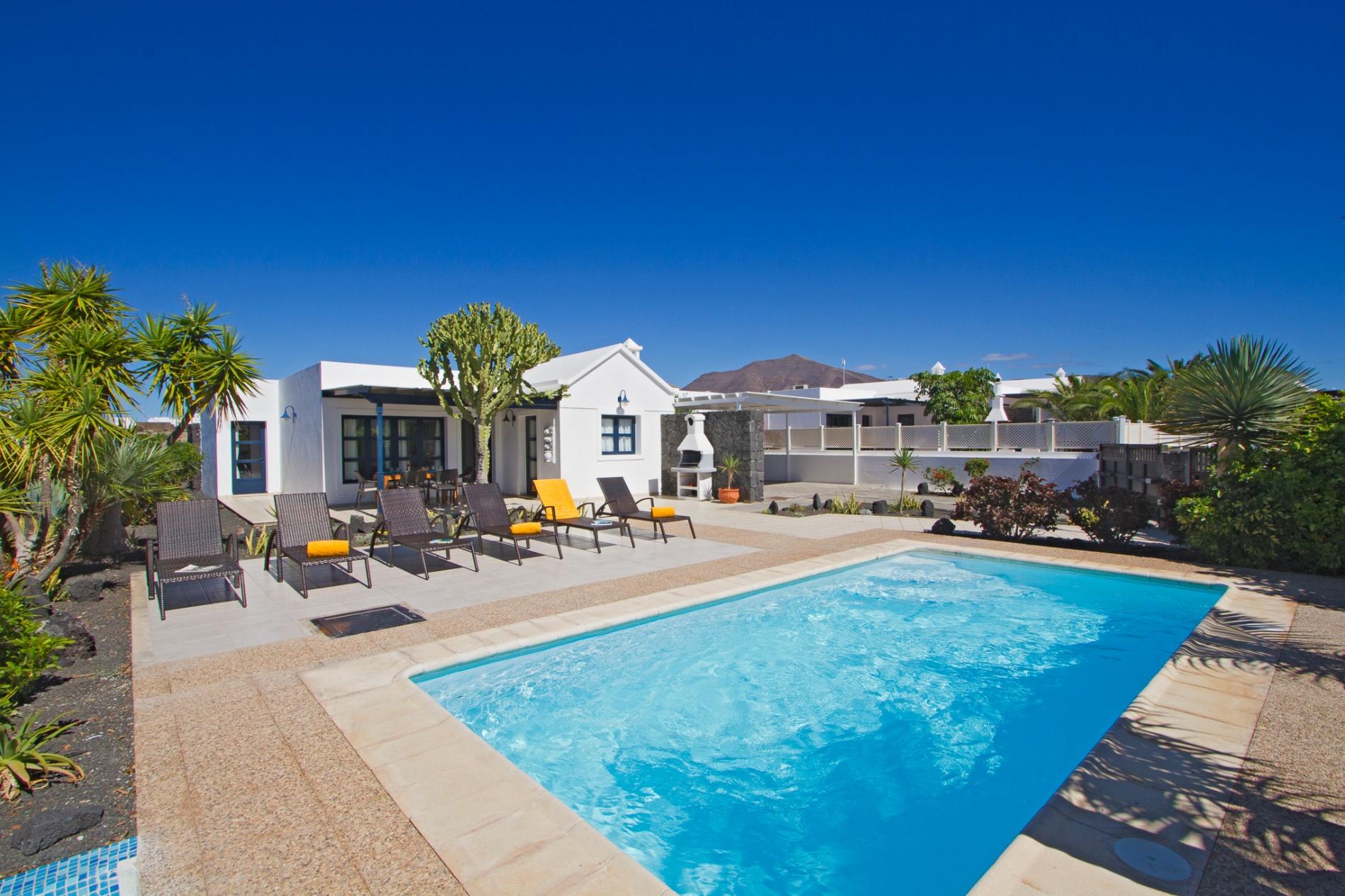 Overview
If you're looking for a modern and stylish villa with beautiful gardens and a private pool, look no further than Villa Oleander. Situated in the exclusive and sought after area of Marina Rubicon, Villa Oleander benefits from a prime position and is just 10 minutes' walk from the marina's many shops, bars and restaurants. And just beyond that, you can also explore the sights and sounds of Playa Blanca on foot – along the seafront promenade.
The villa is positioned on a quiet cul-de-sac with private off-road parking, meaning that despite its popular location, it still offers a peaceful and secluded escape.
Inside, Villa Oleander features neutral and contemporary decor throughout – giving it a light and airy feel. Sleeping up to 6, all 3 bedrooms are on the same level, with 2 double rooms and a twin room. The master bedroom also benefits from a king-size bed and an ensuite.
If that wasn't enough to impress, Villa Oleander's stunning Canarian gardens, sun deck and private swimming pool are sure to tick the box. The shaded al fresco dining area and purpose built BBQ are also great for cooking and dining outdoors well into the evening. There's even an outdoor pool table if you fancy escaping the midday sun and challenging your friends and family to a game under the shade.
The owners have installed fibre optic internet, meaning that the wifi is very fast and usable for several devices on the same time.
Microwave, oven, hob, dishwasher, fridge/freezer, washing machine, dining area

Flat screen TV with some comprehensive UK channels, DVD player with a selection of discs, CD player, door to kitchen/dining room and doors to pool terrace

King size bed, double wardrobes, door to garden, ensuite bathroom

Double bed, double wardrobes, shares family bathroom

Twin beds, double wardrobes, shares family bathroom

Shower over bath, WC and single washbasin

Bath and shower over, WC and washbasin
We loved the Villa

Christine, April 2019

"Arrived back safely after a fabulous week at Villa Oleander. We loved the Villa, it was spacious and clean and very well equipped. Plus, the pool was magic and so warm. My grandson was very happy with the pool table. We love Lanzarote but this was the first time we had hired a Villa such as this, and would certainly consider doing so again without hesitation. "
Villa well equipped

Val, February 2019

"We enjoyed our stay at villa Oleander. Weather perfect. Villa well equipped and only about a 10 minute walk to the Marina. Plenty of restaurants so no need to cook! Hope to stay again in the near future. "
Excellent villa ideally situated for couples or families

Elaine, November 2019

"Excellent villa ideally situated for The Marina Rubicon – very clean and well equipped. We enjoyed spending time in the pool which was perfectly heated. Would definitely stay here again – Thank you for a great holiday. "
Very impressed

Steve, August 2018

"We were very impressed with the villa rental, we book villa holidays every year and were pleased with the quality of the accommodation and the cleanliness. Services were provided for cleaning and pool cleaning and never intrusive. The villa catered for everything that we needed and an added touch with the pool table. Thank you for an excellent service. "
Five stars

Helen, July 2018

"Five stars for a beautiful and well maintained villa,we stopped at villa oleander,liked it so much We have booked it again. Clean,well maintained pool,and good service off the optima villa guys! "
Great service and gorgeous Villa Oleander

Claire, April 2018

"Great service and gorgeous villa! Optima villas will be my first choice of villa company "
Very good position for Marina Rubicon

Anita, March 2018

"Excellent villa in very good position for Marina Rubicon. Very good welcome pack. Villa was clean and comfortable with plenty of space for 6. Towels and bedding very good quality. Pool was warm and clean. Service from Optima Villas was excellent, prompt and helpful. Would definitely use the company again. "
It was wonderful

Joanne T, August 2017

"First time in this villa, and it was wonderful. End corner plot so lots of outdoor space, and even though you have one neighbour never really heard any noise from next door's pool etc… Inside the villa was great, plenty of room for the 6 of us. We don't bother with car hire, and this villa is within walking distance to the supermarket and onto the marina. The only fault I can say is lack of air con, especially in the bedrooms. It was extremely hot whilst we were there and although we kept our bathroom windows open a bit and the fan on it was just blowing around warm air. As I say, for half the year you probably wouldn't need the air con, but August would have been a godsend! Maybe something to look into for future bookings. All in all I would stay here again. "
We loved every minute of our holiday, Graham

Graham, July 2017

"We are home from our lovely holiday staying in villa oleander. It was lovely to meet you when we calling into the office the other day. We loved every minute of our holiday and would like to thank you and your colleagues for all the help and support from booking transport, villa and also for sorting our 2 problems we accounted within an hour!! Everything was perfect. "
The villa was lovely, just as described on the website and the service has been top notch

Jamie, C, June 2017

"Whilst I have the opportunity I would like to thank all those at Optima that I have been in contact with. The villa was lovely, just as described on the website and the service has been top notch from all concerned. We had a great holiday as did our fellow travellers the Russell family and we will be recommending Optima to our friends. It is more than likely that we will be renting another villa from you in the future "
We had a lovely fantastic time

Rebecca M., November 2016

"This was our second stay at Villa Oleander with our 19 month old son. We had a lovely fantastic time, the villa is great. I phoned your support service team on the Saturday for a bath mat and the service we received was professional and immediate. We really enjoy booking our holiday with yourselves. We feel confident booking with you and you are always professional and will help with any problems / matters – no matter how small the problems or task. Thank you very much for everything !!!!"
Lovely villa

Tim W., July 2016

"Just spent a week in the lovely Villa Oleander. Everything was perfect and the very friendly staff at Optima Villas even arranged a free villa for our last day as our flight home wasn't until late afternoon. Will most definitely be using them again in the future."
Gorgeous

Elaine T., June 2016

"I just wanted to put pen to paper (sort of!) to say thank you for a wonderful holiday!The villa was gorgeous. Very clean and well furnished and containing everything (and more) that you're likely to need.The welcome pack was an absolute life saver. Pizza and sparkling wine on our first night on the terrace rather than hunt for somewhere to eat was a thoughtful gesture and to get a mid holiday linen change was also totally unexpected (but lovely!).The problem we had with the boiler leak was sorted soooo quickly and the pool men were excellent at keeping the pool clean and when the pump needed a service they left no mess and were very friendly.We were extremely impressed with Optima and I will certainly be recommending you to family and friends that want to visit Lanzarote.Please feel free to use any of the above in any reviews you have for the company and / or the villa.We didn't want to come home. . It was in a word …..superb!"
Wonderful week

Jill, Lu, Dan, Wiz and Bonny, April 2016

"We had a wonderful week. Villa Oleander is spotless and everything was catered for. We hope to return next year. Thank you"
Ideal

The Cornwall family, April 2016

"Villa Oleander was ideal for our first visit to Lanzarote. Comfortable, clean and a great location. The pool was lovely, the perfect place to unwind and ideal for our family of four. We enjoyed the local restaurnats and the Marina, thank you."

Villa Oleander was perfect for our week's holiday

Sally, April 2016

"Villa Oleander was perfect for our week's holiday with a family of four. It was located in a peaceful setting on a quiet residential street with just a few houses, and just a short walk for the Marina Rubicon were there were great restaurants and views over the marina and sea. The villa was spacious, clean, peaceful and comfortable and the pool was great, pleasantly warm and very clean. The outdoor space was lovely, with a well kept garden, a shady seating area and plenty of sun loungers for relaxing. There were lots of towels provided for indoor and pool/beach use. There were DVD's provided suitable for both children and adults if needed, and the wifi worked really well too. There wasn't any air conditioning, but this wasn't a problem when we visited in April as the evenings were slightly cooler. We found the location was perfect for us – a short drive or walk from the Marina and supermarkets, and a five minute drive into Playa Blanca where there were lots more restaurants and shops. Optima Villas were really helpful with our booking and visited us during our stay to check everything was okay – thank you for a wonderful holiday! "
Additional Information
A 20% deposit is required to secure your booking with the balance payable 90 days before your arrival. Reservations under 90 days from the date of arrival must be paid in full.
We accept card payments and there is no commission for payments on credit card. You will be contacted by email shortly after your reservation regarding payment options.
Prices shown in the price guide are for the villa itself regardless of the number of guests, they are subject to change with individual circumstances – to obtain a total price, please use the calendar to select your arrival and departure dates.
An infant is classed as a child using a cot.
01 July 2020 – 17 July 2020
£180.00
18 July 2020 – 16 August 2020
£180.00
17 August 2020 – 30 August 2020
£130.00
31 August 2020 – 16 October 2020
£180.00
17 October 2020 – 01 November 2020
£220.00
02 November 2020 – 18 December 2020
£130.00
19 December 2020 – 25 December 2020
£280.00
26 December 2020 – 03 January 2021
£280.00
04 January 2021 – 05 February 2021
£130.00
06 February 2021 – 28 February 2021
£180.00
01 March 2021 – 26 March 2021
£130.00
27 March 2021 – 11 April 2021
£220.00
12 April 2021 – 30 April 2021
£130.00
01 May 2021 – 09 May 2021
£180.00
10 May 2021 – 21 May 2021
£130.00
22 May 2021 – 30 May 2021
£180.00
31 May 2021 – 30 June 2021
£130.00
01 July 2021 – 16 July 2021
£180.00
17 July 2021 – 05 September 2021
£280.00
06 September 2021 – 15 October 2021
£180.00
16 October 2021 – 31 October 2021
£220.00
01 November 2021 – 17 December 2021
£130.00
18 December 2021 – 09 January 2022
£280.00