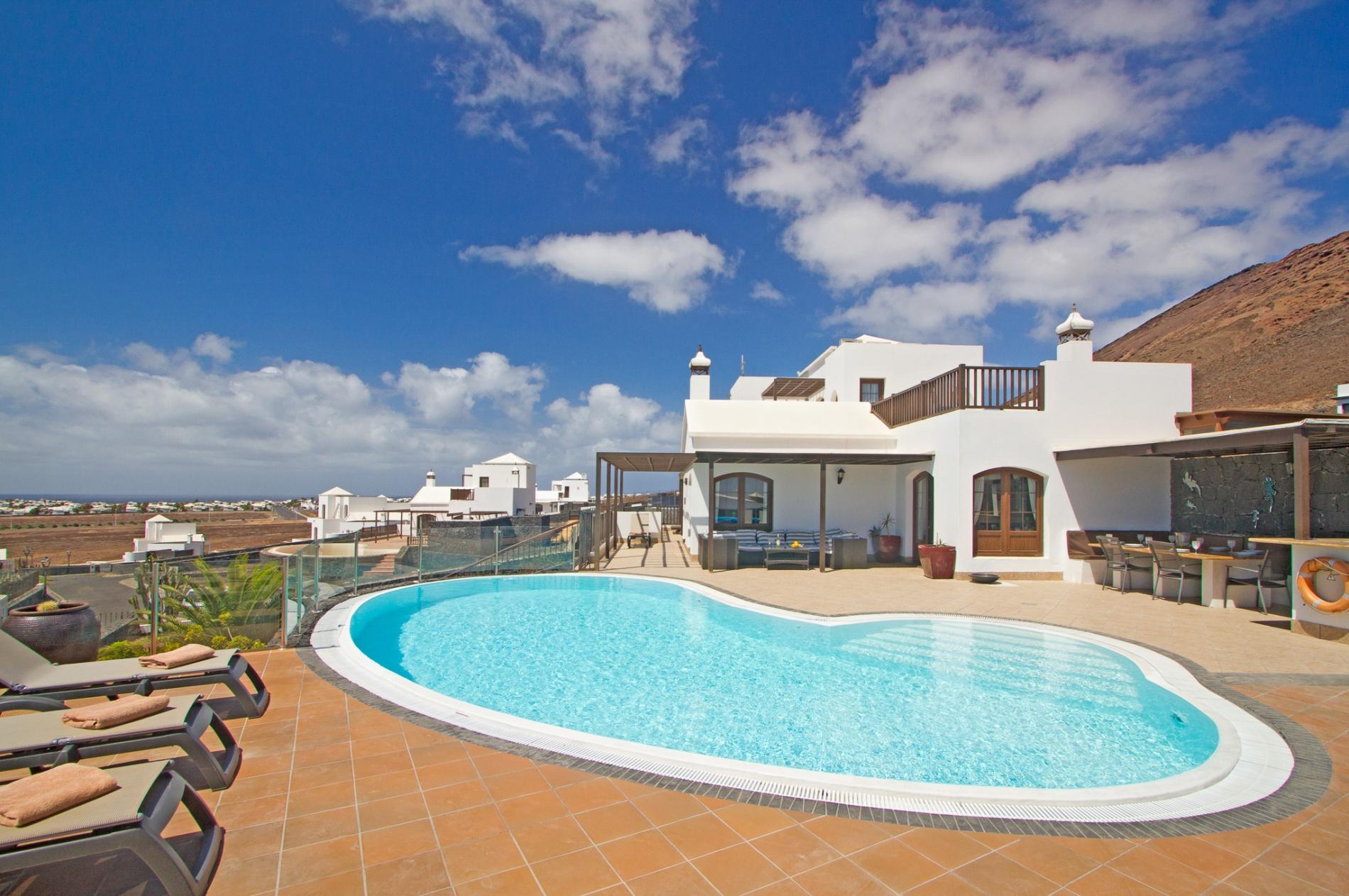 Overview
Casa Ocean View – the name says it all. This 3 storey luxury villa boasts prime position on Montaña Roja, offering breathtaking panoramic views over the sea and nearby Fuerteventura. This beautiful villa is one of Playa Blanca's best and has to be seen to be believed.
Sleeping up to 10 guests in comfort, this large villa is ideal for families holidaying together or groups of friends looking for a spacious villa in Lanzarote. With 5 bedrooms and 4 bathrooms, sleeping arrangements are split over 2 double rooms and 3 twin rooms – all of which feature coin-operated air conditioning, ensuring a comfortable stay. The master bedroom, found on the top floor, also has its own private balcony – offering the perfect spot for your morning coffee while taking in the incredible views.
The main entrance, as well as the open-plan living room, kitchen and dining areas can be found on the middle floor. The lounge is ideal for entertaining and evenings in, with a flat-screen TV featuring a number of English and European channels. There's also a separate living area and kitchen, which can be found on the lower floor, so everyone can spread out and find their own slice of holiday heaven at Casa Ocean View. You'll also find a handy utility room, complete with a washing machine, meaning you can pack light for longer stays.
Outdoors, Casa Ocean View is just as impressive as its interior. The spacious sun deck is centred around an inviting kidney-shaped swimming pool, with plenty of sun loungers to relax and unwind pool-side. The shaded al fresco dining area is perfect for eating outdoors, where you can admire the view over breakfast, lunch and dinner – or why not enjoy sunset drinks in the separate covered chill out area?
Flat screen TV with Comprehensive UK and European TV channels, Xbox, spacious seating area, doors to pool terrace and access to kitchen, located on the middle floor

Microwave, oven, hob, fridge/freezer, dishwasher, dining area with seating for 8 people, located on the middle floor

Washing Machine, Clothes Airer, Iron, Ironing board, located on the middle floor

Located on the upper floor Master bedroom, super king size bed, double wardrobes, doors to balcony, ensuite bathroom, coin operated air con

Separate bath and walk in shower, WC and washbasin

Located on the middle floor Double bed, double wardrobes, doors to balcony, ensuite bathroom,coin operated air con

Separate bath and walk in shower, WC and washbasin

Twin beds, double wardrobes, sole use of family bathroom, coin operated air con, Located on the middle floor

Walk in shower, WC and washbasin

Shower over bath, WC and single washbasin

TV as shown in photograph no longer belongs to property, Flatscreen TV, Xbox, doors to outside area and sea views, access to kitchen, located on the lower floor

Microwave, hob, fridge, located on the lower floor

Located on the lower floor Twin beds, double wardrobes, ensuite bathroom, coin operated air con

Shower, WC and washbasin

Located on the lower floor Twin beds, double wardrobes, sole use of family bathroom. This room does not have a window but there is natural light and air via a door which leads to a small solana, coin operated air con
The villa was perfect for us

Lynn, May 2019

"I would just like to thank Optima for making it a pleasure to stay at Villa Ocean View. From the easy booking process to the prompt reply of any queries we had along the way. We were allowed access to the villa as soon as we arrived on our early flight as the villa had been vacated the previous day. A lovely welcome pack included tea, coffee, cereal, water , wine and biscuits. The villa was perfect for us, my wife and I on the top floor, eldest daughter and family on ground floor, and youngest daughter and family on lower floor giving us all our own space. We were travelling with a toddler and there was a travel cot with proper mattress, a high chair and even stair gates. The villa is so well equipped, X-box with selection of games for the boys when it was too hot outside and a huge selection of books and some board games for the adults. The kitchen has everything you could possibly need even a cool box and bag and a picnic set. The outside space is lovely with quality loungers and two lovely covered seating areas providing welcome shade. The view over to Fuerteventura is stunning. Would highly recommend both the villa and Optima Villas. "
Excellent time

David, April 2019

"We all had an excellent time staying at the villa. The view is just amazing and you never tire of sitting outside looking across to Fuerteventura. The pool is very good and there are lots of seating and relaxing areas outside. Inside the villa is very well equiped and there is plenty of space throughout. Villa is only a short drive to all the amenities but is in a very quiet location so there is no noise and it is very peaceful. We would definitely book the villa again. Optima Villas were great to deal with. All emails and booking requests were answered promptly and the whole process of booking and payment was very straight forward. We would definitely book through Optima again. "
Absolutely loved our stay at Ocean View

Mr Heaton, November 2018

"Absolutely loved our stay at ocean villa 10. Beautiful, spacious, very clean and very well equipped with everything you can ask for. Group of 8 stayed and there was so much space for everyone. Great location with lovely Italian, Greek and Argentinian restaurants very close by and a lovely cocktail bar. Whilst the marina is not close it is a great excuse for a lovely walk on the seafront, stopping off for drinks along the way. Taxi is only €6. Would definitely stay here again "
Stunning Villa

Diane, July 2018

"Absolutely Stunning Villa. No wonder it's called Ocean View. Will definitely be booking this one again. Thank you to the Optima Team for a fantastic service, always so helpful and accommodating. Wouldn't book with anyone else but Optima, as have been booking with this company for the last 3 years and have never been disappointed. Thank you all once again! "
Villa was exceptional

Duncan, April 2018

"We all had a wonderful holiday, the villa was exceptional and we will never get tired of waking to a the view over to Fuerteventura. The service from Optima was very professional throughout, from booking to arrival through to the provision of beach towels at the Villa. We will certainly consider Optima and Villa Ocean View for a similar holiday in the future. "
Villa was stunning

Erika, March 2018

"Our stay was wonderful, the Villa was stunning and making the reservation was very unclomplicated and easy, so thank you very much for everything and we will defenately book on your website again. "

I would highly recommend this villa

October 2017

"We booked through Optima villas a company we have used many times before . They are an excellent company to deal with . The villa fulfilled all our needs and more . Fabulous pool and outside dining area. Just a ten minute walk to the seafront. I would highly recommend this villa . "
I would highly recommend Optima Villas.

September 2017

"I have always wanted to stay in one of these villas because of their location and appearance.I wasn't disappointed, although the pool could have been warmer. That said it was the cleanest pool we have had and there was absolutely no presence of nasty chemicals. It was exceptionally clean and refreshing! The pool cover, however, was damaged so we were reluctant to use it and had to contact Optima Villas to register our concerns. They were aware of the damage and explained it was the owners responsibility to fix it. It would have been useful to have been made aware of this as we were worried they might have thought we had damaged it. We did have a problem with my elderly mum who became ill whilst we were at the villa and the staff at Optima were nothing short of brilliant. I can't thank them enough for their help and understanding. I would highly recommend Optima Villas. "
Amazing Villa, Location and everything you need for a paradise trip

Pat C, July 2017

"We are just home from spending the best week in this villa. I would highly recommend this to anyone. The standard of the Villa was amazing and the Optima Villa Team were are a dream to deal with special thank you to Terrie ( a Lady to deal with and very professional), We were a family of 7 and the kids. The quality of the equipment in the Villa was 5 star. Could have spent the whole week without moving from the villa as the location was nice and quiet and the views were amazing. "
Additional Information
A 20% deposit is required to secure your booking with the balance payable 90 days before your arrival. Reservations under 90 days from the date of arrival must be paid in full.
We accept card payments and there is no commission for payments on credit card. You will be contacted by email shortly after your reservation regarding payment options.
Prices shown in the price guide are for the villa itself regardless of the number of guests, they are subject to change with individual circumstances – to obtain a total price, please use the calendar to select your arrival and departure dates.
An infant is classed as a child using a cot.
06 February 2021 – 28 February 2021
£280.00
01 March 2021 – 26 March 2021
£230.00
27 March 2021 – 11 April 2021
£390.00
12 April 2021 – 30 April 2021
£230.00
01 May 2021 – 09 May 2021
£280.00
10 May 2021 – 21 May 2021
£230.00
22 May 2021 – 30 May 2021
£280.00
31 May 2021 – 30 June 2021
£230.00
01 July 2021 – 16 July 2021
£280.00
17 July 2021 – 05 September 2021
£470.00
06 September 2021 – 15 October 2021
£280.00
16 October 2021 – 31 October 2021
£390.00
01 November 2021 – 17 December 2021
£230.00
18 December 2021 – 09 January 2022
£470.00
10 January 2022 – 11 February 2022
£230.00
12 February 2022 – 06 March 2022
£280.00
07 March 2022 – 10 April 2022
£230.00
11 April 2022 – 24 April 2022
£390.00
25 April 2022 – 27 May 2022
£230.00
28 May 2022 – 05 June 2022
£280.00
06 June 2022 – 30 June 2022
£230.00
01 July 2022 – 15 July 2022
£280.00
16 July 2022 – 04 September 2022
£470.00