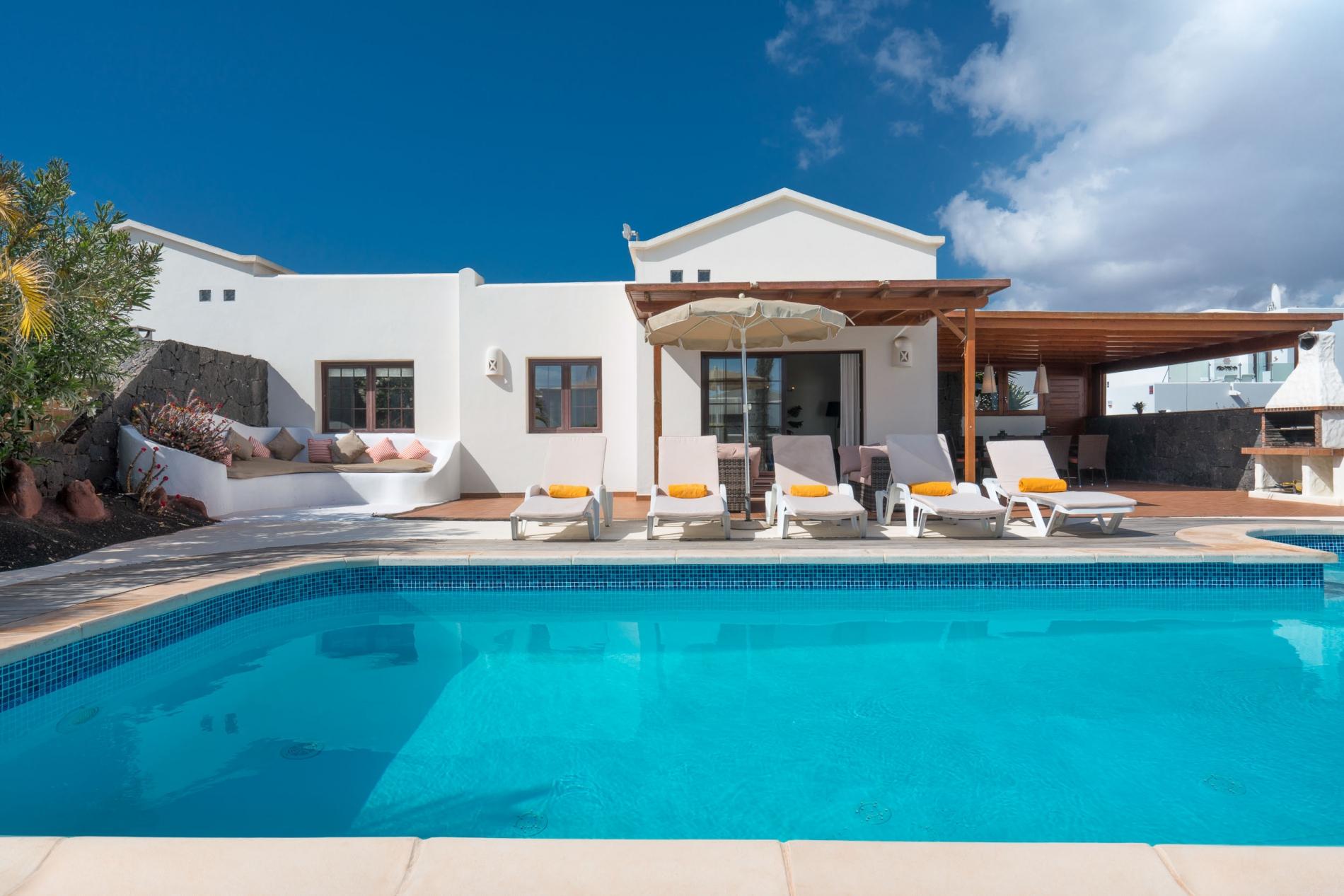 Overview
If you're looking for a stylish holiday villa within easy reach of the resort centre, Villa Nueva, Lanzarote, is the choice for you. Just 15 minutes' walk away from the bars, shops and restaurants of Playa Blanca and its surrounding beaches – and with a handy supermarket nearby – you don't have to venture far to make the most of your break.
Sleeping up to 6 guests across 3 bedrooms, Villa Nueva features 2 double rooms and a twin room – with the master bedroom also including an ensuite bathroom. A seventh guest can also be accommodated on an additional pull-out bed in the larger twin bedroom – please enquire for prices when booking.
Elsewhere indoors, you'll find a spacious and well-appointed living room and kitchen – offering a comfortable space to cook and relax in the evenings.
Stepping out of the living room's glass doors, you'll find Villa Nueva's beautifully landscaped garden and decked pool area. With plenty of sun loungers, you can enjoy days spent sunbathing poolside, while the shaded al fresco dining area is the perfect spot for evening meals. Facing south, the villa's garden benefits from the sunshine all day long, so you can make the most of your time outdoors. And with extra touches including a poolside shower, BBQ and plush sun loungers, you're sure to have a comfortable stay.
Flat screen TV with basic TV channels, DVD player, CD player, doors to pool terrace

Microwave, oven, hob, dishwasher, fridge/freezer, washing machine

Double bed, walk-in wardrobe, electric fan, ensuite bathroom

Shower over bath room, WC, bidet and wash basin.

Double bed, double wardrobes shares family bathroom

Twin beds, double wardrobes shares family bathroom

Shower, WC and single washbasin
Fantastic time at Villa Nueva

Jennifer, May 2019

"This was our 3rd stay at the villa and as always we had a fantastic time at Villa Nueva. On arrival the villa was immaculate, with soft fluffy towels for pool and bathroom use stacked neatly on each bed. We also loved the fact that basic groceries were provided which meant no immediate rush to the shops. Instead we could unpack at our leisure, relax and enjoy the quite ambiance of the villa and its surroundings. During our stay we had a kettle malfunction and within 20 minutes of contacting Optima Villas we had a new kettle delivered to the villa- excellent service! When holidaying in Playa Blanca we will always seek out a villa through Optima Villas as the standard and service provided is very high. We look forward to returning in the near future. "
Lovely stay

Karen, March 2019

"We all had a lovely stay in villa nueva. There was more than adequate space for us all, it had everything we needed. The outdoor area was fantastic and a great size swimming pool. We received a welcome package which was a nice touch. The villa was within walking distance to all local amenities. The staff at optima villas were very helpful and always responded to our queries promptly. We would definitely use again. "
Within easy reach of the beach and town

Doug, January 2019

"Lovely time spent in the villa and pool. All within easy reach of the beach and town. Well looked after place and a very thoughtful welcome pack on arrival. Will definitely be back. "
Optima were excellent

Posted to Facebook, November 2018

"We stayed at Villa Nueva. The villa was well situated, around a 20 min walk into town, and was immaculate both inside and out. The welcome pack was a nice touch. Optima were excellent. We had a couple of issues outside of their control – a kettle that broke and a problem with pool heating – but each time the response was immediate and the issues were fixed within a couple of hours. Really top-notch customer care. When we return to Lanzarote I won't bother to look at anyone else other than Optima. "
Highly recommend

Julie, July 2018

"Our family of 6 stopped at Villa Nueva in Playa Blanca. The villa was lovely and cean and well stocked with everything we needed for our stay. The location of the villa was just a 20 minute walk from the centre of Playa Blanca so ideal for walking a meal off at night. I would highly recommend staying in Villa Nueva and would definitely book through Optima Villas again. "
The villa was very clean and the beds were extremely comfortable

November 2017

"This is the first time we have used optima and we were over the moon with the service. We stayed at the villa Nueva which is a beautiful villa the welcome pack was fabulous. The villa was very clean and the beds were extremely comfortable. Every need was catered for. We had a couple of small issues and they dealt with them quickly and professionally. We will definitely use them again. Thankyou very much "
We had a brilliant week at the Villa Nueva

Bill, Caroline and Elliot, May 2017

"We had a brilliant week at the Villa Nueva. On arrival there was a lovely welcome pack awaiting us which was indeed very welcome, as our flight was delayed and it was nearly midnight. The villa was spacious, clean and had a wonderful outside area. The pool was great and we enjoyed using it each day. Playa Blanca was a really lovely resort and took 15 minutes to walk to. The promenade was 6 kms long and was great for a walk each day. There were 2 lovely sandy beaches, Playa Dorada if you walked 10 minutes left and Playa Flamingo to the right. A real must is Playa Papagoyo, a gem of a beach and close by. The restaurants along the prom and at Marina Rubicon were really delicious. Volcano Timanfaya is worth a visit and interesting. There is a local volcano behind Playa Blanca that you can climb up. It is quite an easy climb with lovely views. We would certainly recommend this villa. "
Like home from home

Manda J., October 2016

"The villa was great, loved the outside space and the pool was brilliant as I love to swimAnd it is a length and depth covered that, with a shallow area that we could sit and stay cool in.The area outside has so many places to sit and enjoy the sunshine whilst not being on top of each other.We love that area as It's only a short walk to the front and the work done is always upgrading. The villa inside is lovely, like home from home, only one small niggle and that is the secondBathroom is a bit small.As I'm 6ft found the space to be a bit of a tight fit and glad there was only myself and hubby using it.. But otherwise would book your villa again, thank you for letting us stay.Will be there again soon…Many thanks"
Villa Nueva was just great

Steve C., September 2016

"Our 9 day stay in Villa Nueva was just great. We were really impressed with the villa in terms of cleanliness, equipment and the space both inside and around the swimming pool / dining and seating areas.Having had several previous Lanzarote villa holidays we rated this as probably our favourite villa to date and would recommend to parties of up to 6 or 7 people."
Spacious and comfortable

Stuart W., February 2016

"We spent 10 days here in Feb and could not fault the villa. It was spotlessly clean on arrival, and found a welcome pack including pizza & cava, a nice touch.We used the outside bar b q during the day, whilst lounging by the pool in the 22 degree heat, and were able to walk to the restaurants & bars of Playa Blanca within 15 minutes during the evening, returning later to enjoy a nightcap by the floodlit outdoor pool.We had a hire car to explore the island and get shopping from town but the resort is easily accessible.In all a very comfortable, well maintained villa in a quiet residential area, and ideal for a relaxing break. "
We had a superb holiday and the villa was excellent

Jane, October 2015

"Vanessa, We have just returned from Playa Blanca & stayed at Villa Nueva. We had a superb holiday and the villa was excellent. You helped with ordering a birthday cake which arrived exactly when it was scheduled – many thanks ! We have stayed in Optima villas for three years now , all have been good – Villa Nueva was the best yet– many thanks ! We hope to be back again. Regards Jane – Villa Nueva"
Just writing to say what a brilliant time we had in Villa Nueva, it was lovely

Joyce, September 2014

"Hi Richard, Just writing to say what a brilliant time we had in Villa Nueva, it was lovely. The villa was beautiful, and everything went smoothly. Thank you for all your assistance, second to none again, including the welcome pack, right through to the late checkout, our family were very impressed with it all. We will definitely be booking again with you. Best regards to you and your team. See you soon Joyce – Villa Nueva"
It exceeded our expectations by far

Karen, July 2012

"Hi Sally, Just got back from our holiday in Villa Nueva and wanted to say thank you, it was our 1st holiday in a villa and have to say it exceeded our expectations by far. It was very relaxing and the amenities made it just perfect for our family, our teenage kids thought it was amazing, and none of us were ready to come home. Thanks again Karen & Family – Villa Nueva"
Fantastic holiday spent at Villa Nueva

Lisa, July 2012

"Hi Sally, Just wish to pass on our thanks for our fantastic holiday spent at Villa Nueva, we honestly didnt want to come home! The villa had the most relaxing and homely atmosphere and had everything we needed. We especially appreciated having it the extra few hours on our departure day, which just made life a lot easier and the transportation from and back to the airport you recommended worked out brilliant. have truly fallen in love with Lanzarote; the place, weather and people are just amazing and we will definitely be booking with yourselves again. Thanks for everything Lisa – Villa Nueva"
Will definitely be booking with Optima Villas again

Jenni, June 2012

"Just returned from a week in Playa Blanca staying at Villa Nueva. The villa was quite simply fantastic, the location peaceful and with just a 10-15 minute walk to the main resort. Will definitely be booking with Optima Villas again. Jenni – Villa Nueva"
Additional Information
A 20% deposit is required to secure your booking with the balance payable 90 days before your arrival. Reservations under 90 days from the date of arrival must be paid in full.
We accept card payments and there is no commission for payments on credit card. You will be contacted by email shortly after your reservation regarding payment options.
Prices shown in the price guide are for the villa itself regardless of the number of guests, they are subject to change with individual circumstances – to obtain a total price, please use the calendar to select your arrival and departure dates.
An infant is classed as a child using a cot.
04 January 2021 – 05 February 2021
£120.00
06 February 2021 – 28 February 2021
£160.00
01 March 2021 – 26 March 2021
£120.00
27 March 2021 – 11 April 2021
£200.00
12 April 2021 – 30 April 2021
£120.00
01 May 2021 – 09 May 2021
£160.00
10 May 2021 – 21 May 2021
£120.00
22 May 2021 – 30 May 2021
£160.00
31 May 2021 – 30 June 2021
£120.00
01 July 2021 – 16 July 2021
£160.00
17 July 2021 – 05 September 2021
£250.00
06 September 2021 – 15 October 2021
£160.00
16 October 2021 – 31 October 2021
£200.00
01 November 2021 – 17 December 2021
£120.00
18 December 2021 – 09 January 2022
£250.00
10 January 2022 – 31 January 2022
£120.00