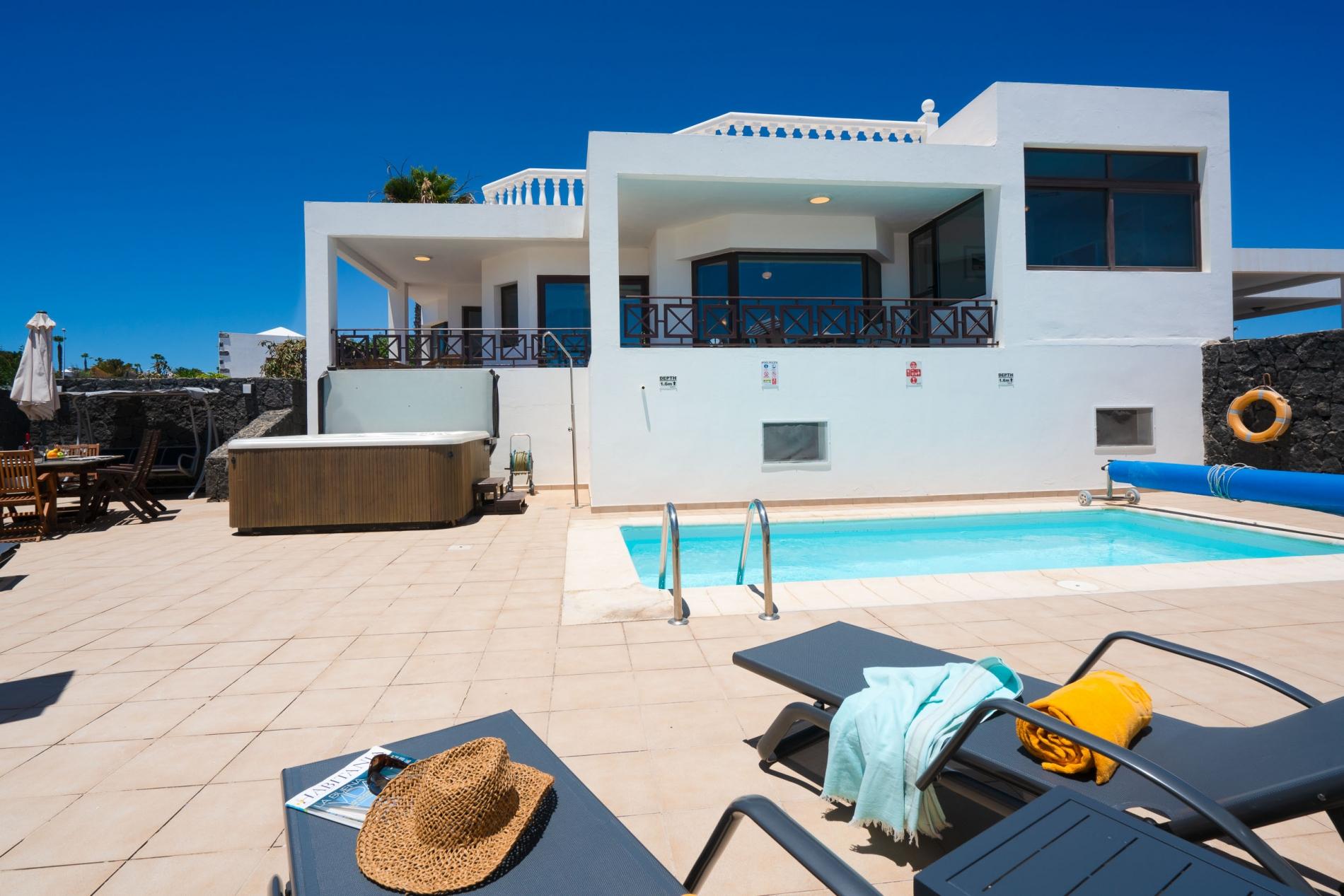 Overview
If you're planning to visit Aqua Lava Water Park, Lanzarote's top beaches, and dine out in the resort's fantastic restaurants on your next holiday, Villa Miramare is for you. Centrally located near the water park and just over 10 minutes' walk from beautiful Flamingo Beach, Villa Miramare offers location, location, location without compromise. The villa is fully licensed with a VV license. 
Sleeping up to 6 guests, this 3 bedroom villa features 2 double rooms and 1 twin – as well as 3 bathrooms, including an ensuite in the master bedroom. Both the master bedroom and lounge feature coin-operated air conditioning, while the remaining bedrooms have ceiling fans, so you can be sure of a cool and comfortable stay – even in the height of summer.
The interior benefits from large windows with sea views, and has a clean and calm ambience – featuring a comfortable living room, dining room and fully-equipped kitchen. There's also a separate reading room, with a sofa that's ideal for escaping the midday sun with a good book.
Outside, Villa Miramare features 3 terraces, including a wrap-around veranda, a sunken pool area and a private roof terrace – offering spectacular sea views and panoramas of neighbouring Fuerteventura. The veranda is the ideal place to seek shade and features comfortable seating overlooking the pool below.
Around the private swimming pool, you'll find sun loungers, an al fresco dining area and even a hot tub – so whether you're swimming, sunbathing, eating or relaxing – there's space for everyone to find their own corner of holiday heaven.
TV with some comprehensive UK and European channels, DVD player, ceiling fan. The lounge leads off to the kitchen and indoor dining area and it is here you find the doors to the pool terrace.

Microwave, oven, hob, fridge/freezer, dishwasher, toaster, kettle, coffee maker, ceiling fan, doors to middle terrace

Double bed, double wardrobes, coin operated air conditioning, en-suite bathroom

Shower over bath, WC, bidet and single washbasin

Double bed, double wardrobe, ceiling fan, ensuite bathroom

Shower cubicle, WC and single washbasin

Twin beds, double wardrobes, ceiling fan, has own bathroom near the main entrance door

Shower cubicle, WC and single washbasin

Sofa, bookcase, ceiling fan, doors leading to terraces
Views overlong the sea

Posted to Airbnb, January 2020

"Very nice villa, with a lovely hot tub and pool. Views overlong the sea and in a nice quite area, but within walking distance of amenities, restaurants and bars."
Lovely views

Posted to Airbnb, November 2018

"Just back from a week at the Miramare Villa. Its a lovely 3 bed villa with fantastic hot and nice pool. Clean and well maintained with lovely views of sea and mountains. About a 15 min walk to the lovely beach and walkway into town. Would recommend and would return. "
Definitely recommend

Narjan, July 2018

"Lovely villa, stayed for a week with a family of 6 and everyone loved the stay in the villa. It had all the facilities, loved the pool and jacuzzi and enjoy the BBQ as well. We definitely recommend Villa Miramare. "
Exceptional

Linda, June 2018

"Villa Miramare is a beautiful Villa. Decorated to a very high standard, if fact we could find no fault at all and would thoroughly recommend it. The service we received from Optima villas is exceptional and we would definitely book with them again. "
Great Villas Great Service !

Wendy, March 2018

"Just returned from a second Villa holiday in Playa Blanca. Once again excellent service from Optima. Easy booking helpful staff including arranging our car hire. Easy access of Villa with clear instructions. Pool maintenance when we we there. We set alarm code incorrectly one day and got immediate call back to sort. Well recommended company with amazing villas – will be booking again for next year. "
Additional Information
A 20% deposit is required to secure your booking with the balance payable 90 days before your arrival. Reservations under 90 days from the date of arrival must be paid in full.
We accept card payments and there is no commission for payments on credit card. You will be contacted by email shortly after your reservation regarding payment options.
Prices shown in the price guide are for the villa itself regardless of the number of guests, they are subject to change with individual circumstances – to obtain a total price, please use the calendar to select your arrival and departure dates.
An infant is classed as a child using a cot.
04 January 2021 – 05 February 2021
£140.00
06 February 2021 – 28 February 2021
£185.00
01 March 2021 – 26 March 2021
£140.00
27 March 2021 – 11 April 2021
£240.00
12 April 2021 – 30 April 2021
£140.00
01 May 2021 – 09 May 2021
£185.00
10 May 2021 – 21 May 2021
£140.00
22 May 2021 – 30 May 2021
£185.00
31 May 2021 – 30 June 2021
£140.00
01 July 2021 – 16 July 2021
£185.00
17 July 2021 – 05 September 2021
£300.00
06 September 2021 – 15 October 2021
£185.00
16 October 2021 – 31 October 2021
£240.00
01 November 2021 – 17 December 2021
£140.00
18 December 2021 – 09 January 2022
£300.00