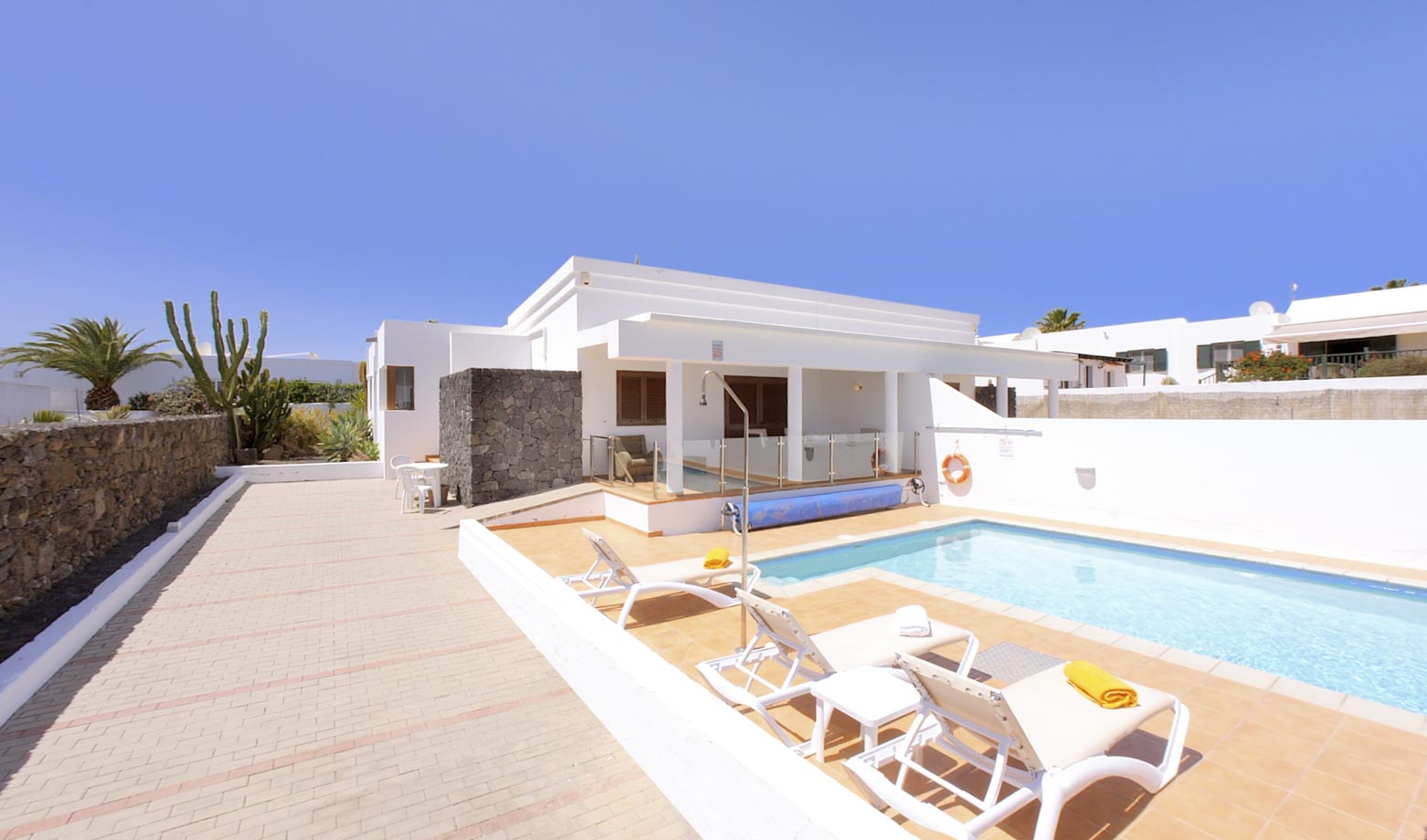 Overview
Centrally located, Villa Mi Casa is just a short 10 minute stroll from the centre of bustling Playa Blanca. With local sights, shops, bars and restaurants all within walking distance, its fantastic location makes it an ideal choice if you don't plan on hiring a car on your Lanzarote villa holiday.
Sleeping up to 8 guests in comfort across 4 bedrooms, made up of 3 doubles and a twin, Villa Mi Casa is perfect for families or friends travelling together. The villa's outdoor seating area also keeps kids in mind, with a safety gate to stop little ones heading to the pool unattended.
Outside you'll find a spacious tiled sunbathing area surrounding the beautiful private pool – which can also be heated during cooler weather. The shaded veranda and purpose built BBQ are great for evening entertainment and al fresco dining.
 Indoors, coin operated air conditioning throughout guarantees a comfortable night's sleep on warm evenings – while the spacious and modern open-plan living room, dining room and kitchen are great for family nights in.
Travelling as part of a larger group or with another family? Villa Mi Casa's identical sister property, Villa Su Casa, is just next door – offering a convenient option for additional accommodation needs.
Microwave, oven, hob, fridge/freezer, dishwasher

Flat screen TV with comprehensive UK and European TV channels, coin operated Air Conditioning,DVD player, hifi, doors to pool terrace, ceiling fan, seperate indoor dining area and access to kitchen

Double bed, ceiling fan, flat screen TV with comprehensive UK and European TV channels, coin operated Air Conditioning, walk in wardrobe, en-suite bathroom

Bath and separate shower cubicle, WC and single washbasin

Double bed, double wardrobes, coin operated Air Conditioning, shares family bathroom

Double bed, double wardrobes, coin operated Air Conditioning, shares family bathroom

Twin beds, double wardrobes, coin operated Air Conditioning, shares family bathroom

Shower cubicle, WC and single washbasin
Wonderful time

Linda, April 2019

"We had a wonderful time at this villa last week, it was lovely and clean on arrival everything we needed was to hand. The villa was situated within easy walking distance to the seafront, shops and restaurants we really enjoyed our week and will be using this villa again in the future. "
Great stay

Posted to Airbnb, March 2019

"Had a great stay in the house. Pool great for kids as warm & safe. Everything there you need to have a great week. "
5-star

Stéphanie, November 2018

"Really nice villa, super clean and well furnished. Located close to the center. We had an amazing week and we would recommend it for sure! "
Superb place

Veronica, September 2018

"Villa Mi Casa is a superb place to spend your holiday. It is very clean, comfortable and convenient for both the supermarkets and the seafront with a very good selection of restaurants. The pool was in use daily and there were plenty of comfortable sun beds. As we could not see any parasols on the picture of the villa we contacted Optima villas before our holiday and one was provided when we arrived. All in all we would definitely come back to this villa and use Optima villas again. "
Wonderful stay

Elyssa, August 2018

"We all had a lovely time staying at your villa. So clean and beautifully set out with all the modern conveniences one would expect to find in a villa of this standard. Lovely quiet area with town and supermarkets only a 5-10mins walk away. Warm pool for lots of family fun and everything you would need for a home from home stay. Thank you very much we all had the best time! "
We wanted again to thank you, we had a truly lovely holiday

Rebecca, M, March 2017

"We wanted again to thank you, we had a truly lovely holiday and wanted to thank you all for the service you provided before, during and after the holiday.You are always very helpful and kind,especially when my little boy was unwell, we visited your office and you explained the procedures to us. We attended the local medical centre and were dealt and treated within 45 minutes. He was diagnosed with tonsillitis so I was thankful we attended the medical centre. It was lovely to meet Terrie in person. Any problems we have are never too much trouble for you to sort so thank you.The villa was beautiful. This was our third holiday with yourselves and we will definitely booking our next holiday with yourselves !!!!!! "
Would highly recommend optima villas

Janet and Malcolm, January 2017

"Thank you so much to the optima sales team for making our family holiday in January to Playa Blanca in Villa Mi Casa a truly memorable one. We found the instructions with directions to take us to the villa very easy to follow and the villa itself was very spacious, spotlessly clean and furnished to a high standard. We enjoyed using the heated pool ever day (especially my 8 month old grandson) and made good use of the barbecue. The villa was very secure and in a very nice area just a short stroll from the centre of Playa Blanca. It was reassuring to know that support was available if required and when we reported a problem with a DVD player a member of the team arrived within a few hours and sorted it along with the washing machine that we had a problem with while he was there. Would highly recommend optima villas and look forward to using them again"
We really enjoyed our holiday

Gina D., October 2016

"We really enjoyed our holiday and the time we spent in the villa. The villa met all our expectations. It was clean, modern, well equipped and in an ideal location. The only small negative was the electricity failure on Sunday and Monday night but this was dealt with by your company quickly and efficiently. Would not hesitate to stay at one of your villas again and have recommended them to a colleague at work."
Gorgeous family property in a quiet location

Anon, April 2016

"Fabulous villa in a very quiet location but in easy walking distance of the town centre. There is a small beach there but the larger beaches of Playa Dorada/Flamingo are about a 15/20 min walk depending on how quick your kids walk! We stayed with grandparents and 3 kids aged 3, 6 & 9 and its perfect for a family villa. Pool was heated and not too deep, my eldest could stand up in the deep end so perfect for the kids to splash about in while we watched form the terrace or pool side. Very well equipped kitchen with everything you could possibly need…not that we cooked at all!! The management company – Optima Villas – were brilliant, we arrived early and we able to get in to the villa and pop the kids straight in the pool. We requested a parasol to use by the pool and one arrived the next day, they even enquired about the health of my father who had been ill. Brilliant welcome pack had been left which included milk, tea, coffee, coco pops, cookies, Pringles…..and Cava….meant we could relax for a while before heading into town while toasting out holiday! Thank you for an amazing stay, we will definitely return."
Fabulous Spot

Cliona, March 2016

"I just wanted to send you an email regarding our stay last week in villa Mi Casa in playa blanca. We had a fantastic week at the villa. What a fabulous spot .. everything about it was just wonderful. The villa is so well decorated, so very comfortable, and the level of luxury was supberb. The quality of the towels (and the qty) was just what you want for your holidays, all the kitchen utensils / glassware / etc was just great quality and plenty of them. Hot water all the time, comfortable beds, fans in all bedrooms, security and privacy all contributed to a wonderful comfortable stay. Our only regret was that we couldn't stay longer ! We are definitely going to return.We had one issue with the water pump, which was fixed promptly and the guy from optimas villas that came to sort it out was a very professional gentleman."
Brilliant holiday

Andy, September 2015

"Hi Sally Our second visit to Mi Casa and another brilliant holiday with memories for a lifetime… thanks to everyone at Optima Regards Andy – Villa Mi Casa"
Lovely stay at Villa Mi Casa

Jill, September 2014

"Hi Sally Just wanted to say we had another lovely stay at Villa Mi Casa. Thank you very much for letting us stay until 2pm, it ensured that we made the most of our last day. Hopefully we will be back again next year! Regards Jill – Villa Mi Casa"
The villa exceeded our expectations in every way

Andy, August 2013

"Hi Sally Just a short note to say how fantastic our holiday was at Villa Mi Casa. The villa exceeded our expectations in every way. Thanks again Andy – Villa Mi Casa"
The villa was excellent, the location was excellent

George, October 2012

"Message for Richard and Sarann, The villa was excellent, the location was excellent and we thought Playa Blanca was very nice The service we received at all stages – Sally, Sarann and you [Richard] was very good – and part of my business is to help organisations become more customer centric, so I'd like to think I knew what I was talking about.Finding a beer and a pizza in the fridge on arrival was just such good news! We have already recommend you to two families (people we met on the plane) – we would book through you again. Thank you for a wonderful trip George (and family) – Villa Mi Casa"
Fantastic villa in a great location

Jennie, April 2011

"Hi Richard, We'll be leaving Mi Casa tomorrow after a lovely weeks stay. Thanks for a fantastic villa in a great location. I very much hope we get to return in the near future. Regards Jennie – Villa Mi Casa"
The villa was everything we expected and more

Chris and Audrey, December 2009

"Sally and Richard, We have just returned from our Christmas/New Year break in Villa Mi Casa. The villa was everything we expected and more. You really excelled with the welcome pack this time. Thank you all in Optima Villas for your friendliness and efficiency. We had a problem with the pool heater during our break – Richard got everything sorted and working within 2 hours!! We look forward to returning in 2014. Chris and Audrey – Villa Mi Casa"
Wonderful service

Michael, March 2009

"Dear Richard & Sarann, just wanted to drop you both a quick line to thank you for the wonderful service we received during our stay in Lanzarote. The villa was perfect and our minor issues were dealt with promptly. Furthermore allowing us to stay later than the pre-arranged check-out was a huge bonus! The children were especially happy to have another day in the pool. Thanks again – we'll certainly recommend Optima in future. Best wishes Michael – Villa Mi Casa"
Additional Information
A 20% deposit is required to secure your booking with the balance payable 90 days before your arrival. Reservations under 90 days from the date of arrival must be paid in full.
We accept card payments and there is no commission for payments on credit card. You will be contacted by email shortly after your reservation regarding payment options.
Prices shown in the price guide are for the villa itself regardless of the number of guests, they are subject to change with individual circumstances – to obtain a total price, please use the calendar to select your arrival and departure dates.
An infant is classed as a child using a cot.
04 January 2021 – 05 February 2021
£160.00
06 February 2021 – 28 February 2021
£220.00
01 March 2021 – 26 March 2021
£160.00
27 March 2021 – 11 April 2021
£280.00
12 April 2021 – 30 April 2021
£160.00
01 May 2021 – 09 May 2021
£220.00
10 May 2021 – 21 May 2021
£160.00
22 May 2021 – 30 May 2021
£220.00
31 May 2021 – 30 June 2021
£160.00
01 July 2021 – 16 July 2021
£220.00
17 July 2021 – 05 September 2021
£350.00
06 September 2021 – 15 October 2021
£220.00
16 October 2021 – 31 October 2021
£280.00
01 November 2021 – 17 December 2021
£160.00
18 December 2021 – 09 January 2022
£350.00