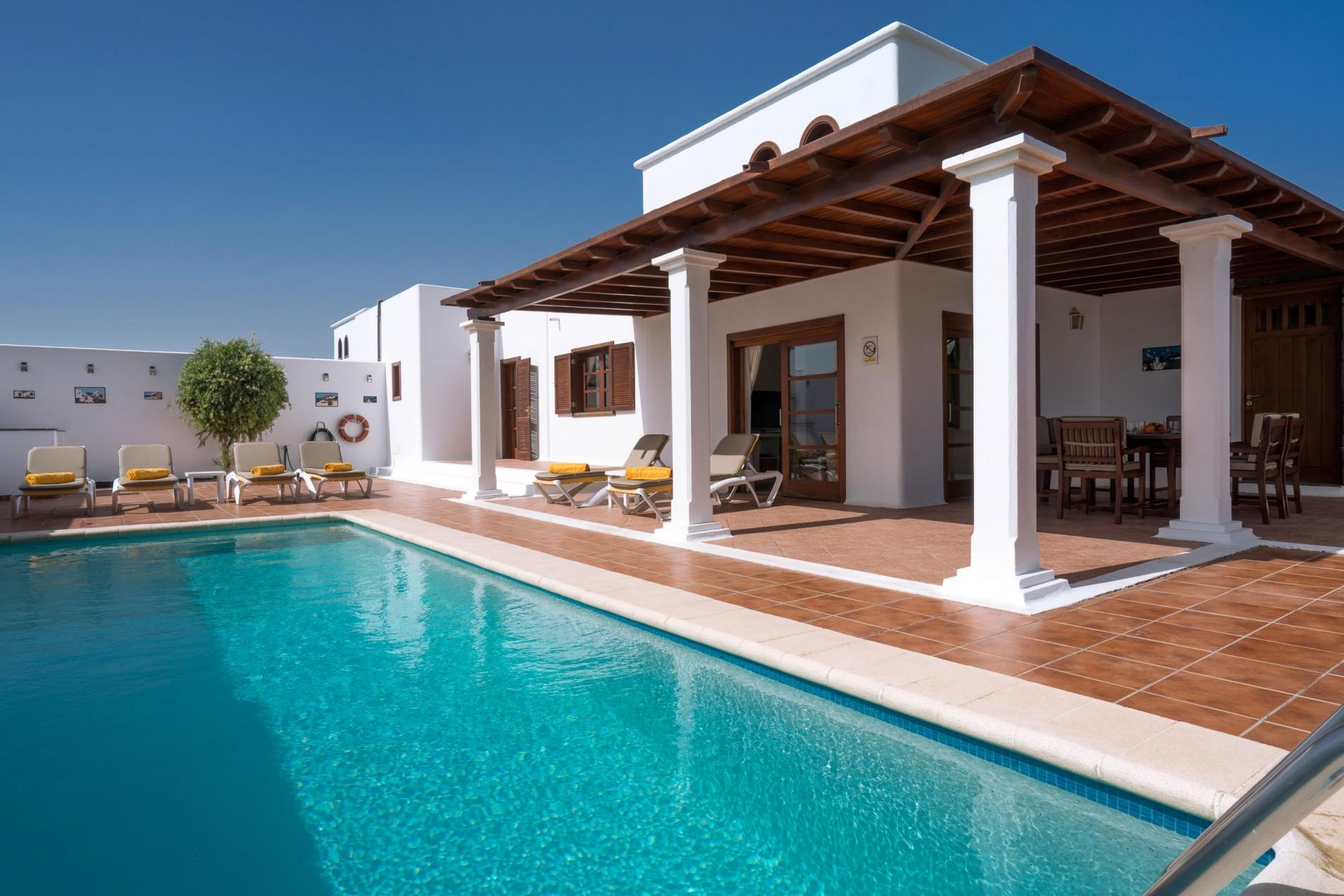 Overview
Located in the popular neighbourhood of Costa Papagayo, just 20 minutes' walk from beautiful Playa Dorada Beach, Villa Maria benefits from a convenient location while still offering a tranquil and private escape.
This 3 bedroom villa sleeps up to 6 guests across 1 double and 2 twin bedrooms, making it an ideal choice for families or friends and couples on holiday together.
Villa Maria's main living area has a light and airy feel, thanks to its open-plan layout – which features sliding glass doors on 2 aspects of the living room, as well as a transparent atrium ceiling over the dining room – flooding the interior with natural light.
Through the living room doors, you'll step out onto the wrap-around veranda, featuring a shaded and comfortable al fresco dining area – and offering additional shade on the other side if you prefer to keep cool on your sun lounger. The impressive south-facing sun terrace surrounds a stunning private swimming pool, which can be heated during the cooler months, with plenty of comfortable sunbeds to relax on.
When the sun goes down, the traditional built-in Canarian style BBQ is the perfect place to cook and entertain, with its own worktop and food preparation area, you can make the most of your time outdoors and socialise while cooking up a delicious feast.
Book Villa Maria, Lanzarote, today and create amazing memories on your next holiday in the Canaries.
Microwave, oven, hob, dishwasher, fridge/freezer, washing machine

Flat screen TV, DVD player, Hifi, doors to dining area, doors to pool terrace

Double bed, double wardrobes, door to pool terrace, ensuite bathroom

Shower over bath, WC, bidet and twin washbasin

Twin bed, double wardrobes, shares family bathroom

Twin bed, double wardrobes, shares family bathroom

Walk in shower cubicle, WC and single handbasin
Thoroughly enjoyed our stay

Posted to Airbnb, April 2019

"We thoroughly enjoyed our stay at Villa Maria. The villa was as presented in the photographs. There were plenty of towels provided and the place was spotlessly clean. The pool area was quiet and ideal for a relaxing holiday. The kitchen facilities were ideal. This spacious villa was very comfortable for 4 adults. I contacted Optima Villas on one occasion and there was a very prompt response. The villa is located within a 20 minute walk of the town and a 30 minute walk of Marina Rubicon. I would recommend this Villa to a friend."
Quiet & peaceful location

Posted to Tripadvisor, October 2018

"What a great holiday. Quiet peaceful location, Villa Maria is well kept & very clean, all the little things made our holiday special, book swaps, dvd library, wifi, sky movies, fantastic pool, absolutely loved it. "
Everything was perfect

Mary, September 2018

"Firstly let me thank you for your swift replies to our enquiries before departure and upon arrival at the villa. We loved our stay at Villa Maria everything was perfect and was in working order. The villa was really homely and what set it apart from other villas was the wonderful outside area, there was so much space. Glad we opted for pool heating, it meant we could use the pool daily even on the cooler days. Welcome pack was useful as we arrived late and shops were closed and my only suggestion would be for a larger bottle of water to be included. As to the location of the Villa, if you are young and fit you could take a long walk into town and the beach, but it was just a little too far to walk for the OAP in our group and we needed to use the car daily. We would definitely book through Optima Villas again and happily book Villa Maria. "
Outside space was wonderful and private

Michael and Julie, July 2018

"Myself and my wife Julie stayed in villa Maria on the island of Lanzarote in Playa Blanca, The villa itself was great, and the pool area and outside space was wonderful and private, The villa was within walking distance of bars and restaurants, and don't worry, all the walking is on flat areas, no hills or inclines. Ana the Optima Villas representative was absolutely superb, well mannered, polite and very helpful, she was a pleasure to meet and helped me out with a minor problem I had, but nothing was to much trouble for her, I would definitely visit the island again and maybe try a different villa next time. The weather was a bit strange when we were there in early June but even the locals couldn't understand why it was a bit inconsistent. Never mind, you cant have everything after all. But I am glad I tried the island for the first time and would go back. Adios for now, see you soon. Regards Michael and Julie from Birkenhead. "
Very good position

Karen, April 2018

"We had a lovely, relaxing holiday thank you and will definitely be coming back to Playa Blanca again soon. The villa was spotless and comfortable. It is in a very good position to walk into the town in the evenings. "
Look forward to going again.

October 2017

"Within walking distance of marina Rubicon (10mins) also close to a small supermarket. A quiet area and the sun shone on the pool all day. The rooms were a good size, and the villa was clean and tidy. look forward to going again. "
We had had yet another amazing holiday in Villa Maria

Cara, September 2014

"Just wanted to say a big thank you, we had had jet another amazing holiday in Villa Maria, the villa is fantastic and has everything you need for your stay. We just love everything about the villa and Playa Blanca. We hope to be back again next year Thanks again for making our time there so comfortable Cara – Villa Maria"
Villa Maria was exactly what we wanted for a great family holiday

Anthony, April 2014

"Hi Sally Just wanted to say a big thank you, villa Maria was exactly what we wanted for a great family holiday and we really appreciated the fabulous pool towels and welcome pack. It was really well equipped with all mod cons, nice quiet location but still easy access to the main resort and the kids adored the pool so we look forward to a future return! Best regards Anthony – Villa Maria"
We will certainly book with Optima again

Pat and Dave, October 2012

"Dear Richard We would like to thank you for a wonderful holiday in the beautiful Villa Maria. Also, again, your efficient and accommodating service provided to us, particularly on our last day. We will certainly book with Optima again in the, hopefully, near future. Best wishes. Pat and Dave – Villa Maria"
Thank-you very much for such a professional way to rent and look after the villa

Paul, April 2012

"Hi Richard, would like to say thank-you very much for such a professional way to rent and look after the villa. You made our stay simple without any worries, and the pool was kept so clean. Our best villa yet and we will be renting again from you next year. Thanks to you and Diana:)) Regards Paul and Patricia – Villa Maria"
Additional Information
A 20% deposit is required to secure your booking with the balance payable 90 days before your arrival. Reservations under 90 days from the date of arrival must be paid in full.
We accept card payments and there is no commission for payments on credit card. You will be contacted by email shortly after your reservation regarding payment options.
Prices shown in the price guide are for the villa itself regardless of the number of guests, they are subject to change with individual circumstances – to obtain a total price, please use the calendar to select your arrival and departure dates.
An infant is classed as a child using a cot.
01 July 2020 – 17 July 2020
£175.00
18 July 2020 – 16 August 2020
£175.00
17 August 2020 – 30 August 2020
£125.00
31 August 2020 – 16 October 2020
£175.00
17 October 2020 – 01 November 2020
£210.00
02 November 2020 – 18 December 2020
£125.00
19 December 2020 – 25 December 2020
£260.00
26 December 2020 – 03 January 2021
£260.00
04 January 2021 – 05 February 2021
£125.00
06 February 2021 – 28 February 2021
£175.00
01 March 2021 – 26 March 2021
£125.00
27 March 2021 – 11 April 2021
£210.00
12 April 2021 – 30 April 2021
£125.00
01 May 2021 – 09 May 2021
£175.00
10 May 2021 – 21 May 2021
£125.00
22 May 2021 – 30 May 2021
£175.00
31 May 2021 – 30 June 2021
£125.00
01 July 2021 – 16 July 2021
£175.00
17 July 2021 – 05 September 2021
£260.00
06 September 2021 – 15 October 2021
£175.00
16 October 2021 – 31 October 2021
£210.00
01 November 2021 – 17 December 2021
£125.00
18 December 2021 – 09 January 2022
£260.00