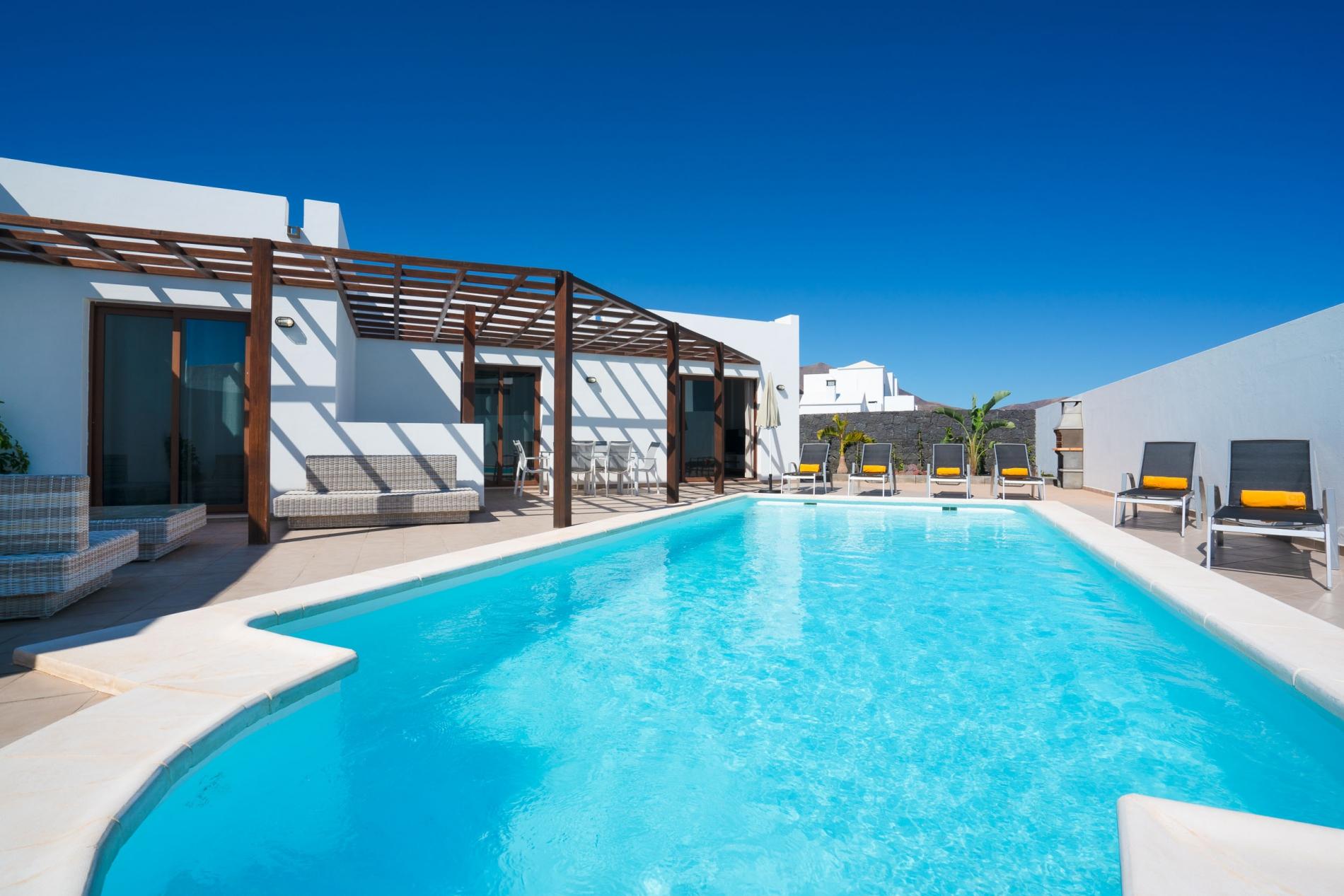 Overview
Contemporary and stylish, Villa Ledicia offers the perfect Lanzarote escape in the popular area of Costa Papagayo, close to Playa Dorada Beach.
This recently refurbished villa features 3 bedrooms and 2 bathrooms, including 2 double rooms and a twin room – with the master bedroom also including an ensuite. Thanks to its flexible layout, Villa Ledicia is ideal for families or couples travelling with friends.
The modern kitchen and open-plan living room area open out onto a spectacular tiled pool deck and garden, with a secluded sunbathing area offering plenty of privacy. Situated in a peaceful residential area, Villa Ledicia is the perfect place to escape the hustle and bustle, unwind and get into the holiday spirit.
The large 9×5 metre swimming pool is the villa's centrepiece and is great for whiling away hot sunny days, whether you're taking a dip between working on your tan or getting some exercise in the cool waters. Planning on visiting Lanzarote during the winter? The pool can be heated, meaning you won't miss out – whatever time of year to decide to jet off. There is also a games room with pool table.
When the sun goes down, the outdoor dining area and purpose built BBQ are perfect for eating al fresco and entertaining under the stars.
A pleasant 20 minute stroll from the centre of Playa Blanca and just 5 minutes' walk from the nearest mini market, Villa Ledicia offers comfortable and stylish surroundings with easy access to local sights and amenities.
Microwave, oven, hob, dishwasher, fridge/freezer, washing machine, dining area

Flat screen TV , doors to pool terrace

Double bed, double wardrobes, doors to pool terrace, ensuite bathroom

Bath and shower over, WC and washbasin

Double bed, double wardrobes, doors to pool terrace, shares family bathroom

Twin bed, double wardrobes, shares family bathroom

Shower cubicle, WC and single washbasin
Fantastic villa and company

Ian, February 2020

"We stayed in Villa Ledicia, which was immaculately clean, spacious and well equipped. A short 15 minute to the town centre or a 3.5 Euro cab ride if you prefer. We have stayed with Optima twice now and will not hesitate to again"
Wonderful villa

Posted to Airbnb, October 2018

"A wonderful villa with all the facilities and amenities that you would want. I loved the pool, which captured the sun throughout the days I was there. Everything needed was provided including a lovely 'welcome pack' which was greatly appreciated as I had a later arrival. Beautifully presented villa and one that I will certainly consider returning to. "
Immaculate

Donna, July 2018

"Booked villa luar and villa ledicia 2 3 bedroom villas .immaculate .their customer service is 5 star .don't book with anyone else .the company is very professional .they are there for you 24/7 "
Additional Information
A 20% deposit is required to secure your booking with the balance payable 90 days before your arrival. Reservations under 90 days from the date of arrival must be paid in full.
We accept card payments and there is no commission for payments on credit card. You will be contacted by email shortly after your reservation regarding payment options.
Prices shown in the price guide are for the villa itself regardless of the number of guests, they are subject to change with individual circumstances – to obtain a total price, please use the calendar to select your arrival and departure dates.
An infant is classed as a child using a cot.
18 July 2020 – 16 August 2020
£180.00
17 August 2020 – 30 August 2020
£130.00
31 August 2020 – 16 October 2020
£180.00
17 October 2020 – 01 November 2020
£220.00
02 November 2020 – 18 December 2020
£130.00
19 December 2020 – 25 December 2020
£280.00
26 December 2020 – 03 January 2021
£280.00
04 January 2021 – 05 February 2021
£130.00
06 February 2021 – 28 February 2021
£180.00
01 March 2021 – 26 March 2021
£130.00
27 March 2021 – 11 April 2021
£220.00
12 April 2021 – 30 April 2021
£130.00
01 May 2021 – 09 May 2021
£180.00
10 May 2021 – 21 May 2021
£130.00
22 May 2021 – 30 May 2021
£180.00
31 May 2021 – 30 June 2021
£130.00
01 July 2021 – 16 July 2021
£180.00
17 July 2021 – 05 September 2021
£280.00
06 September 2021 – 15 October 2021
£180.00
16 October 2021 – 31 October 2021
£220.00
01 November 2021 – 17 December 2021
£130.00
18 December 2021 – 09 January 2022
£280.00