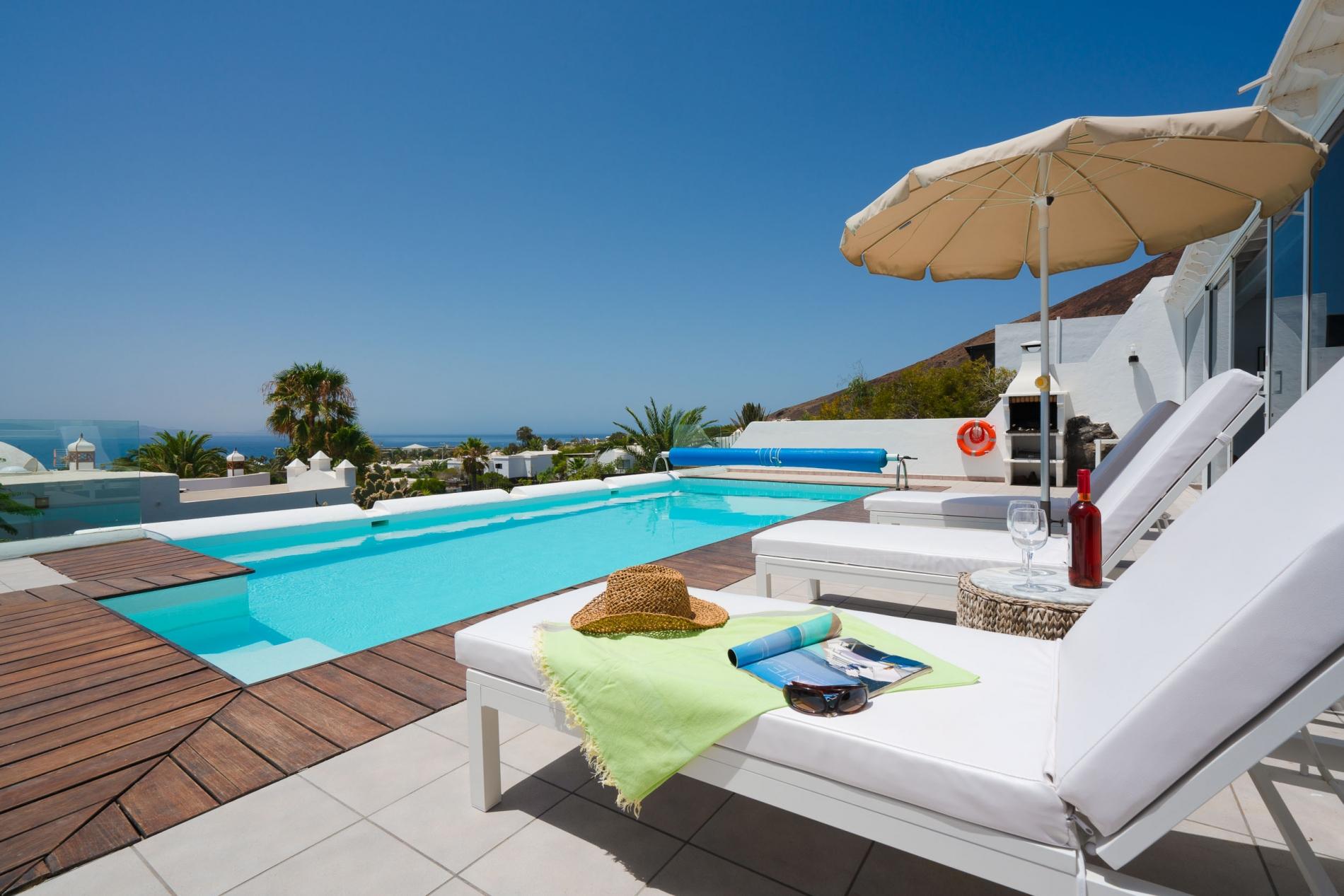 Overview
With stunning ocean views, Villa Ladera (which translates to hillside home) sits up high on Montaña Roja, just 30 minutes' walk from the centre of lively Playa Blanca. Surrounded by stunning landscapes and with the ocean and resort never far away, this villa provides pure relaxation with all the sights close by. There's also a supermarket for all your daily essentials just 9 minutes away.
With 4 spacious bedrooms, 3 ensuites and a family bathroom, the 3 double bedrooms and one twin room ensure that everyone has plenty of space to relax and enjoy the impressive sea views, whichever room they sleep in. Whether travelling as a large family or a group of friends, even at full capacity with 8 guests this villa will feel comfortable during your entire stay.
The bright white Canarian interior decor brings a spacious and calming feel to the shared living areas that include a sleek, modern kitchen, comfortable living room with sea views and a designated chill out area – perfect for escaping the midday heat.
Outside the villa, you can take in the breathtaking panoramic views of the sea below from the south-facing sun terrace. With a private swimming pool, shaded al fresco dining area and an outdoor BBQ, Villa Ladera delivers the perfect place for lazy days by the pool and balmy evenings watching the sun go down, whatever time of year you visit.
Microwave, oven, hob, dishwasher, fridge/freezer, washing machine,

Flat screen TV with satellite channels, DVD player, CD player, electric fan, dining area, doors to pool terrace.

Second chill-out lounge with white comfy seating and an indoor dining table

Double bed, double wardrobes, electric fan, ensuite shower room

Walk in Double Shower, Twin hand basin and WC

Twin beds, double wardrobes, electric fan, ensuite shower room

Walk in shower, single handbasin and WC

Double bed, double wardrobes, electric fan, ensuite shower room

Single Shower cubicle, single handbasin and WC

Double bed, electric fan, double wardrobes, sole use family bathroom situated opposite

Sunken bath and separate shower cubicle, single hand basin and WC

100% highly rated!

Craig, August 2020

"We spent 2wks at Villa Ladera through Optima Villas and having stayed in many villas in Playa Blanca previously – this is easily the best. With issues due to Covid19, Zuzanna at Optima was excellent and put things in place including Plan B's should our holiday not go ahead. Having pushed our holiday back 1wk, she was very quick in re-arranging and ensuring we were stress free althrough the process and this added to the super holiday we just had. We were first to stay in Villa Ladera for quite a few months due to Covid19 so there were some minor things that needed addressing (TV channels, pool light) and they even arranged for the trees to be trimmed so our view to Fuerteventura & Lobos was unrestricted and panoramic – Elo & the support team were very prompt and were all superb. 100% highly rated! "
Villa was lovely

Adrienne, April 2019

"Stayed at Villa Ladera, the Villa was lovely and the team at Optima extremely helpful and prompt. Would not hesitate using their services again. "
Excellent villa

David, November 2018

"Spent a weeks stay at Villa Ladera with Optima Villas. Excellent villa, great location, great unspoilt views from large pool area. Amenities in villa were excellent, when we had an issue with one thing, emailed with issue in PM, quick response on email & staff member visited next morning to have a look then arranged for engineer to visit. Highly recommend Optima & Villa Ladera. "
Great week

Carole, March 2018

"Thank you we had a great week at the apartment after some initial issues with the wifi and the TV which was resolved by the helpful maintenance man. The pool area was very relaxing with sufficient loungers, pool very clean. Bedrooms all clean with storage space and everything we needed in the kitchen. The welcome pack was very useful too as we arrived late. We had a problem with the flight back, it was very windy when we were due to leave and so our flight was cancelled. Thomas Cook were not good at all and could not find sufficient rooms and so we did ring Optima to see if we could go back to the villa for the night. Whoever took the call was very helpful and said that we could go back which was good. We did not end up going back as the queue for the taxis was horrendous and we ended up staying at the airport! "
We had a fantastic time at Villa Ladera, Brett & Helen

Brett & Helen, June 2017

"Just to let you know We had a fantastic time at Villa Ladera, and thank you so much for letting us stay for a late check out it was so much nicer being able to have somewhere while waiting to go to the airport. "
Optima Villas ist ein Super Vermieter

Dirk und Andrea, March 2017

"Optima Villas ist ein Super Vermieter. Von der Buchung bis zum Einzug läuft alles bestens. Alle Absprachen werden Eingehalten. Einen besseren Service kann man sich nicht Vorstellen. Wir haben schon mehrere verschiedene Villen bei Optima gebucht und alle waren in einen sehr guten Zustand. Die Bilderund und die Beschreibung stimmen immer zu 100 %. Wir werden so oft wir können immer bei Optima Villas buchen. Weil wir uns so wohl und gut aufgehoben fühlen so wie ein Urlaub sein soll. Liebe Grüße aus Deutschland Optima Villas is a great letting company. From booking to staying in the villa, it all works the best. All agreements are respected. A better service can not be imagined. We have stayed in several villas of Optima and all were well looked after. The photos and descriptions are always a 100% correct. We will book as often as possible with Optima Villas. Because we feel so well looked after and comfortable, as a holiday should be. With kindest regards from Germany "
Amazing Villa

Carmel, July 2016

"Just to say we had the most wonderful stay at Villa Ladera, we couldn't have asked for better.It's an amazing Villa, and you could never go back to a Hotel after it. We stayed at the Villa mostly during the days and only ventured out in the evening as you didn't need anything better than what we had. It was so clean and perfect in every way, and the fact that we only needed to contact you for a fan, says it all, perfect."
Additional Information
A 20% deposit is required to secure your booking with the balance payable 90 days before your arrival. Reservations under 90 days from the date of arrival must be paid in full.
We accept card payments and there is no commission for payments on credit card. You will be contacted by email shortly after your reservation regarding payment options.
Prices shown in the price guide are for the villa itself regardless of the number of guests, they are subject to change with individual circumstances – to obtain a total price, please use the calendar to select your arrival and departure dates.
An infant is classed as a child using a cot.
17 October 2020 – 01 November 2020
£300.00
02 November 2020 – 18 December 2020
£170.00
19 December 2020 – 25 December 2020
£380.00
26 December 2020 – 03 January 2021
£380.00
04 January 2021 – 05 February 2021
£170.00
06 February 2021 – 28 February 2021
£230.00
01 March 2021 – 26 March 2021
£170.00
27 March 2021 – 11 April 2021
£300.00
12 April 2021 – 30 April 2021
£170.00
01 May 2021 – 09 May 2021
£230.00
10 May 2021 – 21 May 2021
£170.00
22 May 2021 – 30 May 2021
£230.00
31 May 2021 – 30 June 2021
£170.00
01 July 2021 – 16 July 2021
£230.00
17 July 2021 – 05 September 2021
£380.00
06 September 2021 – 15 October 2021
£230.00
16 October 2021 – 31 October 2021
£300.00
01 November 2021 – 17 December 2021
£170.00
18 December 2021 – 09 January 2022
£380.00