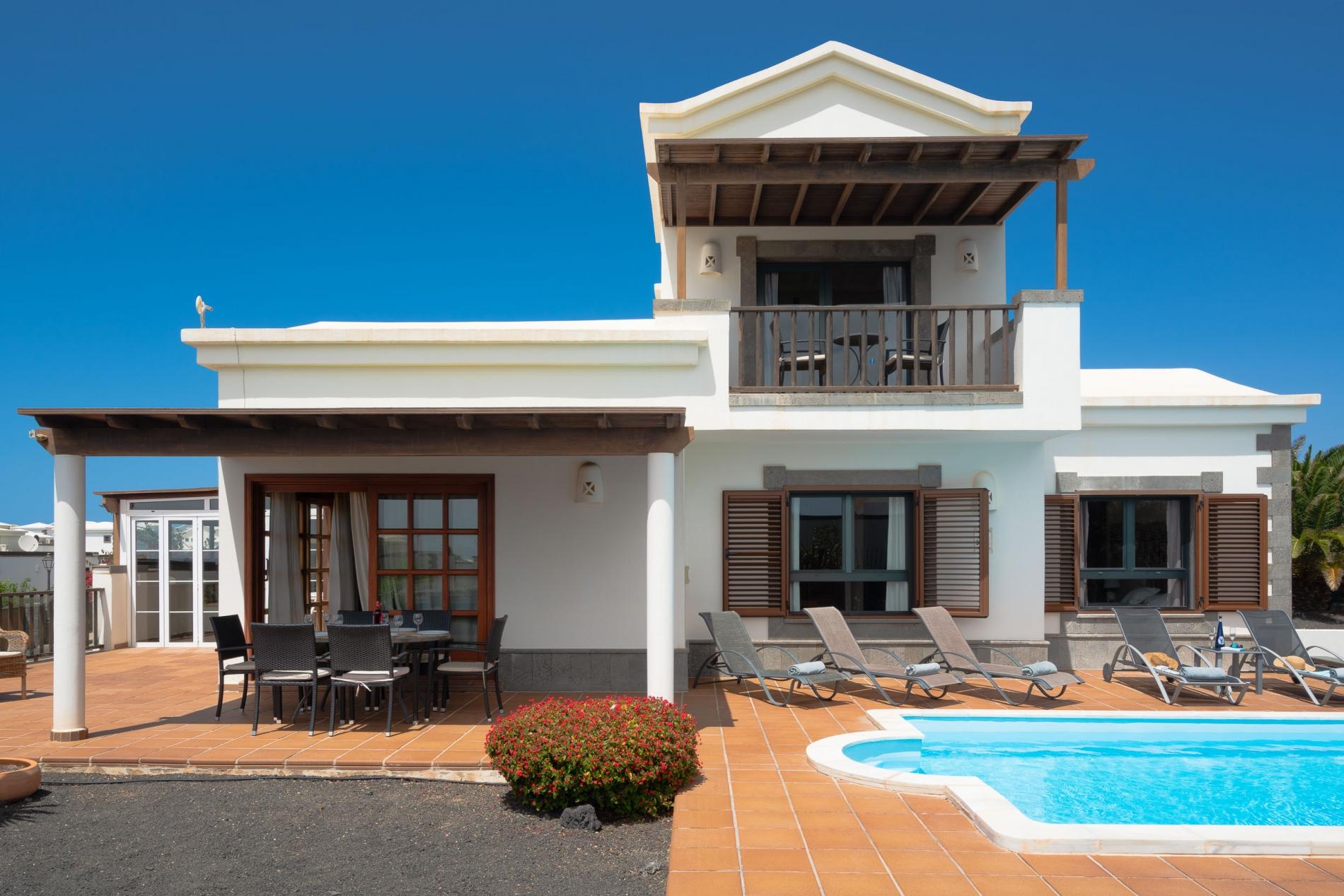 Overview
Located near Faro Park, Villa Keur Teranga offers spectacular sea and mountainside views from its quiet and spacious plot – while shops, bars and restaurants are just a 15 minute walk away.
Inside you'll find a fusion of contemporary decor with traditional furnishings, giving Villa Keur Teranga's interior a unique and stylish feel. Spread over 3 floors, the villa sleeps up to 8 in comfort across 4 bedrooms. With 2 double rooms and 2 twin rooms, the flexible sleeping arrangements make this villa an ideal choice for couples or families sharing.
The lower floor features a twin room and bathroom, while the middle floor is home to the main living space and kitchen and 2 additional bedrooms – as well as another bathroom. On the upper floor, you'll find the master bedroom, featuring an ensuite and private terrace offering spectacular views.
Outside you'll find a bright and open sun deck centred around a private swimming pool. Whether you're lounging by the pool on one of the many sunbeds or dining al fresco under the shaded veranda, there's plenty of room for all guests to spread out and find their own corner of holiday heaven. The outdoor BBQ area is perfect if you want to cook and eat with a view, or enjoy a few extra hours poolside before heading indoors.
Microwave, oven, hob, dishwasher, fridge/freezer, washing machine, Senseo coffee machine

Flat screen TV with basic satellite TV, no Sky, DVD player, CD player, blu-ray player, and a 5.1 home cinema surround system with iPod dock, access to kitchen, doors to pool terrace, sea views

Double bed, double wardrobes, electric fan, doors to balcony, ensuite bathroom

Shower over bath, WC and twin washbasin

Double bed beds, double wardrobes, electric fan, shares family bathroom

Shower over bath, WC and single washbasin

Twin beds, double wardrobes, electric fan, shares family bathroom

Twin beds, double wardrobes, electric fan, is on lower ground with shower room

Shower room, single handbasin and WC, located on lower floor
Certainly would recommend

Kati, November 2016

"To all at Optima. Thank you for good wishes. We all enjoyed our stay at Keur Teranga . The villa was lovely with plenty of room for us all to have our own space . The beds were super comfy best we have had in our many trips to Lanzarote and not having to bring beach towels a bonus . Lovely clean warm pool which was used every day seems a dream now our temperatures here are now hitting minus. I was in the hot tub watching the super moon rise up from Montana Roja the sky was so clear it was quite spectacular. The taxi service was very good we didn't have a car but managed well without one, plenty of places to eat also found good carryout deliveries when too lazy as you can see we managed very well. If anything I would say that a folder giving instructions how to use appliances would be helpful , Google had to help us out with the cooker and the shower downstairs took a bit of working out but nothing else to speak of, certainly would recommend the villa and of course yourselves to anyone looking to go to Lanzarote. Best wishes to all from Isle of Arran, Scotland, Kati"
Facilities were all to a brilliant standard

Dean, June 2016

"Firstly I would like to thank Annelieke and everyone at Optima for how helpful and easy they have made our stay at Villa Keur Teranga. Every question we have asked has been answered thoroughly and politely and completely to our satisfaction, from months before the holiday all the way through to when we got back. As for the villa itself, it was just as fantastic as it looked. We had 8 adults staying in the villa and there was never a moment when it felt cramped, and the facilities were all to a brilliant standard. The pool was always warm (aside from the day where everywhere was cold!) and was big enough for us all to enjoy. Whilst we had a very minor issue with the internet, someone was over the next day to fix it in person and ensure everything was working fine. We had a question about how we could clean the hot tub after many uses, and someone was round in little over an hour. The villa is a reasonable distance from civilisation so you would likely need either a car (like we had) or taxis, but the taxis to town of an evening weren't expensive and it is well worth it for the peace and quiet that you get. Overall I would book another holiday with Optima without hesitation and thoroughly recommend the villa we stayed in. "
Additional Information
A 20% deposit is required to secure your booking with the balance payable 30 days before your arrival. Reservations under 30 days from the date of arrival must be paid in full.
We accept card payments and there is no commission for payments on credit card. You will be contacted by email shortly after your reservation regarding payment options.
Prices shown in the price guide are for the villa itself regardless of the number of guests, they are subject to change with individual circumstances – to obtain a total price, please use the calendar to select your arrival and departure dates.
An infant is classed as a child using a cot.
06 February 2021 – 28 February 2021
£200.00
01 March 2021 – 26 March 2021
£175.00
27 March 2021 – 11 April 2021
£285.00
12 April 2021 – 30 April 2021
£175.00
01 May 2021 – 09 May 2021
£200.00
10 May 2021 – 21 May 2021
£175.00
22 May 2021 – 30 May 2021
£200.00
31 May 2021 – 30 June 2021
£175.00
01 July 2021 – 16 July 2021
£200.00
17 July 2021 – 05 September 2021
£355.00
06 September 2021 – 15 October 2021
£200.00
16 October 2021 – 31 October 2021
£285.00
01 November 2021 – 17 December 2021
£175.00
18 December 2021 – 09 January 2022
£355.00
10 January 2022 – 11 February 2022
£175.00
12 February 2022 – 06 March 2022
£200.00
07 March 2022 – 10 April 2022
£175.00
11 April 2022 – 24 April 2022
£285.00
25 April 2022 – 27 May 2022
£175.00
28 May 2022 – 05 June 2022
£200.00
06 June 2022 – 30 June 2022
£175.00
01 July 2022 – 15 July 2022
£200.00
16 July 2022 – 04 September 2022
£355.00