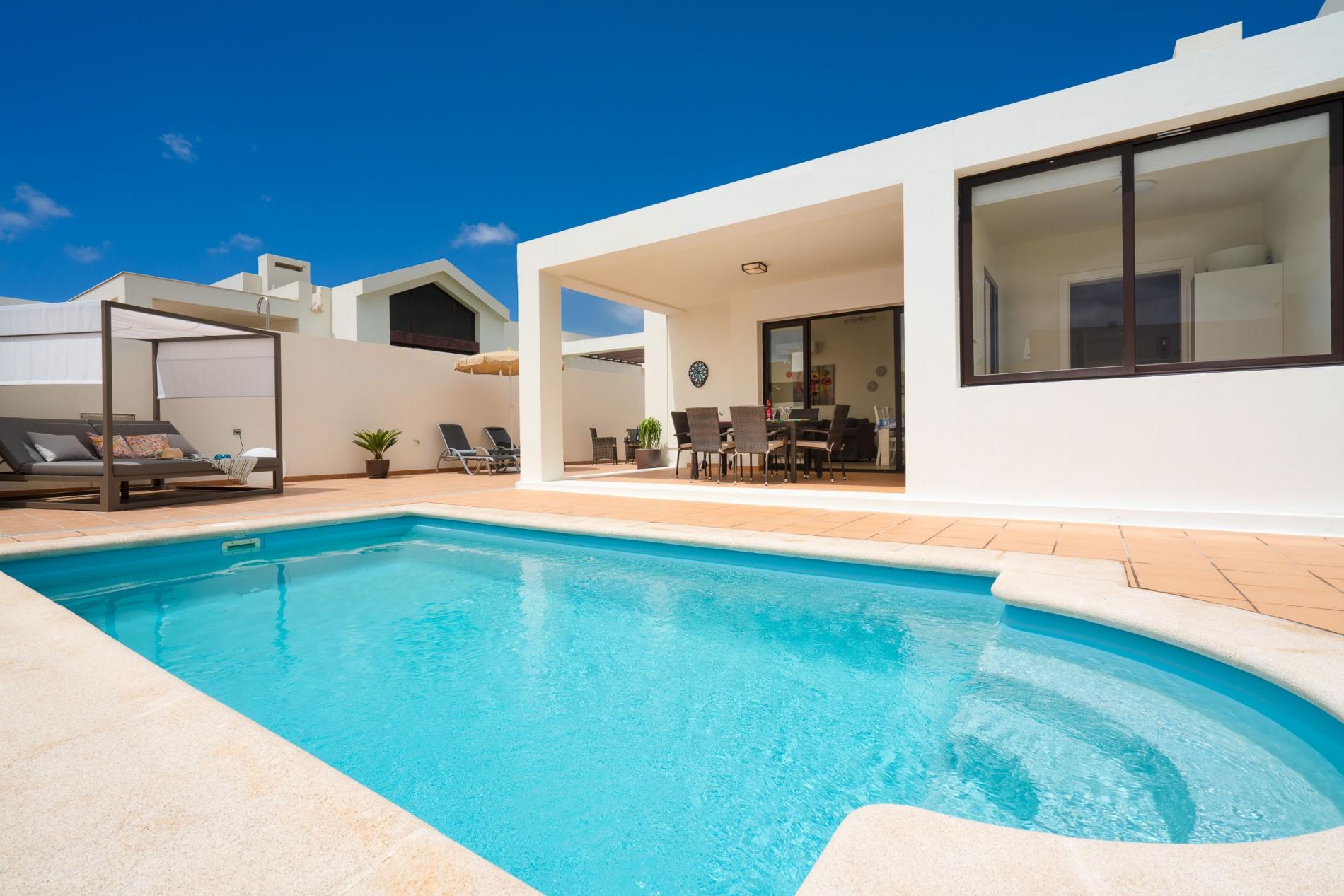 Overview
Situated on the peaceful estate of Villas Buganvillas, Villa Juabel is ideal for larger families or friends, offering 3 bedrooms and 3 bathrooms.Â
Stylish, contemporary and comfortable, Villa Juabel is the perfect luxury villa holiday destination in Lanzarote. Recently refurbished, the villa features modern furnishings and all the mod-cons you could ask for – including SKY TV (with Sky Sports and Sky Movies) and air conditioning for a comfortable night's sleep on warm summer evenings.
Whether you're holidaying with children or just want some extra peace and quiet, the development's private gated road offers total peace of mind – with very little traffic passing by. And when you do want to head out, you don't have to venture far, with Playa Blanca's lively resort centre just a 15 minute walk away. You'll also find a local supermarket 5 minutes away on foot, ideal for all of your food, drinks and holiday essentials.
When you're all stocked up and settled in, you can look forward to days spent around Villa Juabel's private walled sunbathing area and swimming pool, which can also be heated in cooler months. The outdoor dining veranda and BBQ is ideal for family nights in or evenings spent with friends.
Travelling in a larger group? Villa Juabel is available to rent alongside two additional neighbouring villas, sleeping up to a total of 16 – offering flexible options to suit your accommodation needs.
Microwave, oven, hob, dishwasher, fridge/freezer, washing machine

Flat screen TV with comprehensive UK and European channels, DVD player, CD player, dining area, doors to pool terrace

Double bed, double wardrobes, doors to pool terrace, ensuite bathroom

Walk in shower, WC and single washbasin

Double bed, double wardrobes, sole use of 2nd bathroom

Bath with walk in shower, WC and single washbasin

Twin beds, double wardrobes, sole use of 3rd bathroom

Bath with shower over, WC and single washbasin
5 star

Simon, September 2018

"If you would like to book this villa you will not be disappointed, really easy to find with directions from Ana, would be back tomorrow if we could, couldn't have asked for a better Villa "
Thanks for going over what was expected

Mike, May 2018

"Arrival at villa. The process was extremely easy, the instructions were clear, keys where they said they were going to be and the process took about 5 mins. The villa was as described, clean and a nice touch was leaving the few bits and pieces in the villa (breakfast cereal, milk and tea/coffee etc). This certainly helped after a long journey. As noted above the villa was clean, tidy and had all utensils needed. The pool was lovely and warm when we arrived (it was pre heated) and was cleaned half way thru our stay. There was quite a big day of sport on the Saturday (Rugby Premiership final, Play off final and Champions league final) and my stay dad and I wanted to watch a couple of these. We managed to find them on the entertainment system which was great and after a bit of fiddling was easy to use and had everything we needed. We had the necessary information on the local area and along with trip advisor we were able to make some great restaurant choices in Playa Blanca. Finally Optima Villas were able to book our taxi back to the airport which was very helpful and avoided any language issues. Thanks for going over what was expected. "
5* Villa Juabel

Paul, March 2018

"Having just returned from our 7 night stay in Villa Juabel, we would highly recommend this villa. The villa is modern, clean, safe and has all the amenities you would expect from a luxury 5 star villa. Inside the villa has everything you need and is spotlessly clean, outside the pool area is the perfect place to relax and extremely safe for young children. The centre of Playa Blanca with a host of great restaurants is only a 20 minute stroll and other areas are easily accessible via car. We would not hesitate in returning to Villa Juabel and Lanzarote in future. Optima Villas should also be given credit, it has been a 5/5 service from start to finish. "
Perfect family holiday

October 2017

"Perfect family holiday ★ ★ ★ ★ ★ Lovely villa perfect for a family holiday. So much better than expected. It's in a quiet location but just a 15 minute walk/3 minute taxi (which only costs €4) to the centre. The villa is absolutely spotless it is managed by Optima Villas who provided an excellent service from start to finish. The only down side to the villa is that it doesn't have any air con however we contacted Optima Villas about this and within 3 hours they came out to us with air con units. I would definitely come here again "
The Villa was beautiful and spotlessly clean and was exactly as described in your advert

Colm, F, March 2017

"Hi Anna, Terrie & Alicia, Just a few words after our recent holiday in Lanzarote and our stay in Villa Juabel. The Villa was beautiful and spotlessly clean and was exactly as described in your advert. The villa was equipped with everything needed to ensure a wonderful Holiday. The welcome pack was much appreciated and got us through the first day after arrival, without the need to go shopping. The supplied beach towels were also another bonus and saved us bringing towels in our luggage. During our stay, there were two minor issues that arose concerning the villa, these were dealt with expediently by your team, many thanks for this. We found Playa Blanca to be a fantastic resort and perfect for a nice quiet and relaxing holiday. Villa Juabel was located in a nice quiet Urbanisation with a twenty-minute stroll into the centre of Playa Blanca. We also used the taxi service that was listed in the villa information brochure on a number of occasions. This service was quick and efficient and cost €4 to €5. Most of the restaurants and bars can be found on Av. Maritima, which is a beautiful costal walk along the sea front and stretches for miles. This walk also takes in two stunning beaches, Playa Dorada and Flamingo beach. Restaurants worth checking out are Volcan De Timanfaya, La Gondola (Typically Spanish), El Horno de la Abuela (Grandmother's Kitchen) and Lanis in The Marina Rubicon for its extensive menu. Without a doubt, I would recommend Optima Villas to all my family and friends. Because of our experience with Optima villas I am awarding you 5 🌠🌠🌠🌠🌠out of 5 "
Additional Information
A 20% deposit is required to secure your booking with the balance payable 90 days before your arrival. Reservations under 90 days from the date of arrival must be paid in full.
We accept card payments and there is no commission for payments on credit card. You will be contacted by email shortly after your reservation regarding payment options.
Prices shown in the price guide are for the villa itself regardless of the number of guests, they are subject to change with individual circumstances – to obtain a total price, please use the calendar to select your arrival and departure dates.
An infant is classed as a child using a cot.
17 October 2020 – 01 November 2020
£200.00
02 November 2020 – 18 December 2020
£120.00
19 December 2020 – 25 December 2020
£250.00
26 December 2020 – 03 January 2021
£250.00
04 January 2021 – 05 February 2021
£120.00
06 February 2021 – 28 February 2021
£160.00
01 March 2021 – 26 March 2021
£120.00
27 March 2021 – 11 April 2021
£200.00
12 April 2021 – 30 April 2021
£120.00
01 May 2021 – 09 May 2021
£160.00
10 May 2021 – 21 May 2021
£120.00
22 May 2021 – 30 May 2021
£160.00
31 May 2021 – 30 June 2021
£120.00
01 July 2021 – 16 July 2021
£160.00
17 July 2021 – 05 September 2021
£250.00
06 September 2021 – 15 October 2021
£160.00
16 October 2021 – 31 October 2021
£200.00
01 November 2021 – 17 December 2021
£120.00
18 December 2021 – 09 January 2022
£250.00