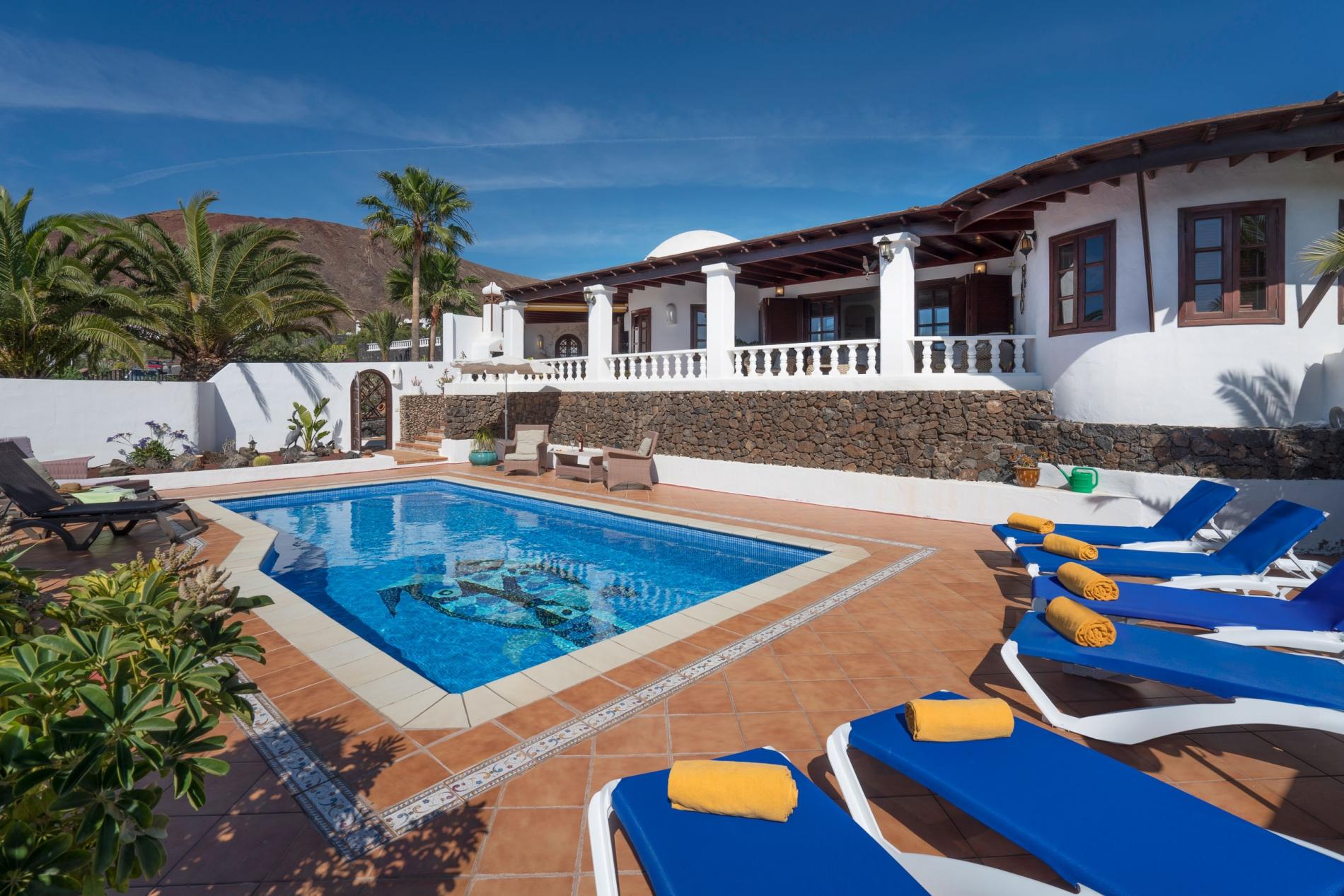 Overview
Discover Villa Ciocco, in the exclusive neighbourhood of Las Laderas, Playa Blanca. This villa strikes a balance of contemporary decor and traditional Canarian features, offering a stylish yet welcoming setting.
The 3 bedroom villa sleeps up to 6 guests across 2 double bedrooms and a twin room. The master bedroom features an ensuite bathroom, while a second family bathroom and third WC are shared amongst the remaining rooms. Villa Ciocco is an ideal choice for families or friends looking for a villa holiday in Playa Blanca.
Elsewhere indoors, you'll find a well-equipped kitchen, and a light and airy lounge that opens up onto the villa's expansive veranda overlooking the swimming pool. With speedy WiFi and a flatscreen TV featuring both English channels and Netflix, Villa Ciocco makes short work of evening entertainment.
One of Villa Ciocco's most endearing features is its numerous outdoor seating areas. You can chill out on the comfortable terrace overlooking the pool or head around the side of the villa and enjoy BBQs and meals in the shaded al fresco dining area.
The private swimming pool and sun deck are south facing and surrounded by high walls, offering plenty of privacy without compromising on sunshine throughout the day. With numerous sun loungers available, it's the perfect space to top up your tan between cooling dips. The pool also utilises a special salt water filtration system, meaning it's free from chlorine and harsh chemicals.
Microwave, oven, hob, dishwasher, fridge/freezer, washing machine

Flat screen TV with comprehensive UK and European TV channels, DVD player, doors to pool terrace

Double bed, double wardrobes, electric fan, ensuite shower-room

Shower-room, WC and twin washbasin

Double beds, double wardrobes, electric fan, shares family bathroom

Twin beds, double wardrobes, electric fan, shares family bathroom

Shower cubicle, WC, and twin washbasin,

WC and single handbasin
Amazing time at the villa

Karl, June 2018

"Villa Ciocco is a beautiful place to stay with all the modern conveniences you need. We stayed here for two weeks and the time went by so quickly. The pool area is nice and private for lounging around sunbathing and the seating area above the pool is a nice place to chill in an evening with a glass of wine or three. You can walk in to the centre of Playa Blanca in about 30 to 40 minutes or there is a taxi rank about 5 minutes away if it's too hot to walk. The only issue we had during our stay was when the washing machine broke down in our second week. We reported it and someone was out to look at it the same day and was fully replaced the following day. Even the guys replacing the machine were really nice. I'd recommend Optima Villas to everyone I know and this villa to both couples and families just be prepared to not want to leave! "
This villa was excellent in all aspects

September 2017

"This villa was excellent in all aspects. spacious. Well presented with all amenities you would need to enjoy a great holiday. It was also very clean and safe with a good security and gave us piece of mind when going out that our belongings were safe. The pool was fantastic and well looked after. Downsides were we forgot to utilise the mosquito nets provided with the villa and would advise everyone to use them this was not anyone's fault but ours and overall would recommend this villas 5 stars in our opinion. "
Great villa

J Lancaster, March 2016

"We had a lovely time at the villa Ciocco. Everything that we needed was there.It is a great villa. And we felt nice and private."
The villa had everything one could want for a relaxing stay

Anne, October 2015

"Hello Optima Villas, Just to say how much we enjoyed staying at Villa Ciocco last week. The booking process went smoothly, everything was as described and the instructions for getting to the Villa were very helpful. The villa had everything one could want for a relaxing stay – the children hardly came out of the pool for the whole week! Thanks once again and we look forward to visiting Lanzarote again before too long. We would definitely recommend Optima Villas to others. Anne and Family – Villa Ciocco"
A lovely villa

John and Sallie, January 2015

"Just a few lines to say how much we enjoyed our month at Villa Ciocco despite not brilliant weather (!) and to convey our thanks to Damion for his effort and patience in finding a lovely villa to suit our wish list completely and to Richard and Andrea for providing such excellent and immediate back up management. We chose to book through Optima Villas because we experienced your property management in another villa and were not disappointed,consequently we have rebooked with you for November. Thank you again. John and Sallie – Villa Ciocco"
We can recommend Optima Villas as company and the Villa Ciocco fully

Hans and Petra, September 2014

"[translated] Dear team of Optima Villas, We would like to thank you once again for the great service! Everything worked perfectly and very reliable! Villa Ciocco is a beautiful house with perfect and quiet location and the sea view is beautiful. The equipment of the house is excellent and very high quality, you can feel that the owners have put their heart and soul in the house. The kitchen you will find everything you need and it has more than enough crockery and cutlery available. The pool area with sun beds and the garden is a dream! We can recommend Optima Villas as company and the Villa Ciocco fully. The farewell was very difficult for us. With best regards from Switzerland Hans & Petra – Villa Ciocco"
Additional Information
A deposit of 20% is required to make your reservation with the payment of the balance being due 90 days prior to your arrival. Reservations under 90 days before date of arrival must be paid in full.
We accept card payments and there is no commission for payments on credit card. You will be contacted by email shortly after your reservation regarding payment options.
Prices shown in the price guide are for the villa itself regardless of the number of guests, they are subject to change with individual circumstances – to obtain a total price, please use the calendar to select your arrival and departure dates.
An infant is classed as a child using a cot.
04 January 2021 – 05 February 2021
£140.00
06 February 2021 – 28 February 2021
£185.00
01 March 2021 – 26 March 2021
£140.00
27 March 2021 – 11 April 2021
£240.00
12 April 2021 – 30 April 2021
£140.00
01 May 2021 – 09 May 2021
£185.00
10 May 2021 – 21 May 2021
£140.00
22 May 2021 – 30 May 2021
£185.00
31 May 2021 – 30 June 2021
£140.00
01 July 2021 – 16 July 2021
£185.00
17 July 2021 – 05 September 2021
£300.00
06 September 2021 – 15 October 2021
£185.00
16 October 2021 – 31 October 2021
£240.00
01 November 2021 – 17 December 2021
£140.00
18 December 2021 – 09 January 2022
£300.00