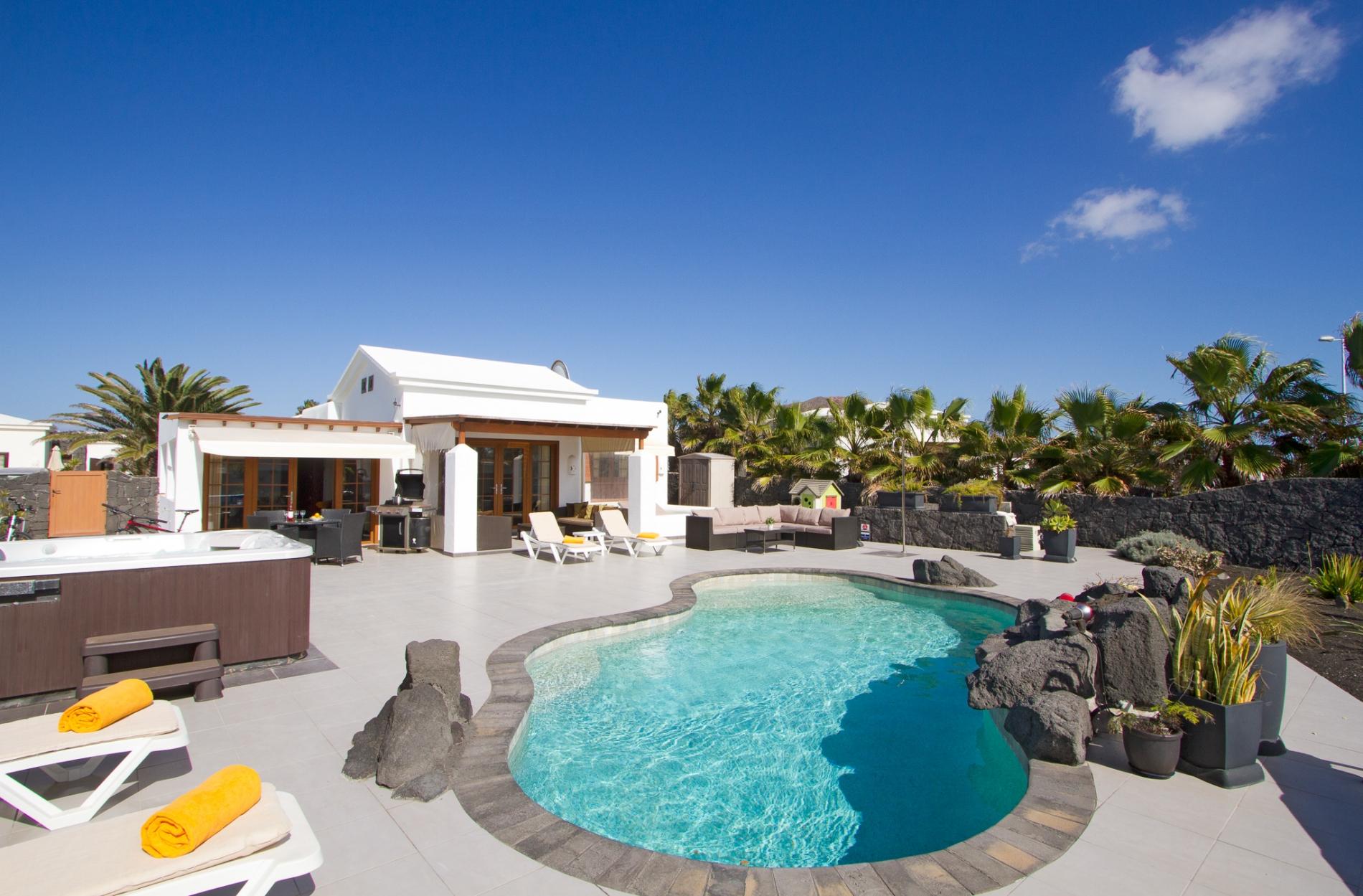 Overview
Villa Cielo is one of Playa Blanca's most spectacular holiday homes. Situated in popular Faro Park, Lanzarote, the villa benefits from tranquil surrounds on a quiet cul-de-sac. For an evening stroll, the centre of Playa Blanca is an hour's walk away along the nearby seafront promenade or just 10 minutes by car.
Inside you'll find stylish and modern decor throughout. The open-plan kitchen and lounge area is perfect for nights in, featuring a flat screen TV, DVD player and a range of English channels. There's also free WiFi throughout, perfect for keeping the kids entertained.
The villa sleeps up to 4 guests across 2 double bedrooms. The master bedroom even features an ensuite, making Villa Cielo a perfect choice for 2 couples on holiday together or smaller families.
Step out of the living room's French doors and you'll find a covered alfresco dining area as well as the beautiful and spacious sun terrace beyond. Surrounded by lush palms, Villa Cielo's terrace features ample outdoor seating, a private hot tub and a beautifully landscaped free-form swimming pool. The pool uses a saltwater filtration system, too, meaning it's chlorine free.
When you do decide to head out, you'll find a range of restaurants and bars on offer in nearby Faro Park, just a 5 minute walk away. With a beach 20 minutes away and a nearby shuttle bus operating a regular service 7 days a week, Villa Cielo is within easy reach of the best of Playa Blanca.
Microwave, oven, hob, dishwasher, fridge/freezer, kettle, coffee machine, open plan to lounge and doors to alfresco dining area

Washing machine

Flat screen TV with Comprehensive UK and European Channels, DVD player, doors to pool terrace

Double bed, double wardrobes, ensuite bathroom

Bath over shower, WC and washbasin

Double beds, double wardrobes, sole use of family bathroom

Shower cubicle, WC and single washbasin
The villa was simply stunning

Gareth, Jan 2020

"Firstly I wish to thank Optima Villas for a truly fantastic holiday. We had the pleasure of staying in Villa Cielo in Playa Blanca. The villa was simply stunning, immaculately clean and extremely comfortable. The outdoor pool area is beautiful, a lovely sized pool, comfortable sun loungers and a fabulous hot tub. The garden looks just as good night with all the ambient lighting dotted around it. A short walk from the villa brings you to a small selection of shops, restaurants and bars. We love this end of Playa Blanca, its so peaceful and you are only a 5min drive from the resort centre or you can enjoy the seafront walk taking in the stunning views. The service provided by Optima Villas was fantastic from start to finish. We have been holidaying in Lanzarote for the last 12 years and this is the first time we have used Optima Villas and it certainly won't be the last. We are incredibly impressed by Optima Villas and would highly recommend them. "
Villa was perfect

Katherine, Jan 2020

"Just returned from a week in Lanzarote. Booking with Optima Villas was easy & everything ran smoothly. Villa was perfect & nice little touches like a pizza in the fridge, milk, water & chocolates were a lovely touch on our arrival.
Will be booking again with Optima Villas very soon. "
So impressed

Sue, April 2019

"I have just returned from a weeks stay in an Optima villa, and was so impressed by the cleanliness inside and out, the standard of the villa and you could not wish for a better equipped holiday villa. This is my first experience of Optima villas and it certainly won't be the last, From the initial booking the experience has been fantastic, Ana has been great, and the company certainly looks after its guests. It was lovely to find such comfortable beds, quality linens and towels, beach towels are a great addition, and a really useful welcome pack which covers all your initial needs meaning you don't have to rush out to a supermarket! I came upon their website by chance, and am so glad that I did. Thank you Optima villas, see you again soon! Sue "
5 star plus

Margaret, July 2018

"We would just like to say that we thoroughly enjoyed our stay at Villa Cielo. The villa was exceptional with everything you could possibly need. On arrival we found the villa to be spotless with every facility catered for. This is the second Optima villa we have stayed in and we cannot fault you as a company. From the initial booking of our holiday the experience was hassle free. Any questions we had were answered promptly and the one issue we had regarding the safe was resolved without delay. For us the only issue was.that Eng!and where knocked out of the world cup during our stay!!! 😆 We would highly recommend your company to anyone thinking of booking an Optima villa in the the future. 5 star plus. "
Everywhere was lovely and clean, the outside space was excellent

Tracey, W, April 2017

"We have stayed in a few villas in Lanzarote and this was the best appointed one. Everywhere was lovely and clean, the outside space was excellent. We particularly liked the large comfy seating area and also the windbreaks and outside rollout sunshades were a nice touch too. Everything was of good quality and well looked after. The pool was lovely once you got used to the shape…and the hot tub was good..however after the first time we used it the temperature never returned to its original high so the water was a little on the lukewarm side. Not a problem during the day but we used it at night and so felt it needed turning up a little bit. Beds were lovely and comfy. And we had loads of towels, which, with two children was great. Particularly liked the fact that there were pool balls and rings and buckets and spades. The welcome pack was good too. This villa was voted the best by all the family. Thanks. "
Additional Information
A deposit of 20% is required to make your reservation with the payment of the balance being due 90 days prior to your arrival. Reservations under 90 days before date of arrival must be paid in full.
We accept card payments and there is no commission for payments on credit card. You will be contacted by email shortly after your reservation regarding payment options.
Prices shown in the price guide are for the villa itself regardless of the number of guests, they are subject to change with individual circumstances – to obtain a total price, please use the calendar to select your arrival and departure dates.
An infant is classed as a child using a cot.
17 October 2020 – 01 November 2020
£200.00
02 November 2020 – 18 December 2020
£120.00
19 December 2020 – 25 December 2020
£250.00
26 December 2020 – 03 January 2021
£250.00
04 January 2021 – 05 February 2021
£120.00
06 February 2021 – 28 February 2021
£160.00
01 March 2021 – 26 March 2021
£120.00
27 March 2021 – 11 April 2021
£200.00
12 April 2021 – 30 April 2021
£120.00
01 May 2021 – 09 May 2021
£160.00
10 May 2021 – 21 May 2021
£120.00
22 May 2021 – 30 May 2021
£160.00
31 May 2021 – 30 June 2021
£120.00
01 July 2021 – 16 July 2021
£160.00
17 July 2021 – 05 September 2021
£250.00
06 September 2021 – 15 October 2021
£160.00
16 October 2021 – 31 October 2021
£200.00
01 November 2021 – 17 December 2021
£120.00
18 December 2021 – 09 January 2022
£250.00