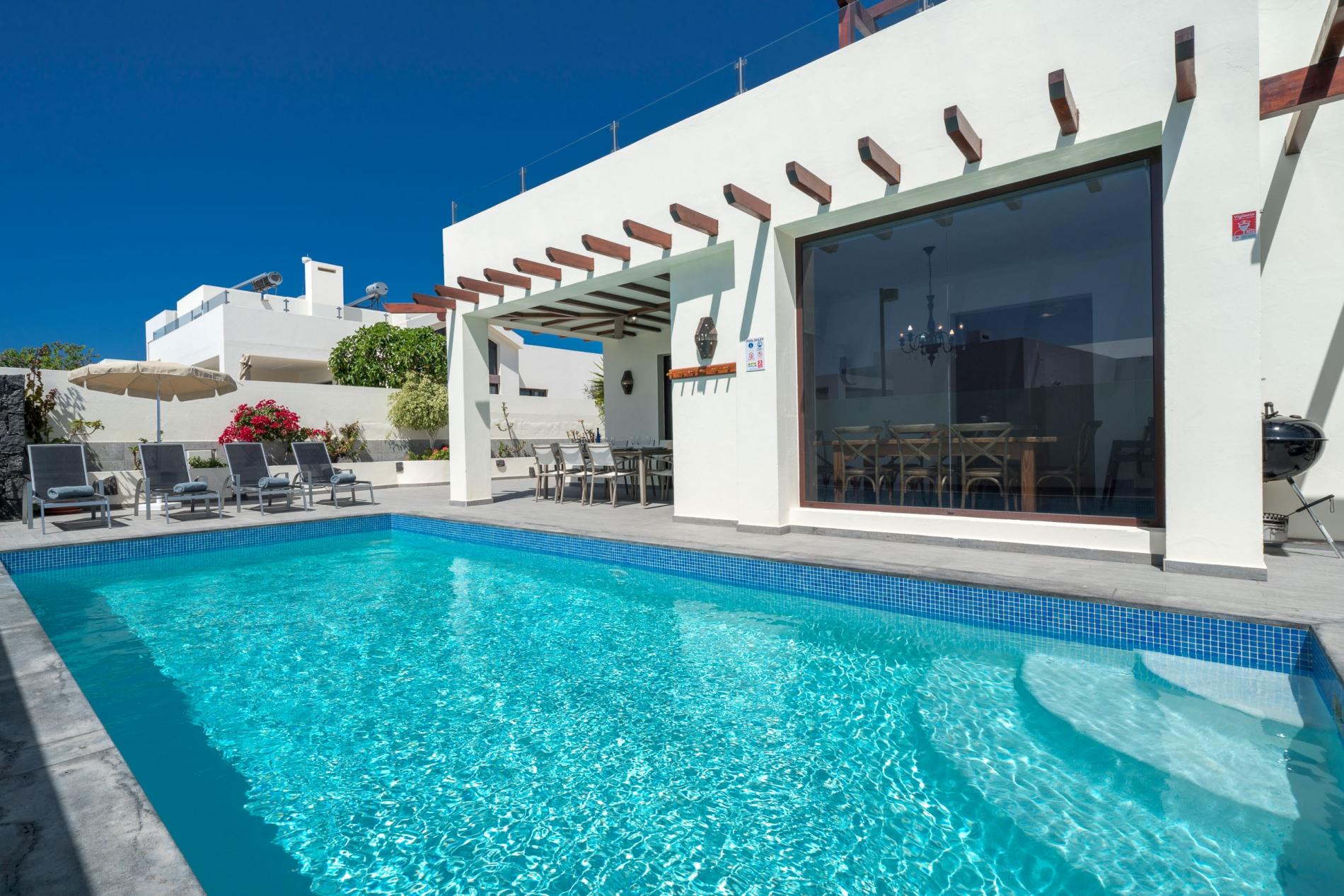 Overview
With 4 bedrooms and 3 bathrooms, Casa Piscina, Lanzarote, offers a spacious and luxurious holiday home retreat. Nestled in the peaceful residential area of Las Buganvillas, its beautiful design and great location make it an extremely popular choice with holidaymakers.
Set over 2 storeys, sleeping arrangements are split between 2 double and 2 twin bedrooms. Both doubles feature an ensuite, while a third family bathroom serves the other 2 bedrooms. And thanks to air conditioning throughout, Casa Piscina remains cool and comfortable throughout the summer months.
Downstairs, you'll find the villa's spacious lounge, dining area, kitchen and games room. With a ping pong table, exercise bike, weights and a yoga mat – there are plenty of options for keeping active. The separate upstairs TV room also features a PlayStation console – sure to be popular with teenagers.
Outside, the large L-shaped terrace offers plenty of room to spread out, with a stunning private swimming pool, sunbathing area and shaded al fresco dining table. Casa Piscina is ideal for families with children, thanks to the pool deck's special non-slip flooring, so kids can play outdoors to their heart's content. And if you fancy escaping all the action around the pool, the upstairs balcony – accessible via the master bedroom – offers a peaceful and private area to read and take in the surrounding sea views.
A pleasant walking distance away from the centre of Playa Blanca, Marina Rubicon and a number of stunning local beaches, Casa Piscina is conveniently located – you'll even find a handy supermarket just 5 minutes away.
Microwave, oven, hob, dishwasher, fridge/freezer, washing machine, open plan to dining room.

Flat screen TV with Comprehensive UK and European TV channels, DVD player, CD player, air-conditioning, doors to pool terrace

Double bed, double wardrobes, air-conditioning, sea views, ensuite bathroom

Bath, shower over, WC and single washbasin,

Double bed, double wardrobes, air-conditioning, ensuite bathroom

Bath, shower over, WC and single washbasin

Twin beds, double wardrobes, air-conditioning, shares family bathroom

Twin beds, double wardrobes, air-conditioning. shares family bathroom

Shower, WC and single washbasin
Spotless

Chris, March 2019

"The villa was spotless and very well appointed with loads of towels. Your staff dealt quickly with any queries we had especially immediately replacing the cot. We had no complaints whatsoever! "
So impressed

Jenny, December 2018

"We all just wanted to say a big thank you to Optima Villas and the owner of Casa Piscina as we had such a lovely holiday. We were so impressed with the service you provided from start to finish. We emailed you just asking for advice as to where we could buy snooker cue tips and a new snooker cue was delivered that day!! And when we had no hot water and the pool was cold a maintenance man arrived immediately to rectify the problem, we were amazed at how efficient you were. The villa had everything we could have needed, it's clear that the owner cares about their customers and has been so thoughtful with all the little extras….. welcome pack, pegs for washing/towels etc, all these little extras make such a difference! We will definitely book a villa holiday with you again! Many thanks to your team and to you for making our holiday so memorable! "
Spacious villa

Keith, August 2018

"Beautiful spacious villa, High spec décor and maintenance. Good location. "

"We stayed at the Casa PIscina and we found it amazing, communication with Optima Villas was easy and smooth. The villa had enough space for our party including our two year old grandson, all request made of the Optima Villas were met. The villa was spotless clean, location 15/20 minute walk into Playa Blanca every detail of our needs had already been anticipated by the owners and Optima Villas right down to colouring pencils and paper for our grandson. We highly recommend both the villa and Optima and will be using both hopefully in the near future. Thank you. "
The accommodation was superb, modern and very clean

Louise M, April 2016

"We enjoyed a weeks holiday in Casa Piscina in April 2016. The accommodation was superb, modern and very clean with lots of indoor and outdoor space for 3 families. The grandparents had their quiet space with the bedroom, lounge and bathroom upstairs while our family and my sisters had the 3 large doubles with ensuite and bathroom downstairs. It really was the perfect configuration. The 3 children loved the pool, pool room and the fact there was DVD's in the lounge upstairs for a movie. The villa was about a 20 minute walk to town for us having twins age 4 the little legs found the distance to far to walk back so we generally walked in and got a taxi back of an evening. The little shop close buy was very handy for water and basic supplies too. Plus there is a park a stones throw away from the villa too. The perfect villa in every way especially for groups not wanting to be on top of each other. "
Additional Information
A 20% deposit is required to secure your booking with the balance payable 90 days before your arrival. Reservations under 90 days from the date of arrival must be paid in full.
We accept card payments and there is no commission for payments on credit card. You will be contacted by email shortly after your reservation regarding payment options.
Prices shown in the price guide are for the villa itself regardless of the number of guests, they are subject to change with individual circumstances – to obtain a total price, please use the calendar to select your arrival and departure dates.
An infant is classed as a child using a cot.
17 October 2020 – 01 November 2020
£170.00
02 November 2020 – 18 December 2020
£170.00
19 December 2020 – 25 December 2020
£170.00
26 December 2020 – 03 January 2021
£170.00
04 January 2021 – 05 February 2021
£170.00
06 February 2021 – 28 February 2021
£230.00
01 March 2021 – 26 March 2021
£170.00
27 March 2021 – 11 April 2021
£300.00
12 April 2021 – 30 April 2021
£170.00
01 May 2021 – 09 May 2021
£230.00
10 May 2021 – 21 May 2021
£170.00
22 May 2021 – 30 May 2021
£230.00
31 May 2021 – 30 June 2021
£170.00
01 July 2021 – 16 July 2021
£230.00
17 July 2021 – 05 September 2021
£380.00
06 September 2021 – 15 October 2021
£230.00
16 October 2021 – 31 October 2021
£300.00
01 November 2021 – 17 December 2021
£170.00
18 December 2021 – 09 January 2022
£380.00