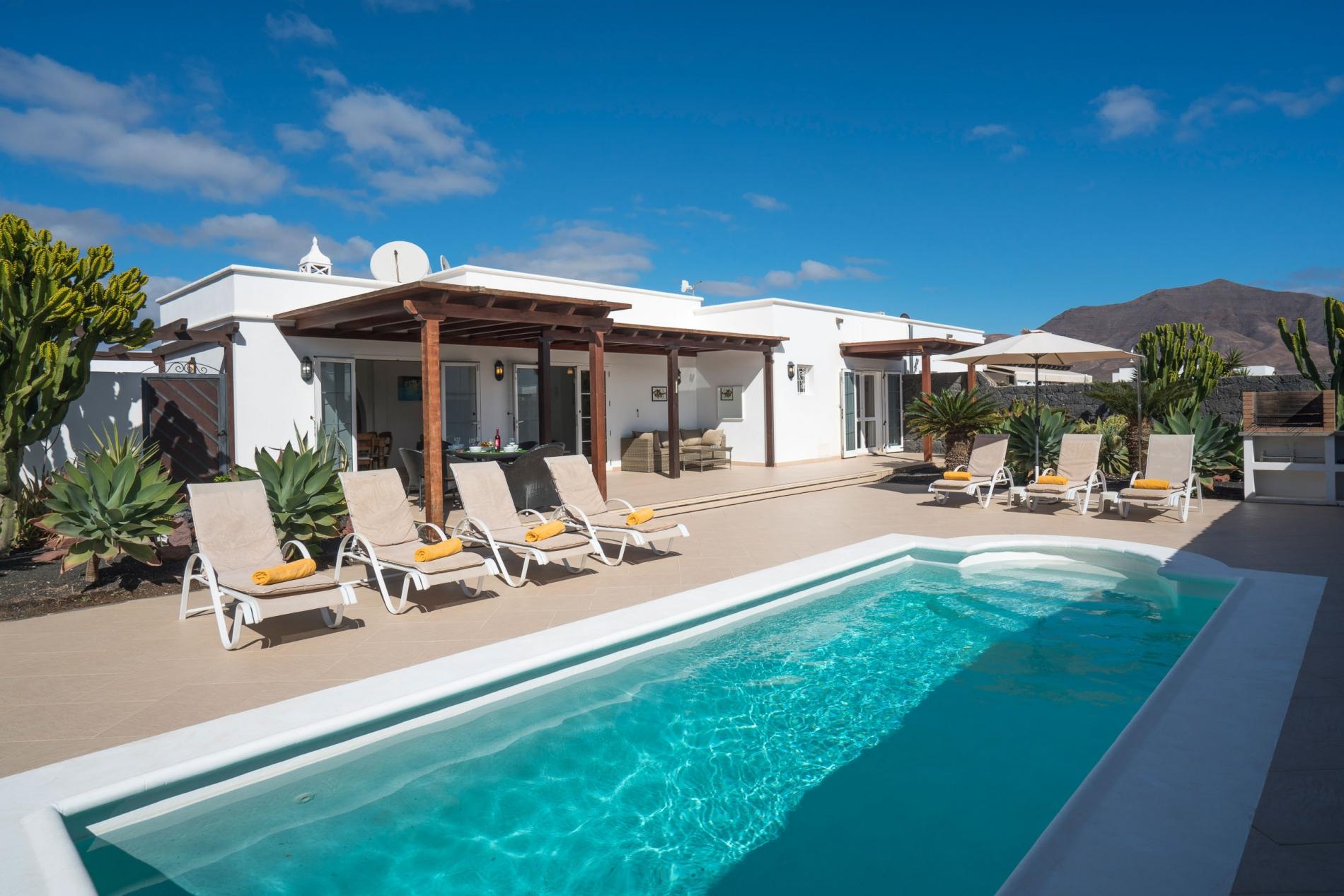 Overview
Enjoy the best of both worlds with a stay at Casa Lirio. With a backdrop of the awe-inspiring Ajache Mountains and set amongst a luscious walled garden that's brimming with local plant life, you'd never know this secluded villa is actually within walking distance of the main resort centre – proving you really can have it all on holiday.
Situated in the Costa Papagayo area, this beautiful villa gives an instant sense of peace and tranquillity. As an end plot property, it offers complete privacy and all the home comforts needed for pure relaxation and indulgence. With its own private pool, outdoor terrace, barbecue area and sun loungers, the south-facing garden is primed for making the most of the Lanzarote sunshine.
Inside, the villas feels bright and airy with natural light flooding through glass sliding doors that lead to the terrace. The stylish open-plan living room and dining area provide a comfortable place away from the heat, whether that's enjoying a family meal cooked in the well-appointed kitchen that leads off the dining area or chilling out for a movie night on the sofa. Equipped with a TV with English channels, a DVD player and free WiFi, this living area is an ideal family hangout for cosy nights in.
Set on one level, the 2 double rooms and 1 twin bedroom comfortably sleep 6 guests, so, whether you're travelling as a large family, a group of friends or in couples, there's room for everyone. The master bedroom benefits from its own ensuite bathroom, while the other bedrooms have access to a family bathroom. The 2 double rooms come equipped with air-conditioning and the twin has an electric fan to stave off the heat during the evenings.
While the villa itself is an impressive set up for family and group holidays, it's Casa Lirio's location that's a real selling point. Just a 15 minute walk from the villa is the gorgeous Playa Dorada beach, walk a further 5 minutes and you'll find yourself in the heart of Playa Blanca – with the chance to enjoy fresh seafood and drinks while watching the boats down at Marina Rubicon.
Flat screen TV with some English Channels, DVD player with a selection of discs, CD player, open plan to dining area, patio doors to outside covered terrace and pool side

Microwave, oven, hob, fridge/freezer, washing machine, dishwasher, adjoining large dining area with patio doors to outside covered terrace and alfresco dining area.

Double queen bed, air con, double wardrobes, electric fan, doors to pool terrace, ensuite bathroom.

Bath and shower over, WC and twin washbasin.

Double queen bed, air con, double wardrobes, electric fan. Shares family bathroom

Twin beds, double wardrobes, electric fan. Shares family bathroom

Shower cubicle, WC and single washbasin
We thoroughly enjoyed our stay

Adrian, July 2018

"We loved our stay in Casa Lirio, the villa was fresh, clean and modern, we had everything to hand and optima villas were there, just a phone call away when we needed them, even if it was me just getting used to the alarm system. we thoroughly enjoyed our stay, the area was quiet and the pool and facilities were amazing, more than enough space, English dvd's, books and tv should we need them and the villa was ideally situated just a 20 minute walk into Playa Blanca or a very short taxi ride which made things even easier allowing us all to relax and enjoy the bars and restaurants. "
We all had a wonderful holiday, from start to finish

October 2017

"We all had a wonderful holiday, from start to finish. The villa was amazing, it had everything that you could ask for. We walked to the beach in the evening and sunbathed during the day .We all have very busy lives and it was so relaxing. We would very much recommend this villa. "
Clean, spacious, everything as advertised!

July 2017

"Was rather worried that the villa would not be there..but it was fantastic! Clean, spacious, everything as advertised! Would go back in an instant. Around 25 minutes walk to Playa Blanca centre but easy enough, taxi back for 4 euro if the shopping was too much! Wonderful holiday enjoyed by all the family. "
Superb

Kevin, February 2017

"Thank you for your email, the villa was superb in every way and up to scratch. The only minor problem we incurred ( and I mean minor) was we set the alarm off on arrival and weren't aware we would do so, I can't recall if anything was mentioned in the literature that was sent upon booking. If it was perhaps instruction on how to turn it off when you arrive could be more prominently displayed. We thoroughly enjoyed the whole experience and would certainly use optima villas again, the villa itself and the service supplied the staff pre arrival has been excellent. Kevin Optima Reply Thank you ​very much for your kind words and so glad you enjoyed your stay at Casa Lirio. I shall be sure to pass on your comments to the rest of the team. With regards to the alarm, this was a system that had just been installed before your arrival however the Villa information pack had not yet been updated. We can only apologise for this and inform you that we have now added the details on how to work the alarm for all future guests.​ It was a pleasure having you as guests and very much look forward to helping you book your villa holiday again. "
Wonderful Stay

Martin, April 2015

"Just come back from Casa Lirio. What a beautiful clean lovely villa this is, we have stayed here now many times and every time we go we always have a wonderful time; we would recommend it to anyonernBeautiful private pool and fresh clean décor, the villa is a fantastic place to stay and we will be going again soonrnThanks to all your team for making it a wonderful stay as ever"
Additional Information
A 20% deposit is required to secure your booking with the balance payable 90 days before your arrival. Reservations under 90 days from the date of arrival must be paid in full.
We accept card payments and there is no commission for payments on credit card. You will be contacted by email shortly after your reservation regarding payment options.
Prices shown in the price guide are for the villa itself regardless of the number of guests, they are subject to change with individual circumstances – to obtain a total price, please use the calendar to select your arrival and departure dates.
An infant is classed as a child using a cot.
18 July 2020 – 16 August 2020
£175.00
17 August 2020 – 30 August 2020
£125.00
31 August 2020 – 16 October 2020
£175.00
17 October 2020 – 01 November 2020
£210.00
02 November 2020 – 18 December 2020
£125.00
19 December 2020 – 25 December 2020
£260.00
26 December 2020 – 03 January 2021
£260.00
04 January 2021 – 05 February 2021
£125.00
06 February 2021 – 28 February 2021
£175.00
01 March 2021 – 26 March 2021
£125.00
27 March 2021 – 11 April 2021
£210.00
12 April 2021 – 30 April 2021
£125.00
01 May 2021 – 09 May 2021
£175.00
10 May 2021 – 21 May 2021
£125.00
22 May 2021 – 30 May 2021
£175.00
31 May 2021 – 30 June 2021
£125.00
01 July 2021 – 16 July 2021
£175.00
17 July 2021 – 05 September 2021
£260.00
06 September 2021 – 15 October 2021
£175.00
16 October 2021 – 31 October 2021
£210.00
01 November 2021 – 17 December 2021
£125.00
18 December 2021 – 09 January 2022
£260.00