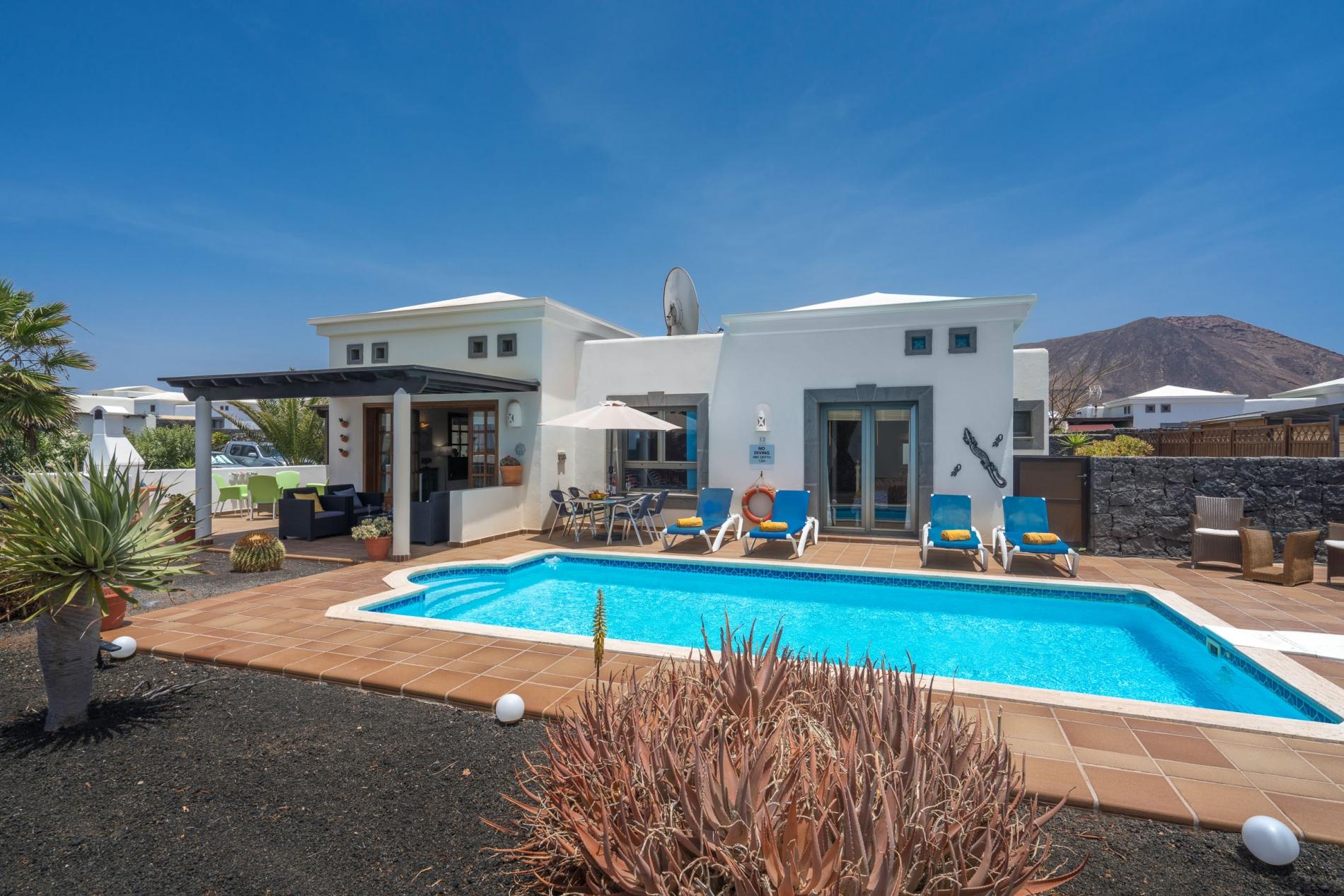 Overview
This lovely detached villa is perfect for a great getaway to the sun for couples and small groups.
Casa Lauremar is situated in a gated complex close to all the bars and restaurants of Faro Park in Playa Blanca. The start of the ocean front boulevard is also just a 10 minute walk away, which runs the full length of the resort (almost 7km).
Inside, the villa has recently been updated and comprises 2 bedrooms, one of which has an ensuite bathroom and the other with a bathroom for sole use. Guests can also enjoy the free WiFi and some English channels.
The villa is presented to the normal Optima Villas 5* standard, but is managed and prepared for your arrival by the owners*. A welcome pack of groceries and pool towels are also provided.
Outside, the villa has a spacious sunbathing terrace surrounding the pool (heating is optional) and lovely surrounding gardens, as well as a covered alfresco barbecue and dining area.
*All Optima owner managed villas are inspected by one of our team prior to your arrival to ensure high standards are maintained.
Kettle, microwave, dishwasher, toaster, oven, fridge/freezer, coffee machine

TV with some English channels, doors to pool area

Double bed, ensuite bathroom

Twin beds, sole use of family bathroom

Detached villa – comes with a safe, cots and high chairs available. Iron and hair dryer provided. Welcome pack of groceries provided. Beach towels provided
Additional Information
A 20% deposit is required to secure your booking with the balance payable 90 days before your arrival. Reservations under 90 days from the date of arrival must be paid in full.
We accept card payments and there is no commission for payments on credit card. You will be contacted by email shortly after your reservation regarding payment options.
Prices shown in the price guide are for the villa itself regardless of the number of guests, they are subject to change with individual circumstances – to obtain a total price, please use the calendar to select your arrival and departure dates.
An infant is classed as a child using a cot.
01 July 2020 – 17 July 2020
£120.00
18 July 2020 – 16 August 2020
£120.00
17 August 2020 – 30 August 2020
£100.00
31 August 2020 – 16 October 2020
£120.00
17 October 2020 – 01 November 2020
£160.00
02 November 2020 – 18 December 2020
£100.00
19 December 2020 – 25 December 2020
£200.00
26 December 2020 – 03 January 2021
£200.00
04 January 2021 – 05 February 2021
£100.00
06 February 2021 – 28 February 2021
£120.00
01 March 2021 – 26 March 2021
£100.00
27 March 2021 – 11 April 2021
£160.00
12 April 2021 – 30 April 2021
£100.00
01 May 2021 – 09 May 2021
£120.00
10 May 2021 – 21 May 2021
£100.00
22 May 2021 – 30 May 2021
£120.00
31 May 2021 – 30 June 2021
£100.00
01 July 2021 – 16 July 2021
£120.00
17 July 2021 – 05 September 2021
£200.00
06 September 2021 – 15 October 2021
£120.00
16 October 2021 – 31 October 2021
£160.00
01 November 2021 – 17 December 2021
£100.00
18 December 2021 – 09 January 2022
£200.00