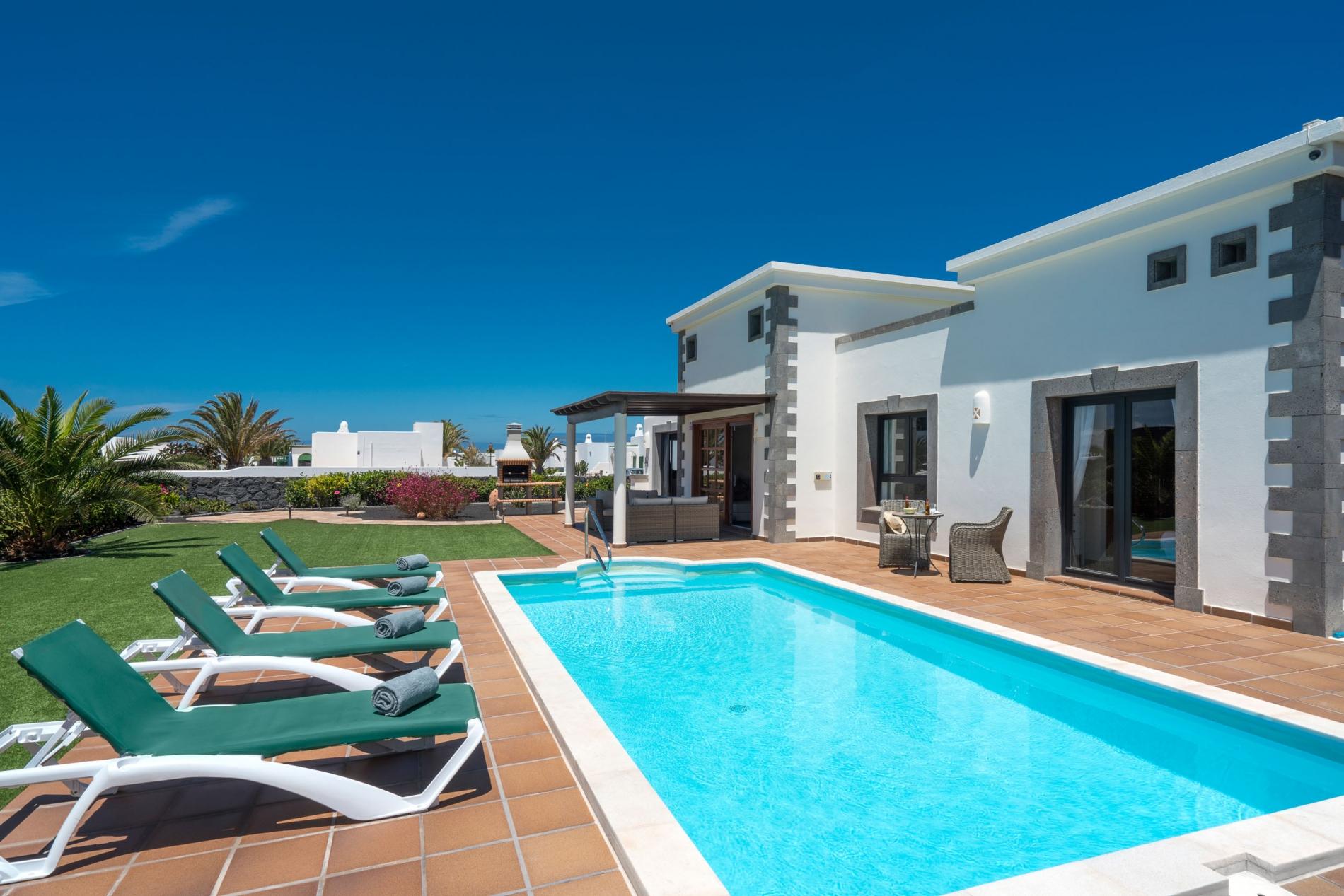 Overview
This beautiful 2 bedroom villa sleeps up to 4 guests in a double and twin bedroom. The master bedroom features an ensuite, while the second bedroom benefits from sole use of a family bathroom. The villa is fully licensed with a VV license.
Immaculately finished with cool marble floors, Casa Feliz has a spacious living room with extra high ceilings, giving it a light and airy feel. Connected to the living room through an open-plan archway, you'll find a well-equipped kitchen and American breakfast bar – a great spot for evening drinks. The separate dining room also features a large sofa, turning it into a relaxing hideaway during the day.
Step outside and you'll discover Casa Feliz's impressive garden and expansive sun deck, surrounding the inviting private swimming pool. With so much space, you'll never be short on privacy and peace and quiet, with endless areas to pull up a lounger and read a book. The pool can also be heated during cooler months, ensuring it stays a comfortable temperature whatever time of year you decide to visit.
The shaded outdoor lounging area includes comfortable patio furniture, while an additional table and chairs can be found in the garden – offering a secluded spot to enjoy the sunset and a glass of wine as you take in the surrounding mountainside and sea views. When the sun goes down, the garden lighting creates a fantastic ambience – so you're sure to make the most of the outdoor setting well into the evening hours.
Casa Feliz, Lanzarote, is the perfect holiday villa for families – and offers everything you could ask for and more for an enjoyable and relaxing stay.
Microwave, oven, hob, dishwasher, fridge/freezer, kettle, toaster coffee filter pot, open plan to lounge and doors to alfresco dining area

Flat screen TV with comprehensive UK & European Channels, Bluetooth Soundbar Music facility, Playstation 3 with some games, DVD player, large sliding doors to pool terrace

Washing machine

Double bed, double wardrobes, wall mounted flat screen TV with some Sky and UK channels, doors to pool terrace, ensuite bathroom

Shower over bath, WC and washbasin

Twin beds, double wardrobes, storage drawers, armchair, has sole use of family bathroom

Walk in shower, WC and washbasin
An excellent Villa

John, February 2019

"An excellent Villa, well equipped and spotlessly clean. A lovely warm heated pool, and south facing patio. Very quiet area, but 10 mins drive fro​m Playa Blanca and 5 mins to some good local restaurants. The villas are well spaced out with walled gardens and are fairly private. Optima Villas responded immediately when we requested a fan heater, since the evening was sometimes a bit chilly. Recommended. "
We had an amazing time

James, October 2018

"We all had a fantastic stay! Optima Villas were brilliant hosts, such quick responses to any of our questions and so efficient. Even when there was an issue with the kettle and it stopped working, the next morning a member of the Optima Villas team arrived with a new one! The villa was perfect, really clean and had a nice welcome pack of snacks and drinks when we arrived. We will be sure to stay again thank you! "
Impeccable

Melanie, August 2018

"We had a fabulous holiday at villa Casa Feliz. It's large outdoor space with south facing pool was impeccable so well maintained. Inside had everything you need to make your stay enjoyable. Would highly recommend this villa and Optima. "
Would definitely recommend

, August 2017

"First time we have used Optima Villas and would definitely recommend. We stayed at Casa Feliz in Playa Blanca and had first class service from Optima Villas from enquiring to booking our holiday. Villa was just as described, if not better to be honest. Outside area was amazing for relaxed, chilled out days around the beautiful pool. "
Wow! Just home from the most amazing holiday

Gavin, August 2017

"Wow! Just home from the most amazing holiday at Casa Feliz in Playa Blanca. From the beginning of the booking process the Optima Team were wonderfully helpful right up to the most amazing welcome pack on our arrival! Just what we needed after a long journey with two little ones, thank you! The villa was absolutely beautiful & excelled our expectations. The inside is very chic & perfectly cosy whilst the garden is manicured to a high standard, perfect for little ones to have some fun in the sun. The pool water was crystal clear all week & the heating made for long lazy days swimming. We had everything we needed for the perfect relaxing holiday. We can't wait to book with you again & will absolutely be recommending you to all our friends. Thank you Optima "
Amazing ,Relaxing first villa holiday

Marie, June 2017

"Amazing ,Relaxing first villa holiday. This was the first time we had ever booked a villa so was a little dubious,but there was absolutely no need to be.The communication from Alicia and Damion was first class. I am a manager of a hotel in the UK and have high expectations,we stayed at Casa Feliz villa in plays blanca,and WOW what a place,it was spotlessly clean,large indoor and outdoor areas,the pool was great it was heated at certain times of the day but was always warm enough to swim in,there was everything you needed in the villa,including a very handy welcome a package and pool towels.We will probably never do a package holiday again based on this experience we cannot fault it 5***** we will be back (I never go to the same place twice as I believe there is a lot of the World to see,but this place is an exception to the rule) "
Wonderful Holiday

Paul, May 2017

"Many thanks for your support during our stay here in Casa Feliz. We have had a wonderful holiday and will definitely book with you again. We have been to playa blanca many times and have stayed in many villas. Your attention to detail and prompt response when we needed assistance was better than we have experienced with anyone else. Thank you. Paul, Andrea, Cian and Conor. "
Additional Information
A 20% deposit is required to secure your booking with the balance payable 90 days before your arrival. Reservations under 90 days from the date of arrival must be paid in full.
We accept card payments and there is no commission for payments on credit card. You will be contacted by email shortly after your reservation regarding payment options.
Prices shown in the price guide are for the villa itself regardless of the number of guests, they are subject to change with individual circumstances – to obtain a total price, please use the calendar to select your arrival and departure dates.
An infant is classed as a child using a cot.
04 January 2021 – 05 February 2021
£110.00
06 February 2021 – 28 February 2021
£140.00
01 March 2021 – 26 March 2021
£110.00
27 March 2021 – 11 April 2021
£180.00
12 April 2021 – 30 April 2021
£110.00
01 May 2021 – 09 May 2021
£140.00
10 May 2021 – 21 May 2021
£110.00
22 May 2021 – 30 May 2021
£140.00
31 May 2021 – 30 June 2021
£110.00
01 July 2021 – 16 July 2021
£140.00
17 July 2021 – 05 September 2021
£230.00
06 September 2021 – 15 October 2021
£140.00
16 October 2021 – 31 October 2021
£180.00
01 November 2021 – 17 December 2021
£110.00
18 December 2021 – 09 January 2022
£230.00