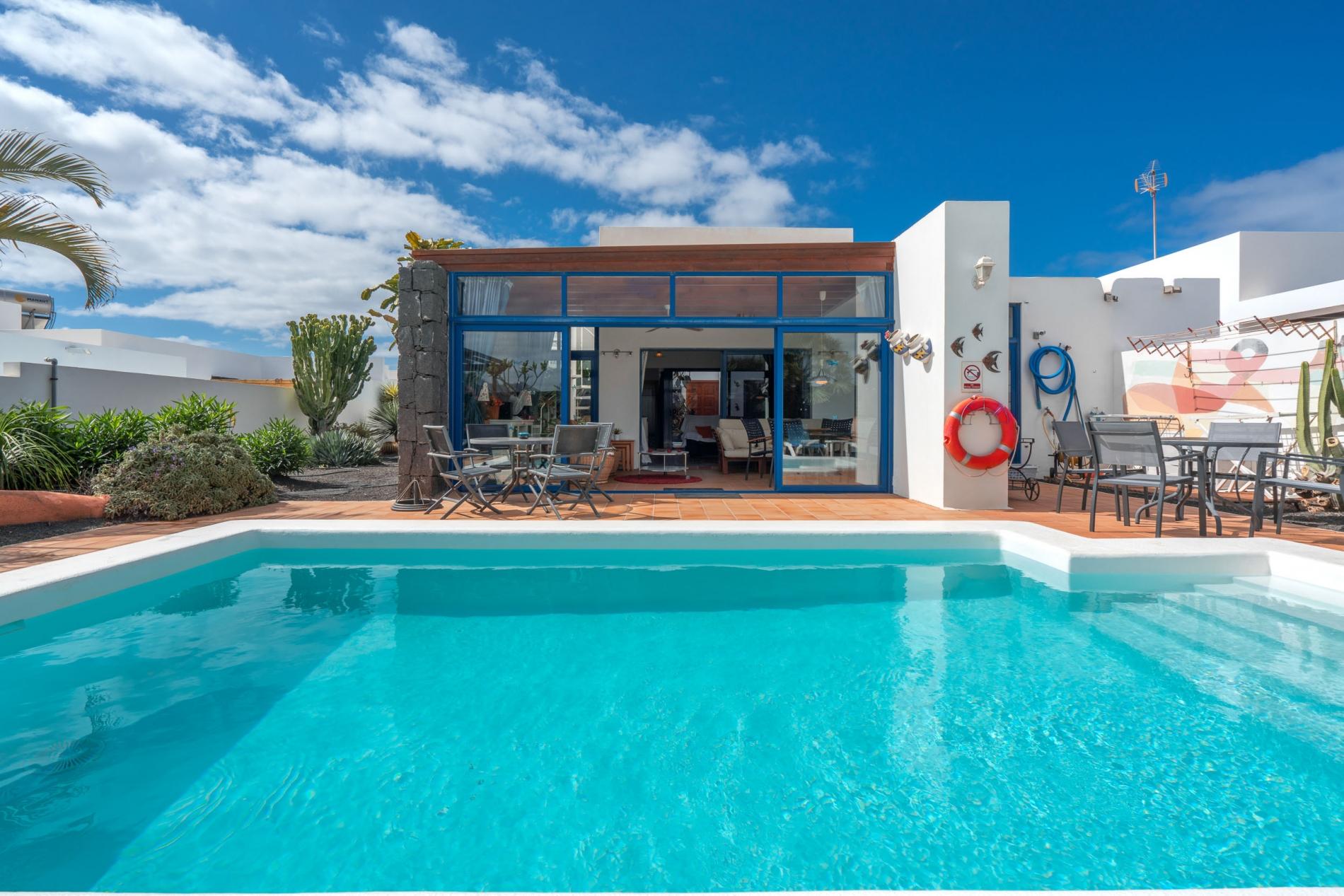 Overview
If you're after a great value holiday villa for a quiet family getaway, then Casa Elisabetta is the perfect choice. Located just 30 minutes' walk from the hustle and bustle of Playa Blanca, this semi-detached villa offers a beautiful place to relax and unwind with all the home comforts and mod-cons you could possibly need during your stay.
Laid out over one floor, the heart of the property is the open-plan living room and kitchen-dining area that are tastefully furnished with comfort and convenience in mind – ensuring they're primed for cosy nights in and family dining. Leading off open living areas, you'll also find 2 bedrooms and 2 bathrooms that accommodate up to 4 guests.
To ensure you stay nice and cool inside the villa during your visit, the property has a coin-operated air-conditioning system in both the living room and the main bedroom. With the ability to reuse the coins, you can guarantee you'll always have a welcome respite from the heat when you need it without having to worry about any added expense.
The real star feature of Casa Elisabetta is the outdoor area that features quirky nautical-themed touches and local fauna to give it an authentic Lanzarote feel. With its own private pool equipped with sun loungers, the tiled terrace provides ample space for the whole family to enjoy, while the walled garden delivers a secluded feel and has a built-in screen for the al fresco dining area.
Microwave, oven, hob, fridge/freezer in the kitchen area, dishwasher and washing machine in the utility room next door

Flat screen TV with some English and European Channels and a DVD, coin operated air conditioning

Double bed, double wardrobes, ensuite bathroom, coin operated air conditioning

Shower over bath, WC and washbasin

Twin bed, family bathroom alongside

Shower over bath, WC and washbasin
Wonderful holiday

Judith, March 2019

"We had a wonderful holiday and we're looked after extremely well by Optima. They were very responsive to any requests. It was lovely having the villa cleaned and fresh bedsheets and towels every week. This company certainly goes over and above to give you the best holiday experience. "
Fab holiday

Eleanor, August 2018

"Fab holiday. Stayed in Casa Elissabetta great for a family of 4. It was like home from home had everything you need. Would recommend car hire and this can be done from plus car and very reasonably price. Thank you. "
Fantastic place

Neil and Karen, July 2018

"Stayed at Playa Blanca, Casa Elisabetta, what a fantastic place, pool, jacuzzi, villa and area. Days out included Marina Rubicon, Parque Nacional de Timanfaya, Costa Teguise, Puerto del Carmen. Will definitely be coming back, first class company Optima Villas, Ana who dealt with us perfection, thanks Neil n Karen "
Additional Information
A 20% deposit is required to secure your booking with the balance payable 90 days before your arrival. Reservations under 90 days from the date of arrival must be paid in full.
We accept card payments and there is no commission for payments on credit card. You will be contacted by email shortly after your reservation regarding payment options.
Prices shown in the price guide are for the villa itself regardless of the number of guests, they are subject to change with individual circumstances – to obtain a total price, please use the calendar to select your arrival and departure dates.
An infant is classed as a child using a cot.
17 October 2020 – 01 November 2020
£160.00
02 November 2020 – 18 December 2020
£100.00
19 December 2020 – 25 December 2020
£200.00
26 December 2020 – 03 January 2021
£200.00
04 January 2021 – 05 February 2021
£100.00
06 February 2021 – 28 February 2021
£120.00
01 March 2021 – 26 March 2021
£100.00
27 March 2021 – 11 April 2021
£160.00
12 April 2021 – 30 April 2021
£100.00
01 May 2021 – 09 May 2021
£120.00
10 May 2021 – 21 May 2021
£100.00
22 May 2021 – 30 May 2021
£120.00
31 May 2021 – 30 June 2021
£100.00
01 July 2021 – 16 July 2021
£120.00
17 July 2021 – 05 September 2021
£200.00
06 September 2021 – 15 October 2021
£120.00
16 October 2021 – 31 October 2021
£160.00
01 November 2021 – 17 December 2021
£100.00
18 December 2021 – 09 January 2022
£200.00