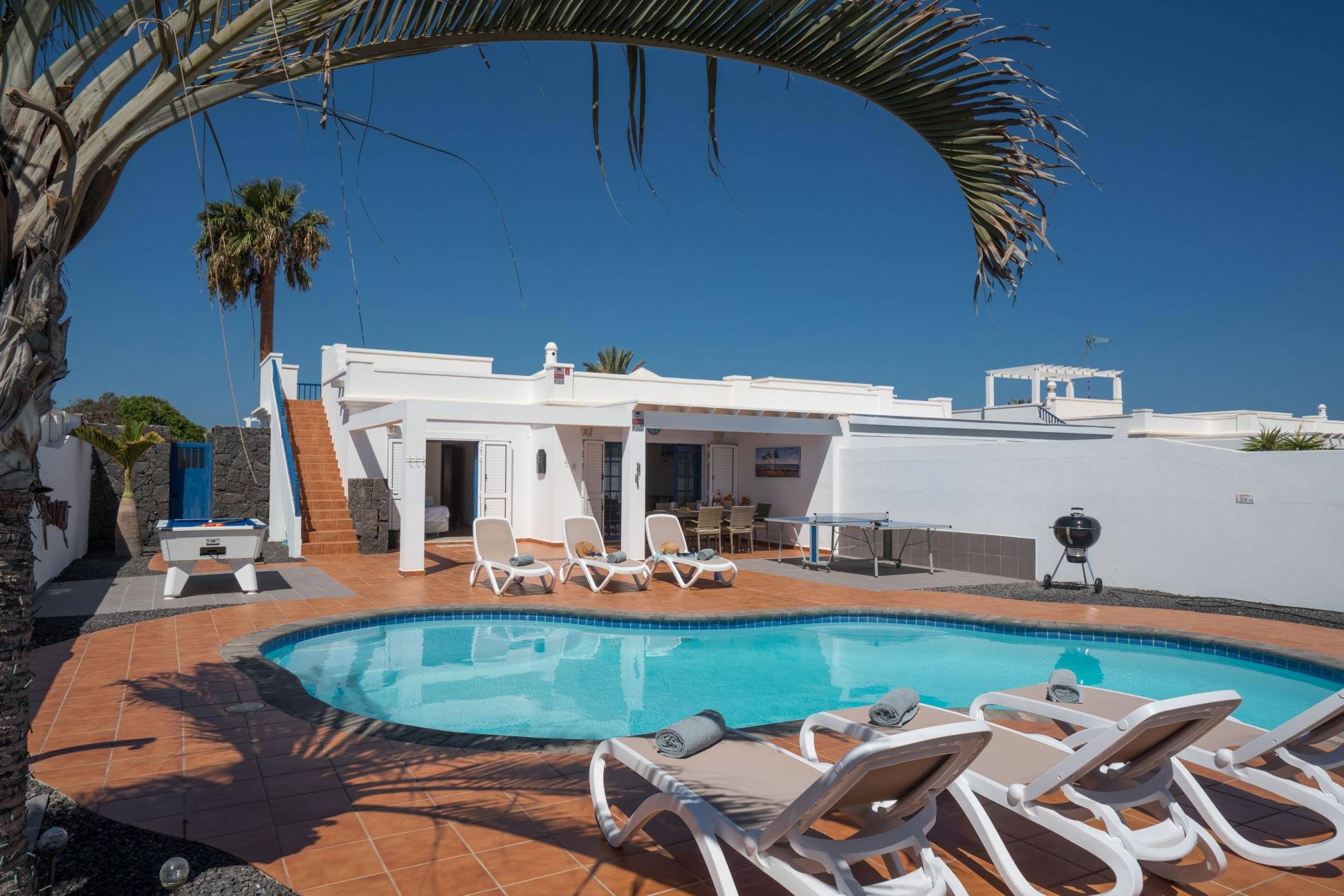 Overview
Introducing Casa Bonita! Located in the popular area of Costa Papagayo, this gorgeous villa has been fully refurbished to the highest standards. For guests keen to enjoy the luxurious amenities of a private villa within reach of buzzing tourist hotspots, this villa is perfect – as Playa Dorada's beach, bars and restaurants are just a stone's throw away.
This villa sleeps a total of up to 6 guests in 3 bedrooms, making it the ideal haven for a family holiday in the sun. The master bedroom with kingsize bed comes complete with an ensuite bathroom, while the double and twin bedrooms each have their own bathroom. Whether you need a post-pool shower or simply a freshen up in the evening, you'll find plenty of space and privacy for the whole family in this well-equipped villa.
Casa Bonita boasts stylish, modern indoor and outdoor furniture, and comes with ceiling fans in each bedroom so you can keep your cool throughout your stay. The lounge area also benefits from a large TV featuring an array of UK and European TV channels for evenings in.
Outside of the villa, you'll find your very own heated pool with jets installed, meaning fitness lovers can enjoy a proper workout in a truly picturesque setting. You'll also find a barbecue area, a pool table and even a tennis table. Thanks to its south-east facing position, when you stay in Casa Bonita, you can enjoy the sun throughout the day. Better yet, with access to the villa's private pool, you can spend your days soaking up the glorious Canary Islands sunshine with your family and friends.
Coffee maker, kettle, microwave, dishwasher, toaster, washing machine, fridge/freezer

Flat-screen TV with UK and European TV channels, open plan with doors to pool area

Kingsize bed, doors to garden, ensuite bathroom, ceiling fan

Double bed, sole use of bathroom, ceiling fan

Twin beds, sole use of bathroom, ceiling fan

Semi-detached villa – comes with a safe, cots and high chairs available. Iron and hairdryer provided. Welcome pack of groceries provided. Beach towels provided
Additional Information
A 20% deposit is required to secure your booking with the balance payable 90 days before your arrival. Reservations under 90 days from the date of arrival must be paid in full.
We accept card payments and there is no commission for payments on credit card. You will be contacted by email shortly after your reservation regarding payment options.
Prices shown in the price guide are for the villa itself regardless of the number of guests, they are subject to change with individual circumstances – to obtain a total price, please use the calendar to select your arrival and departure dates.
An infant is classed as a child using a cot.
06 February 2021 – 28 February 2021
£180.00
01 March 2021 – 26 March 2021
£130.00
27 March 2021 – 11 April 2021
£220.00
12 April 2021 – 30 April 2021
£130.00
01 May 2021 – 09 May 2021
£180.00
10 May 2021 – 21 May 2021
£130.00
22 May 2021 – 30 May 2021
£180.00
31 May 2021 – 30 June 2021
£130.00
01 July 2021 – 16 July 2021
£180.00
17 July 2021 – 05 September 2021
£280.00
06 September 2021 – 15 October 2021
£180.00
16 October 2021 – 31 October 2021
£220.00
01 November 2021 – 17 December 2021
£130.00
18 December 2021 – 09 January 2022
£280.00
10 January 2022 – 11 February 2022
£130.00
12 February 2022 – 06 March 2022
£180.00
07 March 2022 – 10 April 2022
£130.00
11 April 2022 – 24 April 2022
£220.00
25 April 2022 – 27 May 2022
£130.00
28 May 2022 – 05 June 2022
£180.00
06 June 2022 – 30 June 2022
£130.00
01 July 2022 – 15 July 2022
£180.00
16 July 2022 – 04 September 2022
£280.00