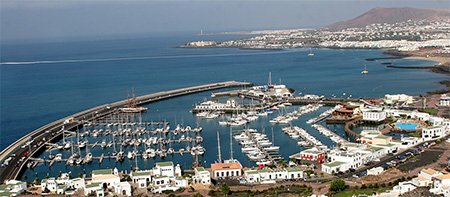 Marina Rubicon Guide
On the eastern side of Playa Blanca is the up market yacht harbour of Marina Rubicon. Opened in 2003, it is now a well established landmark in the resort and has a number of different attractions that make it worth a visit.
Designed to mimic a Canarian village, the architectural features of the marina include a replica chapel, while the remaining buildings are copies of the colonial styles that can be found in older houses all over the archipelago, with balconies, pan-tiled roofs, thick white washed walls and volcanic stone quoins used for archways and paving.
---
Sailing
The marina has its own sailing school, RubiSail, so if you´ve ever toyed with the idea of learning how to sail, you can sign up for a course in lightweight sailing, kayaking or windsurfing. There are also courses tailor made for children so if your kids are keen to learn how to navigate and handle a boat, there is the Optimist course, designed for 8 to 14 year olds. One and two seater kayaks are available to hire for the day for anyone over the age of 8 so you could use these to explore the coastline surrounding Playa Blanca. Courses and training are also available.
---
Sports Activities
In addition to the sailing activities you can get involved in, there is also a tennis court, padel court and freshwater swimming pool in the marina. So if you fancy a game of tennis, check availability at the harbour office and hire a court. For a small fee you can use the pool and adjacent sun loungers.
---
Charters and Excursions
As you'd expect in an aquatic environment, there are several excursions and boat trips that run from the marina.

If you only want to get out to sea for the cooling breeze, the Taxi Boat Princesa Yaiza can take you to the beaches at Papagayo and back (Reservations: 0034 928 519 012). There is also the Sport Fishing charter with Rubicon Sport Fishing.
---
Shopping
As a tax free haven, there are various boutique outlets offering leading brands at lower prices than you will find at home. This also includes perfumes and make up, which are similarly tax-free – head to Perfumeria Sabina for these products. For swimwear, visit Lady Russ, which stocks the latest beach fashions for both men and women. There is a Lacoste shop, San Babila Italian clothing outlet and Custo Barcelona for designer gear.

Souvenirs and presents can be found at Think Natural, which has a range of Aloe Vera products, sponges, jewellery and clothing. Arte de Lava stocks paintings, knick-knacks and gifts, as does the shop Butterfly. For jewellery, there is also Joyeria L'Ermitage, which has both brand name items and watches as well as more generic jewellery for sale.
---
Twice Weekly Market
Every Wednesday and Saturday, there is also a market in the marina. The stalls are set up between the restaurants and shops and cover a range of goods that would make perfect souvenirs or gifts for friends back home. Amongst the many items on sale are local wines, leather goods, craft items, linen and t-shirts. The market gets underway at 9.00 am and runs until 14.00.
---
Eating Out
The harbour makes a scenic backdrop for a spot of lunch or an evening meal, with many of the restaurants overlooking the water. There are plenty to choose from so you can have anything from a quick snack and a soft drink to a three course meal depending on your taste and requirements.

For snacks, sandwiches and drinks:

Afrodite Lounge Bar – an Italian eaterie, offering the usual range of pasta and pizza. They also have a take-away service. Afrodite is located just outside the marina's central zone, as you head towards the exit.
La Taberna – this is a Spanish tapas outlet, so if you want to try local cuisine you will find dishes such as garlic prawns and fried calamari on the menu
Cafe del Mar – Lanzarote has its own version of the famous Ibizan bar, although it is more a drinks venue than a nightclub here.
Global House – offering a range of sandwiches and breakfasts.
Lani's Heladeria – specializing in ice-cream, crepes, milk-shakes and cakes.
Moulin de Paris – an alternative lunch time spot, with a range of French inspired snacks and dishes. The café is located behind the swimming pool in the marina.
Lani's Snack Bar – this outlet offers more in the way of savoury snacks, with pizza, tapas and sandwiches available. The location is right on the water's edge, so you can gaze out over the yachts in the harbour while you eat.
Bar One – this is a favourite with many of the locals, from sailors to the staff who work at the marina. Great for lunch time fare, including sandwiches, tapas and salads. Located right behind the marina offices, there is usually a cool breeze coming off the sea here.
For lunch and dinner:
Restaurante El Mirador – offering modern European cuisine, this restaurant has an extensive menu with warm and cold tapas dishes, snacks, fish and meat mains, desserts and a children's menu. The location at the edge of the marina means that their outdoor 'Chill Out' deck gets the best sundown view back towards Playa Blanca and makes it a lovely place for an early evening drink.
Casa Roja – situated right in the heart of the marina, this restaurant specializes in fresh fish dishes and tapas. It has a spacious upper terrace giving great views across the marina.
Lani's Grill Marina Rubicon – the third of the Lani outlets in the marina, this is the restaurant that offers barbecue fare. Great if you fancy a steak or charcoal grilled chicken. They also have a children's menu.
Il Comendatore – a Trattoria style Italian restaurant, with risotto, pasta and pizza on the menu.
Casa Brigida – this is a Canarian style restaurant specializing in fresh fish. Its location is in the centre of the marina, close to the Café del Mar.
El Bodegon del Maño – offering a range of Aragornese dishes, this restaurant serves an alternative range of Spanish dishes and home-made desserts.
---
Nightlife
After dining in the marina you may fancy an after dinner drink. If so, there are a couple of venues you can head to. One is the Cafe del Mar, where the usual soundtrack is ambient, chill out music. Or you can head to the Blue Note Jazz Cafe where there is live music every night. The Blue Note is also a restaurant and bar, so if you prefer you can make it your evening´s destination.
---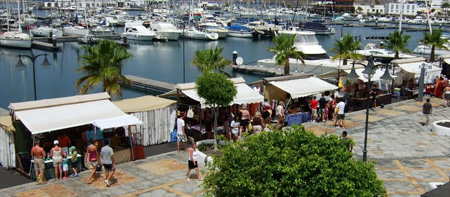 Other Amenities
For visitors who are staying near the marina, there are several additional services on offer which may make the port the nearest point of convenience. There is a supermarket, cashpoint and a petrol station. There is also a car rental outlet for the largest local company, Cabrera Medina, who offer some of the most competitive hire rates. Should you need to see a doctor there is a medical clinic, Deutsch Klinik, with staff who speak English. In addition there are two separate excursion operators, so if you wish to book a trip to explore some of the island's other attractions you can do so here.