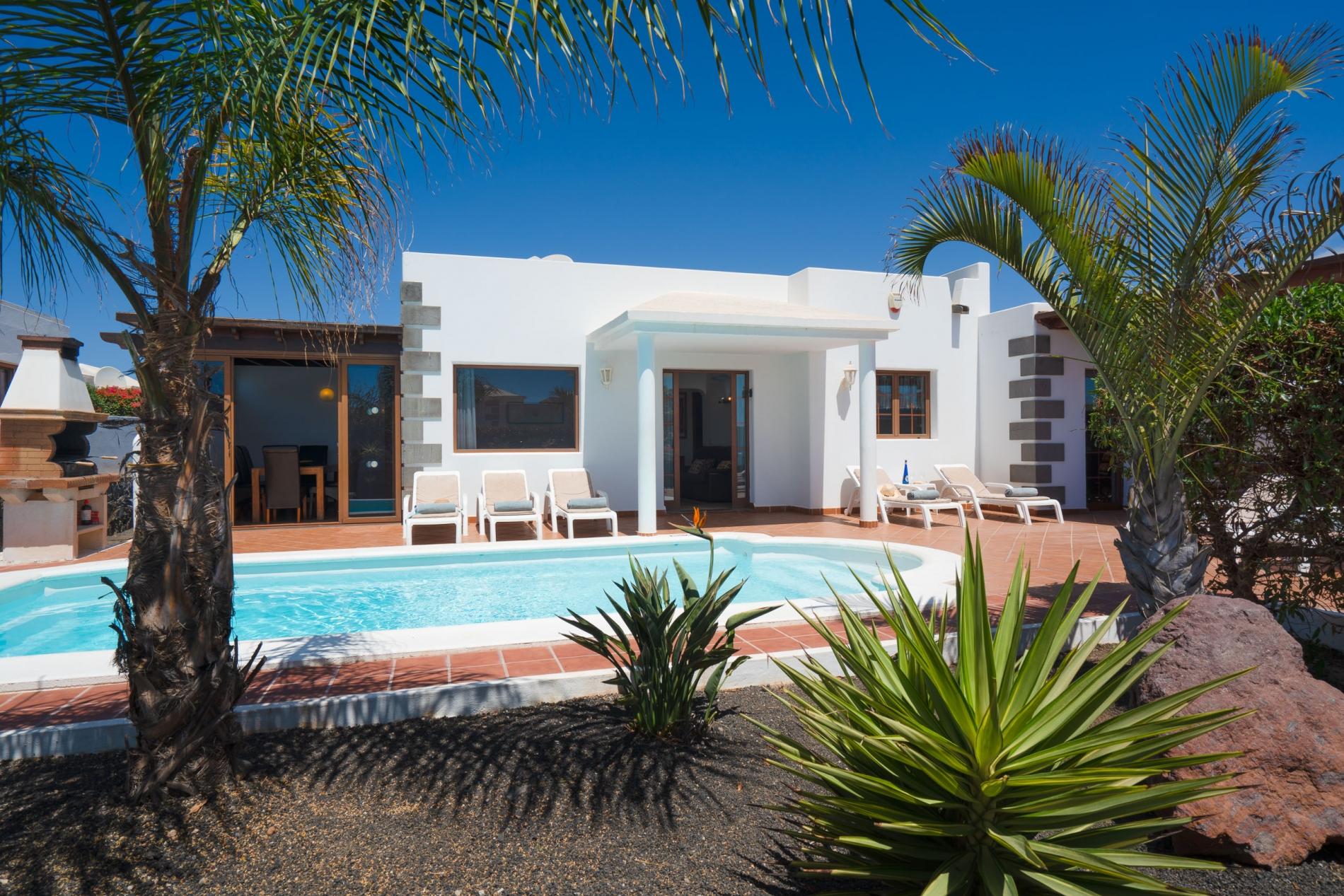 Overview
If you're looking for a holiday villa that combines a tranquil and relaxing location on a private estate – with easy access to nearby shops, bars and restaurants on foot – look no further than Villa del Rey, Lanzarote. Situated close to the centre of Playa Blanca, Villa del Rey is just 20 minutes' walk from the main resort – making it an ideal choice if you want to save the stress of hiring a car on holiday.
Sleeping up to 8 guests in comfort, the villa features 4 bedrooms and 2 bathrooms, split between 2 double rooms and 2 twins. The master bedroom also includes an ensuite. This flexible layout makes Villa del Rey the perfect choice for larger families or 2 families sharing together.
Elsewhere indoors, you'll find a comfortable living room, dining room and well-equipped kitchen – all featuring modern, light and airy decor throughout. Air conditioning in the lounge also ensures a comfortable space to cool off in between hours spent lounging around the pool.
Step outside and you'll discover Villa del Rey's beautiful tiled sun terrace and garden. Centred around a private swimming pool, you'll find plenty of sun loungers and space for all guests to relax and unwind. And when it comes to mealtimes, the shaded al fresco dining area is the perfect place for breakfast, lunch and dinner. There's even a purpose built BBQ – making easy work of evening meals and entertainment.
Microwave, oven, hob, dishwasher, fridge/freezer, washing machine

Flat screen TV with satellite TV, DVD player, CD player, air-conditioning, doors to separate dining area (dining area opens to pool terrace)

Double bed, double wardrobes, air-conditioning, ensuite bathroom

Bath, separate shower cubicle, WC and single washbasin

Double bed, double wardrobes, shares family bathroom

Twin beds, double wardrobes, shares family bathroom

Twin beds, wardrobes, shares family bathroom

Shower, WC and single washbasin
Exceptional

Charles, March 2019

"Just got back from 8 weeks in Villa del Rey Playa Blanca. From the initial enquiry to the end of the holiday the service from Optima Villas has been exceptional. My wife and I were there for the full 8 weeks with friends coming and going for one or two weeks. The Villa was well equipped for 8 people and everybody had a great holiday. Having the pool heated meant we could swim every day, as the sea was still a bit chilly. The Villa was exactly as described being only 20 minutes walk from the beach or town but quiet and secluded at the Villa. There were a couple of minor issues but a quick email to Optima and any problem or requests were dealt with, normally within the hour! The cleaning staff and pool guys were great there was always plenty of towels and Optima arranged the changeover day on a Sunday to match with the flights of friends joining us. Thank you all for making our stay so enjoyable. "
Superb time in this spacious villa

Audrius, December 2018

"We had a superb time in this spacious villa. Everything you need is there, clean and well presented. Location is great and you feel safe. Support team is excelent and very quick with responce if you need help. We were welcomed really warmly, so thank you everyone, for making our Christmas, and time in Lanzarote special, and full of memorable moments. P.S just a one thing to note, internet could be faster in the villa, but that didn't spoil our holiday. "
Amazing family holiday

Dani, July 2018

"Stayed in villa del Rey in playa Blanca with optima villas, we had an amazing family holiday there was 9 of us 4 adults 3 teenagers and 2 smaller children the villa was absolutely perfect for us! Had everything we could of possibly needed and more and the staff from optima villas are fab! They are on hand for anything you may need them for and they were so helpful through the lead up of our holiday and throughout our full stay, we will defo be using them again and would defo recommend them to anyone! "
Service was great

Kirstie, June 2018

"We stayed at villa del rey , amazing villa clean and big , the kids loved the space and pool as we all did , our tv wasnt working and after an email to fix it maintenance were out within 10 mins , service was great , will definately use optima again "
Very good value for money

Gemma, March 2018

"Very good value for money. Nice and clean. Had all the equipment / kit you would ever need to be home away from home. Professional service from Optima. Would 100% recommend. "
Would highly recommend to anyone, David

August 2017

"Arrived at the beautiful villa. Just a short 15 minute walk from the centre of Playa Blanca. Extremely clean. Very spacious. Plenty of room for our 7 holidaymakers 6 of whom where adults. Plenty of towels and sunloungers. Great outdoor NOW and outdoor space. The pool was heated and outstanding especially for my young son. Would highly recommend to anyone. "
12 glorious days in Villa Del Rey

Michael & Miriam Collins, July 2017

"We spent 12 days in Villa Del Rey, Playa Blanca. The villa was as described. A good location with great privacy. Hassle free, excellent pool & cleaning service. As always, Optima are a pleasure to deal with. "
A fantastic villa

Christine and Graham, June 2016

"Can I just say a big thank you for all your assistance in providing a fantastic villa for our stay in Playa Blanca. The Villa was everything that was described in the advert. I would have no hesitation in recommending this villa to any prospective travellers. Ideally located and furnished to a high standard – it was integral in making our holiday such a wonderful experience. Thank you Christine and Graham – Villa del Rey"
Your help and outstanding service was a god-send

Ursula und Bärbel, February 2015

"Back in Germany we often talk abut our recent stay in Lanzarote in February. After an very extremely bad start due to a double-booking with another company your help and outstanding service was a god-send! At what speed you prepared a villa for us and how you complied with all our requests was just marvellous. Many, many thanks again for all you have done for us, we quickly forgot about the disastrous start of our holiday and have truly enjoyed our stay with you. We will recommend your company to all our friends and acquaintance. Kindest regards Ursula und Bärbel – Villa del Rey [this testimonial was translated from German]"
The standard of the villa was excellent

Mike, August 2010

"Hi Richard, just wanted to drop you a line to say what a great time we had staying at the villa you manage in Park Del Rey. The standard of the villa was excellent and the service you provided was superb. I will certainly recommend your company to my friends for renting and buying. Thanks again Mike – Villa del Rey"
Additional Information
A deposit of 20% is required to secure your booking with the balance payable 90 days before your arrival. Reservations under 90 days from the date of arrival must be paid in full.
We accept card payments and there is no commission for payments on credit card You will be contacted by email shortly after your reservation regarding payment options.
Prices shown in the price guide are for the villa itself regardless of the number of guests, they are subject to change with individual circumstances – to obtain a total price, please use the calendar to select your arrival and departure dates.
An infant is classed as a child using a cot.
04 January 2021 – 05 February 2021
£130.00
06 February 2021 – 28 February 2021
£180.00
01 March 2021 – 26 March 2021
£130.00
27 March 2021 – 11 April 2021
£220.00
12 April 2021 – 30 April 2021
£130.00
01 May 2021 – 09 May 2021
£180.00
10 May 2021 – 21 May 2021
£130.00
22 May 2021 – 30 May 2021
£180.00
31 May 2021 – 30 June 2021
£130.00
01 July 2021 – 16 July 2021
£180.00
17 July 2021 – 05 September 2021
£280.00
06 September 2021 – 15 October 2021
£180.00
16 October 2021 – 31 October 2021
£220.00
01 November 2021 – 17 December 2021
£130.00
18 December 2021 – 09 January 2022
£280.00