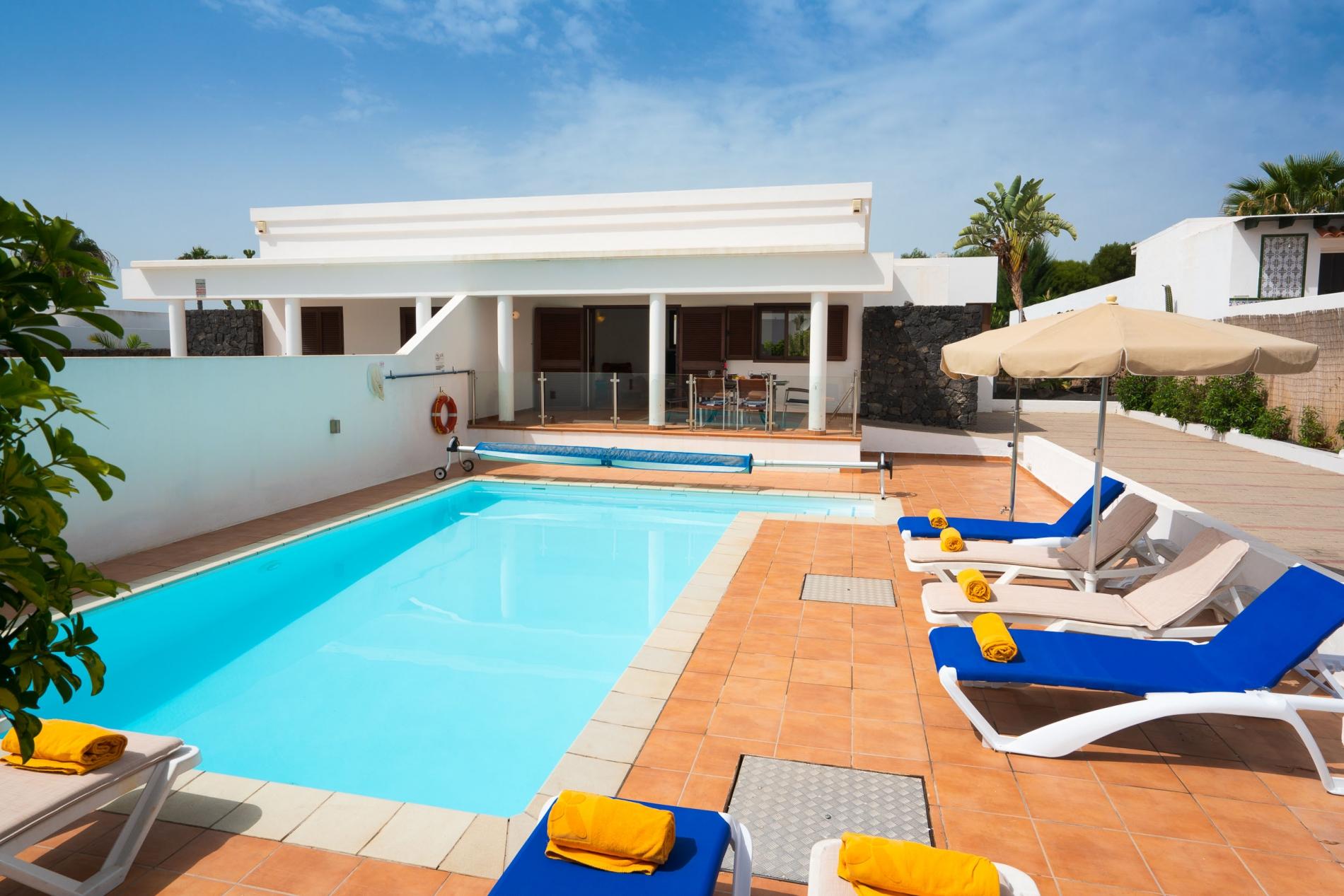 Overview
Villa Su Casa's central location makes it an ideal choice for holidaymakers who don't wish to hire a car during their stay. Just a 10 minute stroll from Playa Blanca Beach and the centre of the resort, fantastic restaurants, bars and shopping are all just minutes away.
Sleeping up to 8 in comfort, Villa Su Casa features 4 bedrooms – including 3 double rooms and a twin. The master bedroom includes an ensuite bathroom, while a second bathroom serves the rest of the house. Elsewhere indoors, you'll find a spacious, light and airy open-plan kitchen, living room and dining area – with modern and contemporary furnishings throughout.
Thanks to air conditioning in the majority of rooms, you're guaranteed a comfortable night's sleep at Villa Su Casa on warm or humid nights.
Stepping outside, you'll discover the villa's shaded veranda, overlooking the private swimming pool and spacious sunbathing area below. Villa Su Casa is recommended for families with young children, thanks to the lockable gate – giving you peace of mind that little ones won't go wandering off to the pool unattended.
The veranda is ideal for al fresco meals, and is sure to be a favourite spot for breakfast, lunch or dinner – with its own outdoor dining furniture. And thanks to the villa's south-facing orientation, the pool and terrace enjoy the sunshine all day long, so you can make the most of Lanzarote's beautiful weather.
For larger groups, Villa Su Casa can also be booked alongside the identical Villa Mi Casa next door – ideal if you're planning a break with another family or groups of friends.
Microwave, oven, hob, fridge/freezer, dishwasher

Flat screen TV with comprehensive UK and European TV channels, DVD player, doors to pool terrace, separate indoor dining area and access to kitchen

Double bed, double wardrobes, en-suite bathroom

Bath and separate shower cubicle, WC and single washbasin

Double bed, double wardrobes, shares family bathroom

Double bed, double wardrobes, shares family bathroom

Twin beds, double wardrobes, shares family bathroom

Walk-in shower, WC and washbasin
The villa location was really convenient

Michael, Jan 2020

"We loved the holiday and the villa – it was perfect for two families with young children. The pool area and heated pool were great for this time of year, no problem with the kids staying in the pool for a long time and the walled garden was sheltered when it was windy.
The villa location was really convenient, only a few minutes walk to the nearest supermarket and a few more to the beach with all the shops and restaurants.
The villa had everything we needed and was clean and modern. We will hopefully be back again soon!"
Su Casa was spacious

Chris, Sep 2019

"Su Casa was spacious, well equipped and had a good sized pool. There were 4 double bedrooms all with air conditioners, 2 bathrooms a spacious living and dining room, a well equipped kitchen and a spacious and well shaded outside dining area. Optima had provided all towels and bedding on arrival – we even found a bottle of wine in the fridge! The booking process was straight forward and we were met by one of the team at the airport for a check-in process that took under 10 minutes. The location was great – far enough from the road and the front to be quiet, but only a 15 minute walk to the shop, bars and restaurants, or a 5-10 minute drive or taxi ride to the marina. This was my first Villa holiday – I would definitely recommend it, Optima and Villa Su Casa."
Best Service

The Hathaway family, Aug 2019

"Have just returned from a two week holiday in villa Su Casa in Playa Blanca. Excellent service from when we booked to when we left with Optima Villas. We dealt with Ana in the UK and Diane who was part of the support team in Playa Blanca. Ana was a pleasure to deal with from the start and answered my many emails from booking the villa until the day before we left. Diane was fantastic any issues at the villa a quick email and somebody was out within two hrs to fix any problem. Best service from optima villas I have ever experienced and that's says a lot from someone going to Lanzarote for the last 20 yrs! The villa was fantastic as was the pool and the close proximity to the town. Will definitely be booking again for next summer. "
Perfect spot for families

Luisa, Apr 2019

"Great service and assistance. Our villa was in Playa Blanca, walking distance from the center and the beach, perfect spot for families. We were 4 adults and 4 children, we all enjoyed our staying in Lanzarote. Optima Villas Website pictures and descriptions are exactly what you get in reality. We highly recommend Optima Villas."
Lovely time

Lucy, Mar 2019

"We had an absolutely lovely time at Villa Su Casa. It is a really lovely villa in an ideal location. We will definitely be returning to Playa Blanca and would love to stay at villa Su Casa again! "
Amazing villa

Mark, Dec 2018

"Amazing villa in a perfect location. We have stayed in many villas in Playa Blanca and Villa Su Casa is amongst the best, it has absolutely everything anyone could need and is very clean and modern. I would not hesitate to recommend this villa or Optima Villas to friends and family. Optima Villas are a great company and they make the booking process and the whole holiday experience very easy and trouble free."
Fantastic villa

David, Nov 2018

"Fantastic villa in a good but quiet location. Well equipped and clean on arrival. Private pool was great even in November. Would come back again."
Good quality

Francesc, Aug 2018

"The house is beautiful, is big and really comfortable. The outdoors zone is perfect with a nice and clean pool. The perfect house to spend the holidays!!! "
Everything you could need for

Rose, Jun 2018

"Recently returned from our first villa holiday but can safely say it won't be our last. Villa Su Casa was lovely and had everything you could need for a fab family holiday. Very peaceful setting and only a short stroll into the town centre. The Optima team were very helpful from organising our late check out; Ana answering my numerous questions prior to our trip; help with booking the private transfer which, to be met by a suited driver with your name on the board is a very professional service then Ariel coming to check all was OK during the trip. Would not hesitate to book with Optima again. Thanks for a fab holiday. "
The Villa (Su Casa), was exceptional

Corin, Mar 2018

"Second time booking with Optima Villas, and as previously an excellent, painless service provided. We also opted to book the transfers to and from the airport, again a fantastic option. The Villa (Su Casa), was exceptional, the photo's don't do the place justice, It is very well appointed, quiet and located in a fabulous location, only10 minutes walk to the resort and a large supermarket. Highly recommend both the Villa and Optima Villas, we wont consider booking with any other company when staying in Playa Blanca."
All in all your service and friendly helpful approach at optima villas is just first class

Karen A., Oct 2016

"We are back home and just wanted to drop you a line to thank you for helping us have another great holiday in Lanzarote. The villa was lovely and it makes for a very relaxing, private and peaceful setting. Thanks also to Damion for coming to check in with us and for helping to make our late check out happen. That was very much appreciated and especially appreciated by our three kids. All in all your service and friendly helpful approach at optima villas is just first class."
We have had the most amazing week at Villa Su Casa

Jonathan, Dec 2015

"Just wanted to say we have had the most amazing week at Villa Su Casa. Thank you for everything, especially to Diana who was extremely helpful and went out of her way to make sure everything was fine upon our arrival. We definitely recommend Optima Villas, great service and super competitive pricing. We will definitely use your company in future. Thanks again for everything! Jonathon – Villa Su Casa"
What a lovely holiday we had in Villa Su Casa

Paul and Sam, Jul 2015

"Dear Richard, just wanted to drop a note to say what a lovely holiday we had in Villa Su Casa. The villa itself was great, it had everything we needed and the pool was perfect for us. The children are 4 and 6, so to have a pool where they could both stand up in the shallow end was superb. Thank you once again – we would be more than happy to recommend Optima Villas & Villa Su Casa and we hope to be in touch again in the future. Kind regards Paul and Sam – Villa Su Casa"
We had a really lovely time

Claire, Nov 2014

"Hi Damion Thank you for a fantastic holiday at villa su casa, we had a really lovely time and the villa was beautiful. Claire – Villa Su Casa"
We've thoroughly enjoyed our stay Su Casa

Iain, Dec 2013

"Sally, We've thoroughly enjoyed our stay at Su Casa and have been very impressed with both the villa and your service beforehand and during our stay. Thank you very much. Iain – Villa Su Casa"
The villa was beautiful

Caroline, Oct 2013

"Dear Richard, Thank you so much for our recent holiday to Su Casa! The villa was beautiful and totally perfect as was the lovely clean, warm pool and all ideally situated near to all the restaurants, totally perfect! Thank u also for the fabulous welcome pack and for the kindness of us being allowed to stay on until later for our night flight, very much appreciated. We have already recommended your villas to two interested friends and we will be re booking in the near future! Many thanks Caroline, Neil and Jakey ( who was never out of the pool!) – Villa Su Casa"
Excellent service

Jon, Dec 2012

"Thank you to all at Optima for the excellent service from the day we booked and we will certainly book our next visit to Playa Blanca with Optima – unfortunately we may have to wait a couple of years! Have a great Christmas and 2013 Regards Jon – Villa Su Casa"
What a lovely time we had in Villa Su Casa

Natalie, Apr 2012

"Hi Richard,Just wanted to say what a lovely time we had in Villa Su Casa , the villa was spotless and the pool was warm and just right in depth for our children ! Also a big thank you for all your help when we locked ourselves out ! We would not hesitate using you again and hope to soon. Kind Regards Natalie – Villa Su Casa"
Thanks for providing such a great service

Jo, Feb 2012

"Hi Richard Just a quick line to say thanks for providing such a great service we were really impressed with Villa Su Casa and Playa Blanca. The villa was really clean and best of all the pool was really warm! The kids loved it. We appreciated the pool being cleaned twice weekly and at a sensible time of day which didn't effect our enjoyment of the pool, likewise with the mid stay clean. In fact we are seriously considering coming back again for the same 2 weeks next year which we never do! Best regards Jo – Villa Su Casa (note from Optima – and they did book the same two weeks !!!)"
The villa was spotless and there were lots of fluffy towels

Jo, Feb 2011

"Hi Sally, Just a note to say thank you to you and the team for your assistance before and during our holiday. The villa was spotless and there were lots of fluffy towels. We really appreciated the help given by Richard on our last day while waiting for our late departure – it made a huge difference to us. Before our holiday, I had already sung your praises on Trip Advisor and I shall make sure to do so again. Kind regards Jo – Villa Su Casa"
Additional Information
A 20% deposit is required to secure your booking with the balance payable 90 days before your arrival. Reservations under 90 days from the date of arrival must be paid in full.
We accept card payments and there is no commission for payments on credit card. You will be contacted by email shortly after your reservation regarding payment options.
Prices shown in the price guide are for the villa itself regardless of the number of guests, they are subject to change with individual circumstances – to obtain a total price, please use the calendar to select your arrival and departure dates.
An infant is classed as a child using a cot.
04 January 2021 – 05 February 2021
£160.00
06 February 2021 – 28 February 2021
£220.00
01 March 2021 – 26 March 2021
£160.00
27 March 2021 – 11 April 2021
£280.00
12 April 2021 – 30 April 2021
£160.00
01 May 2021 – 09 May 2021
£220.00
10 May 2021 – 21 May 2021
£160.00
22 May 2021 – 30 May 2021
£220.00
31 May 2021 – 30 June 2021
£160.00
01 July 2021 – 16 July 2021
£220.00
17 July 2021 – 05 September 2021
£350.00
06 September 2021 – 15 October 2021
£220.00
16 October 2021 – 31 October 2021
£280.00
01 November 2021 – 17 December 2021
£160.00
18 December 2021 – 09 January 2022
£350.00
10 January 2022 – 11 February 2022
£160.00
12 February 2022 – 06 March 2022
£220.00
07 March 2022 – 10 April 2022
£160.00