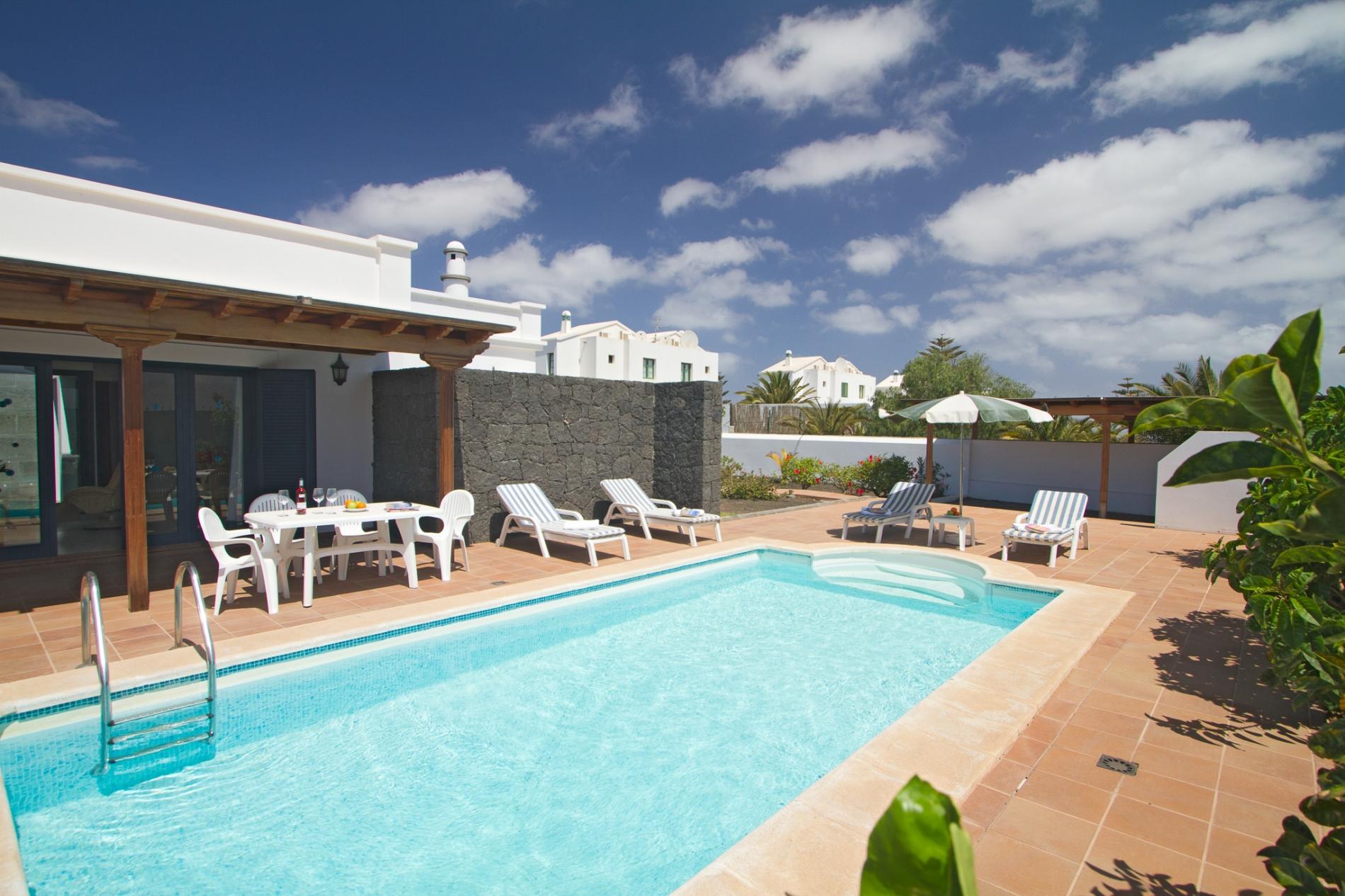 Overview
Conveniently located in Costa Papagayo, less than 20 minutes' walk from the beach and just a stone's throw from a handy mini market, Villa Rose is a beautiful 2 bedroom holiday home. With shaded off-road parking, it's also a great choice if you plan on exploring further afield by hiring a car.
Sleeping up to 4 guests, the villa features an ensuite double room, as well as a twin room and second family bathroom. Both bedrooms include a cooling ceiling fan, ideal for warm summer nights.
Elsewhere indoors, Villa Rose has a large air-conditioned living room and dining area – ideal for escaping the midday sun. With a flatscreen TV offering both English and European channels, the living room is a great spot for unwinding in the evenings. During the day, the villa is also flooded with light, thanks to the internal garden feature.
Stepping outside, you'll find Villa Rose's secluded east-facing pool terrace – featuring high walls for extra privacy. The large tiled sunbathing area offers plenty of space to spread out and relax on the sun loungers, while the swimming pool is the perfect way to cool down when the sun is at its highest.
When it comes to mealtimes, the shaded al fresco dining area and BBQ are ideal for family lunches and dinners – as well as evening games around the table.
Microwave, oven, hob, dishwasher, fridge/freezer, washing machine, dining area

Flat screen TV with comprehensive UK and European channels, air conditioning, internal garden, DVD player, dining area, doors to pool terrace

Double bed, double wardrobes, doors to pool terrace, celing fan, ensuite bathroom

Twin beds, double wardrobes, ceiling fan, sole use of family bathroom

Shower cubicle, WC and single washbasin

Bath and shower over, WC and twin washbasin
We had a great holiday at Villa Rose

Fred & Chris N, March 2017

We had a great holiday at Villa Rose. The villa has everything you could want or need for your holiday. It is in a quiet spot just a twenty minute stroll from the marina and the beaches so we really enjoyed the walk to the front every day. We did not actually call on your help at all as the villa had everything we needed and we are familiar with Lanzarote and Playa Blanca from numerous previous visits. Heated pool was actually too hot so we had to ask for it to be turned down – that's a first! 
Die Organisation war perfekt

Wilfried L., November 2016

Ich möchte mich ganz herzlich bedanken für einen wundervollen Aufenthalt in der Villa Rose. Die Organisation war perfekt, beginnend mit der kompletten Anfahrtsbeschreibung vom Flughafen zum Haus über die problemlose Übernahme des Hauses mittels Schlüsselbox bis zum Willkommenspaket mit Wein und anderen Überraschungen… 🙂 Vielen Dank, wir haben uns sehr darüber gefreut!!!! Sehr schön und hilfreich war auch die sehr umfangreiche Mappe mit Angaben zu Haus und Pool und vielen Tipps für Ausflüge, Restaurants und Ausgehmöglichkeiten. Da die Woche etwas windig war, waren wir nicht jeden Tag an den wunderbaren Stränden und konnten den herrlich warmen Pool genießen – Entspannung pur. Der Poolbereich ist nicht vollständig uneinsehbar, aber da es keine aufdringlichen Nachbarn gibt, hat man trotzdem genügend Privatsphäre, um das Sonne tanken ungestört genießen zu können. Insgesamt ist das Haus sehr schön gestaltet und komplett ausgestattet mit allem, was man braucht – wir haben jedenfalls nichts vermisst…die Lage ist ruhig – bis auf ein paar Busse, die regelmäßig vorbeifahren, ist auf der Straße vor dem Haus nicht allzuviel los.. bis ins Ortszentrum, Supermärkten und Restaurants ist es nicht weit – man kann problemlos zu Fuß laufen oder ist mit dem Auto im Nu im Geschehen. Die Insel selbst ist faszinierend und bezaubert durch ihre vielfältigen Erscheinungsformen von schwarzen Lavafeldern bis zu grünbewachsenen Hängen und dazwischen immer wieder Orte und Dörfer mit den schönen weißgetünchten Häusern – wir haben uns in diese Insel mit Ihren freundlichen und zuvorkommenden Bewohnern sofort verliebt und werden auf jeden Fall wiederkommen… Vielleicht in die Villa Rose oder in eines der vielen anderen schönen Häuser, die von Ihnen angeboten werden… Vielen Dank, Annelieke – wir werden uns schon bald wieder bei Ihnen melden!! I want to thank everybody for a wonderful stay in Villa Rose. The organisation was perfect, starting from the complete detailed information pack from the airport to the villa, to the access to the villa without any problems with the keys in the keybox, to the welcome pack with wine and surprises… 🙂 Thank you very much, it made us very happy!!!!! Really nice and helpful were also the detailed descriptions in the villa with tips for excursions, restaurants and places to go out. Because it was windy during our week, we did not go to the wonderful beaches everyday, but enjoyed our time at the heated pool – full relaxation. The pool area is not fully not seen, but since there were no notable neighbours there was enough privacy to enjoy the sun without any disturbance. The villa is really nice equipped and it has everything you need – we did not miss anything…the area is very quiet – just a few buses that pass, but nothing more going on on the street.. The centre, supermarket and restaurants are not far away – easily reached by foot or within seconds with the car. The island itself is fascinating and charmed by its varied appearance, from black lava fields to green slopes and in between villages with beautiful white houses – we have felt in love with the very kind people living on the island and will be back for sure… Maybe in Villa Rose or one of the other wonderful villas which you have in your portfolio… Thank you very much, Annelieke – we will contact you soon again!!
It is a lovely villa with a very private pool area

Helen, March 2014

Dear Sally would like to say how much we enjoyed our stay at Villa Rose. It is a lovely villa with a very private pool area – the heated pool was brilliant and despite some cool weather we were able to swim daily. The villa was beautifully clean and we very much appreciated the welcome pack. The indoor/outdoor garden is a lovely feature in the living area. We didn't get to meet Richard but he was very helpful and efficient when we contacted him by phone. We would certainly stay at Villa Rose again and would highly recommend Optima for villa bookings in Lanzarote. With best regards Helen – Villa Rose
Service from Optima Villas was first class

Blake and family, January 2014

Vanessa, just wanted to send an e-mail and say thank you so much for arranging our lovely villa. We had a wonderful holiday the villa was perfect and the service from Optima Villas was first class. We will be using Optima Villas again and highly recommending them to our friends and family. All our very best wishes Blake and family – Villa Rose
Will definitely be returning

Jay and Nabea, May 2013

Hi Just to say that our holiday at Villa Rose was fantastic. The villa was modern and immaculate throughout. Richard from Optima was very helpful with anything you need. A nice 15 min stroll towards the sea front where you find all the restaurants and bars you could ask for plenty to choose from. Some nice ice cream shops too. Rented a quad too for a day and went out on a buggy safari excursion would recommend to anyone come visit the island and try the excursions. Was brilliant. Will definitely be returning. Thanks Optima Jay & Nabea – Villa Rose
Splendid holiday at Villa Rose

Pat and Dave, March 2013

Dear Richard Just a short e-mail to thank you for another splendid holiday at Villa Rose. As before thank you for excellent facilities and for allowing us to remain in the villa on our final day. We will be in contact with you again shortly to book our next Optima Villas holiday. Best regards Pat and Dave – Villa Rose
We would certainly recommend

Pat and Dave, March 2012

Dear Richard Just a short e-mail to say how much we enjoyed our stay at the immaculate Villa Rose last week. We would certainly recommend it.We would also like to thank you and your Optima Villas colleagues for the efficient service and excellent facilities, particularly allowing us to stay those extra hours in the Villa so we can make the most of our last day before returning to the snow, cold and ice in the UK. We will be in touch shortly to arrange our next Optima Villas holiday. Thank you once again Pat and Dave – Villa Rose
Additional Information
A deposit of 20% is required to secure your booking with the balance payable 90 days before your arrival. Reservations under 90 days from the date of arrival must be paid in full. You will be contacted by email shortly after your reservation regarding payment options. Prices shown in the "Prices" tab above are based on minimum number of people (excluding options such as pool heating) and are subject change with individual circumstances – to obtain a total price, please use the "Availability and Booking" tab to select your dates and number of people. An infant is classed as a child using a cot
04 November 2019 – 13 December 2019
£105.00
14 December 2019 – 22 December 2019
£140.00
23 December 2019 – 05 January 2020
£140.00
06 January 2020 – 07 February 2020
£105.00
08 February 2020 – 23 February 2020
£140.00
24 February 2020 – 27 March 2020
£105.00
28 March 2020 – 19 April 2020
£190.00
20 April 2020 – 22 May 2020
£105.00
23 May 2020 – 31 May 2020
£130.00
01 June 2020 – 30 June 2020
£95.00
01 July 2020 – 17 July 2020
£130.00
18 July 2020 – 30 August 2020
£225.00
31 August 2020 – 16 October 2020
£130.00
17 October 2020 – 01 November 2020
£180.00
02 November 2020 – 18 December 2020
£105.00
19 December 2020 – 25 December 2020
£235.00
26 December 2020 – 03 January 2021
£235.00
04 January 2021 – 05 February 2021
£105.00
06 February 2021 – 28 February 2021
£140.00
01 March 2021 – 26 March 2021
£105.00
27 March 2021 – 11 April 2021
£180.00
12 April 2021 – 30 April 2021
£105.00
01 May 2021 – 09 May 2021
£140.00
10 May 2021 – 21 May 2021
£105.00
22 May 2021 – 30 May 2021
£140.00
31 May 2021 – 30 June 2021
£95.00
01 July 2021 – 16 July 2021
£130.00
17 July 2021 – 05 September 2021
£225.00
06 September 2021 – 15 October 2021
£130.00
16 October 2021 – 31 October 2021
£170.00
01 November 2021 – 17 December 2021
£105.00
18 December 2021 – 09 January 2022
£235.00