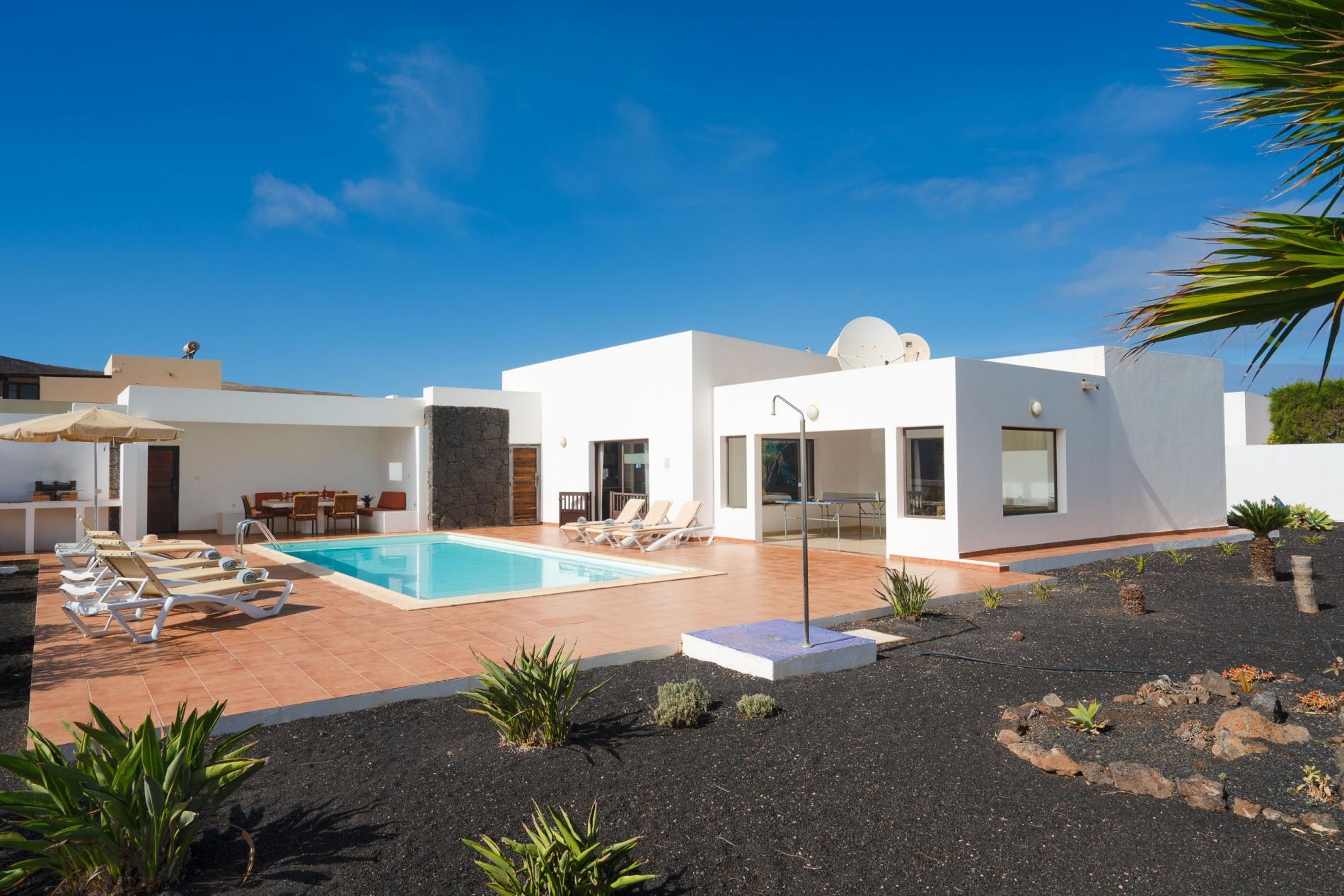 Overview
Aptly named Paradise Villa in English, Villa Paraiso offers a peaceful retreat away from the busy resort – making it a prime location for those guests looking to truly relax and unwind on holiday. However, the main resort and stunning local beaches are still within easy walking distance if you do feel the need to explore.
The sleeping arrangements for this 4 bedroom villa are split across 2 double rooms and 2 twin bedrooms. One of the doubles features its own ensuite bathroom, while the remaining 3 rooms have shared access to a sizeable family bathroom.
The rest of the interior comprises a spacious open-plan living room, dining area and well-appointed kitchen that features all the home comforts and mod-cons needed for family meals and movie nights. With recently updated interiors throughout, this light and airy villa offers ample space for everyone – guaranteeing you have a comfortable stay.
Stepping outside to the luxurious sun terrace and garden adorned with local plants, you'll be transported into an outdoor paradise with your own private swimming pool that can be heated if you're visiting out of season. Surrounded by sun loungers and outdoor seating, this garden and terrace delivers a welcome haven for topping up your tan and whiling away the days.
If you prefer a little time out of the sun, there's a shaded al fresco dining area and BBQ that's primed for leisurely family meals in the evenings. You'll also have use of a ping pong table to help you burn off some energy and work up an appetite for some local cuisine. Whatever plans you have on holiday, Villa Paraiso is sure to provide the perfect home-from-home – helping you have a truly relaxing and memorable time on the island.
Microwave, oven, hob, dishwasher, fridge/freezer, washing machine, dining area

Flat screen TV with comprehensive UK and European TV channels, DVD player with a selection of discs, CD player, dining area, doors to pool terrace

Double bed, double wardrobes, doors to pool terrace, ensuite bathroom

Double bed, double wardrobes, shares family bathroom

Twin beds, wardrobe, shares family bathroom

Twin beds, wardrobe, shares family bathroom

Bath and shower over, WC and single handbasin

Bath and shower over, WC and twin washbasin
One of the best

Karen, May 2019

One of the best villa companies I have used. Spotless villa, attentive staff, easy to deal with.
Really very good

Alan, March 2019

Our week in Villa Paraiso was really very good. There were six of us from grandparents to grandchildren and we all had a great time. The villa was really well equipped and the TV channels were amazing. The pool depth was just right for the children and large enough for the rest of us. The one issue we had was the condensation in the front three bedrooms which gave a damp odour in the rooms. Optima villas were excellent! From the first email to the last they were very professional and extremely helpful. We had an issue where I contacted them and their maintenance guy turned up within 15 minutes, amazing service. I would definitely recommend booking with Optima villas again.
I couldn't recommend it highly enough

Posted to Airbnb, February 2019

This is a really fantastic house, I couldn't recommend it highly enough. Lots of bright open space, lovely clean pool. We got great use from the outdoor eating space and outdoor sitting room. We also had a lovely bbq one evening. We walked into and out of Playa Blanca a few times and it is about a 20 min walk each way. However we had a car also and we were glad we did. We drove to dinner a few nights and this meant we could go a bit further afield. Recommend El Golfo for dinner.
The villa was perfect

Lee, November 2018

The family truly loved the trip to Lanzarote, I was so glad I went through Optima Villas for the following reasons- the villa was perfect and as described was also clean with good for us arriving & Milk (Classy touch). The communication from your Ana was perfect & when I'm back to Lanzarote we will be coming straight back to her. Also had plenty of towels which all the ladies loved. I can see why people rate you guys so highly.
The villa is gorgeous

Stephen, October 2018

Great apartment, well sized and perfect for groups. Ana organised for the apartment to be cleaned and ready for our early arrival – which helped a lot, as we were on a 6am flight from Ireland! When we arrived there was some nice nibbles, tea, coffee, and a bottle of wine waiting for us. Plenty of hot water, towels, 8 sun beds and a nice pool, and also electric fans for use inside the house. All in all a lovely place and enjoyable trip.
We had a great holiday and would definitely stay here again

July 2017

Good location, We had a car, (but it would be a 15 minute walk to the centre) There are at least 6 lovely beaches near by, nice shops and restaurants, we liked tipico espanol, we liked to visit the green lake and los hervidos. We went camel riding in uga and off road buggy driving. There is a good go-carting place next to the airport. The villa itself is spacious and well laid out, clean and nicely decorated. The beds are comfy as is the couch. The pool area is great and gets sun all day. We had a great holiday and would definitely stay here again
I would like to belatedly express my thanks to all the staff I dealt with at Optima

David, June 2017

To all the staff at Optima Villas, A couple of weeks after our return from our wonderful holiday in Lanzarote, I would like to belatedly express my thanks to all the staff I dealt with at Optima. The patience and advice you gave me helped me to select the perfect villa for a family break. We were very keen to find somewhere suitable for our 2 year old grand daughter; everything was just perfect for her – the cot, high chair etc. For her the pool was best of all; the reassurance of being able to close the gates to the pool terrace was excellent. The table tennis table was a nice extra – although we did have some very competitive family games! Thank you again for all your help
Stress Free

The Sidlow family, May 2016

We have just had an amazing holiday with Optima Villas, who did everything to make our holiday feel like home and very stress free. The villa was beautiful and had everything we needed, plus a good parking space for our 9 seater van, in a quiet area about 5 minutes drive and 20 minute walk to the centre of Playa Blanca. The bedrooms were very spacious and beds very comfortable. We loved the family room out by the pool as we could sit out every night, but it was fully sheltered from the wind so was warm and cosy. We felt at home from the word go and the villa had all the facilities needed for a family. Thank you
Spacious, well equipped and relaxed

James, March 2016

Beautiful villa in Playa Blanca. Well equipped with everything you'll need for your stay, including plenty of towels.Clean, well maintained and family friendly.Long walk or short drive to Playa Blanca town centre. Not great views, but very enclosed pool area which is sheltered from the wind.Pool warm due to air heat pump which the kids loved. Care needs to be taken when pool area is wet as it is very slippery!Our family of five has plenty of space, villa could sleep 8.Overall I'd recommend, it's a relaxing haven in the sunshine.
Will certainly recommend Optima Villas

Pat and Dave, April 2015

Dear Richard David and I would like to thank you for providing a splendid villa and also for providing us with other accommodation for our final day so we could make the most of the fantastic weather. We would and will certainly recommend Optima Villas to our friends. Kind regards Pat and Dave – Villa Paraiso
We had a fantastic time

Lisa, December 2013

Morning Sally Just a short note to say thank you for help for our holiday booking in December to Villa Paraiso. We had a fantastic time. Thank you Lisa – Villa Paraiso
Many thanks for the great time we had in Villa Paraiso

Alistair & Debbien, November 2013

Hi Richard, Just wanted to say many thanks for the great time we had in Villa Paraiso. The villa was fantastic – just what we were looking for – and we loved the heated pool. Thought the service you provided was excellent and made booking really easy. Would love to come again! Especially given the predicted weather here for next week!! All the best to you and the rest there and hope you all have a very Merry Christmas. Best wishes, Alistair & Debbien – Villa Paraiso
Everything was lovely

Anne, November 2012

Just to say a big thanks for the Villa, we had a fantastic holiday, everything was lovely. Kind regards Anne – Villa Paraiso
We have been very impressed

Lesley, October 2012

Hi Sally, We have been very impressed with all aspects of our Optima Villa holiday and would certainly use you again. Kindest regards Lesley – Paraiso
We had a fantastic holiday in Villa Paraiso

Denise and Howard, June 2010

Hi Sally, Wanted to let you know we had a fantastic holiday in Villa Paraiso. The villa was just perfect for us, just what we were looking for. We travel every year to Lanzarote always to be promised a heated pool and always get so disappointed when we arrive to a cold pool. Villa Paraiso was certainly a heated pool! The kids loved it! The service you provided was excellent and really nice to know someone was available if we had needed anything – which we didn't! Would love to visit again next year, as soon as the flights come in I will be in touch – Hopefully available! Many Thanks Denise & Howard – Villa Paraiso
Additional Information
A deposit of 20% is required to secure your booking with the balance payable 90 days before your arrival. Reservations under 90 days from the date of arrival must be paid in full. You will be contacted by email shortly after your reservation regarding payment options. Prices shown in the "Prices" tab above are based on minimum number of people (excluding options such as pool heating) and are subject change with individual circumstances – to obtain a total price, please use the "Availability and Booking" tab to select your dates and number of people. An infant is classed as a child using a cot
14 December 2019 – 22 December 2019
£185.00
23 December 2019 – 05 January 2020
£185.00
06 January 2020 – 07 February 2020
£140.00
08 February 2020 – 23 February 2020
£185.00
24 February 2020 – 27 March 2020
£140.00
28 March 2020 – 19 April 2020
£255.00
20 April 2020 – 22 May 2020
£140.00
23 May 2020 – 31 May 2020
£185.00
01 June 2020 – 30 June 2020
£130.00
01 July 2020 – 17 July 2020
£175.00
18 July 2020 – 30 August 2020
£310.00
31 August 2020 – 16 October 2020
£175.00
17 October 2020 – 01 November 2020
£245.00
02 November 2020 – 18 December 2020
£140.00
19 December 2020 – 25 December 2020
£320.00
26 December 2020 – 03 January 2021
£320.00
04 January 2021 – 05 February 2021
£140.00
06 February 2021 – 28 February 2021
£185.00
01 March 2021 – 26 March 2021
£140.00
27 March 2021 – 11 April 2021
£255.00
12 April 2021 – 30 April 2021
£140.00
01 May 2021 – 09 May 2021
£185.00
10 May 2021 – 21 May 2021
£140.00
22 May 2021 – 30 May 2021
£185.00
31 May 2021 – 30 June 2021
£130.00
01 July 2021 – 16 July 2021
£175.00
17 July 2021 – 05 September 2021
£310.00
06 September 2021 – 15 October 2021
£175.00
16 October 2021 – 31 October 2021
£245.00
01 November 2021 – 17 December 2021
£140.00
18 December 2021 – 09 January 2022
£320.00