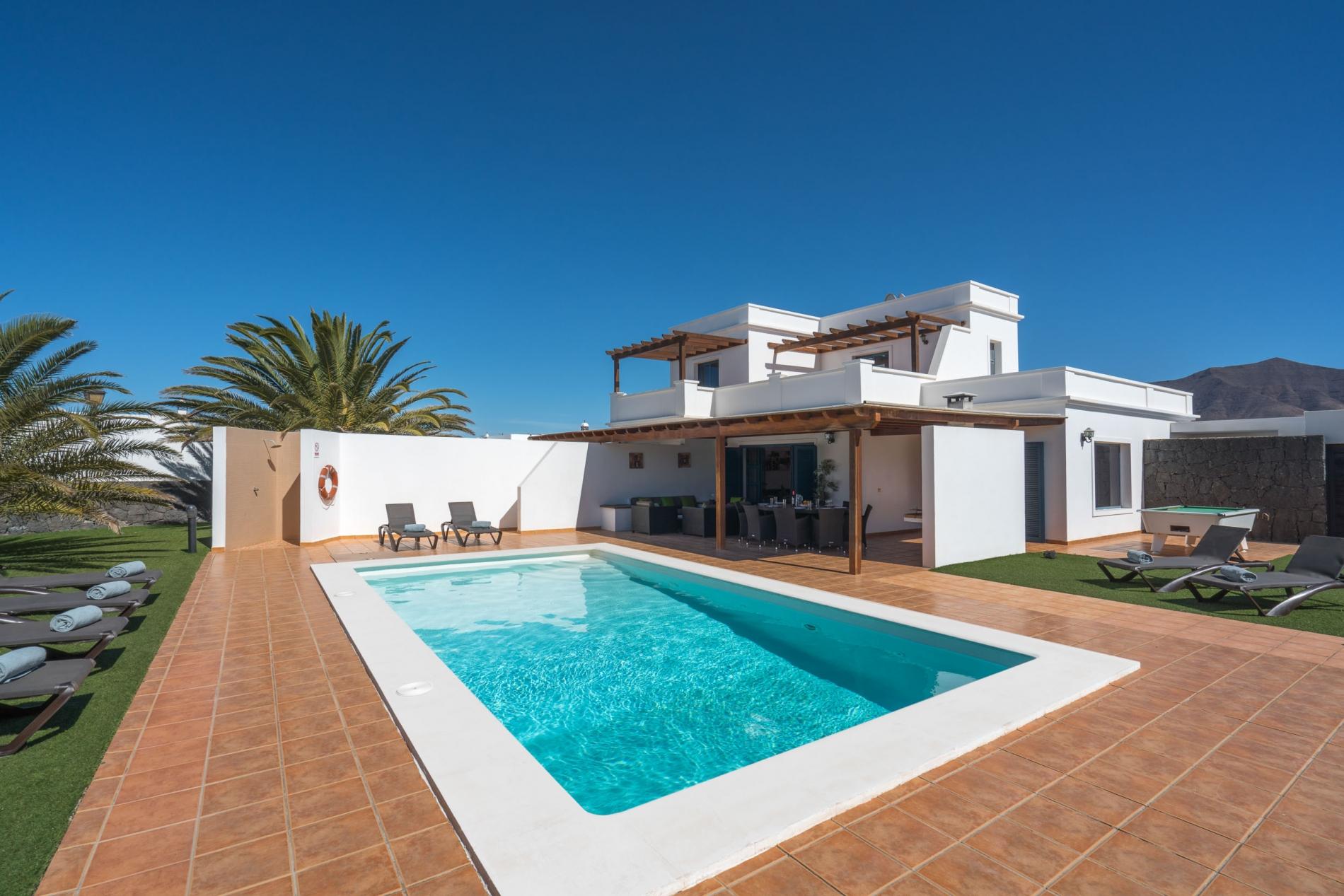 Overview
Situated in the popular neighbourhood of Costa Papagayo, this 4 bedroom villa is the ideal choice if you're looking for a holiday home in the Lanzarote sun – within easy reach of the best of Playa Blanca.
Sleeping up to 8 guests in comfort, Villa Papagayo boasts 4 bedrooms including 2 double rooms and 2 twin rooms. With the master double bedroom featuring an ensuite bathrooms, while a second bathroom is shared between the other rooms. Spread across 2 storeys, this spacious villa offers plenty of room for all guests to spread out and find their own corner of holiday heaven.
Elsewhere indoors you'll find a light and airy open-plan kitchen and dining area, as well as a large living room featuring an iPod docking station, Nintendo Wii and DVD player – making easy work of family nights in.
Outside, Villa Papagayo features a private swimming pool, which can be heated during cooler months, surrounded by a tiled sun deck complete with sun loungers. The pool area is overlooked by a large shaded al fresco dining area, offering the perfect spot for breakfast, lunch and dinner outdoors. You'll also find an outdoor BBQ and pool table, providing the ideal space to entertain.
With high walls surrounding the terrace as well as on-site parking behind an electric gate, Villa Papagayo offers plenty of privacy – ensuring a relaxing stay.
Microwave, oven, hob, dishwasher, fridge/freezer, washing machine

Flat screen TV with some English Channels, DVD player, iPod dock, Wii console, patio doors to terrace and garden

Double bed, double wardrobes, ensuite bathroom Located on top floor.

Shower over bath, WC, bidet and twin washbasin

Twin beds, double wardrobes. Located on top floor. Shares family bathroom.

Double bed, double wardrobes, doors to terrace, located on lower floor.

Twin beds, double wardrobes. Located on ground floor. Shares family bathroom.

Located on ground floor, Shower over bath, WC and washbasin
Very nice time

Gwenaelle, Mar 2019

We spend a very nice time in Villa Papagayo. The house is very comfortable, the rooms are clean (that is very important for us), and when we had a problem with the boiler, a member of the staff arrived very quickly to fix it. Bravo to the staff.
Gorgeous villa

Posted to Tripadvisor, Oct 2018

Absolutely gorgeous villa very spacious and well equip. The pool is great for all ages and easy access, in lovely surroundings with plenty of sun lounger and space. The villa is large with 4 bedroom many bathrooms massive lounge and kitchen area. Decorated stylish clean with plenty of towels on arrival. Only 20 min walk to the local restaurants that are great value for money and good quality. This is my first visit to the villa and I hope not to be my last. Feel very spoilt 😎
Fabulous villa

Joanne, Aug 2017

The villa was absolutely amazing so much room there was 7 of us in the party and were never on top of each other. Everything has been thought of in this villa and the pool was fab!! I would say the only thing spoiling this is the location it was at least a 20 minute walk to main front and absolutely nothing in between but waste land and other residential villas. We would walk down and taxi back on an evening and needed a car or taxi when shopping. This did not spoil the holiday in anyway as everything else was perfect!!
Great villa with excellent facilities

A Gee, Aug 2017

Excellent villa with plenty of outside space in a fully enclose garden. Stayed with grown up children who loved the pool,wi,tv stations sky etc and pool table.Everything you could need is there and a nice welcome pack of basics means you can have a cuppa and a drink on arrival. The Optima villas people were quick to sort out a few minor issues immediately done whist we were out. The beach and bars are a 20 to 30 minute walk away through a fairly urbanised area but no major hills so easy accessible for most people and a couple of main roads have zebra crossings. The nearest supermarkets are a good 20 minute walk which can be difficult if you are carrying the necessary water and drinks.So one tip I would pass on if you do not have a car is to walk to the Rubicon supermarket for supplies and then get a taxi from the rank located through a side entrance of the centre for about 4 Euros.
Best holiday ever

Morten R., Nov 2016

Thank you, and thanks to you at Optima Villas you for what my family described as their best holiday ever. We had a great week in Villa Papagayo, the house had everything we needed, and we felt secure and relaxed in the nice neighbourhood. We appreciated the comfort of having a parking space for our hire car outside the door of the house, and very much enjoyed the pool and the garden. In short: We got exactly what we wanted from our holiday, the communications with Optima Villas has been excellent all the way and we will definitely book our next stay at Lanzarote through you.
I would highly recommend this villa!

Jeanette, Aug 2016

Thank you for all your help in booking this villa with such a change of circumstances that we faced. The professionalism, courtesy and friendliness of you team is commendable. The villa was great. The pool and outdoor space was fabulous and met exactly what we needed. The facilities were spot on inside the villa. Enough kitchen equipment, dishes, cutlery etc. for more than the seven of us. Barbecue was good, full cooker and oven and washing machine came in useful. The living room was very spacious, although we did not spend much time in there given the weather and outdoor space. The pool was fab with enough room for all of us, even with floats and rings etc. George loved the steps and the different depths ensured swimmers and non swimmers could all enjoy. Keeping the pool cover on when not in use is a must as you advised, as within a couple of days in was like getting into a lovely warm bath but so refreshing. We all spent many hours of fun and lazing here. The comfortable, spacious, sheltered outdoor space gave welcome respite from the heat. The pool table gave us many hours of fun, as did the games, books, DVDs, CDs etc that were provided. There were a couple of issues that were dealt with very quickly by the team, thank you so much to the very efficient and polite maintenance man (sorry didn't get his name). We had hire cars so can't comment on the walk into resort. I would highly recommend this villa!
Wonderful Week

D, T L & G, Mar 2016

We had the most wonderful week in Playa Blanca, the Villa was beautiful, the scenery stunning, the beach fantastic, and Lanis restaurant perfect, my Sister has restricted mobility, and walks with a stick, but because she had a bedroom downstairs with an en suite the house worked for us in every way, we got cabs everyday to and from the beach, a five minute cab ride, but you could walk it in 20 mins, we will be back,
Thank you for a wonderful stay at the Villa Papagayo

Klaire, Apr 2014

Hi Damion Just wanted to say thank you for a wonderful stay at the Villa Papagayo, it exceeded our expectations and was a great home from home. The villa was spotless, had everything we needed and the welcome pack was great, the wine was lovely. I will definitely recommend your villas in the future to anyone staying in Playa Blanca and hope to stay again. Thanks! Klaire – Villa Papagayo
The villa was excellent

Amanda, Oct 2013,

Hi Sally, just wanted to let you know that we had a fantastic holiday. Thank you for all your help in answering my questions before we travelled. The villa was excellent and we really enjoyed it. The late checkout was much appreciated too. We will definitely book with you again for future holidays to Lanzarote and will recommend you to our friends. Kind regards Amanda – Villa Papagayo
One of the best times we have had in a long time

Claire, Mar 2008

Richard, Just a quick note to make you aware of the wonderful vacation we had at Villa Papagayo – we can all safely say was one of the best times we have had in a long time. The villa was beautiful and, bearing in mind there were 7 of us, there was still plenty of space available. Majority of our time was spent around the pool but we also noted that the grounds surrounding the building are beautifully presented and maintained. Upon our arrival, the villa was very clean and everything we needed was present – it was just like being at home. We are now looking to book a further two week next year and hopefully it will be as good as the last. Many Thanks Claire & Co. – Villa Papagayo
We all had a wonderful holiday and loved the villa

Alison, Jan 2008

Hi Sally, Just wanted to thank you for arranging my sisters cake and flowers for her birthday at villa papagayo last week !! We all had a wonderful holiday and loved the villa ! Can't wait for a return trip !! Kind regards Alison – Villa Papagayo
Additional Information
A 20% deposit is required to secure your booking with the balance payable 90 days before your arrival. Reservations under 90 days from the date of arrival must be paid in full.
We accept card payments and there is no commission for payments on credit card. You will be contacted by email shortly after your reservation regarding payment options.
Prices shown in the price guide are for the villa itself regardless of the number of guests, they are subject to change with individual circumstances – to obtain a total price, please use the calendar to select your arrival and departure dates.
An infant is classed as a child using a cot.
01 July 2020 – 17 July 2020
£185.00
18 July 2020 – 16 August 2020
£185.00
17 August 2020 – 30 August 2020
£140.00
31 August 2020 – 16 October 2020
£185.00
17 October 2020 – 01 November 2020
£240.00
02 November 2020 – 18 December 2020
£140.00
19 December 2020 – 25 December 2020
£300.00
26 December 2020 – 03 January 2021
£300.00
04 January 2021 – 05 February 2021
£140.00
06 February 2021 – 28 February 2021
£185.00
01 March 2021 – 26 March 2021
£140.00
27 March 2021 – 11 April 2021
£240.00
12 April 2021 – 30 April 2021
£140.00
01 May 2021 – 09 May 2021
£185.00
10 May 2021 – 21 May 2021
£140.00
22 May 2021 – 30 May 2021
£185.00
31 May 2021 – 30 June 2021
£140.00
01 July 2021 – 16 July 2021
£185.00
17 July 2021 – 05 September 2021
£300.00
06 September 2021 – 15 October 2021
£185.00
16 October 2021 – 31 October 2021
£240.00
01 November 2021 – 17 December 2021
£140.00
18 December 2021 – 09 January 2022
£300.00