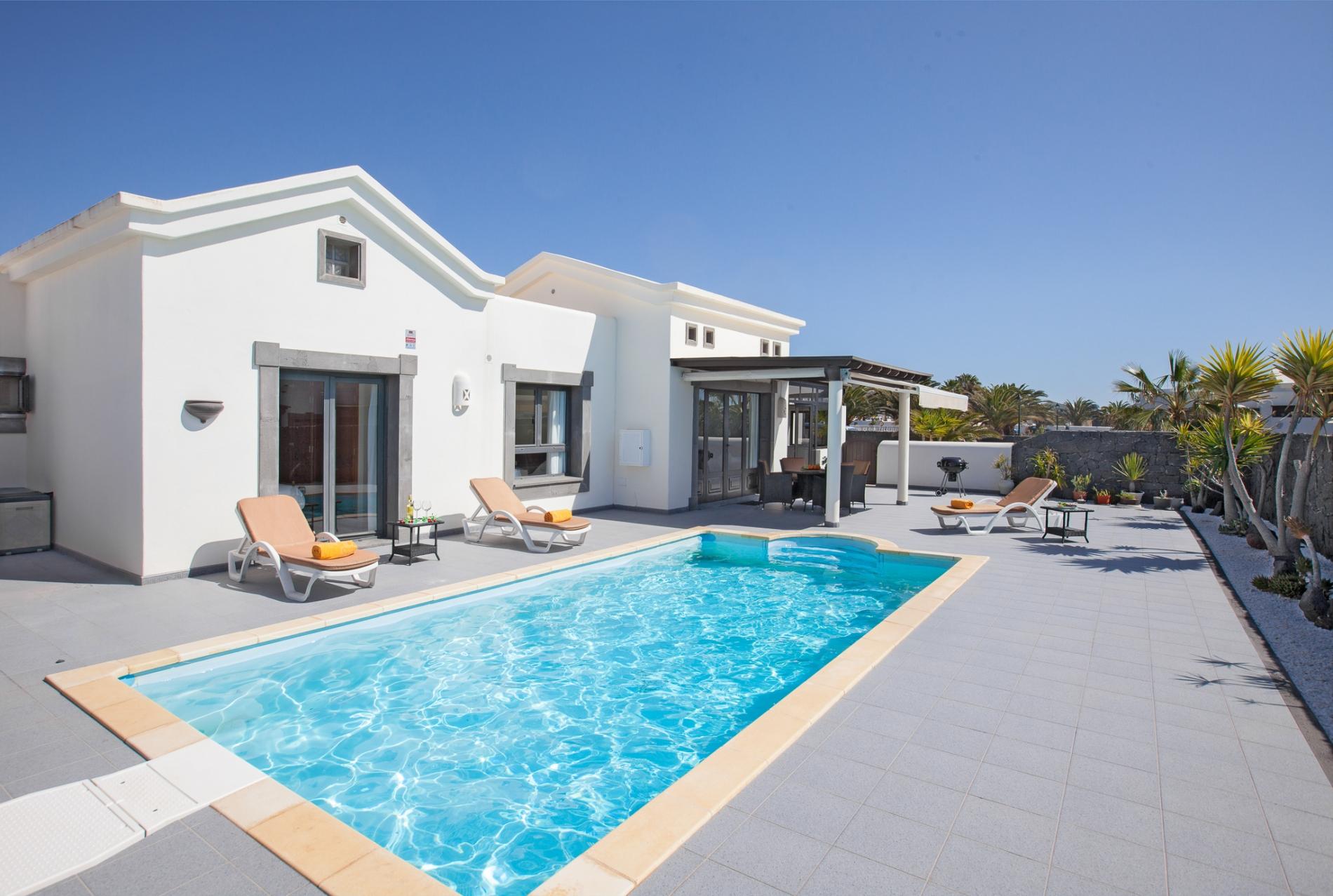 Overview
Nestled in the popular complex of La Goleta near Faro Park, Villa Maura offers a tranquil escape in beautiful Lanzarote – and is just a few minutes' drive from the centre of Playa Blanca.
Featuring an immaculately maintained garden and outdoor area, as well as a private pool, Villa Maura offers plenty of space to relax and unwind outdoors – so you can make the most of the warm climate.
This exclusive adults-only villa features 2 bedrooms and 2 bathrooms, sleeping up to 4 guests, making it ideal for families with older children, or couples and friends travelling together.
The al fresco dining area is perfect for outdoor meals in the evening, prepared in the spacious and well-equipped kitchen. While in the daytime, the inviting swimming pool and sun loungers are the perfect way to unwind and get into the holiday spirit.
Sleeping arrangements are divided between a double bedroom, featuring an ensuite bathroom, as well as a twin room and separate bathroom – offering flexible accommodation to suit your needs. The spacious open plan living room is also the ideal place to relax and entertain during cooler months.
Venturing out, you'll find a handy supermarket and plenty of bars and restaurants just 15 minutes away on foot. You'll also find a resort shuttle bus stop 10 minutes' walk away, connecting you with local beaches, shops and Marina Rubicon – running every 30 minutes, 7 days a week.
Microwave, oven, hob, dishwasher, fridge/freezer, doors to alfresco dining area. The washing machine is located in the garage room which can be accessed from the pool area.

Flat screen TV with comprehensive UK and European TV channels, Breakfast bar, doors to pool terrace

Double bed, double wardrobes, doors to pool terrace, ensuite bathroom

Bath and shower over, WC and single washbasin

Twin beds, double wardrobes, sole use of family bathroom

Walk in Shower, WC and single washbasin
"Most enjoyable time"

John, March 2020

"We had a most enjoyable time staying at Villa Maura. We have used many Lanzarote holiday letting agents in the past and this was our first time with Optima Villas. They provided excellent service. The villa was spotlessly clean and comfortable, and any small issues were dealt with courteously and quickly. We very much hope to return to Villa Maura at the end of the year."
Great holiday

Edward, May 2019

"Just to say we had great holiday in Villa Maura with Optima holidays. The villa was clean with everthing you will need, the heated pool was perfect and the location great. We will be using Optima in future, thanks "
Huge thank you

Lisa, August 2018

"I just wanted to say a huge thank you for the great service we received from you for a holiday in Villa Maura the last 2 weeks. I have been coming to Playa Blanca for approx 12 years, 3 times a year so have booked many many villas. I booked for the first time with Optima in May and then this time in August and I can honestly say you are the best management company I have encountered. On the first day I arrived I contacted you to ask were there any fans in the villa and within half an hour 2 fans were dropped off!! Unfortunately, I locked myself out of the villa one evening so had to ring you and within 15 mins someone arrived with a spare key. Nothing is too much trouble for this company. On both visits you have allowed late checkout, and for my next visit in Nov you are allowing me to check in early! I will not use any other company from now on as Optima have proved they are second to none!! Thanks again Optima, looking forward to our 3rd visit to one of your villas in November. "
5* recommendation!

Rob, August 2018

"Great price, very easy booking process, the villa was in a secure gated complex, was spotless when we arrived, informative guest pack and a superb selection of welcome gifts left for us in the kitchen. The office contact and the maintenance guy were great regarding a couple of issues we had whilst there (out of office hrs too) – very easy to deal with and quick response times. If you want to get around the local area, see more of the island – I would suggest getting a hire car. Public transport and taxis were regular/readily available if you don't want to or can't drive. Overall, we thoroughly enjoyed our holiday and would definitely book with Optima again! "
Lovely villa, fabulous pool

Debbie, July 2018

"My husband Mark and I stayed at Villa Maura, La Goletta, Playa Blanca. We had a bit of a mix up on arrival with the keys but it was resolved and didn't affect the holiday. It's a lovely villa, fabulous pool and feels secluded even though there are other villas close by. The security was excellent and the villa was well equipped and very clean If you want peace & quiet it's great but unless you're happy getting the bus (which was excellent) or walking, you need a car. The only critism was that there was no air conditioning or fan, and more information in the folder would have been useful. We loved our stay and would definitely go back "
Villa Maura was superb

John & Val, March 2018

"We had an excellent holiday thank you, Villa Maura was superb extremely comfortable with all the home comforts that make a villa holiday special, the location was a little further from the centre than we are used to but the taxi service is so prompt and reasonably priced that it made little difference and in fact the complete peace and quiet offered by the La Goletta gated community that the villa sits in made it worthwhile and we will not hesitate in booking the Villa again in the future. On a separate note we would like to thank the whole team at Optima for the superb way in which they responded to the problem that we encountered in the Villa that we originally booked, we have total confidence in Optima and will always book our Playa Blanca holidays with you in the future. "
Additional Information
A 20% deposit is required to secure your booking with the balance payable 90 days before your arrival. Reservations under 90 days from the date of arrival must be paid in full.
We accept card payments and there is no commission for payments on credit card. You will be contacted by email shortly after your reservation regarding payment options.
Prices shown in the price guide are for the villa itself regardless of the number of guests, they are subject to change with individual circumstances – to obtain a total price, please use the calendar to select your arrival and departure dates.
An infant is classed as a child using a cot.
18 July 2020 – 16 August 2020
£120.00
17 August 2020 – 30 August 2020
£100.00
31 August 2020 – 16 October 2020
£120.00
17 October 2020 – 01 November 2020
£160.00
02 November 2020 – 18 December 2020
£100.00
19 December 2020 – 25 December 2020
£200.00
26 December 2020 – 03 January 2021
£200.00
04 January 2021 – 05 February 2021
£100.00
06 February 2021 – 28 February 2021
£120.00
01 March 2021 – 26 March 2021
£100.00
27 March 2021 – 11 April 2021
£160.00
12 April 2021 – 30 April 2021
£100.00
01 May 2021 – 09 May 2021
£120.00
10 May 2021 – 21 May 2021
£100.00
22 May 2021 – 30 May 2021
£120.00
31 May 2021 – 30 June 2021
£100.00
01 July 2021 – 16 July 2021
£120.00
17 July 2021 – 05 September 2021
£200.00
06 September 2021 – 15 October 2021
£120.00
16 October 2021 – 31 October 2021
£160.00
01 November 2021 – 17 December 2021
£100.00
18 December 2021 – 09 January 2022
£200.00