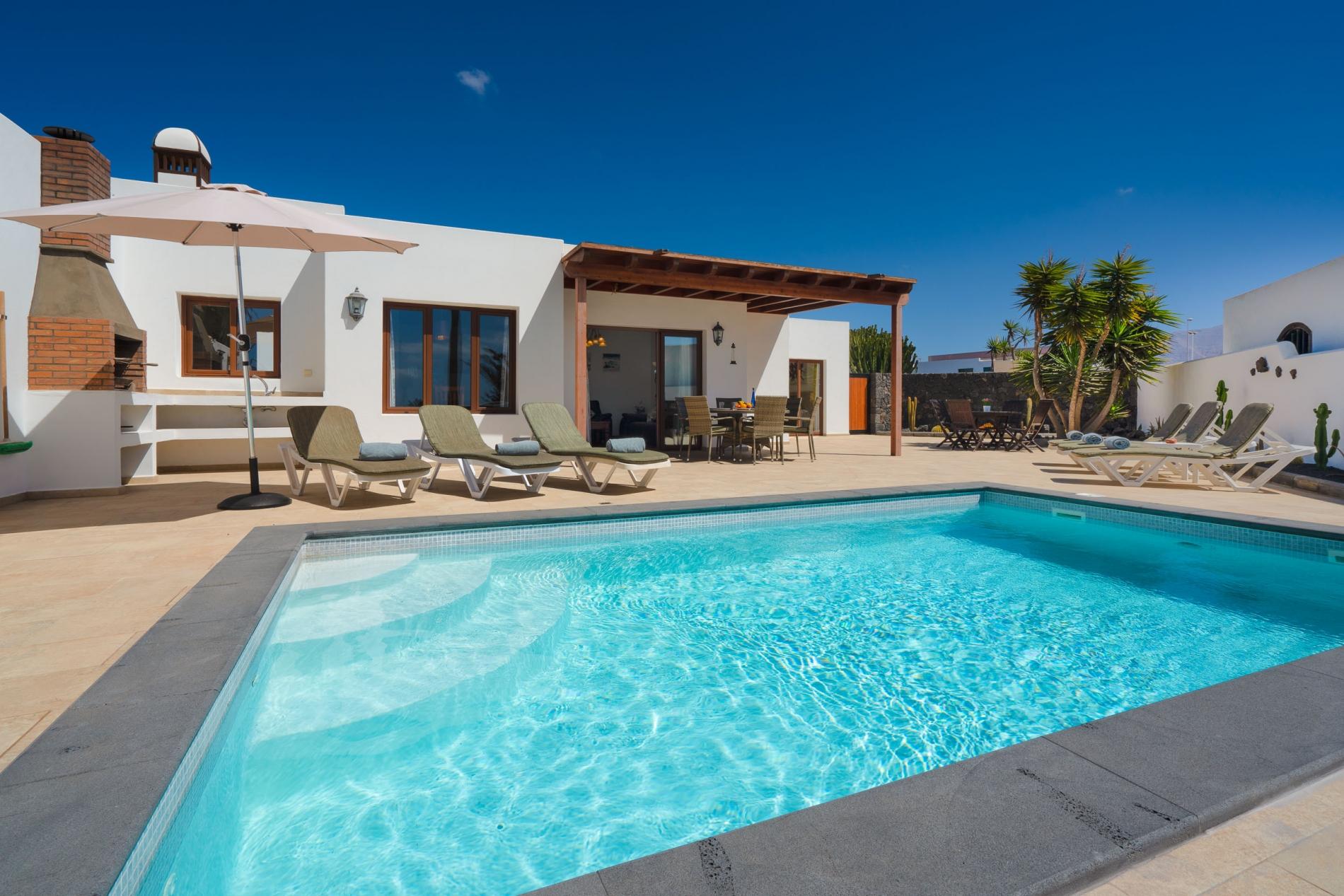 Overview
Recently refurbished, Villa Mahuna offers a stylish holiday retreat just 10 minutes' walk away from the centre of Playa Blanca, Lanzarote. Its fantastic location makes it an ideal choice for those who don't wish to hire a car during their stay – with beautiful beaches, buzzing restaurants and bars, and even a handy supermarket all within easy reach.
Inside, Villa Mahuna features 3 bedrooms and 3 bathrooms, including 2 double ensuite rooms, a twin room and a separate bathroom. This flexible layout makes Villa Mahuna a great choice for both groups or families alike.
The open-plan lounge and dining area features coin-operated air conditioning – great for cooling off after a day of sunbathing. They also connect through to the well-equipped kitchen which makes easy work of preparing meals.
Step outdoors and you'll find a spacious sun terrace centred around a beautiful private swimming pool, complete with sun loungers. There are 2 outdoor seating areas and a brick BBQ, so you'll be spoilt for choice when it comes to dining al fresco. The expansive terrace means the villa's outdoor area never feels cramped, with plenty of room for family and friends to spread out and relax.
For your convenience, the villa also features a dishwasher and washing machine, so you can stay in holiday mode and let the mod cons take care of the rest.
Microwave, hob, fridge/freezer, dishwasher, oven

Washing machine

Flat screen TV with some UK terrestrial channels, coin operated air conditioning, DVD player, dining table, doors to pool terrace

Kingsize double bed, walk-in wardrobes, doors to pool terrace, en-suite bathroom

Walk in shower, WC and single washbasin

Kingsize double bed, double wardrobes en-suite bathroom

walk in shower, WC and single washbasin

Twin beds, double wardrobes sole us of family bathroom

Shower over bath, WC and single washbasin
Great service & lovely villa

Damian, January 2020

"The service we received before our holiday could not be faulted. They even provided an app that contained all necessary information for the villa including great directions. We rented Villa Mahuna in Playa Blanca and have to say it was really lovely. On arrival there was a bottle of wine, pizza, bottle of fizzy pop in the fridge and a welcome note. There were plenty of towels (including beach towels for the pool). The villa looks like it has been recently refurbished and it looked very nice. The outside area was spacious and clean with plenty of seating and sunbeds (only 3 of us though). We had no issues with the villa at all – although be careful if hire a big car, the driveway is at a bit of angle to get into/out of. "
Wonderful stay

Michael, March 2019

"We had a wonderful stay in Villa Mahuna, it was exceptionally clean and well maintained and the location was excellent only 5 mins walk from the centre. "
Wonderful week

Rhianydd, September 2018

"We've just returned from a week in Villa Mahuna with Optima Villas. This is the 2nd year in a row we have booked through Optima Villas. From my initial enquiry to the actual holiday they could not have been more helpful – they even sorted the car hire out for us again. We arrived earlier than permitted in the villa and were able to drop our luggage in the villa before going into Playa Blanca for lunch. The villa had everything you could possibly need and as all the towels are provided by Optima Villas it saves on your luggage allowance. Thank you Ana so much for another wonderful week in Lanzarote and I have no hesitation in recommending Optima Villas to friends and family – some of them have already booked their holiday through you. "
Exceeded our expectations

Linda, August 2018

"Definitely recommend Optima Villas. Stayed in Villa Mahuna and it exceeded our expectations. Welcome pack gratefully received after a late ish flight and the Villa was spotlessly clean and well presented inside and out. Villa is in a great location, nice and quiet and yet only about 300m from the centre of Playa Blanca (10 minute stroll). Booking was simple and straight forward as were the arrival instructions. Thanks to Ana and the team, we had a fantastic holiday and will use Optima again. "
By far the best

Tracey, July 2018

"We had a wonderful time in Villa Mahuna and it was beyond our expectations.We have stayed in the los Calamares area a few times previously and this villa was by far the best. Everything you could need on holiday was in the villa and it is modern and spotlessly clean. The pools towels and welcome pack were both lovely extra touches. The process from enquiry stage though to travel was seamless and the one issue we had in resort was dealt with swiftly with a maintenance man arriving within 20 minutes to mend the outside shower which wouldn't turn off We hope to return in the not so distant future and would recommend both the villa we rented and Optima Villas to family and friends "
We had a great holiday in Playa Blanca and will definitely consider returning to the resort

Katie, S, April 2017

"We had a great holiday in Playa Blanca and will definitely consider returning to the resort. Villa Mahuna was in an excellent location being walking distance to the resort and the supermarket. The Villa itself was really spacious and very well equipped for a comfortable and relaxing stay. "
The villa was well equipped and in a great situation for easy access to Playa Blanca

Jim S, March 2017

"The villa was well equipped and in a great situation for easy access to Playa Blanca. We have no complaints (apart from the mosquitoes but I can't see you could have done much about them). We would definitely consider returning to this particular villa as we all thoroughly enjoyed our holiday there and can highly recommend Optima as a rental company. "
Fabulous

Hilary G, May 2016

"My Husband and I spent a lovely week at Villa Wellman with our Daughter Son in law and 2 young grandsons, the villa was beautifully presented and well equipped including cots and highchairs for the boys, and the welcome pack was amazing Optima Villas had thought of everything. Though in a peaceful location it is only 10 minutes walk in to town and less than 4 euro back in a taxi with shopping. Hope to return one day."
Very impressed

Emma, April 2014

"Would like to say that the villa was lovely and we were very impressed with the welcome pack etc. Will definitely book through Optima again. Emma – Villa Wellman"
Thank you for all your help whilst we were at the villa

Neil, March 2014

"Have got back and unpacked 🙁 Just wanted to say thank you for all your help whilst we were at the villa; we will certainly be coming back to you. Thanks once again. Kind Regards. Neil – Villa Wellman"
We had a lovely week in the villa

Sue, June 2011

"Hi Sally, would like to say we had a lovely week in the villa, the island is beautiful and the villa met all our expectations and more. was close to the beach and marina, and taxis were very cheap, the villa was very clean and had everything we needed. We would love to visit the island again and would stay in this villa again. Thanks again for a great stay. Sue – Villa Wellman"
Additional Information
A 20% deposit is required to secure your booking with the balance payable 90 days before your arrival. Reservations under 90 days from the date of arrival must be paid in full.
We accept card payments and there is no commission for payments on credit card. You will be contacted by email shortly after your reservation regarding payment options.
Prices shown in the price guide are for the villa itself regardless of the number of guests, they are subject to change with individual circumstances – to obtain a total price, please use the calendar to select your arrival and departure dates.
An infant is classed as a child using a cot.
17 October 2020 – 01 November 2020
£240.00
02 November 2020 – 18 December 2020
£140.00
19 December 2020 – 25 December 2020
£320.00
26 December 2020 – 03 January 2021
£320.00
04 January 2021 – 05 February 2021
£140.00
06 February 2021 – 28 February 2021
£185.00
01 March 2021 – 26 March 2021
£140.00
27 March 2021 – 11 April 2021
£240.00
12 April 2021 – 30 April 2021
£140.00
01 May 2021 – 09 May 2021
£185.00
10 May 2021 – 21 May 2021
£140.00
22 May 2021 – 30 May 2021
£185.00
31 May 2021 – 30 June 2021
£140.00
01 July 2021 – 16 July 2021
£185.00
17 July 2021 – 05 September 2021
£300.00
06 September 2021 – 15 October 2021
£185.00
16 October 2021 – 31 October 2021
£240.00
01 November 2021 – 17 December 2021
£140.00
18 December 2021 – 09 January 2022
£320.00