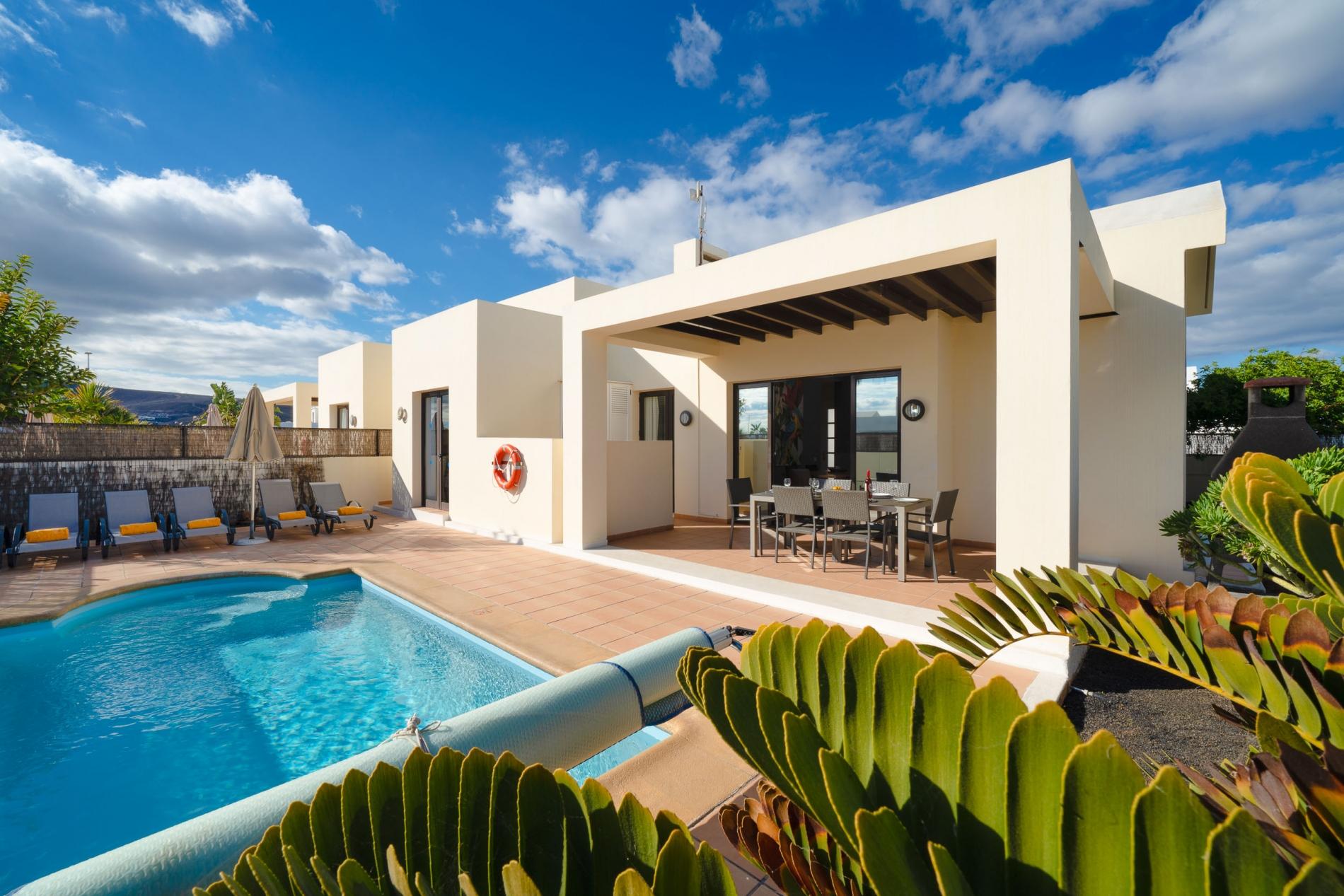 Overview
Villa Luna, Lanzarote, is one of two identical neighbouring properties situated on the peaceful and secure gated estate of Villas Buganvillas – and can be booked alongside Villa Blue for larger families or groups of up to 12. Just 15 minutes' walk from the centre of Playa Blanca, Villa Luna is an ideal choice if you don't wish to hire a car on holiday.
Modern and stylish, the villa sleeps up to 6 guests across 3 bedrooms – including a double room and 2 twin rooms. 2 of the bedrooms feature ensuite bathrooms, while a third family bathroom ensures all guests have their own space to freshen up. Villa Luna is an ideal choice for families on holiday with grandparents or teenagers who would prefer their own shower and bathroom. With air conditioning throughout the villa and bedrooms, you're guaranteed to get a comfortable and cool night's sleep, too, even on particularly warm evenings.
The kitchen, dining room and lounge feature all the essential mod cons, and the living room opens up onto a beautiful shaded outdoor veranda and al fresco dining area. There's even a stone BBQ, ideal for cooking up a feast and entertaining outdoors.
The spacious tiled sundeck surrounds a private swimming pool (heated during cooler weather) and also enjoys some colour from the Canarian garden and shrubbery which borders the villa's outdoor space. Privacy is further enhanced by raised walls surrounding the villa, meaning you're not overlooked by neighbours.
Outside of Villa Luna, the private road means there's very little traffic noise, and the handy nearby supermarket is just 5 minutes away on foot – where you can stock up on holiday essentials and snacks.
Microwave, oven, hob, dishwasher, fridge/freezer, washing machine

Flat screen TV with satellite channels, DVD player, CD player, dining area, doors to pool terrace, air conditioning

Double bed, double wardrobes, doors to pool terrace, air-conditioning, ensuite bathroom

Bath, shower over, WC and twin washbasin

Twin beds, double wardrobes, air-conditioning, en-suite shower room

Shower cubicle, single handbasin, WC

Twin beds, double wardrobes, air-conditioning, sole use of family bathroom

Bath with shower over, WC and single washbasin, adjacent to bedroom 3
Can't recommend them highly enough

Lauren, March 2019

"Second year in a row with Optima and they didn't disappoint. Booking was very easy again and the prices were very reasonable. All the information provided was clear and accurate and the welcome at the airport was friendly and professional. The villa itself lived up to expectation and was exactly as represented on their website. We had only one issue upon arrival and it was dealt with very swiftly and it was a Sunday! We also received a visit from the Operational Manager just to make sure everything was as we needed. Can't recommend them highly enough and we will definitely use them again should we come back to Lanzarote. Thank you for making our holiday fantastic again. "
I am so glad I booked with Optima Villas

Christine, August 2018

"We had a lovely time staying in Villa Luna which is a very clean & well equipped villa with a good sized pool area. I am so glad I booked with Optima Villas your customer service from booking the villa last year to the end of my holiday was excellent. I have already recommended your company to friends and family and in fact some of my friends and I have booked one of your 4 bedroom villas for September. "
Great time

Phil, March 2018

"We all had a fantastic stay at Villa Luna, the villa itself was very clean and comfortable with all the facilities you could wish for, and it was in a lovely, quiet area but not too far from the main beaches, bars and restaurants. We would have no hesitation in booking this again sometime in the future. One other thing which we must mention is the problem we had on Saturday of our own making, this was very easily and quickly resolved by the very helpful people in your local office. Thanks again for a great time. "
The villa was lovely, comfortable, quiet and spotlessly clean

October 2017

"The villa was lovely, comfortable, quiet and spotlessly clean. The welcome pack was perfect for arriving late in the evening. the pool was a good size. It is a short walk into town, but as others have said , take a taxi home at night – there is not enough street lighting. Taxi is less than 5 Euros and they are easy to find. We managed to lock ourselves out the second day when a burst of wind blew the door shut, I contacted Optima and they sorted us out immediately. (def keep the keys in the box at all times!) Hope we can return! "
The standard of the accommodation was in keeping with our expectations, i.e. spacious, very clean, modern, and secure

Doug, February 2017

"Our 7 night stay at Villa Luna was very much in line with the previous two villas we have had in the past. We stayed as a family of 5 and the Villa was perfect for our requirements – three bedrooms with three separate bathrooms. The standard of the accommodation was in keeping with our expectations, i.e. spacious, very clean, modern, and secure. Although a minor point, the welcome pack of 'essentials' on our arrival was really appreciated. One issue was a lack of information in the folder as to routes into town and where to find the nearest supermarket (including opening hours), although our combined detective abilities sorted this fairly quickly ! The pre-departure phone calls to check on our requirements was another clear positive – no other travel/holiday provider has done so in the past. Equally, this circulation on our return is another unique point for us. Both of these points make the personal touch feel real – thank you. Optima is now firmly at the front of our minds when considering a stay in Lanzarote, and has featured on many occasions during discussions with family and friends – and will continue to do so. Best regards to all the team, and thank you once more for your close attention to holiday needs. "
Lovely villa, excellent agents

Leon B, December 2015

"Playa Blanca is a lovely resort and this villa was great for our family holiday away for New Year. Optima Villas (agents) were excellent, with particular mention of Terrie who popped round to see us, sorted out airport transfers and had great local knowledge and advice. The villa is in a quiet location but it's a good 20 min walk to the see front/restaurants and 28 mins to Dorada Beach. We tended to walk down to the front/restaurants in the early evening when still some light and taxi back (only 4 euros). We walked down one evening later in the evening when it was dark and I would not recommend given the absence of street lighting. We had a lovely holiday and will definitely return to PB. "
Good quality villa in quiet area

Mo ., October 2015

"We booked this villa at the last moment due to a problem with another villa and Optima were very good at helping us get the villa arranged at very short notice. The villa is very modern and clean. It could do with a couple of extras such as table mats for the glass and wooden tables. The bedrooms are spacious but the en-suite showers are very small. The area is very quiet and peaceful but you need a car to reach shops and restaurants and a smaller car is needed for the parking bay. All in all it was a lovely holiday. "

Great Modern villa

Jane F, September 2015

"We thoroughly enjoyed our stay at this villa. The villa was modern, clean inside and out and very well equipped. We stayed for 10 nights. The pool was cleaned twice in that time and the cleaners visited once to change towels/bedding. We would recommend this villa and we would definitely book again. Excellent customer service also from optima villas. "
Excellent Villa and service

Karen D, August 2015

"Beautiful villa, clean and comfortable. Excellent service and support from optima villas . Would recommend "
Additional Information
A 20% deposit is required to secure your booking with the balance payable 90 days before your arrival. Reservations under 90 days from the date of arrival must be paid in full.
We accept card payments and there is no commission for payments on credit card. You will be contacted by email shortly after your reservation regarding payment options.
Prices shown in the price guide are for the villa itself regardless of the number of guests, they are subject to change with individual circumstances – to obtain a total price, please use the calendar to select your arrival and departure dates.
An infant is classed as a child using a cot.
04 April 2020 – 19 April 2020
£120.00
20 April 2020 – 22 May 2020
£120.00
23 May 2020 – 31 May 2020
£160.00
01 June 2020 – 30 June 2020
£120.00
01 July 2020 – 17 July 2020
£160.00
18 July 2020 – 16 August 2020
£200.00
17 August 2020 – 30 August 2020
£160.00
31 August 2020 – 16 October 2020
£160.00
17 October 2020 – 01 November 2020
£200.00
02 November 2020 – 18 December 2020
£120.00
19 December 2020 – 25 December 2020
£250.00
26 December 2020 – 03 January 2021
£250.00
04 January 2021 – 05 February 2021
£120.00
06 February 2021 – 28 February 2021
£160.00
01 March 2021 – 26 March 2021
£120.00
27 March 2021 – 11 April 2021
£200.00
12 April 2021 – 30 April 2021
£120.00
01 May 2021 – 09 May 2021
£160.00
10 May 2021 – 21 May 2021
£120.00
22 May 2021 – 30 May 2021
£160.00
31 May 2021 – 30 June 2021
£120.00
01 July 2021 – 16 July 2021
£160.00
17 July 2021 – 05 September 2021
£250.00
06 September 2021 – 15 October 2021
£160.00
16 October 2021 – 31 October 2021
£200.00
01 November 2021 – 17 December 2021
£120.00
18 December 2021 – 09 January 2022
£250.00