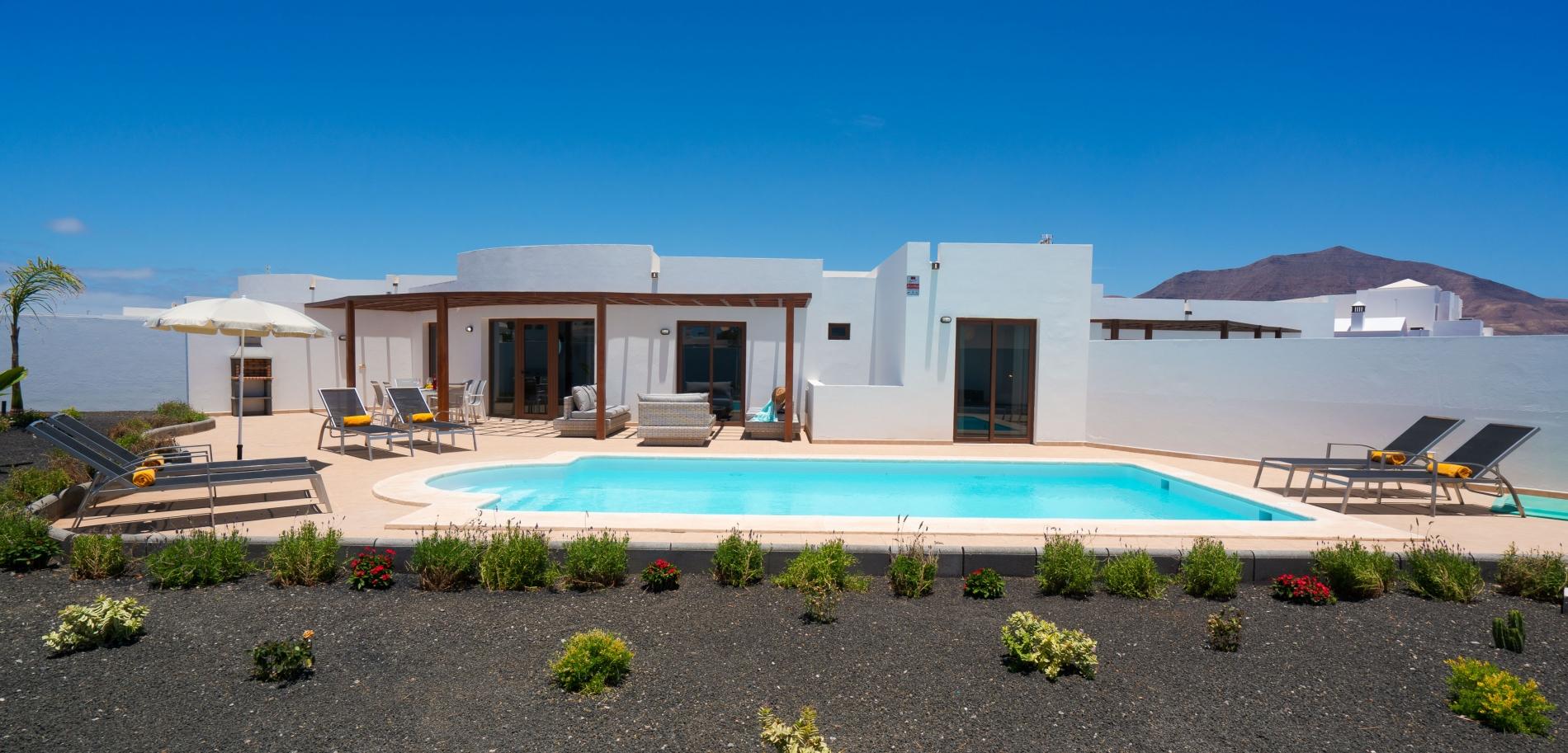 Overview
If you're looking for a stylish and contemporary holiday villa close to Playa Dorada Beach and the sights and sounds of Playa Blanca, look no further than Villa Luar.
Recently refurbished, Villa Luar sleeps up to 6 guests in comfort across 3 bedrooms – including 2 doubles and a twin room. The master bedroom features its very own ensuite, while a family bathroom is shared between the other 2 rooms – meaning the villa never feels crowded. The 2 double rooms even feature glass doors which open directly onto the pool's sun terrace – the perfect spot for your morning coffee.
Elsewhere inside, Villa Luar's open-plan kitchen, dining area and living room are great for entertaining, while kids will love the separate games room – complete with a pool table and PS4.
Step outside and you'll see where Villa Luar really shines. WIth a stylish outdoor dining and lounging area overlooking the pool, it's the ultimate spot for al fresco meals cooked up on the villa's very own built-in BBQ.
The spacious tiled pool deck offers plenty of room for everyone to spread out on their own sun lounger in between taking a dip in the large 9×5 metre swimming pool. The pool can also be heated during winter months, meaning it's always a comfortable temperature, whenever you decide to visit.
While the Villa Luar is situated in a peaceful residential area, you'll find great local sights and amenities nearby. A handy mini market is just 5 minutes' walk away, perfect for stocking up on holiday essentials. And when you're ready to head out and explore, the sights and sounds of Playa Blanca are just over 20 minutes away on foot.
Microwave/grill, hob, dishwasher, fridge/freezer, washing machine (in utility area), dining area

Flat screen TV , doors to pool terrace

Double bed, double wardrobes, doors to pool terrace, ensuite bathroom

Bath and shower over, WC and washbasin

Double bed, double wardrobes, doors to pool terrace, shares family bathroom

Twin bed, double wardrobes, shares family bathroom

Shower cubicle, WC and single washbasin
10/10

Kevin, November 2018

"We will be using Optima Villas again without hesitation. Very spacious, very clean, lovely quiet location. And a lovely steady walk to the marina and shops and bars.We will defiantly give a 10/10 for location and villa quality. We will also be recomending your villas to our friends and family. Keep up the good work guys, thank you once again for a fab holiday. "
Everything that you need

Sarah, September 2018

"It was everything that you need in a holiday villa. The team were easy to reach and very responsive to any queries we had. I would highly recommend booking with them and we will be returning customers. "
Immaculate

Donna, July 2018

"Booked villa luar and villa ledicia 2 3 bedroom villas .immaculate .their customer service is 5 star .don't book with anyone else .the company is very professional .they are there for you 24/7 "
Additional Information
A 20% deposit is required to secure your booking with the balance payable 30 days before your arrival. Reservations under 30 days from the date of arrival must be paid in full.
We accept card payments and there is no commission for payments on credit card. You will be contacted by email shortly after your reservation regarding payment options.
Prices shown in the price guide are for the villa itself regardless of the number of guests, they are subject to change with individual circumstances – to obtain a total price, please use the calendar to select your arrival and departure dates.
An infant is classed as a child using a cot.
04 November 2019 – 13 December 2019
£130.00
14 December 2019 – 22 December 2019
£170.00
23 December 2019 – 05 January 2020
£170.00
06 January 2020 – 07 February 2020
£130.00
08 February 2020 – 23 February 2020
£170.00
24 February 2020 – 27 March 2020
£130.00
28 March 2020 – 19 April 2020
£235.00
20 April 2020 – 22 May 2020
£130.00
23 May 2020 – 31 May 2020
£170.00
01 June 2020 – 30 June 2020
£120.00
01 July 2020 – 17 July 2020
£160.00
18 July 2020 – 30 August 2020
£285.00
31 August 2020 – 16 October 2020
£160.00
17 October 2020 – 01 November 2020
£225.00
02 November 2020 – 18 December 2020
£130.00
19 December 2020 – 25 December 2020
£295.00
26 December 2020 – 03 January 2021
£295.00
04 January 2021 – 05 February 2021
£130.00
06 February 2021 – 28 February 2021
£170.00
01 March 2021 – 26 March 2021
£130.00
27 March 2021 – 11 April 2021
£235.00
12 April 2021 – 30 April 2021
£130.00
01 May 2021 – 09 May 2021
£170.00
10 May 2021 – 21 May 2021
£130.00
22 May 2021 – 30 May 2021
£170.00
31 May 2021 – 30 June 2021
£120.00
01 July 2021 – 16 July 2021
£160.00
17 July 2021 – 05 September 2021
£285.00
06 September 2021 – 15 October 2021
£160.00
16 October 2021 – 31 October 2021
£225.00
01 November 2021 – 17 December 2021
£160.00
18 December 2021 – 09 January 2022
£295.00