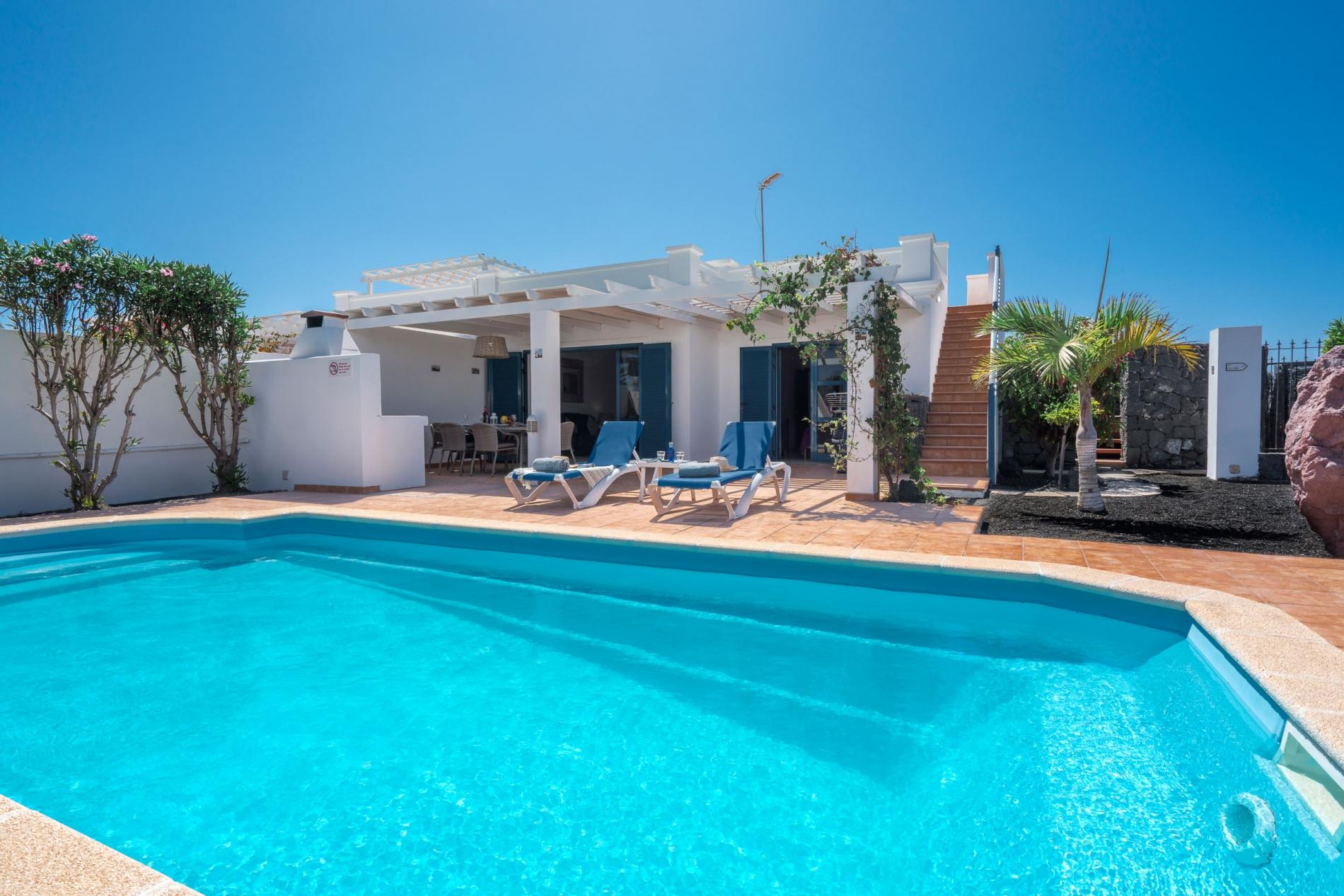 Overview
Situated in the popular area of Costa Papagayo, Villa Keira is a beautiful and well appointed holiday home within walking distance of both Playa Dorada Beach and the centre of Playa Blanca's resort – as well as exclusive Marina Rubicon.
With contemporary decor throughout, the villa feels calm and airy inside, sleeping up to 4 in comfort. The 2 bedrooms are arranged between a double room, with an ensuite bathroom, and a second twin room – with sole use of the second family bathroom.
Venturing into the villa's living space, you'll be presented with a spacious and tastefully decorated open-plan living room and dining area – with a modern and well-equipped kitchen adjacent. Featuring all the mod cons, including a flat-screen TV, DVD player and WiFi, Villa Keira has everything you could need for a family night in.
Outside is where Villa Keira really shines, offering a number of different areas to relax and unwind in the warm Lanzarote sun. A tiled deck surrounds the beautiful private swimming pool, while a separate garden and lawn at the back offer additional space – meaning you can spread out and find your own corner to soak up the sun and read a good book. There's even a roof terrace, perfect for sun worshippers – offering spectacular mountain views.
If the pool wasn't enough, Villa Keira also has its very own hot tub – offering the ultimate way to indulge and relax. And when it comes to mealtimes, the shaded al fresco dining area features a large brick BBQ, allowing for sociable meals overlooking the pool.
Microwave, oven, hob, dishwasher, fridge/freezer, washing machine, dining area

Flat screen TV with comprehensive UK and European TV channels, DVD player with a selection of discs, CD player, dining area, doors to pool terrace

Double bed, double wardrobes, doors to pool terrace, ensuite bathroom

Bath and shower over, WC and washbasin,

Twin beds, double wardrobes, sole use family bathroom

Shower cubicle, WC and single washbasin
Thank you for making our holiday so great

Mr S Michael, March 2018

"First time we have booked with Optima and every part of the experience was great. The booking process was quick and easy and when we had queries they were answered quickly and professionally. The villa was exactly as advertised. It was really clean and just prefect for our needs. The welcome pack was a lovely touch and saw us through our first day. All the information in the villa about what was in the surrounding area was spot on and very helpful. During our stay we had to contact the support team at Optima on a couple of occasions and their responses were always immediate and they sorted everything for us with no fuss. We would definitely use Optima Villas again should we return to Lanzarote. Thank you for making our holiday so great. "
We were very impressed

Anonymous, November 2016

"We were very impressed with the Villa which was in a quiet residential part of Playa Blanca. Villa Keira was finished to a high standard and the swimming pool was kept at a nice warm temperature and it was good to have the hot tub as well. We were pleased to have the welcome pack and beach and bathroom towels provided by Optima Villas."
Thanks for a lovely holiday

Andrea and Andrew S., October 2016

"We loved the villa – it was clean, spacious and very well equipped. The location was lovely and quiet and easily within walking distance of the main beach, the marina and the shops. It was also ideally placed for exploring further afield in our hire car and it was nice to have a drive way so we could park off the road. The pool and the hot tub were great – again beautifully clean and a perfect temperature. All of the outdoor area was really nice and we spent the majority of our time at the villa outside, enjoying the sunshine, the shade and the pool / hot tub. The welcome pack was very welcome and it was nice to have treats in it as well as the basics. We were having such a good time at the villa that we decided to ask if we could check out later – being able to do so at no extra cost was a lovely touch and much appreciated. We have already recommended the villa and the company to friends and family and if we ever return to Playa Blanca we would definitely want to stay at an Optima Villa. Thanks for a lovely holiday"

Thanks again

Rachel, April 2016

"Just wanted to say thanks and how much we enjoyed staying at Villa Keira. The position was perfect for us, more central than faro park where we have been before. The pool was lovely and warm for our little one and the hot tub an added extra. We will definitely be wanting to stay with you again if you have availability perhaps next Feb half term / Easter. I will put a review on trip advisor when I get chance… "
Clean and Cosy

Natalia and Maksym, February 2016

"Thank you very much for the warm welcome to your lovely villa!We arrived yesterday to find villa all clean and cosy, with more than generous welcome pack waiting for us. Special thank you from our son for lovely pizza in the fridge and heated swimming pool! We are very greatful for all your efforts.We usually come to Lanzarote twice a year, in winter and in summer, and if you don't mind, we would like to keep booking villa Keira for our holidays here, until we buy our own place."
Additional Information
A 20% deposit is required to secure your booking with the balance payable 90 days before your arrival. Reservations under 90 days from the date of arrival must be paid in full.
We accept card payments and there is no commission for payments on credit card. You will be contacted by email shortly after your reservation regarding payment options.
Prices shown in the price guide are for the villa itself regardless of the number of guests, they are subject to change with individual circumstances – to obtain a total price, please use the calendar to select your arrival and departure dates.
An infant is classed as a child using a cot.
01 July 2020 – 17 July 2020
£150.00
18 July 2020 – 16 August 2020
£150.00
17 August 2020 – 30 August 2020
£115.00
31 August 2020 – 16 October 2020
£150.00
17 October 2020 – 01 November 2020
£190.00
02 November 2020 – 18 December 2020
£115.00
19 December 2020 – 25 December 2020
£240.00
26 December 2020 – 03 January 2021
£240.00
04 January 2021 – 05 February 2021
£115.00
06 February 2021 – 28 February 2021
£150.00
01 March 2021 – 26 March 2021
£115.00
27 March 2021 – 11 April 2021
£190.00
12 April 2021 – 30 April 2021
£115.00
01 May 2021 – 09 May 2021
£150.00
10 May 2021 – 21 May 2021
£115.00
22 May 2021 – 30 May 2021
£150.00
31 May 2021 – 30 June 2021
£115.00
01 July 2021 – 16 July 2021
£150.00
17 July 2021 – 05 September 2021
£240.00
06 September 2021 – 15 October 2021
£150.00
16 October 2021 – 31 October 2021
£190.00
01 November 2021 – 17 December 2021
£115.00
18 December 2021 – 09 January 2022
£240.00