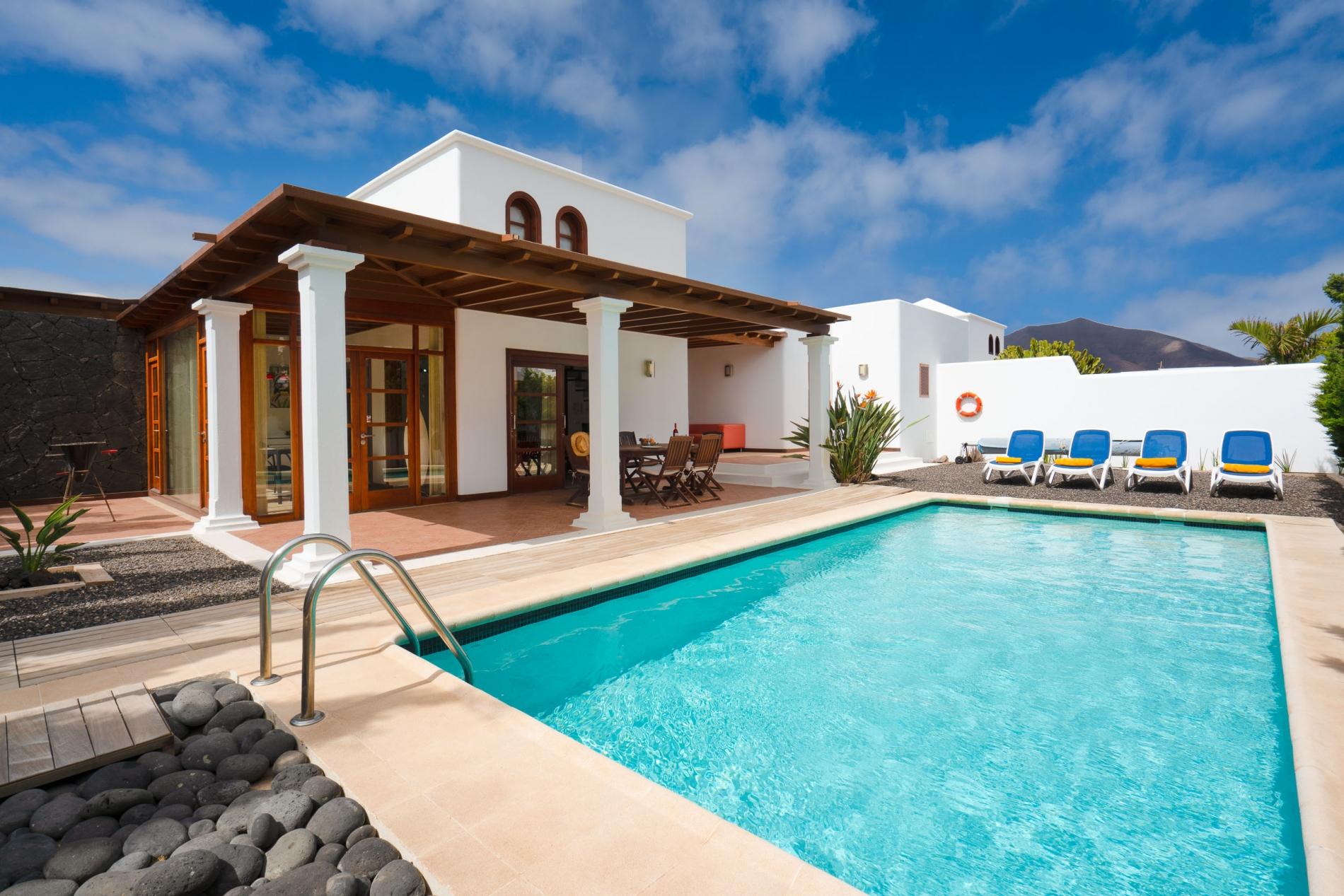 Overview
Situated a pleasant 20 minute stroll from the beach and the bustling centre of Playa Blanca, Villa Jameos is a tranquil retreat within easy reach of the best of Lanzarote. The villa is fully licensed with a VV license. This stylish villa combines traditional touches with contemporary finishes and is guaranteed to impress. The beautiful and private south-facing garden is ringed with Canarian pine and Cypress trees and features a vibrant azure swimming pool and spacious sunbathing area at its centre. Villa Jameos even has its own shaded internal courtyard, great for escaping the midday sun and unwinding with a good book.
Indoors you'll find an open-plan kitchen, dining and living area – as well as two bedrooms, sleeping up to 4 guests in comfort. With a double and a twin, as well as an additional family bathroom – Villa Jameos is ideally set up for families. All rooms feature elegant decor and modern furnishings, while wooden beams and a volcanic rock feature wall keeps the interior warm and inviting.
This villa also makes easy work of family nights in and al fresco entertainment, with a sheltered outdoor dining area and BBQ offering poolside views where you can relax and watch the stars – while benefitting from Lanzarote's cooling breeze.
You'll also find a handy mini market conveniently located just 5 minutes' walk away – while a larger supermarket is 15 minutes away – perfect for stocking up on holiday essentials.
Microwave, oven, hob, dishwasher, fridge/freezer, washing machine, dining area

Flat screen TV some English Channels, DVD player with a selection of discs, CD player, dining area, doors to pool terrace

Double bed, double wardrobes, doors to pool terrace, ensuite bathroom

Bath and shower over, WC and bidet, twin washbasin

Twin beds, double wardrobes, sole use family bathroom

Shower cubicle, WC and single washbasin
Lovely stay

Philip, March 2019

"We had a lovely stay at Villa Jameos. It was delightfully quiet and had all the facilities which we required. I would unhesitatingly recommend this villa for a holiday. "
The villa was nice

Iris, March 2019

"We stayed at Villa Jameos. Everything was perfect organized. The villa was nice and spacious, perfect cleaned and how wonderful when you arrived, there is a welcome package waiting with a cold bottle of nice wine. Thank you to the team of optima villas for the great service. We will recommend you anytime! "
Very well presented

Ian, February 2019

"We stayed at Villa Jameos in Playa Blanca. I was delighted with the villa. It was clean and very well presented and the description online matched the reality. The pool in particular was very well presented and the additional heating was very good. There was complete privacy. There was a slight problem with the security alarm because the description of how to turn it off was out of date. The security alarm had recently been changed which meant we did set the alarm off. We also had a problem with water pressure because the pool attendant had left the hose running. We had to call the helpline. I have to say the service was outstanding. Maintenance arrived within minutes and sorted the problem. The maintenance guy was delightful and very helpful (he deserves a pay rise!) – he made two other trips to the villa whilst we were there and was always courteous. I was impressed with Optima Villas with their welcome at the airport, answering the helpline and the general information and support and would certainly use them again. A good experience. "
Very secluded

John, September 2018

"A lovely villa, very secluded and very well equipped. Optima villas were a delight to deal with and their e mail support was superb. Thank you "
Third year in a row staying at Villa Jameos

Roger, March 2018

"Third year in a row staying at Villa Jameos, as always everything was perfect and the villa was spotless and welll maintained. We keep returning because Optima Villas is only a phone call away and any concerns are taking care of immediately. During this trip the pool guy stopped by while we were out and accidentally forgot to turn the water off… Within an hour of notification the problem was sorted and our holiday remained stress free. "
This was our first holiday renting a villa and it was a great experience

October 2017

"This was our first holiday renting a villa and it was a great experience. Villa Jameos had everything we needed for a relaxing holiday. Our party consisted of 2 older adults and 2 younger adults and this villa was spacious enough for us all to do our own thing! It has a lovely pool with lots of outside seating/lounging areas. Each couple had its own bathroom. I was even able to watch English soaps on the Sky television! Highly recommend. "
Het huis heeft alles wat je nodig hebt voor een heerlijk weekje Lanzarote.

Ruth, January 2017

"Wij verbleven een week in Villa Jameos. Vanuit het wijkje waar de villa ligt is het max vijf minuten rijden naar Marina Rubicon of Playa Blanca. Het (verwarmde) zwembad was heerlijk en de tuin met de bomen was echt heel mooi. In januari was het natuurlijk lekker rustig in de wijk. Het huis heeft alles wat je nodig hebt voor een heerlijk weekje Lanzarote. Een auto is wel aan te raden, op die manier kan je het hele eiland verkennen. We stayed in Villa Jameos for a week. The area where the villa is situated in is approx five minutes drive to Marina Rubicon in Playa Blanca. The (heated) pool was really nice and the garden with the treys very beautiful. The area was very nice and quiet in January. The villa has all that you need for a lovely week Lanzarote. A car is recommended to explore the island Lanzarote. (Translated from Dutch to English) "
Brilliant

Brian, February 2016

"Thanks very much for a fabulous holiday, Villa Jameos was brilliant and exactly what we wanted. The villa was absolutely gorgeous and we loved the privacy of its location. We could not have asked for anything more"
"We have visited Playa Blanca 9 times now and Villa Jameos was one of the best we have stayed in. Very relaxing, lovely set up and the pool was divine."
Service is faultless

Nasiye and Mark, December 2013

"Hi Guys Thank you for everything from initial enquiry to help and accommodating us during our stay. Villa Jameos is fab we would definitely stay again as it is spacious, a lovely area, and just what we wanted from our chilled holiday. We will definitely book with you again as service is faultless. Thank you so so much Nasiye and Mark – Villa Jameos"
The villa had everything we could have asked for and more

Nick, June 2013

"Evening Sally, Just thought I would drop an email, to say thank you. Both myself and my partner had a wondering time staying at Villa Jameos. The villa had everything we could have asked for and more. The facilities and location were perfect and we both loved our time in Playa Blanca. Thanks for all your help throughout. Many thanks and all the best of wishes. Regards, Nick – Villa Jameos"
Great service, great villa

Elaine and Dave, March 2013

"Hi, Been back a few weeks now, thinks its only stopped raining a couple of times in the whole time we have been back. Had a really great time at Villa Jameos, really miss Playa Blanca and that yellow thing in the sky. Can't wait to come back, will certainly stay with Optima, great service, great villa. Thanks again Elaine and Dave – Villa Jameos"
Additional Information
A 20% deposit is required to secure your booking with the balance payable 90 days before your arrival. Reservations under 90 days from the date of arrival must be paid in full.
We accept card payments and there is no commission for payments on credit card. You will be contacted by email shortly after your reservation regarding payment options.
Prices shown in the price guide are for the villa itself regardless of the number of guests, they are subject to change with individual circumstances – to obtain a total price, please use the calendar to select your arrival and departure dates.
An infant is classed as a child using a cot.
04 January 2021 – 05 February 2021
£110.00
06 February 2021 – 28 February 2021
£140.00
01 March 2021 – 26 March 2021
£110.00
27 March 2021 – 11 April 2021
£180.00
12 April 2021 – 30 April 2021
£110.00
01 May 2021 – 09 May 2021
£140.00
10 May 2021 – 21 May 2021
£110.00
22 May 2021 – 30 May 2021
£140.00
31 May 2021 – 30 June 2021
£110.00
01 July 2021 – 16 July 2021
£140.00
17 July 2021 – 05 September 2021
£230.00
06 September 2021 – 15 October 2021
£140.00
16 October 2021 – 31 October 2021
£180.00
01 November 2021 – 17 December 2021
£110.00
18 December 2021 – 09 January 2022
£230.00