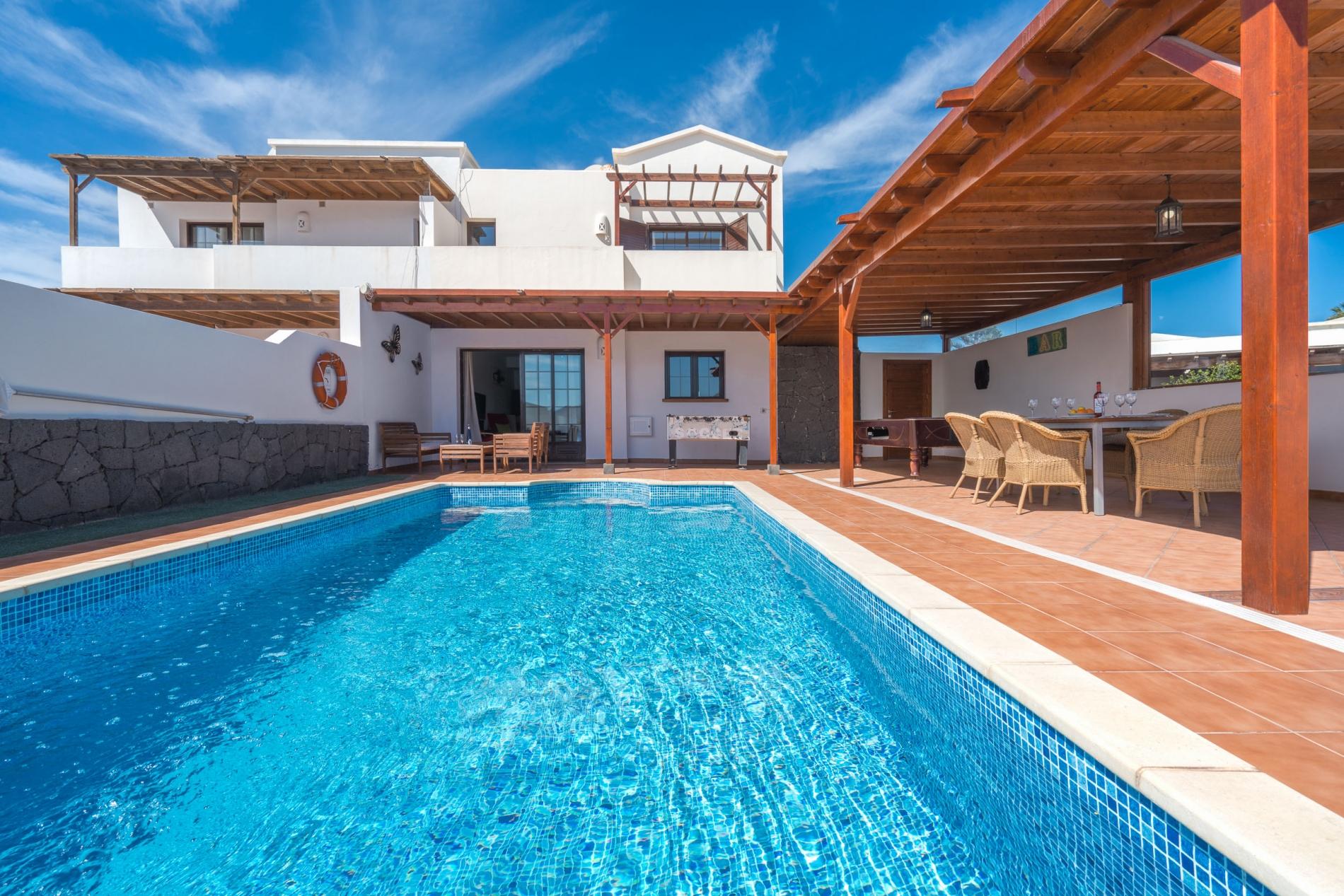 Overview
You'll find Villa Faina just 15 minutes' walk north of the main resort of Playa Blanca in the Los Chalets area. With an abundance of features on offer, including a children's play area and pool table, this villa is the perfect choice for families with children of all ages.
With 3 bedrooms that comfortably accommodate 6 guests, there's plenty of room for everyone to relax and unwind. The sleeping arrangements are divided between 2 double bedrooms and a twin bedroom – with the master bedroom on the first floor featuring its own ensuite bathroom for added convenience.
The downstairs level is home to a bright and spacious open-plan living room, dining area and fully-equipped kitchen with all the mod-cons you could possibly need. Whether you want a fun-filled family night in or just a rest from the heat outside, this welcoming space provides a comfortable place for the whole family to spend time.
From lazing poolside on the sun loungers and patio furniture to a dip in the hot tub, the outside of this villa provides plenty of opportunity for relaxing, with commanding mountain views thrown in. The partially shaded pergola gives welcome respite from the midday sun, while kids (and adults) can keep themselves well entertained with a gated children's play area, table football and pool table. For dining, you have the choice to cook indoors or rustle up dinner on the brick BBQ.
Microwave, oven, hob, dishwasher, fridge/freezer, washing machine

Flat screen TV with some English Channels, DVD player, CD player, doors to pool terrace

Double bed, walk-in wardrobe, private upper floor terrace, electric fan, ensuite bathroom

Shower room, WC and single wash basin.

Double bed, double wardrobes shares family bathroom

Twin beds, double wardrobes shares family bathroom

Shower, WC and single washbasin
We really had a wonderful week

Mr Langlet, January 2020

"We spent an extraordinary week with the family. The villa is magnificent and everything is done to make our stay as smooth as possible. Thank you to you for the preparation of the villa and the welcome pack which made us very happy. The Jacuzzi is great, the pool pretty hot. We really had a wonderful week. Thank you for everything."
Villa Faina is a great place to stay

Louise & Family, January 2020

"We all very much enjoyed Villa Faina. Particularly Optima's quick response to heat the pool and jacuzzi to maximum as the weather (early January) was never very hot and furthermore, to clean the hot tub which became dirty quite quickly. They arrived within the hour to sort things out. Impressive!! The hot tub is such an asset but yes, it is quite chemically but it didn't spoil our use of it. Out grandson learnt to snorkel in the pool which was a highlight for him especially last the sea was always pretty cold. The Villa itself accommodated us all very well, the beds are particularly comfortable, the linen was changed after 7 days (we stayed 10), we appreciated lots of lovely soft fluffy towels and separate pool towels. We could have done with a beach umbrella being available. You also left us some 'goodies' on arrival which was very kind. The only complaint was that the general overall lighting in the evening is quite poor. We did get used to it. There was a huge choice of TV programmes – much appreciated. The children loved the outdoor play area and we had lots of choices of things to do. We discovered a superb 'local' restaurant a short walk away from the Villa which does the 'best' pizzas ever especially a giant size one to share with all the family – great place, friendly with great service. You can easily pick up a take-out there and return to villa to eat it, instead of cooking.
Must say Optima (Ana) has been incredibly responsive from the start of our booking to the end….. can't fault her response with us at all….she is friendly and accommodating in every possible way and it has been a pleasure to deal with Optima. We would certainly stay there again and recommend Optima to anyone interested in staying in a Villa in Lanzarote. Plus Cars (which came recommended by Optima) was also pretty reasonable in comparison with other local car hire companies.
We may well return next year – sadly you can't control the weather and it was always a bit windy and slightly cold so take warm clothes for the evenings. The volcano experience at Timyanfana was well worth the visit. The Flamingo Beach is particularly lovely as is Dorado and many of the restaurants along the prom serve very good tasty food. The 3 Kings festival was great and there is some good 'sale' shopping to be had in easy Jan as well!"
Lovely villa

Lee, Patricia and family, May 2019

"Hi Ana, Just returned from our holiday in your lovely villa. The villa is very roomy and comfortable, with all the added touches, like beach towels and good quality beds, plus the perfect child's garden, which our grandson loved, and the welcome pack was a nice touch. Only one negative😬 There was no instructions for the oven which I did burn a few things, lol but not the end of the world. We would definatley book again. Kind Regards. Lee, Patricia and family "
The villa was great

Ben, April 2019

"We had a great holiday. The villa was great and everything we wished for. Everything was well organised from start to finish from yourselves so would definitely recommend you and book with you in the future again. "
"We had a wonderful time staying at Villa Faina and would highly recommend it. It had everything we could ever need. We picked this particular villa for the additional children's play area as we have a 4 and 2 year old. They LOVED it! Along with the pool and the hot tub. We paid for pool heating and with the weather being cloudy most days until after lunch this was a god send with the kids and well worth the extra we paid. Everything was spotlessly clean inside and outside. Plenty of towels left for our stay. The welcome pack was a nice touch, my Husband enjoyed the pizza and wine! The kitchen was fully equipped and a good size. Would of been nice to have a door going from kitchen to outside but the little serving hatch worked well. Not many TV channels. Only a 10/15 minute walk into Playa Blanca (if cut across some waste ground). Our only 'gripe' as such is that the supermarket advertised as a 7 minute walk away (which it was) wasn;t really a supermarket, more like a small corner shop. Without a car this meant travelling to Playa Blanca for food which became a little inconvenient. Overall a fabulous villa, stunning mountain views and well equipped with everything you could need. Optima Villas thought of every little detail. "
The outside space was brilliant

Barbara, March 2018

"Hi there, We had a lovely holiday in Villa Faina, even though it was a second choice after Villa Rosa was withdrawn we felt that it actually suited us better. The outside space was brilliant, Rosa our 3 year old granddaughter loved the play area and of course the pool, and we could watch her from the lounge area if she wanted to go outside early, even Flynn (8 months) could use some of the play area too. My daughter was very pleased with the travel cot and the size of the children's room was great. As ever the one or two queries we had were dealt with quickly and efficiently. I would say that the villa does still need one or two more smaller saucepans and a much brighter light in the kitchen, it feels very dark in there when you are trying to cook. The upstairs is great especially the dressing room. We do hope to return next year again at the same time and villa faina will certainly be the house we want to book. We had an added bonus, the family usually come for one week, but because of the weather in the UK their flight home was cancelled and the first flight back was on the same day as ours so they had an extra five days holiday which was lovely for all. Thanks again for all your help and hope to be in touch later in the year. Barbara "
Villa Faina is just fabulous

Audrey, January 2017

"Villa Faina is just fabulous. When we arrived it was spotlessly clean ( as with all Optima properties) and the welcome pack was ideal. We were very impressed by the interior. Big airy bedrooms with crisp white bed linen, satellite TV, a small but very well equipped kitchen and plenty of seating throughout. We were even more impressed with the outdoor space. It had everything you could ever want for a family of all ages to enjoy. Swimming pool, hot tub, outdoor play area for younger kids, pool table, football table, large barbeque and again plenty of outdoor seating and loungers. We could not have wished for any more. And it was a mere 10 minute walk into Play Blanca centre. I cannot praise highly enough the Optima staff. Attentive and pleasant throughout from start to finish. They even went above and beyond to help arrange a few special things for my dad's birthday. And they are available whenever you need them for problems big or small. We would not hesitate to travel with them again and have recommended them to plenty of our friends since returning. All in all, a very very relaxing and enjoyable week at Villa Faina. "
Five/of five stars for Villa Faina: We would be happy to stay again at Lanzarote in future!

Family Schulze, November 2016

"We had a wonderful stay for 8 days from 04.11.2016 to 11.11.2016 at Villa Faina! Everything was perfect – starting from the welcome package including fresh beverages and snacks in the refrigerator at our arrival, not mentioning the perfect temperatured pool, which we used extensively during our stay.Villa Faina was very comfortable for us five as a family with 3 adult "childs", everyone was very relaxed. On top comes the Whirlpool, which was a highlight for some nights!By the way: it would be nice of you to print a HOW-TO-handout for the Whirlpool for future guests, luckily we had our "engineer students" with us, who were able to manage the panel (some figures are not working) with the aid of google via the WLAN of Villa Faina…The friendly "Pool-cleaner" arrived during the week, never saw such a well managed private pool!Everything in and outside worked and was well cleaned (except under the couch and under the bed, where we found some toys and dust by searching something fallen down).We would recommend this villa and your support service – nothing was missing even with your friendly conversation – to everyone willing to have a relaxed holiday at Playa Blanca.We have missed nothing, unfortunately we have broken a glass and we forgot to re-install the child-proof-lock for the stairways. Five/of five stars for Villa Faina: We would be happy to stay again at Lanzarote in future! Kind regards,Familie Schulze from Germany"
Highly recommend staying at Villa Faina

Mr & Mrs Wilson & Family, June 2016

"Stayed at Villa Faina for two weeks for a family holiday. 10/10. Everything that we needed was there. Very well equipped. Great location and in a quiet residential cul de sac. Walking time to the local bars and restaurants around 20mins. There's a small tapas bar just off the main road next door to the villa which does lovely tapas for lunch and the beer is extra cold. Staff also friendly and great service there. Taxi fare to the town was approx 3 euros, so really cheap and reasonable. Taxi also has a telephone number to phone and they were usually at the villa within 5 minutes. Overall great villa and especially for families. Highly recommend staing at Villa Faina. Will definitely be booking with Optima Villas again in the near future as their service is top class. Thanks for a great holiday. Mr & Mrs Wilson & Family."
Excellent Villa

Dawn B, March 2016

"We've just returned from week staying at villa Faina. Excellent villa especially for families. Our 2 year old son spent hours in the garden play area!Our second villa booked through Optima and would highly recommend booking villa through them. Love extra touches like pool towels & welcome pack, plus their customer care is excellent! We'll definitely be booking our next Playa Blanca villa with them!"
Additional Information
A 20% deposit is required to secure your booking with the balance payable 90 days before your arrival. Reservations under 90 days from the date of arrival must be paid in full.
We accept card payments and there is no commission for payments on credit card. You will be contacted by email shortly after your reservation regarding payment options.
Prices shown in the price guide are for the villa itself regardless of the number of guests, they are subject to change with individual circumstances – to obtain a total price, please use the calendar to select your arrival and departure dates.
An infant is classed as a child using a cot.
01 July 2020 – 17 July 2020
£185.00
18 July 2020 – 16 August 2020
£185.00
17 August 2020 – 30 August 2020
£140.00
31 August 2020 – 16 October 2020
£185.00
17 October 2020 – 01 November 2020
£240.00
02 November 2020 – 18 December 2020
£140.00
19 December 2020 – 25 December 2020
£300.00
26 December 2020 – 03 January 2021
£300.00
04 January 2021 – 05 February 2021
£140.00
06 February 2021 – 28 February 2021
£185.00
01 March 2021 – 26 March 2021
£140.00
27 March 2021 – 11 April 2021
£240.00
12 April 2021 – 30 April 2021
£140.00
01 May 2021 – 09 May 2021
£185.00
10 May 2021 – 21 May 2021
£140.00
22 May 2021 – 30 May 2021
£185.00
31 May 2021 – 30 June 2021
£140.00
01 July 2021 – 16 July 2021
£185.00
17 July 2021 – 05 September 2021
£300.00
06 September 2021 – 15 October 2021
£185.00
16 October 2021 – 31 October 2021
£240.00
01 November 2021 – 17 December 2021
£140.00
18 December 2021 – 09 January 2022
£300.00