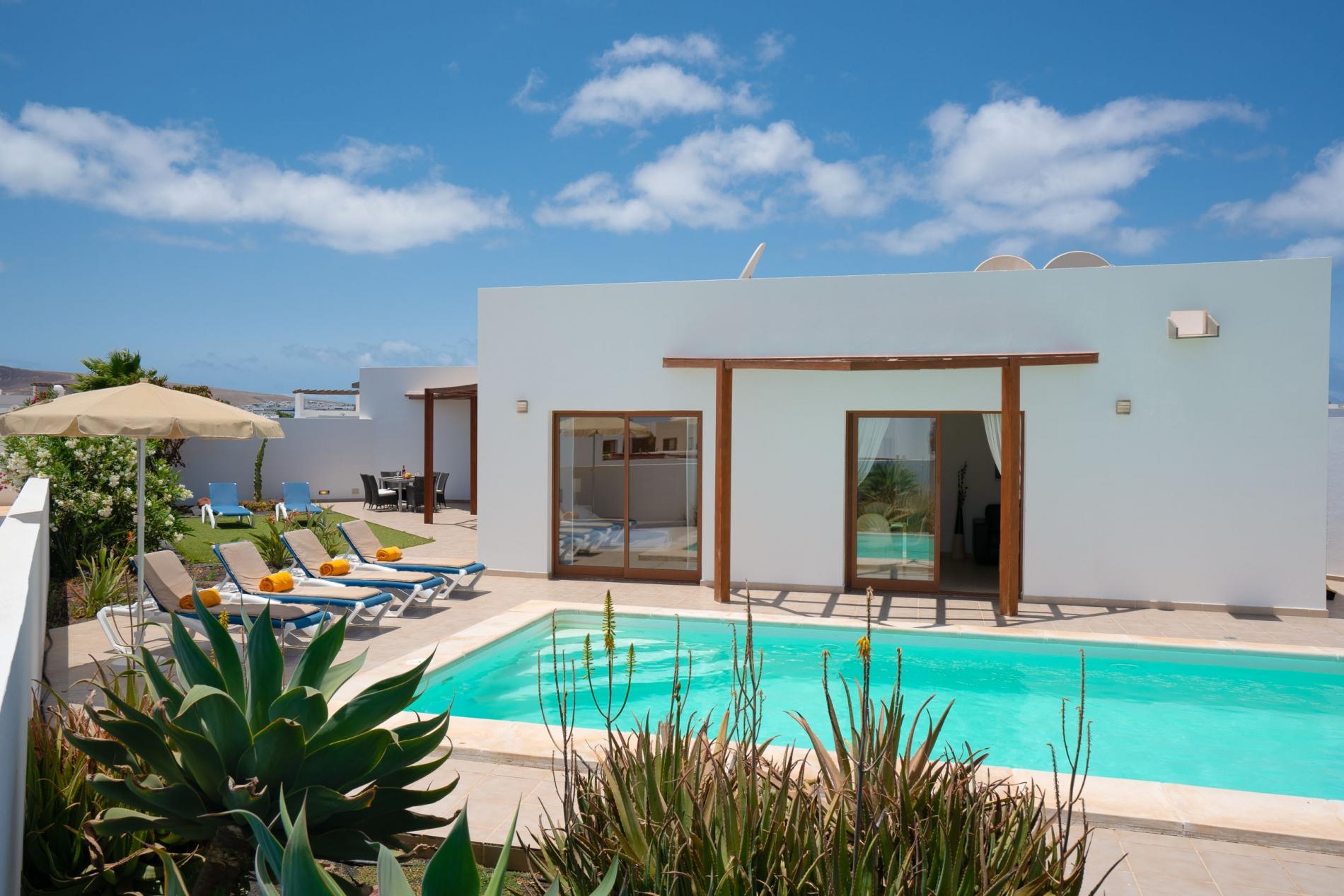 Overview
Discover Villa Eva, Lanzarote. This stylish and ultra-modern 3 bedroom villa enjoys mountain views and a peaceful location in the popular area of Costa Papagayo – a 20 minute walk from the centre of Playa Blanca and Playa Dorada Beach.
Sleeping 6 across 3 bedrooms, Villa Eva features 2 double rooms and 1 twin room. The master bedroom also benefits from an ensuite, while the 2 other rooms share access to a family bathroom.
In the main living space, you'll find a bright and airy open-plan living room and dining area, as well as a well-equipped kitchen – with contemporary furnishings and decor throughout. There's also an indoor games room featuring a pool table and table tennis table – ideal for keeping entertained on nights in.
Villa Eva's outdoor area is perfectly geared up for families, centred around a large 9×5 metre private swimming pool – which can be heated during winter. The large L-shaped terrace and garden have a turfed area – offering a great space for children to play on.
You'll also find a handy pool shower outside, for rinsing off before and after taking a dip. And when the sun goes down, the al fresco dining area is a great spot for family meals.
Microwave, oven, hob, dishwasher, fridge/freezer, washing machine, dining area

Flat screen TV with satelite TV, DVD player with a selection of discs, dining area, doors to pool terrace

Double bed, double wardrobes, doors to pool terrace, ensuite bathroom

Bath and shower over, WC and washbasin

Double bed, double wardrobes, doors to pool terrace, shares family bathroom

Twin bed, double wardrobes, shares family bathroom

Shower cubicle, WC and single washbasin
Fabulous again!

Adamson-Neil family, August 2017

"Stayed at Villa Eva for a week in July and absolutely loved it. Beautiful villa, well equipped and comfortable on the inside and well kept spacious area outside. Second year running we've booked through Optima and once again we weren't disappointed, easy process from booking through to arriving and a top quality villa for a lovely holiday. Wouldn't consider booking with anyone else. "
The garden area was excellent

Barbara C, February 2016

"We were at villa Eva for two weeks and were joined by our daughter, son-in-law and 18 month old granddaughter. A very good travel cot, high chair and all linens for the cot were provided and we were delighted with the little Mickey Mouse slide and little table and chairs which suited Rosa perfectly. The pool was great and was well used during the fortnight we were there. The inside of the villa was great, lovely spacious rooms all with a garden view and access to the garden. We would not hesitate to recommend this villa a to anyone. Any problems were dealt with promptly, a mid-holiday clean and plenty of towels was much appreciated. The only slight down side we felt was it was a little removed from the centre of playa blanca and it was not the most interesting of walks so probably made it feel longer. There is a very good standard of restaurant in the resort and our favourites were Casale Franco and La Cocina de Colacho which was a bit special. We loved the promenades, being able to walk for a very long way and the Marina was a great place to just wander. We would definitely recommend the property, and would hope to return to playa blanca possibly next year and Optima Villas would be our first option."
The villa was wonderful

Alex, September 2015

"Hi Richard Just wanted to drop a quick note, to say thank you. The villa was wonderful and we really enjoyed our stay. we'll certainly use Optima Villas again when we next need a holiday villa. Many Thanks
Impressed with the service we received from Optima Villas and also the quality of Villa Eva

Karen, April 2014

"Sally / Richard Just returned from a wonderful holiday at Villa Eva. Firstly, I would like to say how impressed we are with the service we received from Optima Villas and also the quality of Villa Eva. It was our first holiday abroad as a family of five and as you can imagine we were nervous about booking everything individually. Well we didn't need to worry! From the moment we were picked up from the airport to the moment we got home, the whole experience was enjoyable and stress free. The children are asking when we will be going again! We will highly recommend Optima Villas to our friends and family and we will definitely look at booking with you again. Richard – thank you for your help and immediate response to our "issue" – very professional and interesting to talk with you. Thanks again for all your help. Kind regards Karen – Villa Eva"
Villa Eva had everything we required

Lucy, August 2013

"Hi, We had a great holiday in Playa Blanca. Villa Eva had everything we required and was very clean. All the staff were very helpful and answered all my queries in a timely manner. Would recommend Optima Villas in the future and would definitely book again. If you wanted to try surfing then Lava Flow Surf School comes highly recommended. The Lee family.
Lovely stay in Villa Eva

Dawn, August 2011

"We would like to thank you for such a lovely stay in Villa Eva and also for allowing us to stay in villa later – the boys got an extra morning in the pool and we got a bit more sun; we will defintely be returning. Thank you Richard also for all your help Dawn – Villa Eva"
We had a great time

Sian, February 2011

"Richard Just wanted to say a big thank you for your help with sorting our villa for our holiday we had a great time and looking forward to returning to Playa Blanca very soon. Regards Sian – Villa Eva"
Thank you very much for all the help

Jennifer, September 2010

"Hi Richard Just a quick email to thank you very much for all the help that you gave us on holiday, especially when my partner lost his phone. We really appreciate it and are already looking into using your villas next year. I would also like to thank the neighbour Phyl, she was very helpfull and was always there to give us info and offer places of interest to visit. Also thank you for putting some essentials into the fridge for us, it was great. Thanks again, I'm sure we will be in touch to arrange another booking in the near future. Kind Regards Jennifer – Villa Eva"
We had a FABULOUS holiday

Yvonne, June 2010

"Dear Richard Just a very quick note to say thank you for the use of Villa Eva, our holiday was over much too quickly and we will certainly be back…we had a FABULOUS holiday. Regards Yvonne – Villa Eva"
Additional Information
A deposit of 20% is required to secure your booking with the balance payable 90 days before your arrival. Reservations under 90 days from the date of arrival must be paid in full.
We accept card payments and there is no commission for payments on credit card. You will be contacted by email shortly after your reservation regarding payment options.
Prices shown in the price guide are for the villa itself regardless of the number of guests, they are subject to change with individual circumstances – to obtain a total price, please use the calendar to select your arrival and departure dates.
An infant is classed as a child using a cot
04 January 2021 – 05 February 2021
£130.00
06 February 2021 – 28 February 2021
£180.00
01 March 2021 – 26 March 2021
£130.00
27 March 2021 – 11 April 2021
£220.00
12 April 2021 – 30 April 2021
£130.00
01 May 2021 – 09 May 2021
£180.00
10 May 2021 – 21 May 2021
£130.00
22 May 2021 – 30 May 2021
£180.00
31 May 2021 – 30 June 2021
£130.00
01 July 2021 – 16 July 2021
£180.00
17 July 2021 – 05 September 2021
£280.00
06 September 2021 – 15 October 2021
£180.00
16 October 2021 – 31 October 2021
£220.00
01 November 2021 – 17 December 2021
£130.00
18 December 2021 – 09 January 2022
£280.00