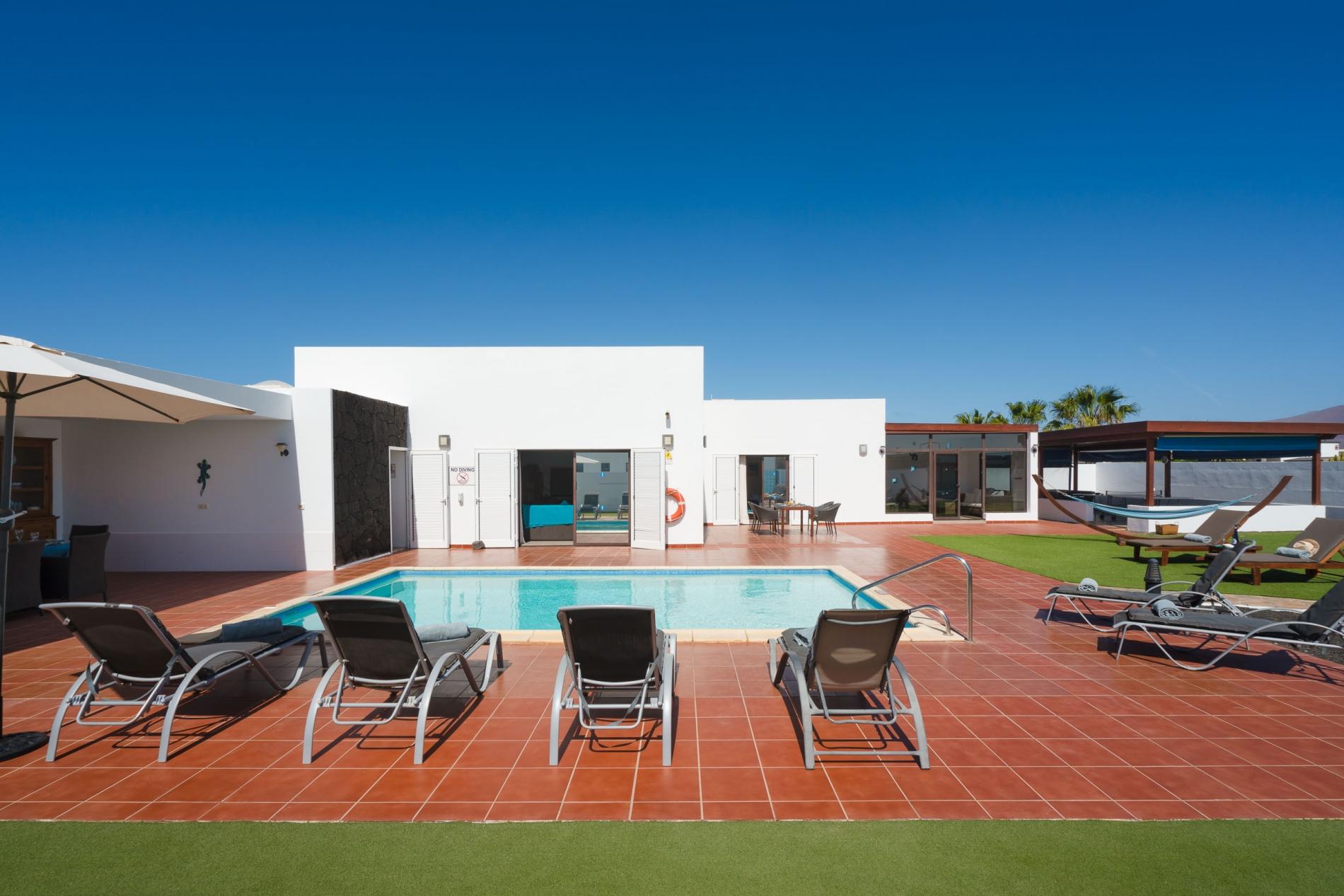 Overview
Situated just north of Playa Blanca, Villa Celeste is just a mere 25 minute walk away from the centre of the resort.
This luxurious villa sleeps up to 8 in comfort, featuring 2 spacious double rooms with their own ensuite bathrooms, as well as 2 additional twin rooms and a third family bathroom. All bedrooms feature coin-operated air conditioning which takes Euro coins, as well as the living room, ensuring a comfortable stay when the Lanzarote sun reaches its peak. Thanks to the villa's accommodating layout, it's an ideal choice for groups of friends or 2 families travelling together.
With stylish and contemporary decor throughout, Villa Celeste has a light and airy ambience. The large open-plan kitchen and living room area is great for entertaining and family nights in.
Outdoors you'll find an expansive sun terrace and garden, featuring high walls which offer additional privacy during your stay. The impressive outdoor space offers plenty of room for guests to spread out. The outdoor swimming pool is surrounded by sun loungers and looked onto by a shaded al fresco dining area, so you can escape the midday sun for lunch.
If you fancy a break from sunbathing and swimming, you'll also find an outdoor pool table and table tennis table – and even a mini putting green!
With a handy supermarket just 7 minutes away, Villa Celeste, Lanzarote, ticks all the boxes. From location to features and comfort, it's a fantastic choice for your next break.
Microwave, oven, hob, dishwasher, fridge/freezer, washing machine, dining area

Flat screen TV with comprehensive UK and European TV channels, DVD player with a selection of discs, CD player, coin operated air conditioning, dining area, doors to pool terrace

Double bed, double wardrobes, doors to pool terrace, coin operated air-conditioning, ensuite bathroom

Bath and shower over, WC and twin washbasin

Double bed, double wardrobes, doors to pool terrace, coin operated air-conditioning, ensuite

Bath and shower over, WC and twin washbasin

Twin beds, wardrobe, coin operated air conditioning, shares family bathroom

Twin beds, wardrobe, coin operated air conditioning, shares family bathroom

Shower cubicle, WC and single handbasin
We can really recommend Optima Villas Gunnar, Villa Celeste

December 2018

"Just back after a week with the family (6 plus 2 children) in Villa Celeste, Playa Blanca. If you are planning to rent a villa on Lanzarote we can really recommend Optima Villas, with Ana and the maintenance staff. Ana took care of the booking and answered fast to all our questions. There was only one small issue with us not figuring out how to start the A/C's but the maintenance arrived and helped us minutes after we sent a question via mail. The web description of the villa and the facilities was accurate and what we got suited us all just perfect. "
As always Optima Villas did not disappoint

Caroline, April 2018

"Our 3rd time staying with Optima Villas and as usual they didn't disappoint. Lovely villa, very clean with everything you need. Any queries/issues are dealt with very quickly and efficiently. Will definitely use again. "
Villa Celeste is an extremely well equipped villa for larger families or groups

October 2017

"Villa Celeste is an extremely well equipped villa for larger families or groups. The layout is excellent and the facilities are great both inside and out. We had a couple of small problems on arrival with air con and TV but Optima Villas had it all dealt with immediately whilst we enjoyed our first meal out. They were excellent. The location is ideal. A nice 15 min stroll down to the town. A great little break away. "
Perfect Relaxing Holiday

Degsy S, May 2017

"This is the 4th time we've visited this villa. Its a very well appointed property situated approx. 25mins stroll out of the main resort. The villa has 2 double en suite bed rooms (1 has 2 electrically operated safe deposit boxes) & 2 large twin bedrooms sleeping 8 people. The en suites are very nicely decorated and fitted out, there is a separate large bathroom w8ith a lovely drench shower, toilet & WC. Every time we visit it seems the owners have added / upgraded / replaced something. The main lounge is a nice size and features a large cinema style TV with surround sound speakers, there is a Blu-ray DVD, satellite box & Xbox and there are DVD's and X Box games available along with a selection of novels to read. There is air conditioning throughout which is operated via a pay meter just inside the front door – we found we only needed this at night and cost roughly 2 euro per night. The Kitchen is average size but has a large fridge freezer, dishwasher, toaster, kettle, coffee maker, microwave, double oven / grill and an electric hob with extractor fan – pots and pans. Cooking utensils and cutlery / crockery is all provided as well as lots of glasses and importantly a few large jugs for your sangria. There is a utility room which has a separate sink, additional extensive cupboard space and a great washing machine which is very simple to use, ironing board, iron, clothes horse, brushes and hoover can all be found in here. The utility leads out onto the large garden and sun terrace where you will find a nice swimming pool, 8 sunbeds, hammock, BBQ area and stone BBQ, undercover dining area and large outdoor dining table sitting 8 people. There are swings for smaller kids, pool & table tennis tables a summer house, mini putting green and shaded sitting area plus a breakfast table with sun brolly which also sits 8 people. The sun terrace is very large and is in full sun all day – access to the sun terrace is also available from the lounge and one of the double bedrooms. There is a car port with space for one car and plenty on street parking outside at the front of the property. On arrival the property was immaculate, with plenty of towels in the bathroom and beach towels also provided. There was also a nice welcome pack which consisted of tea / coffee / milk / water / pizza / cereal / Prosecco / and a bottle of sprite. The main resort has lots of lovely bars and restaurants and a good few shops. We walked into town a couple of times and other times phoned for a taxi which is only approx. 3.50 euros. A little further eastward is the Rubicon Marina again which has lots of nice bars and restaurants plus some nice shops. The island is quite small and if you hire a car you can virtually drive from Playa Blanca to the very north tip and back in about 2 hours – some beautiful scenery to see and great places to visit. This is a great place to totally relax – with such a well appointed villa you don't even need to venture out if you don't want to. We decided to eat out every other night and have BBQ's / food in when we stayed at home. There are plenty of supermarkets on hand – with a small shop quite close to the villa (10mins walk). Ideally with a hire car you have access to the larger supermarkets in Playa Blanca itself or further afield if you wanted. We've enjoyed every visit and we are looking forward to visiting again very soon – this is a first class property, very well maintained and appointed and is very highly recommended. "
Es ist wirklich zu 100% weiter zu empfehlen

Susanne R., January 2017

"Die Villa Celeste ist ein super Haus, im Haus fehlt es an nichts und es ist sehr sauber, im Aussenbereich wird es einem nicht langweilig, der warme Pool läd zum baden ein, die Tischtennisplatte und der Billiardtisch animiert einen was zu tun, natürlich chillen kann man auch, z.B. auf der Hängematte. Eine Woche pure Entspannung. Wir haben jetzt schon zum dritten Mal ein Haus von Optimavillas gemietet und es ist wirklich zu 100% weiter zu empfehlen. Wir kommen auf jeden Fall wieder!!! Villa Celeste is a superb villa, the villa does not fail on anything and is very clean, you will not get bored with the outside area, the heated pool feels like a warm bath, the pool table and tennistable allows people to do something, and you can relax in the hammock. A week of pure relaxation. We have booked a villa through Optima Villas for the third time and we can really recommend them for a full 100%. We will be back for sure!!! (translated from German to English) "
Great time

Lucy, December 2016

"Thank you. We had a great time and Optima Villas looked after us very well. "
Excellent stay in Villa Celeste

Rhys, February 2013

"Richard, just wanted to say that we had an excellent stay recently in Villa Celeste. We hope to use Optima Villas again. Many thanks for your assistance Rhys – Villa Celeste"
Additional Information
A deposit of 20% is required to secure your booking with the balance payable 90 days before your arrival. Reservations under 90 days from the date of arrival must be paid in full.
We accept card payments and there is no commission for payments on credit card. You will be contacted by email shortly after your reservation regarding payment options.
Prices shown in the price guide are for the villa itself regardless of the number of guests, they are subject to change with individual circumstances – to obtain a total price, please use the calendar to select your arrival and departure dates.
An infant is classed as a child using a cot.
01 July 2020 – 17 July 2020
£240.00
18 July 2020 – 16 August 2020
£240.00
17 August 2020 – 30 August 2020
£200.00
31 August 2020 – 16 October 2020
£240.00
17 October 2020 – 01 November 2020
£320.00
02 November 2020 – 18 December 2020
£200.00
19 December 2020 – 25 December 2020
£400.00
26 December 2020 – 03 January 2021
£400.00
04 January 2021 – 05 February 2021
£200.00
06 February 2021 – 28 February 2021
£240.00
01 March 2021 – 26 March 2021
£200.00
27 March 2021 – 11 April 2021
£320.00
12 April 2021 – 30 April 2021
£200.00
01 May 2021 – 09 May 2021
£240.00
10 May 2021 – 21 May 2021
£200.00
22 May 2021 – 30 May 2021
£240.00
31 May 2021 – 30 June 2021
£200.00
01 July 2021 – 16 July 2021
£240.00
17 July 2021 – 05 September 2021
£400.00
06 September 2021 – 15 October 2021
£240.00
16 October 2021 – 31 October 2021
£320.00
01 November 2021 – 17 December 2021
£200.00
18 December 2021 – 09 January 2022
£400.00