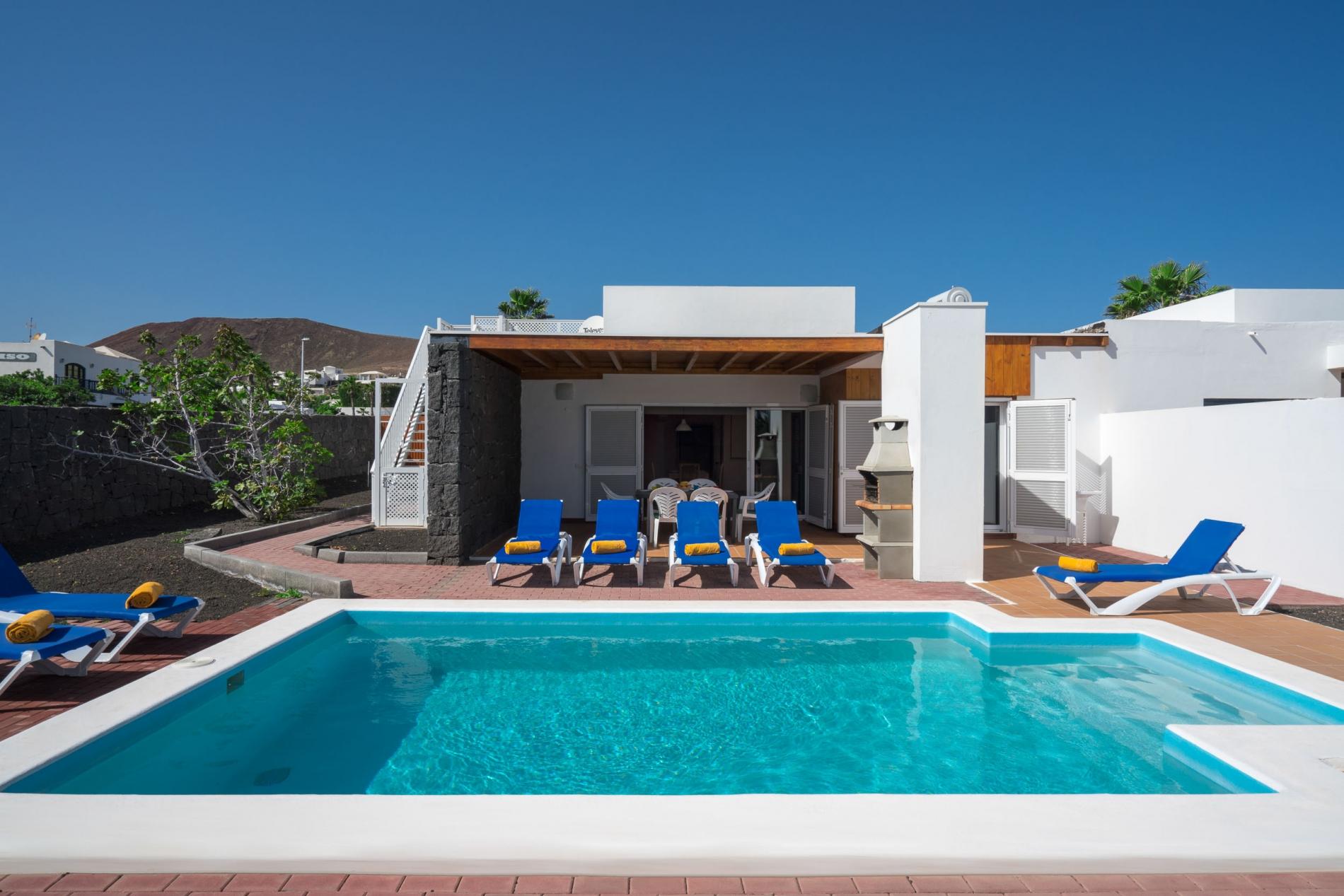 Overview
Located in the peaceful Montaña Roja area, a 30 minute walk from the centre of Playa Blanca, Villa Aleksandra offers a basic and great value holiday villa option – without compromising on the essentials.
Inside you'll find 3 double bedrooms, with a 4th double bedroom located in a separate studio, with its own entrance, kitchen and bathroom. Villa Aleksandra comfortably sleeps up to 8 and is well-suited to friends and couples looking to share a holiday home, as well as families. A shared bathroom in the main villa, as well as an ensuite in the master bedroom, ensure there's plenty of space and privacy for all.
Elsewhere indoors, the villa features a generously sized living room and functional kitchen, providing the perfect space to entertain for evenings in.
Outside, the shaded veranda and al fresco dining area is a great place for dinner on warm evenings and overlooks the large sunbathing terrace and private pool. With plenty of sun loungers and views over Playa Blanca, Villa Aleksandra's terrace is the ideal place to unwind and take a refreshing dip in between topping up your tan. If you fancy cooking outside, the built-in BBQ offers a great way to cater for the whole family.
When it comes to stocking up on food and holiday essentials, you'll find a handy supermarket just 10 minutes' walk away.
Microwave, oven, hob, dishwasher, fridge/freezer, washing machine

Flat screen TV with some English and European Channels

Double bed, shares shower room, doors to terrace

Double bed, ensuite bathroom

Shower, WC and washbasin

Double bed, shares shower room

Shower, washbasin, WC

Double bed, small kitchen, shower, WC, separate entrance
A fabulous stay

Naomi, February 2020

"Excellent service from Ana. Great directions from the airport and very easy and efficient booking. A fabulous stay in Villa Aleksandra.
What's not to love? We shall certainly return! "
Great stay

Left on Tripadvisor, January 2020

"The villa had everything we could want & was very clean and well maintained. The communication from Optima Villas was quick & comprehensive. Couldn't have asked for more. "
Great stay

Franciszek, January 2019

"We and our friends are very happy to stay in the Villa Aleksandra. We had a great stay there, it was quiet and private. The villa was well equipped to receive guests. Our first stay in Lanzarote is very successful. "
Additional Information
A 20% deposit is required to secure your booking with the balance payable 90 days before your arrival. Reservations under 90 days from the date of arrival must be paid in full.
We accept card payments and there is no commission for payments on credit card. You will be contacted by email shortly after your reservation regarding payment options.
Prices shown in the price guide are for the villa itself regardless of the number of guests, they are subject to change with individual circumstances – to obtain a total price, please use the calendar to select your arrival and departure dates.
An infant is classed as a child using a cot.
01 July 2020 – 17 July 2020
£140.00
18 July 2020 – 16 August 2020
£140.00
17 August 2020 – 30 August 2020
£110.00
31 August 2020 – 16 October 2020
£140.00
17 October 2020 – 01 November 2020
£180.00
02 November 2020 – 18 December 2020
£110.00
19 December 2020 – 25 December 2020
£230.00
26 December 2020 – 03 January 2021
£230.00
04 January 2021 – 05 February 2021
£110.00
06 February 2021 – 28 February 2021
£140.00
01 March 2021 – 26 March 2021
£110.00
27 March 2021 – 11 April 2021
£180.00
12 April 2021 – 30 April 2021
£110.00
01 May 2021 – 09 May 2021
£140.00
10 May 2021 – 21 May 2021
£110.00
22 May 2021 – 30 May 2021
£140.00
31 May 2021 – 30 June 2021
£110.00
01 July 2021 – 16 July 2021
£140.00
17 July 2021 – 05 September 2021
£230.00
06 September 2021 – 15 October 2021
£140.00
16 October 2021 – 31 October 2021
£180.00
01 November 2021 – 17 December 2021
£110.00
18 December 2021 – 09 January 2022
£230.00