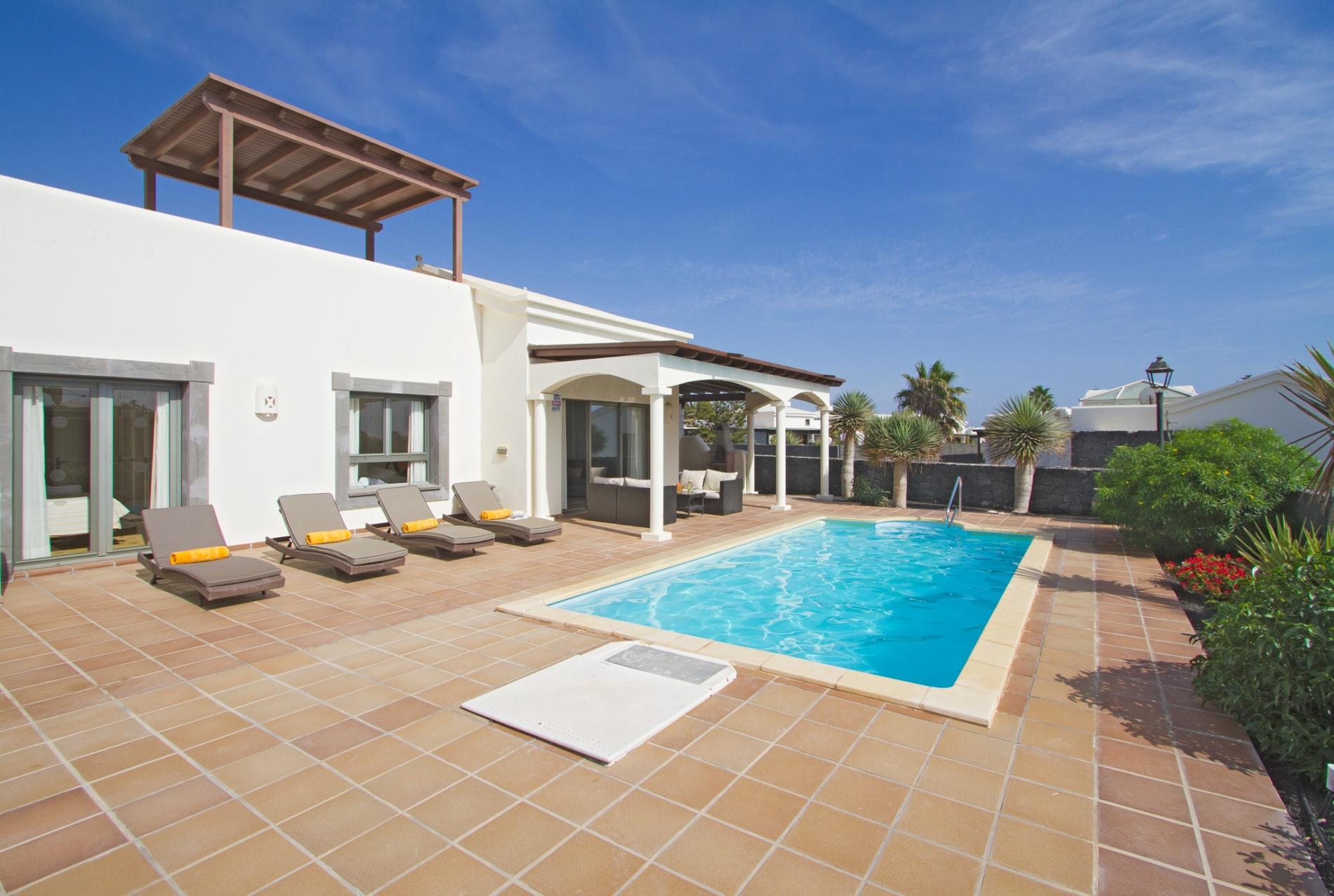 Overview
If you're looking for a 2 bedroom holiday villa in Faro Park, Lanzarote, look no further than Villa Alegria. This detached, modern villa sleeps up to 4 guests in comfortable and stylish surrounds. Nestled on a quiet cul-de-sac, the villa features a private pool, terrace and garden – with spectacular sea views, you can even see the neighbouring island of Fuerteventura across the water.
Inside, sleeping arrangements are split between 1 double and 1 twin room – making Villa Alegria an ideal choice for families. Both bedrooms feature electric fans for a comfortable night's sleep, while the master bedroom includes its own ensuite.
With an open plan kitchen and lounge, as well as sliding doors onto the pool deck, the villa has a bright and airy feel inside.
Outside, Villa Alegria sports an expansive tiled terrace, surrounding a beautiful private swimming pool – fringed with colourful and well-maintained gardens. It's the ultimate relaxation space, with a number of comfortable sun loungers to unwind on, as well as a shaded outdoor seating area. Facing south, the terrace and garden see the best of the sun all day long. And if that wasn't enough, you'll also find a second private terrace on the roof of the villa – providing an ideal spot for sun worshippers to escape with a good book.
When it comes to heading out and about, there are a number of bars and restaurants, as well as a handy supermarket, just 5 minutes away on foot. If you plan on exploring further than Faro Park; Playa Blanca, Marina Rubicon and the area's best beaches are all within easy reach – thanks to the resort's shuttle bus which stops nearby. This service runs every 30 minutes, 7 days a week and connects you with neighbouring resorts and sights.
Microwave, oven, hob, dishwasher, fridge/freezer, washing machine, doors to alfresco dining area

Flat screen TV with some English Channels, DVD player with a selection of discs, CD player, breakfast bar, doors to pool terrace

Double bed, double wardrobes, doors to pool terrace, ensuite bathroom, electric fan

Bath and shower over, WC and twin washbasin

Twin beds, double wardrobes, electric fan, sole use of family bathroom

Shower cubicle, WC and single washbasin
Top of our list

Julie, March 2019

"We had a lovely holiday. We have stayed in a number of villas and this is top of our list exactly as described and very good service from Optima villas. We have already booked for next year. "
We loved the villa

Carol, December 2018

"Just arrived home from yet another fantastic holiday in Playa Blanca. We loved the villa, especially the garden and area around the pool. Villa Alegria was well equipped, clean and very comfortable (especially the bed in the master bedroom). Booking through Optima Villas was easy and we would not hesitate to use them again. "
First class

Sue & Walter, November 2018

"My experience with Optimavillas has been first class from start to end. The website was clear and easy to navigate allowing simple filters that narrow down the choices, something necessary with such a wide choice. Reservation was almost immediate, and securing the booking an easy and secure process. Follow-up contact with the office in Lanzarote meant I was assured that my custom was important to the company and it was nice to see everyone go out of their way to try and accommodate my early arrival. After final payment was made a welcome pack soon arrived and it was very comprehensive, I am well experienced in villa holidays but rarely have I received such detailed and accurate instructions. On arrival at Villa Alegria I couldn't have been more delighted, the property was exactly as described and as promised I was able to get early access and begin my holiday straight away. The welcome pack was helpful and once again of better quality than I have been used to. Throughout my stay I always felt safe and secure, the property had a full alarm system and contact details for emergency were clearly presented. Everything the website promised was delivered, the property was very well presented and scrupulously cleaned. It was an absolute delight to be able to call Villa Alegria my home for those short 7 days. I guess the biggest compliment I can give Optimavillas is that I have already rebooked a return visit in June, sadly for me Villa Alegria is not available but hopefully I will be equally pleased with Villa Dora…a lot to live up to but fingers crossed. "
Fab holiday

Paul, November 2018

"From the initial enquiry through to the end of the holiday, we have nothing but praise for a fab holiday at the villa Alegria. Peaceful location & sone great restaurants within walking distance. We'll be back again next year. "
What an excellent experience

Rachel, April 2018

"What an excellent experience Pool towels, welcome pack, comprehensive driving instructions….. Fantastic holiday – small issue with the pool someone was round in an hour and everything sorted the next morning. Villa Alegria was beautiful – a short stroll to a mini market and range of restaurants. 5 minutes from the promenade – 1 hour to walk to the centre of Playa Blanca. "
Villa itself and pool area was perfect

Nicola, July 2016

"I would just like to say what a lovely holiday we had. We have booked villas through homeaway and ownersdirect before but felt with Optima Villas there was a confidence that you do not have when you book direct with owner. From first point of contact to the end you have been so efficient. Care hire was sorted and being able to stay laterat villa on day of leaving was a real bonus.Villa itself and pool area was perfect. We had the privacy we wanted but with use of lovely pool.We had a lovely view of the sea and Fuerteventura. Cleaners came in after first week with new linen and towels which was also a bonus. The position of villa was great as a few minutes drive to Playa Blanca in car and if not was a 5 minute walk to shops and restaurants of Faro Park. Italian restaurant there was lovely and Lighthouse restaurant was run by British ladies if wanted English food. Very good all day breakfast there.Many thanks again and I would definitely recommend Optima Villas to friends and family."
Spacious

Hayley R, June 2016

"Family of four, we arrived to the villa and was very impressed with how clean and modern it was. Very spacious inside and beautiful pool area with ample seating and bathing furniture. Pool was cleaned twice during our one week stay which was great. Villa is situated on a lovely complex, very quiet, and a very short walk from lovely restaurants and bars. We had a stunning meal at Port of call, very reasonable prices and great quality. Would definitely return, such an easy and relaxing holiday providing everything we needed for a fab time!"
Clean, well equipped Villa in quiet residential area

Theresa M, February 2016

"We recently stayed in this Villa for 8 days and found it to be well equipped, clean and well maintained. The inside of the Villa is well laid out with an open plan lounge/kitchen. It has a dishwasher/washing machine/fridge freezer and pleasant outdoor eating space. The roof terrace has amazing sea and mountain views.A few times we walked into Playa Blanca along the seafront promenade and once even to the marina, which took about an hour and a half (but we did stop for coffee about half way).There is a bus that leaves from the Faro Park shops on the hour and every half hour which costs 1.40 euros which will take you into Playa Blanca and even to the marina which we used a few times.There are a couple of mini markets at the Faro Park shops with a selection of eateries. We ate at the Lighthouse a couple of times and also went to the bakery (I can't remember the name) for coffee and cake which was scrumptious!I would definitely recommend this Villa."
Additional Information
A deposit of 20% is required to make your reservation with the payment of the balance being due 90 days prior to your arrival. Reservations under 90 days before date of arrival must be paid in full.
We accept card payments and there is no commission for payments on credit card. You will be contacted by email shortly after your reservation regarding payment options.
Prices shown in the price guide are for the villa itself regardless of the number of guests, they are subject to change with individual circumstances – to obtain a total price, please use the calendar to select your arrival and departure dates.
A child that would sleep in a travel cot is classed as an infant.
18 July 2020 – 16 August 2020
£120.00
17 August 2020 – 30 August 2020
£100.00
31 August 2020 – 16 October 2020
£120.00
17 October 2020 – 01 November 2020
£160.00
02 November 2020 – 18 December 2020
£100.00
19 December 2020 – 25 December 2020
£200.00
26 December 2020 – 03 January 2021
£200.00
04 January 2021 – 05 February 2021
£100.00
06 February 2021 – 28 February 2021
£120.00
01 March 2021 – 26 March 2021
£100.00
27 March 2021 – 11 April 2021
£160.00
12 April 2021 – 30 April 2021
£100.00
01 May 2021 – 09 May 2021
£120.00
10 May 2021 – 21 May 2021
£100.00
22 May 2021 – 30 May 2021
£120.00
31 May 2021 – 30 June 2021
£100.00
01 July 2021 – 16 July 2021
£120.00
17 July 2021 – 05 September 2021
£200.00
06 September 2021 – 15 October 2021
£120.00
16 October 2021 – 31 October 2021
£160.00
01 November 2021 – 17 December 2021
£100.00
18 December 2021 – 09 January 2022
£200.00