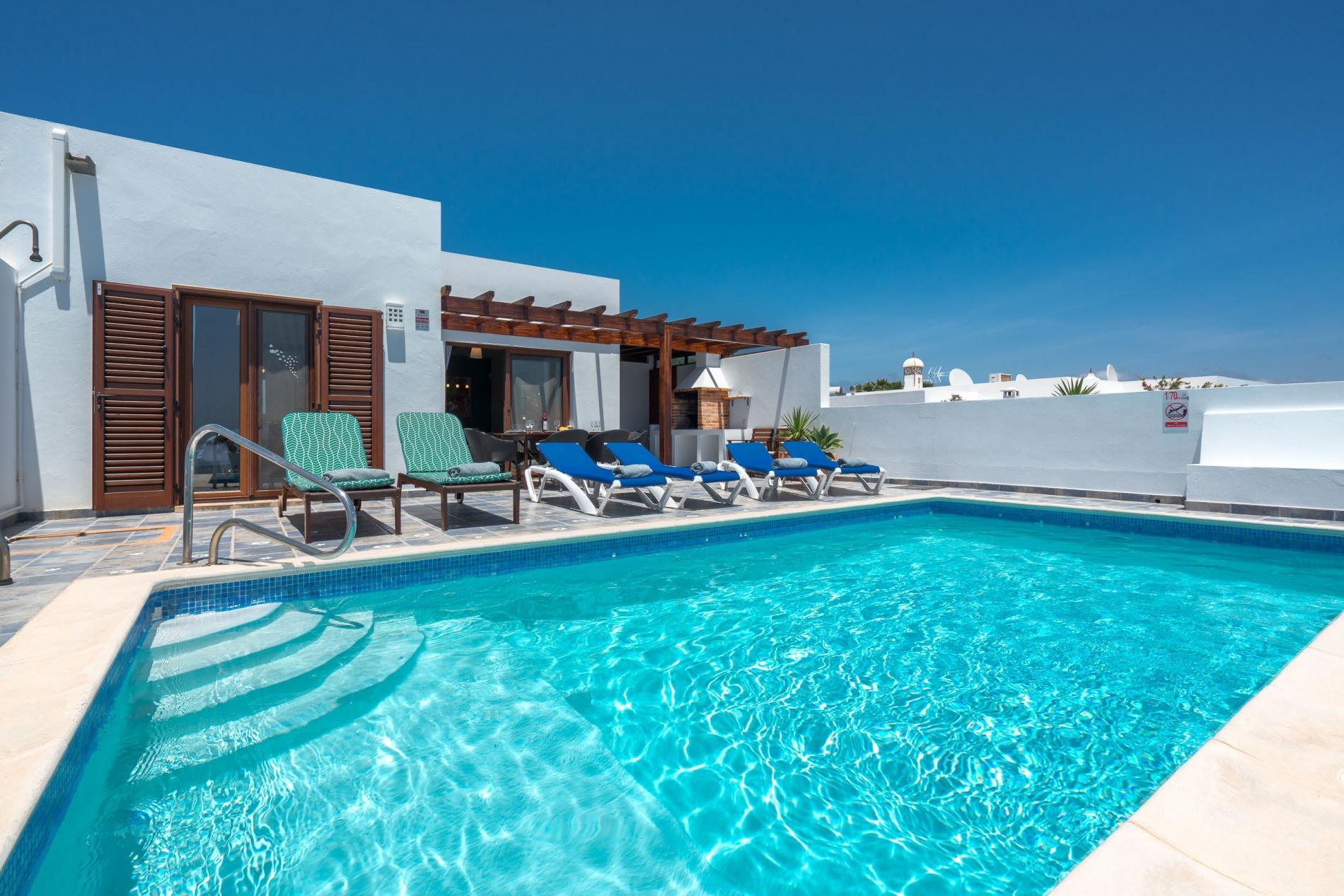 Overview
Casa Serena is situated up on the hillside above the main resort of Playa Blanca, which offers the ideal place for soaking up the Lanzarote sun all-year round, while providing some breathtaking views of the Hacha Grande mountains, Atlantic Ocean and the bustling resort below.
With a newly updated interior, this tastefully decorated 3 bedroom villa comfortably sleeps up to 6 guests. The sleeping arrangements are divided between a master bedroom with its own ensuite bathroom, 1 twin bedroom with an ensuite and a final twin bedroom that has use of the family bathroom. With coin-operated air-conditioning in two of the bedrooms, you'll be sure to get a good night's rest.
Inside, you'll also find a light and comfortable living room and dining area, a fully-equipped kitchen, as well as a games room with a pool table and table tennis table that can be used outside – the perfect way to keep kids and adults entertained all holiday long.
Outdoors, you'll find a beautiful pool area and terrace that looks down over Playa Blanca. With sun loungers, an outside dining area and built-in barbecue, this space is primed for outdoor living with views you'll never tire of.
Additional Information
A 20% deposit is required to secure your booking with the balance payable 30 days before your arrival. Reservations under 30 days from the date of arrival must be paid in full.
We accept card payments and there is no commission for payments on credit card. You will be contacted by email shortly after your reservation regarding payment options.
Prices shown in the price guide are for the villa itself regardless of the number of guests, they are subject to change with individual circumstances – to obtain a total price, please use the calendar to select your arrival and departure dates.
An infant is classed as a child using a cot.
14 December 2019 – 22 December 2019
£170.00
23 December 2019 – 05 January 2020
£170.00
06 January 2020 – 07 February 2020
£130.00
08 February 2020 – 23 February 2020
£170.00
24 February 2020 – 27 March 2020
£130.00
28 March 2020 – 19 April 2020
£235.00
20 April 2020 – 22 May 2020
£130.00
23 May 2020 – 31 May 2020
£170.00
01 June 2020 – 30 June 2020
£120.00
01 July 2020 – 17 July 2020
£160.00
18 July 2020 – 30 August 2020
£285.00
31 August 2020 – 16 October 2020
£160.00
17 October 2020 – 01 November 2020
£225.00
02 November 2020 – 18 December 2020
£130.00
19 December 2020 – 25 December 2020
£295.00
26 December 2020 – 03 January 2021
£295.00
04 January 2021 – 05 February 2021
£130.00
06 February 2021 – 28 February 2021
£170.00
01 March 2021 – 26 March 2021
£130.00
27 March 2021 – 11 April 2021
£235.00
12 April 2021 – 30 April 2021
£130.00
01 May 2021 – 09 May 2021
£170.00
10 May 2021 – 21 May 2021
£130.00
22 May 2021 – 30 May 2021
£170.00
31 May 2021 – 30 June 2021
£120.00
01 July 2021 – 16 July 2021
£160.00
17 July 2021 – 05 September 2021
£285.00
06 September 2021 – 15 October 2021
£160.00
16 October 2021 – 31 October 2021
£225.00
01 November 2021 – 17 December 2021
£160.00
18 December 2021 – 09 January 2022
£295.00