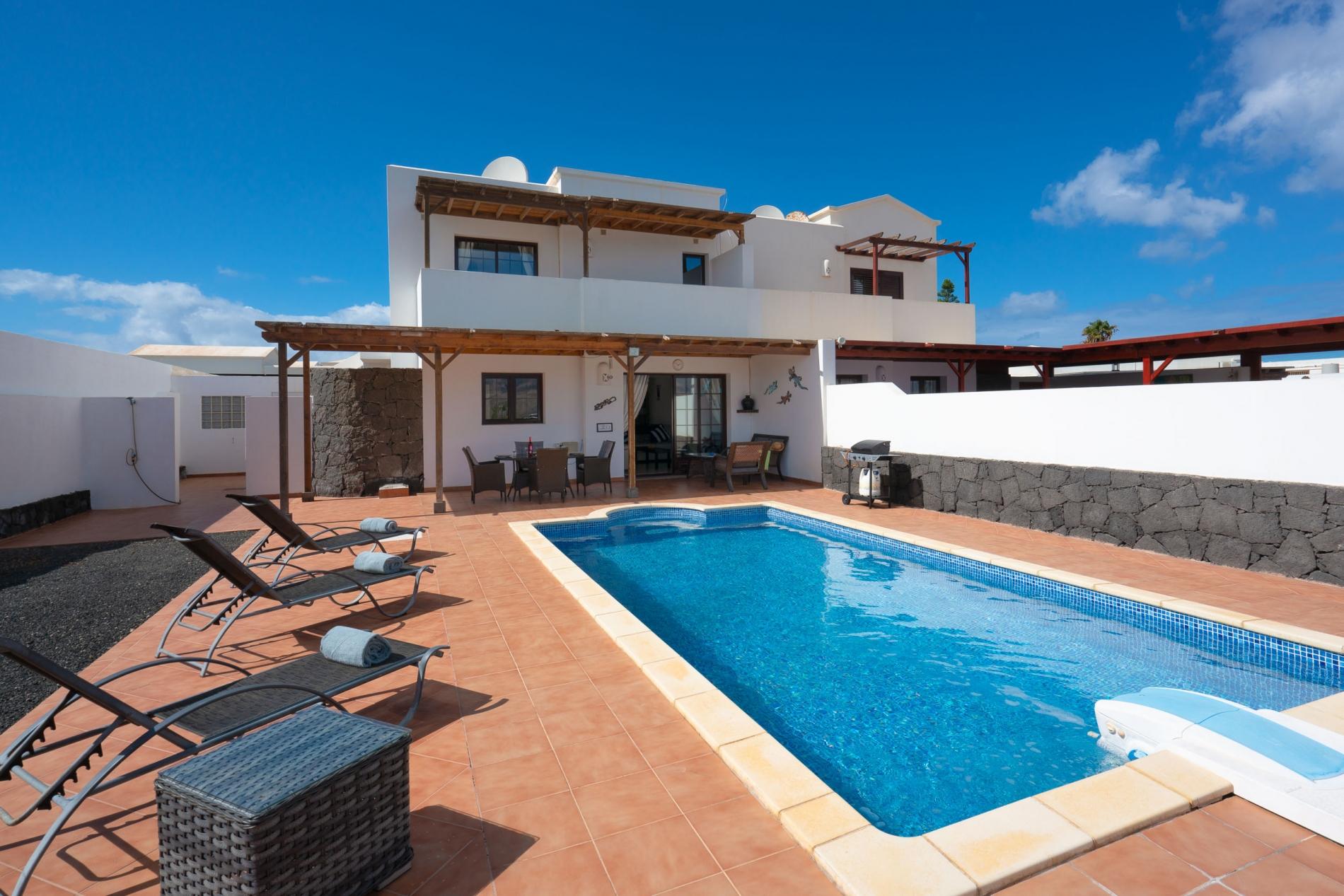 Overview
Just a short walk from the centre of Playa Blanca's resort, you'll find Casa Minstrel – a welcoming 3 bedroom villa located on a quiet cul-de-sac.
Sleeping up to 7 guests in comfort, Casa Minstrel features 2 twin bedrooms and a double bedroom, one of which includes an ensuite and private balcony – while an additional family bathroom is shared between the other 2. Thanks to several single beds, this villa offers flexible sleeping arrangements to suit both families and groups of friends holidaying together. All bedrooms feature coin-operated air conditioning, ensuring a cool and comfortable night's sleep – even on hot and humid summer evenings.
Elsewhere indoors, you'll find a light and airy open-plan lounge and dining room, as well as a modern and stylish kitchen – offering plenty of space for entertaining and dining indoors.
Casa Minstrel's large Canarian garden, sun terrace and pool have a real 'wow' factor and are accessible through the living room's patio doors. Outside, the spacious tiled sun deck ensures there's plenty of room to spread out on the comfortable loungers around the private swimming pool.
Behind the pool sits the pretty landscaped garden, offering a peaceful area to relax and read a book. Immediately outside the villa's doors, you'll find a shaded veranda, with comfortable patio furniture and an al fresco dining area – so you can eat and relax outdoors well into the evening.
As well as Casa Minstrel, we have 2 additional villas on the same complex – which can be booked together for larger groups of up to 18 guests!

Flat screen TV with basic TV channels, DVD player, PS3, doors to pool terrace

Microwave, oven, hob, dishwasher, fridge/freezer, washing machine

Twin beds, walk-in wardrobe, private balcony, ensuite bathroom, coin operated air con

Walk in shower area, WC and single wash basin.

Double bed, double wardrobes shares family bathroom, coin operated air con

Three twin beds, double wardrobes shares family bathroom, coin operated air con

Shower cubicle, WC and single washbasin
The facilities at Casa Minstrel were brilliant

Posted to Tripadvisor, April 2019

"This was our first time to Lanzarote and the kids are already talking about going back next year. The facilities at Casa Minstrel were brilliant, from all you need in the kitchen to amazing showers. We all loved the swimming pool and views of the mountains were lovely from sitting around the poolside. It was so relaxing both outside and outside the villa. The walk to the centre was fine, although we did take a few taxis back as they were under 4 euros. Definitely would visit again. "
Fantastic holiday

Hazel, November 2018

"We had a fantastic holiday in Casa Minstrel. The villa was fabulous very clean and well maintained. The outside area was also well maintained. The welcome pack was great with everything you need for your first few days. We had a couple of very minor issues when we contacted customer services on both occasions someone was there within the hour and resolved the issues. This is the second time we have used Optima Villas and we will definitely be back next year. "
Very nice

Posted to Facebook, November 2018

"The properties are very nice and are as described. There is lots of information on the website to help you choose the best property for your needs. Optima villas are easy to contact, via email, telephone or online through the website. The best thing about this company is that if you should have a problem during your stay, they are extremely quick to respond and fix any problems you might have. This is so important and gives you complete peace of mind "
Fantastic villa

Posted to Tripadvisor, November 2018

"We stayed here for 10 days in November and had a fabulous time. The villa is lovely Optima Villas who we booked it through leave a welcome pack with all sorts in coffee tea milk pizza etc plus a bottle of wine! We did have a couple of small issues which Optima sorted out within an hour on both occasions. We opted for the pool to be heated and it was fabulous. It is about a 20 minute walk down to the front and we used to get a taxi back which is about 4 and half euros. Second time we have used optima and will definitely book with them again. "
Wonderful time

Paula, April 2018

"We had a wonderful time both at Casa Minstrel and in Playa Blanca. The villa was in a great position for walking into Playa Blanca and it had everything we needed for our holiday. The swimming pool was fantastic. It was also spotlessly clean, which is very important to us. We will be visiting Playa Blanca again and will definitely be booking with Optima Villas. "
Very nice stay

James, March 2018

"Very nice stay. Optima staff were helpful and friendly. The Villa was clean and tidy and contained all amenities required. Fairly priced. "
Would definitely come back to stay

October 2017

"Clean comfortable home, Would definitely come back to stay "
Additional Information
A 20% deposit is required to secure your booking with the balance payable 30 days before your arrival. Reservations under 30 days from the date of arrival must be paid in full.
We accept card payments and there is no commission for payments on credit card. You will be contacted by email shortly after your reservation regarding payment options.
Prices shown in the price guide are for the villa itself regardless of the number of guests, they are subject to change with individual circumstances – to obtain a total price, please use the calendar to select your arrival and departure dates.
An infant is classed as a child using a cot.
14 December 2019 – 22 December 2019
£165.00
23 December 2019 – 05 January 2020
£165.00
06 January 2020 – 07 February 2020
£125.00
08 February 2020 – 23 February 2020
£165.00
24 February 2020 – 27 March 2020
£125.00
28 March 2020 – 19 April 2020
£225.00
20 April 2020 – 22 May 2020
£125.00
23 May 2020 – 31 May 2020
£165.00
01 June 2020 – 30 June 2020
£115.00
01 July 2020 – 17 July 2020
£155.00
18 July 2020 – 30 August 2020
£270.00
31 August 2020 – 16 October 2020
£155.00
17 October 2020 – 01 November 2020
£215.00
02 November 2020 – 18 December 2020
£125.00
19 December 2020 – 25 December 2020
£280.00
26 December 2020 – 03 January 2021
£280.00
04 January 2021 – 05 February 2021
£125.00
06 February 2021 – 28 February 2021
£165.00
01 March 2021 – 26 March 2021
£125.00
27 March 2021 – 11 April 2021
£225.00
12 April 2021 – 30 April 2021
£125.00
01 May 2021 – 09 May 2021
£165.00
10 May 2021 – 21 May 2021
£125.00
22 May 2021 – 30 May 2021
£165.00
31 May 2021 – 30 June 2021
£115.00
01 July 2021 – 16 July 2021
£155.00
17 July 2021 – 05 September 2021
£270.00
06 September 2021 – 15 October 2021
£155.00
16 October 2021 – 31 October 2021
£215.00
01 November 2021 – 17 December 2021
£125.00
18 December 2021 – 09 January 2022
£280.00