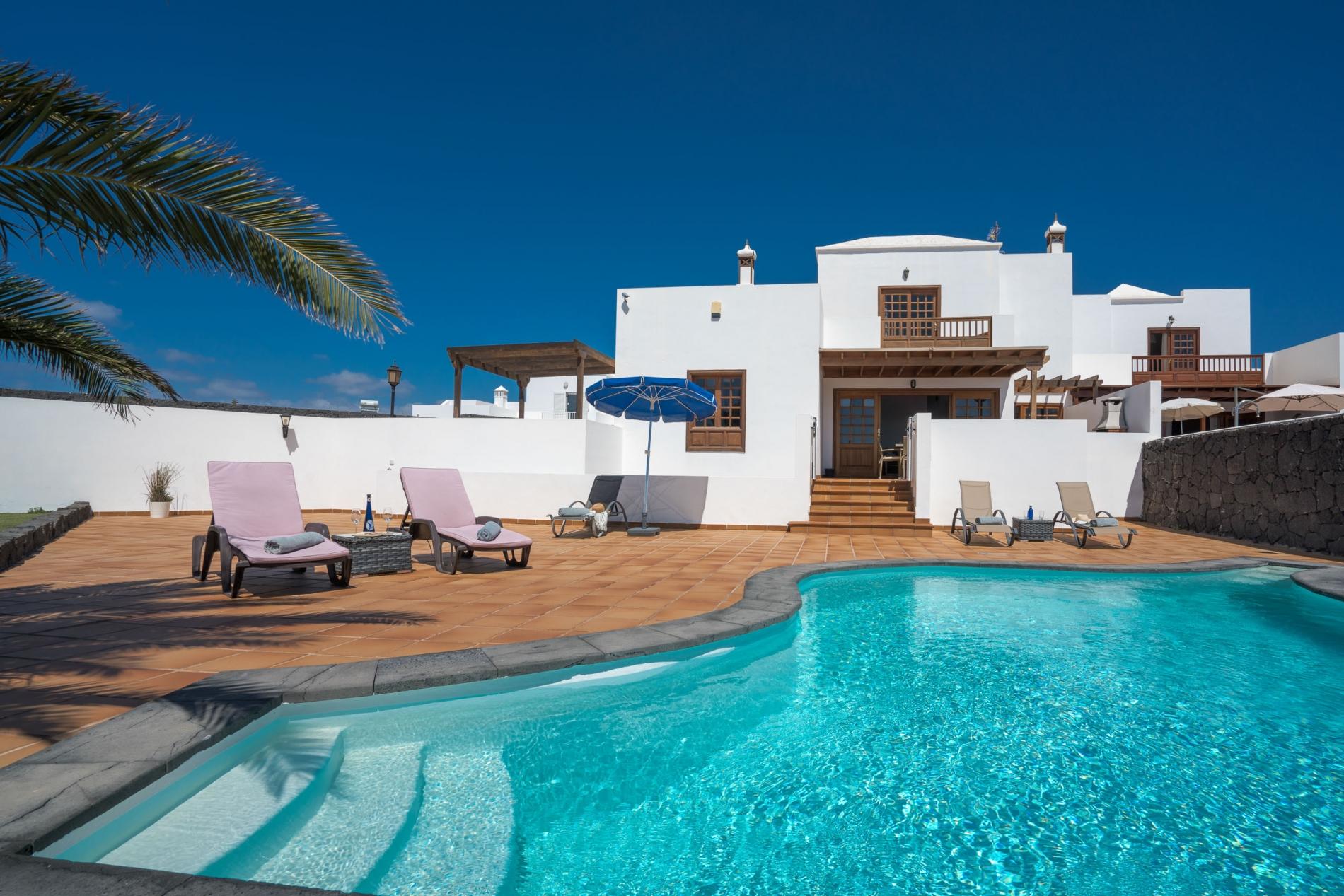 Overview
Casa Maza benefits from a tranquil and private position, on the end of a cul-de-sac with very little traffic – giving you peace of mind if travelling with younger children.
This large 3 storey villa sleeps up to 8 guests across 4 bedrooms – making it a perfect choice for larger families or holidays with friends, without ever feeling cramped.
The top floor is occupied by the master bedroom, a double featuring an ensuite, while an additional 2 double rooms and a twin room – as well as 2 shared bathrooms – are spread across the middle and lower floors. The top floor also benefits from a large roof terrace which overlooks the pool and garden below.
Elsewhere inside the villa you'll find a dining area, well-equipped kitchen and 2 separate lounges – both with flat screen TVs and DVD players, making evenings in a breeze. The second lounge also features its own football table and a PS4 games console, giving kids and teenagers their own space to chill out.
Outside, the large tiled terrace offers plenty of space for sunbathing, with comfortable sun loungers to stretch out on around the free-form private swimming pool.
In between sunbathing, why not challenge your family and friends to a game of ping pong on the table tennis table situated in the villa's garden? The purpose built BBQ and al fresco dining area are also perfect for cooking and dining outdoors. Whether you want to relax poolside or keep active and entertained, you'll find it all and more at Casa Maza, Lanzarote.
Microwave, oven, hob, dishwasher, fridge/freezer, washing machine, breakfast bar

Flat screen TV with comprehensive UK and European TV channels, DVD player, loc ated on the middle floor, doors to open plan dining area on the terrace

Master Double bed, double wardrobes, doors to terrace, ensuite bathroom

Shower over bath, WC and washbasin.

Shower over bath, single washbasin WC, located opposite double room on middle floor

Sofa, flat screen TV, DVD player, located on ground floor access to stairs to the pool terrace

Double bed on middle floor, double wardrobes, bathroom opposite

Double bed, on ground floor double wardrobes shares family bathroom

Twin beds, on the lower floor double wardrobes shares family bathroom

Shower over bath, WC and washbasin
A lovely large villa

Debi, April 2019

"A lovely large villa with 3 double bedrooms and one smaller twin room (no window). Great for a large group. 2 lounges, loads of space both inside and out. Pool was great and big enough for a swim. Taxis good to get to the shops, beach and restaurants. Probably a 30 minute walk. Small supermarket in closest hotel which can be walked to in under 10 minutes using a short cut (not suitable for everyone as a small steep hill). Lots of day trips can be booked from this hotel too. Great company and perfect villa. "
What a fantastic Villa for a large family group!

December 2017

"What a fantastic Villa for a large family group! Everything we could want was there – lovely clean villa, fresh towels, plenty of space, fantastic pool, TV room for the kids and wall to wall sunshine! All just a 10 minute walk to the shops and restaurants. We booked Casa Maza for October half term and will defiantly be booking again for a week next year. A big thank you to the owners for thinking of everything to make our stay the perfect holiday! "
The villa smelt lovely , fresh and clean on entry and looked just as it did on the photos

Keeley, August 2017

"We stayed at the casa maza 4 bedroom villa in playa blanca , we arrived much earlier than check in time but were told if the villa was ready( which it was ) we could go ahead . The villa smelt lovely , fresh and clean on entry and looked just as it did on the photos , There were a few extra things we needed that the villa didn't have ( hair dryers ) and a mirror for one of the bedrooms , also we struggled to get the channels on the TV.I emailed optima villas and they responded instantly and the same day brought us a mirror and two brand new professional hair dryers 🙂 and an engineer to set up the TV, I was very impressed by the customer service from Damian and the extra mile optima villas went for us . The villa was very clean throughout and had a lovely big patio pool area and an Astro turfed area for the table tennis 🏓, we are big fans and played a lot. The kitchen was very well equipped ( like home from home ) microwave , washing machine , dishwasher , cooker and a large selection of all utensils , crockery etc , everything was like new .The beds were very comfortable with extra comfy pillows and duvets if needed . There is nothing I can say negative about the villa , we would highly recommend and will definitely be using optima villas in the future . This is our fourth time to playa blanca , it has everything for family's and couples and the most beautiful beach , it is a short walk into playa blanca , would take about 20 minutes but taxis are cheap and so is car hire if your confident enough to drive on the wrong side of the road . I hope you find this review helpful "
We absolutely loved our stay at Casa Masa

Jo, March 2017

"We absolutely loved our stay at Casa Masa. We've been back twice now and can't wait to return. It is a great place to go with friends. The house is spacious and well equipped including for entertaining children; the pool is beautiful; the area is peaceful and the house well located – within 5 minutes drive to Playa Blanca which has plenty of shops and restaurants, and equally close to some beautiful beaches. "
Very Nice

Sandra, February 2017

"Just arrived back from Playa Blanca and stayed at Caza Maza, this was very nice. The villa was modern, spacious and immaculate throughout and situated in a very quite cul-de-sac. A 20 minute walk took us to the Playa Dorada beach and to the restaurants and bars. The Optima Villas team were always helpful and prompt in replying to any questions that we needed answers to. We would definitely recommend Optima Villas to any of our family and friends. "
Very impressed

Stephen, March 2015

"Good afternoon, we recently stayed and wanted to write to say we were very impressed with the villa, and had a wonderful and relaxed holiday.rnWe would not hesitate to return with your company again this has been our second visit and we were not disappointed. Thank your team, the cleaners and the pool guy! We had a great break, and will hopefully be back again next year."
Additional Information
A 20% deposit is required to secure your booking with the balance payable 90 days before your arrival. Reservations under 90 days from the date of arrival must be paid in full.
We accept card payments and there is no commission for payments on credit card. You will be contacted by email shortly after your reservation regarding payment options.
Prices shown in the price guide are for the villa itself regardless of the number of guests, they are subject to change with individual circumstances – to obtain a total price, please use the calendar to select your arrival and departure dates.
An infant is classed as a child using a cot.
01 July 2020 – 17 July 2020
£185.00
18 July 2020 – 16 August 2020
£185.00
17 August 2020 – 30 August 2020
£140.00
31 August 2020 – 16 October 2020
£185.00
17 October 2020 – 01 November 2020
£240.00
02 November 2020 – 18 December 2020
£140.00
19 December 2020 – 25 December 2020
£300.00
26 December 2020 – 03 January 2021
£300.00
04 January 2021 – 05 February 2021
£140.00
06 February 2021 – 28 February 2021
£185.00
01 March 2021 – 26 March 2021
£140.00
27 March 2021 – 11 April 2021
£240.00
12 April 2021 – 30 April 2021
£140.00
01 May 2021 – 09 May 2021
£185.00
10 May 2021 – 21 May 2021
£140.00
22 May 2021 – 30 May 2021
£185.00
31 May 2021 – 30 June 2021
£140.00
01 July 2021 – 16 July 2021
£185.00
17 July 2021 – 05 September 2021
£300.00
06 September 2021 – 15 October 2021
£185.00
16 October 2021 – 31 October 2021
£240.00
01 November 2021 – 17 December 2021
£140.00
18 December 2021 – 09 January 2022
£300.00