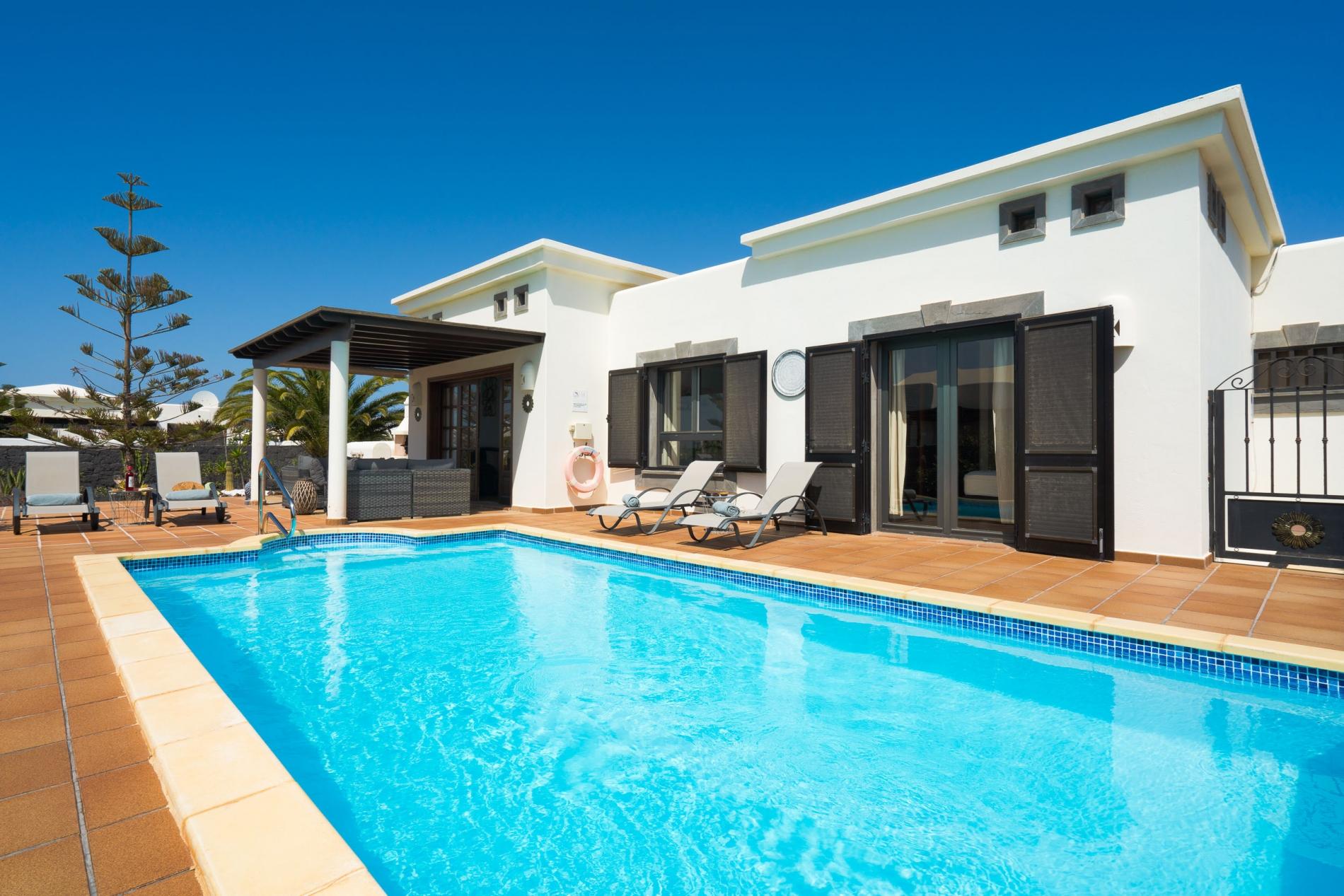 Overview
Nestled in the popular complex of La Goleta, Casa Lucanna offers a beautiful villa retreat situated on a private end plot. This newly refurbished villa offers luxury touches including marble flooring throughout.
With 2 bedrooms and 2 bathrooms, including a double room with an ensuite – and a twin room with access to a shared family bathroom – Villa Lucanna is ideally set up for families looking for a stylish villa escape. The master bedroom also features patio doors, so a morning swim is just a few steps away…
Head outside and you'll discover the villa's spectacular tiled sun terrace, pool and private gardens. The beautiful traditional Lanzarotean garden features lush palms, shrubs and cacti – and is the perfect place to unwind with a good book. Around the inviting waters of the swimming pool, you'll find ample sun loungers and a shaded al fresco dining area, as well as a purpose built outdoor BBQ – perfect for family meals and nights in.
For cooler evenings, the spacious lounge features high ceilings, giving the villa and light and airy feel – while the well-equipped kitchen makes easy work when it comes to mealtimes.
Situated to the west of Playa Blanca's lively centre, Villa Lucanna is just 15 minutes' walk from a nearby supermarket as well as local bars and restaurants – while the centre is reachable within an hour on foot along the seafront promenade. If you're feeling lazy, the handy resort shuttle bus stops 10 minutes away and offers easy access to all of the area's top sights – including Marina Rubicon, local beaches and shopping centres.
Microwave, oven, hob, dishwasher, fridge/freezer, doors to alfresco dining area. The washing machine is located in a utility room in between the kitchen and alfresco dining area.

Flat screen TV with comprehensive UK and European TV channels, Blu Ray DVD player with a selection of discs, Breakfast bar, doors to pool terrace, air conditioning

King Size bed, double wardrobes, doors to pool terrace, ensuite bathroom, air conditioning

Bath and shower over, WC and single washbasin

Twin beds, double wardrobes, air conditioning, sole use of family bathroom

Walk in Shower, WC and single washbasin
The Villa was superb

Liam, March 2019

"Stayed in villa Casa Lucanna in Montana Roja, booked through Optima Villas in February. The Villa was superb. I can't fault Optima. The booking process was easy and the communication before travelling was very good. We had a minor problem with the kettle not working and after contracting Optima it was replaced within a couple of hours. Would use them again. "
Wonderful Villa with everything you need

Posted to Tripadvisor, September 2018

"Just returned from a week at Casa Lucanna. Wonderful Villa with everything you need, one of the best I have stayed in. Furnishings inside and out very good standard, peaceful pool area. Service from Optima Villas when booking was also excellent. I would consider booking this villa again as we could not fault it in any way. Many thanks fro a great week. "
Thank you for helping us to have a thoroughly enjoyable holiday

Debbie, August 2018

"Our family of four, with daughters aged 15 and 12, had a fantastic stay at Casa Lucanna. The pictures accurately portray the villa, which was well presented, clean and spacious. In addition, the bathrooms and bedrooms had netting on the windows/doors/shutters helping to minimise the number of bugs/mosquitoes which was a pleasant surprise for me and one of my daughters as we always tend to get bitten. The beds were comfortable and there were plenty of pillows and towels available. We arrived in Lanzarote at 6:00pm, but given the size of the airport, having no checked in luggage and the comprehensive directions provided we were at the villa by 7:00pm after collecting our hire car (booked with Autoreisen for 120 Euros including ALL insurances, free additional driver, free child car seat (which we did not need) and no credit card deposit for 9 days!!). There was a welcome package at the villa as advertised which I had expected to be fairly simple; water, maybe a small snack and if we were lucky a bottle of wine. I'm not sure if it is tailored to suit specific arrival times, and the ages of those visiting, but in our case it was another pleasant surprise as there were a variety of snacks, water, wine cooling in the fridge, cereal and milk. There were even 2 pizzas in the freezer which we only found the next day. It was really appreciated. The wifi was very effective and the large smart TV included Sky sports and movies during our stay. We could find very little we would have wanted to change during our time other than the girls would have wanted air conditioning in their room at night but the fans provided were effective. My only suggestion, driven more by laziness than anything else, would be that as the villa is for 4 people it would have been useful to have 8 plates, knives, forks, bowls etc rather than having to wash some items each time when we did have meals. On a practical note, the cleaning items provided in the kitchen and the soap in the bathrooms were a nice touch as it can be irritating not to have these from the start of a holiday. We were in Lanzarote for 9 nights and had intended to stay at a hotel for the last couple of days of our holiday. However we decided we were enjoying our time at Casa Lucanna so much why go to a hotel for less space, to try and find four sunbeds together which would probably not be by the pool or have sufficient sun/shade when we had everything we needed where we were. I contacted Ana, luckily for us we were able to change our plans and extend our stay at the villa. I asked for fresh bed linen (towels were not needed as we still had plenty of clean ones) and cleaners were promptly sent around who changed the beds for us! We ate at H10 Rubicon Palace hotel (extensive buffet dinner inc certain drinks was 30 Euros p.p.) just up the road from the villa and at El Faro (Spanish) and Le Moka (British with bakery) in Faro Park and they were indeed only a 10 minute walk away. Sebastyan's (Greek) was a bit further to walk but worth it for the lovely sea view if you get one of the window tables. We ate at the Shanghai Wok (Chinese buffet dinner 10 Euros p.p. NOT inc drinks at that price!) and Isla Bonita (Spanish) in Playa Blanca. All the meals were very good and reasonably priced for what we had. The local supermarkets at Faro Park were not the cheapest, but were reasonably priced when compared to bigger supermarkets. Having a car allowed us to do a big shop when we were close to a Lidl in Puerto del Carmen where we had lunch and visited the beach. We did pay 6 Euros inc tip for taxis home at night from the centre of Playa Blanca, which was very reasonable. There are several supermarkets right in the centre where you can top up with essentials and bring back with you. We would have no problem in recommending Casa Lucanna for a peaceful, enjoyable holiday in a spacious, well presented 'home away from home' or Optimavillas as a company to deal with and look forward to staying again in the near future. "
The villa is immaculate

Casa Lucanna, August 2018

"Highly recommend Optima Villas. Great communication and so helpful. Casa Lucanna villa review; We have just enjoyed an amazing 2 week stay at the villa – wow it's just fabulous! Located in Faro Park it's only a short drive into the centre of Playa Blanca. The villa is in a safe and quiet gated community. There are some local shops and wonderful restaurants just a 5-10 minute walk away. We have visited Playa Blanca many times but this is the best villa we have stayed in. The villa is immaculate and beautifully decorated throughout. It has all the essentials and more, a real home from home. We particularly enjoyed the lovely outdoor area including the fantastic pool which our children lived in! Lots of space outside, very pretty, quiet and private. The outdoor equipment is wonderful with good quality furnishings which were very appreciated. All in all an exceptional villa and we highly recommend a stay here, we can't walt to return again. "
Stylish, well equipped plus exceptionally clean

Posted to Tripadvisor, July 2018

"We've stayed in many villas over the years in Playa Blanca & Casa Lucanna is amongst the best we have found. It is located in a very quiet gated street approx. 8 mins drive from the centre of Playa Blanca, but just a couple of minutes drive or 10 mins walk to the local shops & restaurants in Faro Park. The villa itself is stylish, well equipped plus exceptionally clean, The management company come twice a week to clean & also maintain the heated pool. Inside it has a wealth of features including aircon, a monitored alarm system & a strong wifi connection, plus a new TV which you can watch Netflix or Amazon on – great for the kids downtime. Outside is excellent for sunbathing, but the shaded area with comfy rattan furniture is equally good for avoiding the sun. If you enjoy diving, this villa is a 2 minute drive to the excellent Lanzarote Dive Colleg . We were really pleased with this villa & will definitely book again in the future "

"Beautiful villa, everything we could ask for and your attention to our dilemma with the faulty fuse box at 10.30 pm which would not reset and continued to pop out leaving us in dark with no electricity, was 10/10, a very nice engineer. Location was excellent, out from the hustle but close with a car. Perfect! Restaurants and people all very convivial. "
By far the best

Paul, March 2018

"We have stayed in many Villas in Playa Blanca but this is by far the best. Little touches like pool towells made a big difference. Everything was of good quality and communication with Optima was first class. "
The owners have thought of everything

Posted to Tripadvisor, February 2018

"The owners have thought of everything when re-furbishing this villa. There are great spaces to relax inside and out. A private pool to cool off in and shaded areas to dine and chill out in. There's a large screen TV with DVDs to keep yourself entertained in the evening and free WiFi too. There is a local bus service, but we felt a hire car was more convenient for getting around and to the local shops and amenities. If we ever return to Lanzarote, we wouldn't hesitate to check out Casa Lucanna again. "
Wonderful well equipped

Posted to Tripadvisor, January 2018

"We stayed a week in early Jan and what a wonderful well equipped villa this is. High ceilings enhancing sense of space indoors with comfy beds and living area. Multiple double doors to the outside, patio or pool area. Two bathrooms and powerful shower. Safe and easy to operate alarm with both WIFI and extensive TV service and sound system. Spacious outside too both pool and garden area, peaceful too. We spent time in the sun on comfortable loungers with towels provided, reading in the shaded seating area and playing cards,games or eating in the dining area which can feel inside or outside depending on the weather and use of a pull down canvas. Kitchen was well equipped and we tended to have breakfast/lunch at the villa using supplies from the nearby supermarkets – in the evenings we ate out sampling restaurants nearby in Faro park, Playa Blanca centre, the Marina and even further afield as Puerto del Carmen. All easy to get to on local buses. The walk along the seafront is also enjoyable from either direction. Looking forward to going back and taking others to experience it – would highly recommend Casa Lucanna as a great place to stay if you are visiting Lanzarote "

The best we've stayed in

Posted to Tripadvisor, January 2018

"Stayed for a week over the New Year. A beautiful villa, stylish, really well equipped – in fact, the best we've stayed in. Set in a quiet, private complex, with a fantastic pool and outside space for relaxing, dining and that all important barbecue! The pool area is the perfect setting to relax and recharge your batteries with all day sunshine. The outside dining area is shaded, perfect for that late, lazy lunch when you need a break from sunbathing! Your pool towels are provided so saves weight & space in your luggage. Inside the villa, there is a beautiful lounge area with tv and Bluetooth speaker, a kitchen with microwave, dishwasher and everything you need to make the most of the fresh, seasonal ingredients in sunny Playa Blanca. The main bedroom has its own ensuite and air conditioning. The twin bedroom has its own spacious bathroom. Both bedrooms have lots of storage space, hairdryers & towels are provided. With marble floors throughout, lovely furnishings and little touches that make you feel right at home this is the perfect villa for a relaxing holiday. Shops, bars and restaurants are easily accessible a short walk away, or you can venture into town using the regular local bus service or by car / taxi (5€). Highly recommended – you will love this villa, we do!! "
Additional Information
A 20% deposit is required to secure your booking with the balance payable 90 days before your arrival. Reservations under 90 days from the date of arrival must be paid in full.
We accept card payments and there is no commission for payments on credit card. You will be contacted by email shortly after your reservation regarding payment options.
Prices shown in the price guide are for the villa itself regardless of the number of guests, they are subject to change with individual circumstances – to obtain a total price, please use the calendar to select your arrival and departure dates.
An infant is classed as a child using a cot.
18 July 2020 – 16 August 2020
£130.00
17 August 2020 – 30 August 2020
£105.00
31 August 2020 – 16 October 2020
£130.00
17 October 2020 – 01 November 2020
£170.00
02 November 2020 – 18 December 2020
£105.00
19 December 2020 – 25 December 2020
£210.00
26 December 2020 – 03 January 2021
£210.00
04 January 2021 – 05 February 2021
£105.00
06 February 2021 – 28 February 2021
£130.00
01 March 2021 – 26 March 2021
£105.00
27 March 2021 – 11 April 2021
£170.00
12 April 2021 – 30 April 2021
£105.00
01 May 2021 – 09 May 2021
£130.00
10 May 2021 – 21 May 2021
£105.00
22 May 2021 – 30 May 2021
£130.00
31 May 2021 – 30 June 2021
£105.00
01 July 2021 – 16 July 2021
£130.00
17 July 2021 – 05 September 2021
£210.00
06 September 2021 – 15 October 2021
£130.00
16 October 2021 – 31 October 2021
£170.00
01 November 2021 – 17 December 2021
£105.00
18 December 2021 – 09 January 2022
£210.00