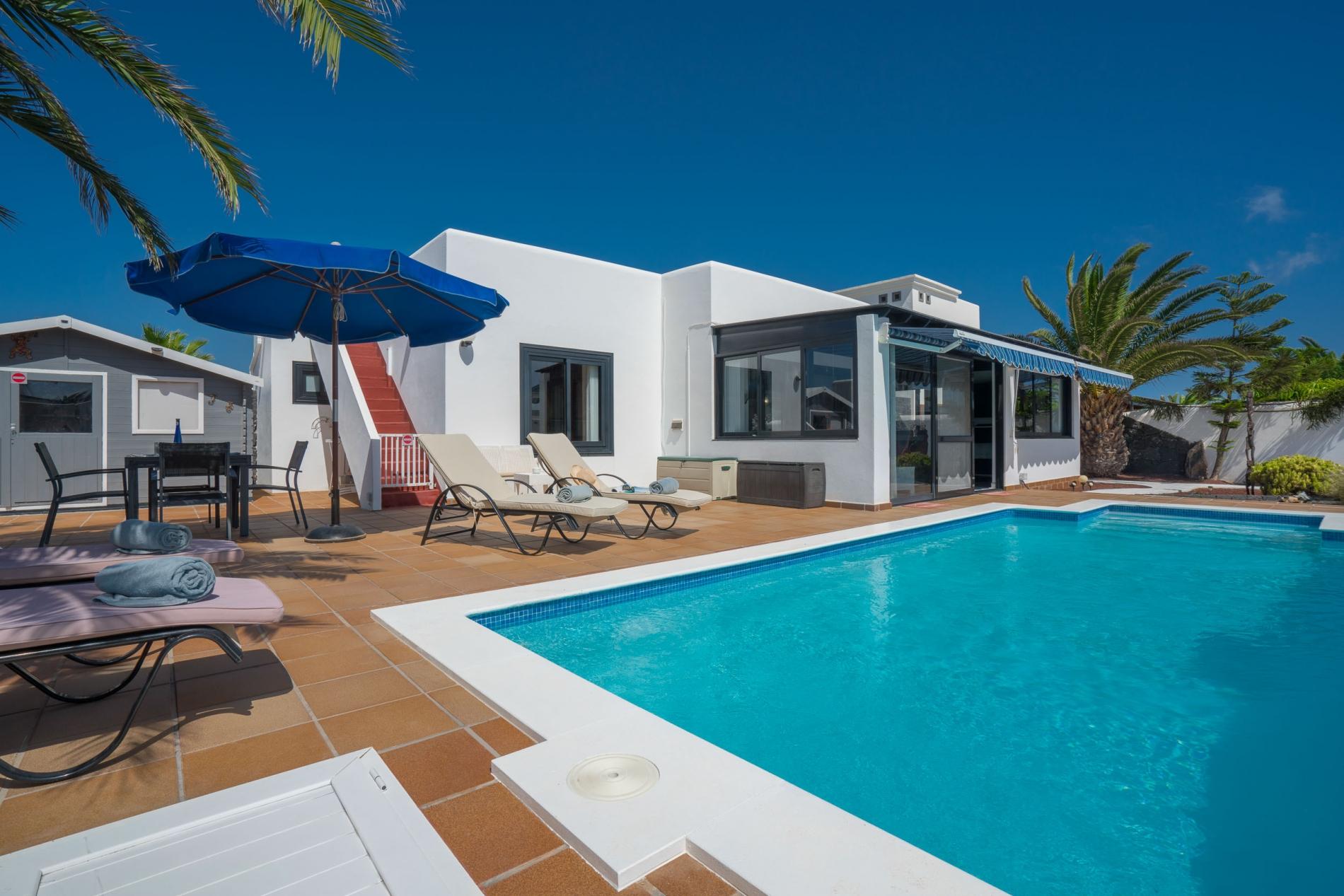 Overview
The fantastic Casa Furbo is located within the popular Faro Park area – set amongst a quiet cul-de-sac – and benefits from a spacious south-facing outside area and pool table. Within less than 10 minutes, guests will be met with the local bars, restaurants and shops of Faro Park – and a further 5 minute walk will bring you to the promenade.
Inside, the villa is spacious and bright, with a comfy seating and lounge area – as well as a large dining area. The villa sleeps up to 4 guests across 2 double bedrooms – both of which come with air conditioning – so it's the perfect property for a family holiday or a trip away with friends. The master bedroom features an ensuite, while the second double bedroom has sole use of the family bathroom. If prviacy is what you're looking for, this is the ideal setup.
Stepping outside, the villa has a private pool with a spacious sunbathing terrace, dining area and pool table. The comfy seating area is covered, but the glass doors open in full so guests can really make use of the space.
Heading out of the villa, you'll find a variety of restaurants and bars in nearby Faro Park, which is just a 5 minute walk away. With a beach 20 minutes away and a nearby shuttle bus operating a regular service 7 days a week, Casa Furbo is within easy reach of the best sights and attractions Playa Blanca has to offer.
Kettle, toaster, oven, fridge/freezer, coffee maker

Large TV with UK and European TV channels, doors to pool area

Double bed, ensuite bathroom, air conditioning

Double bed, sole use of family bathroom, air conditioning

Detached villa – comes with a safe, cots and high chairs available. Iron and hair dryer provided. Welcome pack of groceries provided. Beach towels provided
Casa Furbo

Anna, February 2020

"I just wanted to say thank you very much for a lovely stay at Casa Furbo last week! The villa was wonderful and we had everything we needed. Our 2 year old boy loved the pool too. It's always been an amazing experience for us staying at Optima Villas properties and we'll aim to be coming back as often as we can.

Thank you again, much appreciated."
Amazing Optima !

Mary, February 2020

¨I can honestly say that the service from Optima Villas was first class from beginning to end. Ana was the one we dealt with and she was fantastic with the booking and recommended who to book the transfer with even arranging a late check out for us which I should have done through their customer services.We found the lady straightaway in the airport who gave us the info needed to access the villa which is a small secure box on the wall outside with a four digit code and she also directed us to our transfer company . We couldn't get the electricity to work when we arrived and Ana had someone there within half an hour ,which we spent in the bar . Again it was not her responsibility to do this but Ana dealt with it after we emailed. She was fantastic. We stayed at Casa Furbo in Playa Blanca,Lanzarote and it is a beautiful villa , there was a welcome pack in the lovely modern kitchen which was a nice touch , and an informative folder about the villa .I needed a quiet relaxing break and it was in the perfect area with enough amenities if we wanted to stay but an easy walk into Playa Blanca if we wanted. We would definitely book with Optima Again and recommend them highly as everything was so easy.¨
Additional Information
A 20% deposit is required to secure your booking with the balance payable 90 days before your arrival. Reservations under 90 days from the date of arrival must be paid in full.
We accept card payments and there is no commission for payments on credit card. You will be contacted by email shortly after your reservation regarding payment options.
Prices shown in the price guide are for the villa itself regardless of the number of guests, they are subject to change with individual circumstances – to obtain a total price, please use the calendar to select your arrival and departure dates.
An infant is classed as a child using a cot.
18 July 2020 – 16 August 2020
£130.00
17 August 2020 – 30 August 2020
£105.00
31 August 2020 – 16 October 2020
£130.00
17 October 2020 – 01 November 2020
£170.00
02 November 2020 – 18 December 2020
£105.00
19 December 2020 – 25 December 2020
£210.00
26 December 2020 – 03 January 2021
£210.00
04 January 2021 – 05 February 2021
£105.00
06 February 2021 – 28 February 2021
£130.00
01 March 2021 – 26 March 2021
£105.00
27 March 2021 – 11 April 2021
£170.00
12 April 2021 – 30 April 2021
£105.00
01 May 2021 – 09 May 2021
£130.00
10 May 2021 – 21 May 2021
£105.00
22 May 2021 – 30 May 2021
£130.00
31 May 2021 – 30 June 2021
£105.00
01 July 2021 – 16 July 2021
£130.00
17 July 2021 – 05 September 2021
£210.00
06 September 2021 – 15 October 2021
£130.00
16 October 2021 – 31 October 2021
£170.00
01 November 2021 – 17 December 2021
£105.00
18 December 2021 – 09 January 2022
£210.00