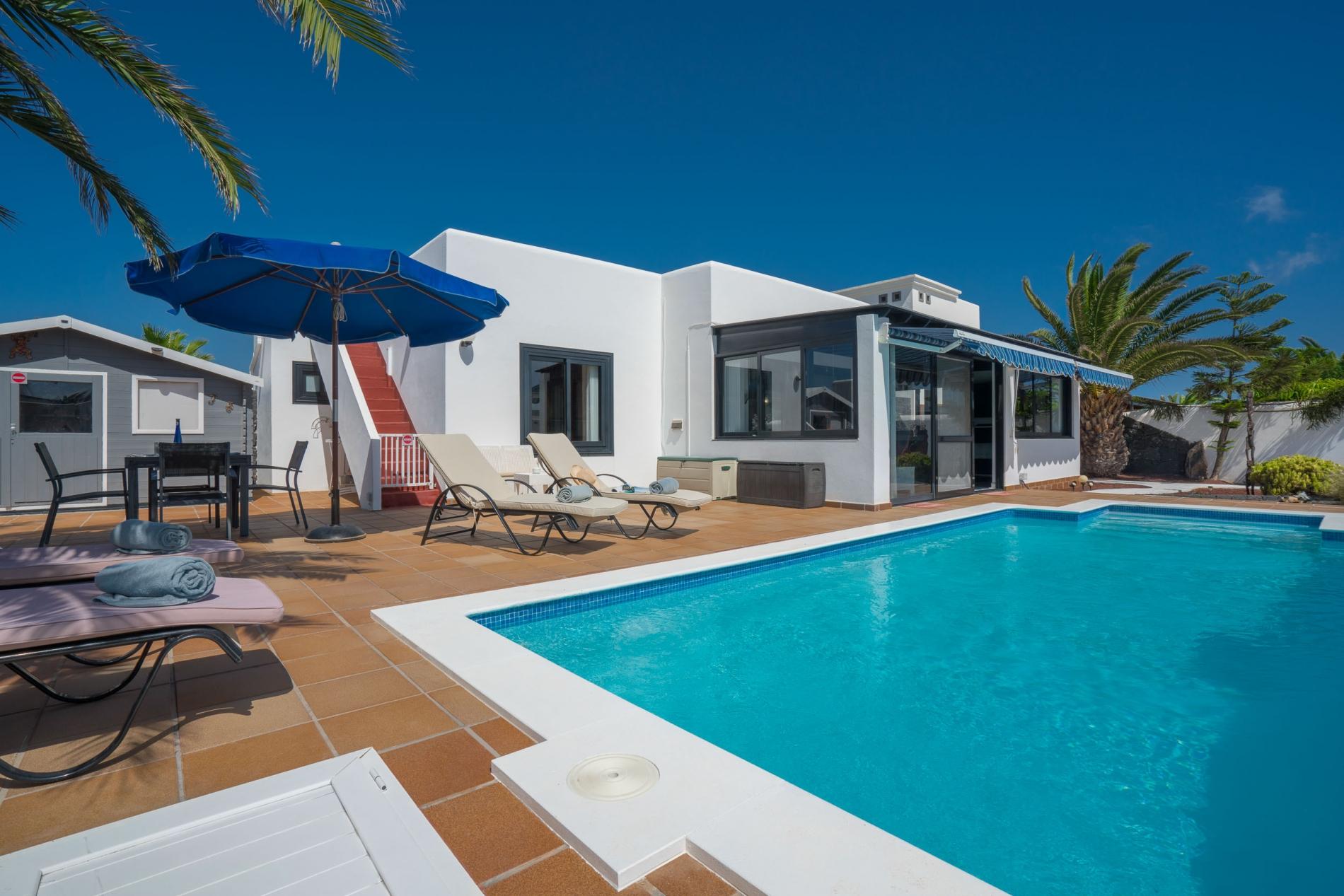 Overview
The fantastic Casa Furbo is located within the popular Faro Park area – set amongst a quiet cul-de-sac – and benefits from a spacious south-facing outside area and pool table. Within less than 10 minutes, guests will be met with the local bars, restaurants and shops of Faro Park – and a further 5 minute walk will bring you to the promenade.
Inside, the villa is spacious and bright, with a comfy seating and lounge area – as well as a large dining area. The villa sleeps up to 4 guests across 2 double bedrooms – both of which come with air conditioning – so it's the perfect property for a family holiday or a trip away with friends. The master bedroom features an ensuite, while the second double bedroom has sole use of the family bathroom. If prviacy is what you're looking for, this is the ideal setup.
Stepping outside, the villa has a private pool with a spacious sunbathing terrace, dining area and pool table. The comfy seating area is covered, but the glass doors open in full so guests can really make use of the space.
Heading out of the villa, you'll find a variety of restaurants and bars in nearby Faro Park, which is just a 5 minute walk away. With a beach 20 minutes away and a nearby shuttle bus operating a regular service 7 days a week, Casa Furbo is within easy reach of the best sights and attractions Playa Blanca has to offer.
Additional Information
A 20% deposit is required to secure your booking with the balance payable 30 days before your arrival. Reservations under 30 days from the date of arrival must be paid in full.
We accept card payments and there is no commission for payments on credit card. You will be contacted by email shortly after your reservation regarding payment options.
Prices shown in the price guide are for the villa itself regardless of the number of guests, they are subject to change with individual circumstances – to obtain a total price, please use the calendar to select your arrival and departure dates.
An infant is classed as a child using a cot.
14 December 2019 – 22 December 2019
£140.00
23 December 2019 – 05 January 2020
£140.00
06 January 2020 – 07 February 2020
£105.00
08 February 2020 – 23 February 2020
£140.00
24 February 2020 – 27 March 2020
£105.00
28 March 2020 – 19 April 2020
£190.00
20 April 2020 – 22 May 2020
£105.00
23 May 2020 – 31 May 2020
£130.00
01 June 2020 – 30 June 2020
£95.00
01 July 2020 – 17 July 2020
£130.00
18 July 2020 – 30 August 2020
£225.00
31 August 2020 – 16 October 2020
£130.00
17 October 2020 – 01 November 2020
£180.00
02 November 2020 – 18 December 2020
£105.00
19 December 2020 – 25 December 2020
£235.00
26 December 2020 – 03 January 2021
£235.00
04 January 2021 – 05 February 2021
£105.00
06 February 2021 – 28 February 2021
£140.00
01 March 2021 – 26 March 2021
£105.00
27 March 2021 – 11 April 2021
£180.00
12 April 2021 – 30 April 2021
£105.00
01 May 2021 – 09 May 2021
£140.00
10 May 2021 – 21 May 2021
£105.00
22 May 2021 – 30 May 2021
£140.00
31 May 2021 – 30 June 2021
£95.00
01 July 2021 – 16 July 2021
£130.00
17 July 2021 – 05 September 2021
£225.00
06 September 2021 – 15 October 2021
£130.00
16 October 2021 – 31 October 2021
£170.00
01 November 2021 – 17 December 2021
£105.00
18 December 2021 – 09 January 2022
£235.00