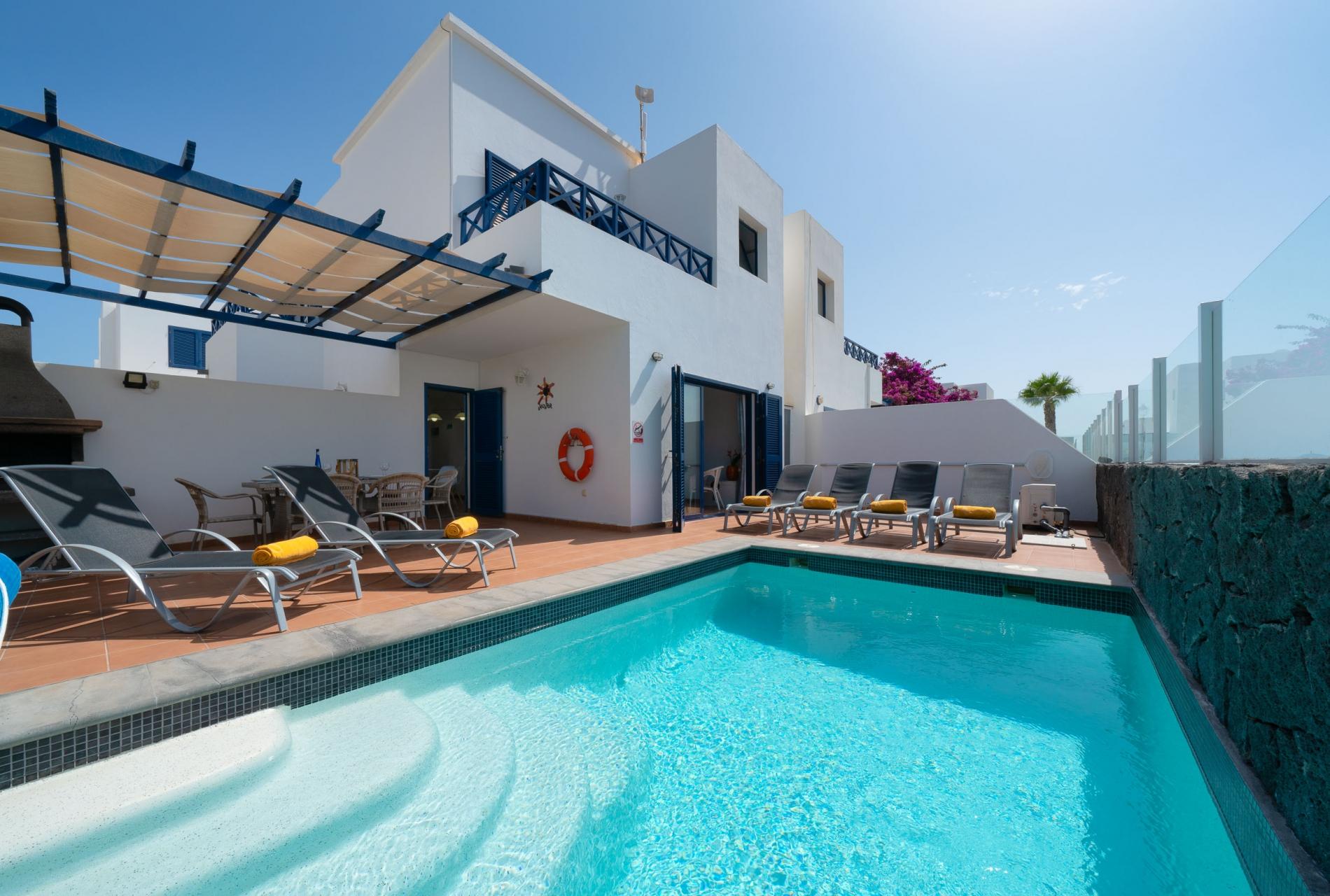 Overview
Located just minutes from the sights and sounds of stylish Marina Rubicon, Casa Cortine is a great choice if you don't want to worry about hiring a car on your next villa holiday in Lanzarote. You'll find a handy supermarket at the end of the road, while the Marina Rubicon area is just a 15 minute stroll along the seafront promenade.
This 3 bedroom, 2 bathroom villa sleeps up to 6 in comfort – offering a double and 2 twin rooms. The master bedroom also features an ensuite bathroom and private balcony, making Casa Cortine an ideal choice for families. As well as comfortable bedrooms, the villa also offers a light and airy open-plan living and dining area, a well-equipped kitchen and an additional WC.
Outside you'll find Casa Cortine's beautiful terrace, centred around a 5×3 metre swimming pool. The terrace offers the perfect surroundings to make the most of the beautiful Lanzarotean weather, where you can take refreshing dips between sunbathing.
When it comes to meals, the shaded outdoor dining area is the perfect spot for al fresco eating. It even features its own Canarian-style BBQ, so you can cook outside, too. The villa offers beautiful mountain and sea views from its sun deck, while its west-facing orientation guarantees spectacular sunsets during dinner.
Flat screen TV with comprehensive UK & European channels, DVD player with a selection of discs, doors to pool terrace

Microwave, oven, hob, dishwasher, fridge/freezer, washing machine, coffee maker

Located on upper floor Double bed, double wardrobes, doors to balcony, ensuite bathroom

Walk in Shower, WC and twin washbasin.

Located on the upper floor. Twin beds, double wardrobes, doors to balcony, shares family bathroom.

Twin beds, wardrobe, located on lower floor. Shares family bathroom

Located on the upper floor Bath and shower over, WC and single washbasin.

WC and washbasin located on ground floor
Lovely Villa

Posted to Airbnb, February 2019

"Casa Cortine is a lovely Villa and we enjoyed staying there for a relaxed sunny break. It's really well located. Just a few mins walk from a supermarket and an easy stroll to the coast and marina. Papagayo beaches were also great and nearby. We chose to drive but you could also walk over if you wanted to. The villa itself is spacious and well equipped. The heated pool and outside space was also great for relaxing in. Nice to have the view out to the sea and some lovely sunsets. "
Very good standard

Steve, August 2018

"Just a quick word of thanks for your excellent customer service at every stage of our holiday. We stayed at Casa Cortine, which was of a very good standard and provided all we required for a brilliant relaxing holiday. The location is superb with both the Marina only a pleasant 15 minute stroll and the natural beaches in a 20 minute walk. The couple of small super markets at the end of the road were extremely convenient. This is the second time we have visited Playa Blanca and will definitely be in contact with Optima Villas when we return in the future. Thanks again for ensuring our stay was pleasant and relaxing. "
We found Casa Cortine very nice indeed, spotlessly clean. It was fitted out by someone with clearly very good taste and an eye to quality

Derek, February 2017

"We found Casa Cortine very nice indeed, spotlessly clean. It was fitted out by someone with clearly very good taste and an eye to quality. As we are the wrong side of 70, our days of pubbing, clubbing and living the high life are limited. We just have our memories which give us the same amount of enjoyment ,without getting out of breath. So the sky TV package was very welcome. I hope future clients continue to treat the property with the care and respect it deserves."
Great location, a minute from a good supermarket and 10 minutes from shops and restaurants in Marina Rubicon

Max, January 2017

"Great location, a minute from a good supermarket and 10 minutes from shops and restaurants in Marina Rubicon. The villa was immaculate; the pool was cleaned twice in the week we were there. Fully equipped with everything you could need including an abundance of towels and beach towels. Optima Villas office is in Playa Blanca, which gives peace of mind; real people to speak to in case of any query. They checked in with me by email before the visit to check everything was OK. They helped me with advice over the phone when a member of our party was taken ill. Would recommend Optima Villas a good company to deal with "
Very professional service

Stephen M, December 2016

"The villa was really well equipped, spotlessly clean, and tastefully decorated and furnished. The outdoor area was a little bit smaller than we envisaged, but nice enough. The location is good for exploring the south of the island, and is in a quiet location away from the busier areas. You can walk to the Papagayo beaches in around 20-30 minutes, and walk to the Rubicon Marina in about 15 minutes. Convenient supermarket 2 minutes walk away. The owners had left a very informative welcome pack, and as cat lovers we appreciated the information on the local animal welfare charity. Damion was really prompt and helpful in sorting out a few initial issues, so please pass on our thanks to him for that and the extra birthday treat! And thanks to the Optima staff for a very professional service."
We were impressed with the level of service

Simon F, August 2016

"We had a lovely time at the villa. The optima team were very helpful and we were impressed with the level of service. We will recommend your company to our friends and family in the future. "
Additional Information
A 20% deposit is required to secure your booking with the balance payable 90 days before your arrival. Reservations under 90 days from the date of arrival must be paid in full.
We accept card payments and there is no commission for payments on credit card. You will be contacted by email shortly after your reservation regarding payment options.
Prices shown in the price guide are for the villa itself regardless of the number of guests, they are subject to change with individual circumstances – to obtain a total price, please use the calendar to select your arrival and departure dates.
An infant is classed as a child using a cot.
18 July 2020 – 16 August 2020
£140.00
17 August 2020 – 30 August 2020
£110.00
31 August 2020 – 16 October 2020
£140.00
17 October 2020 – 01 November 2020
£180.00
02 November 2020 – 18 December 2020
£110.00
19 December 2020 – 25 December 2020
£230.00
26 December 2020 – 03 January 2021
£230.00
04 January 2021 – 05 February 2021
£110.00
06 February 2021 – 28 February 2021
£140.00
01 March 2021 – 26 March 2021
£110.00
27 March 2021 – 11 April 2021
£180.00
12 April 2021 – 30 April 2021
£110.00
01 May 2021 – 09 May 2021
£140.00
10 May 2021 – 21 May 2021
£110.00
22 May 2021 – 30 May 2021
£140.00
31 May 2021 – 30 June 2021
£110.00
01 July 2021 – 16 July 2021
£140.00
17 July 2021 – 05 September 2021
£230.00
06 September 2021 – 15 October 2021
£140.00
16 October 2021 – 31 October 2021
£180.00
01 November 2021 – 17 December 2021
£110.00
18 December 2021 – 09 January 2022
£230.00