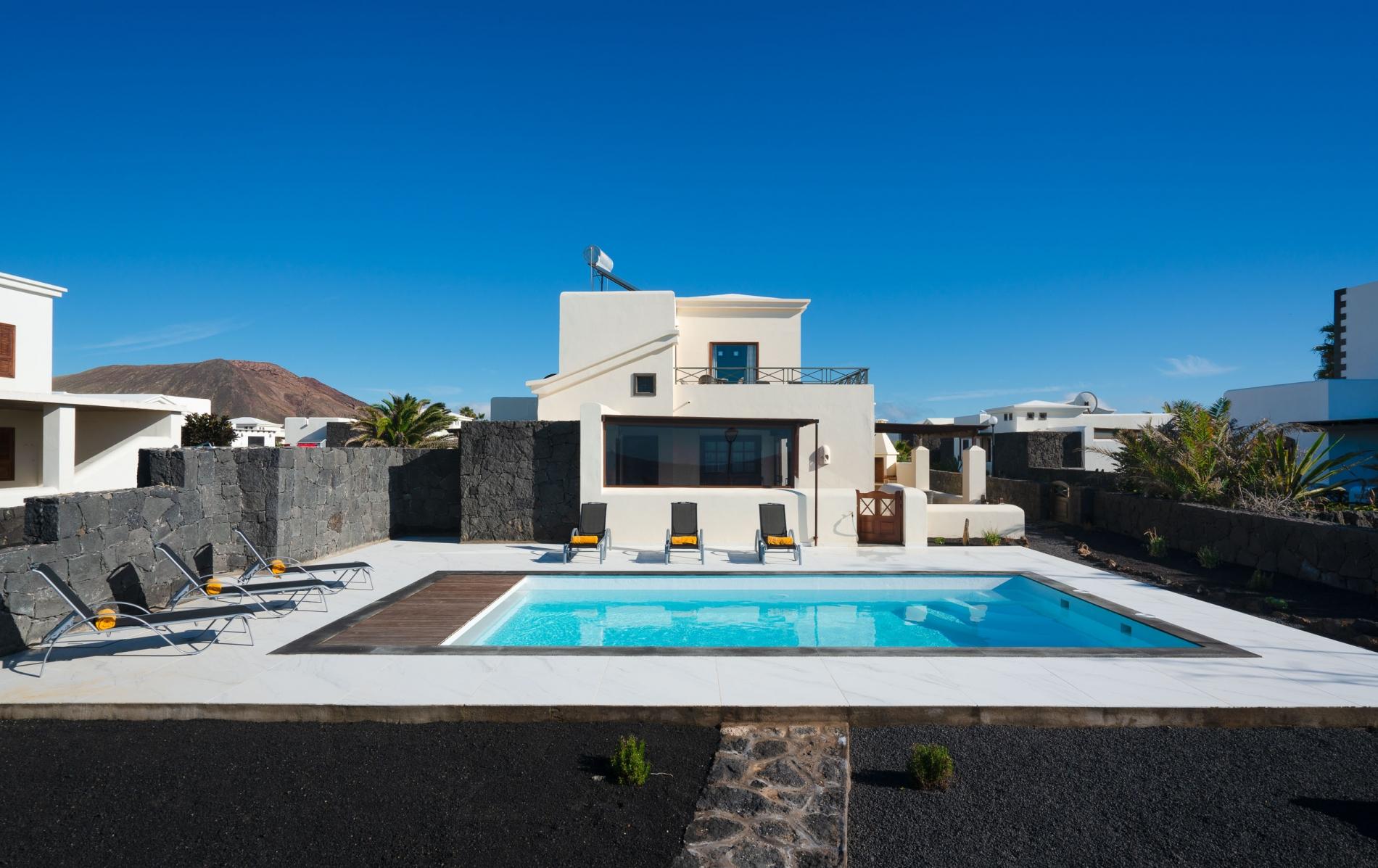 Overview
Meet Casa Corfe – a stunning 3 bedroom villa in Playa Blanca. With a beautiful garden that boasts panoramic sea views and direct access to the main boulevard that leads you to Faro Park, this villa delivers on both location and aesthetics.
With air-conditioning throughout, the interior provides a light, airy and contemporary feel. On the ground floor, you'll find a comfortable living room with a corner sofa and a flat screen TV that has access to both UK and European channels – perfect for indoor chill time. You'll also find a well-equipped kitchen with all the mod-cons you need during your stay. A double and twin bedroom share a family bathroom, while up the spiral staircase is the impressive master bedroom – which features an ensuite bathroom and a secluded sunbathing area with breathtaking views.
Outside, the property provides ample space for everyone to relax. With its newly installed private pool and sun loungers, you can lie back and soak up the sun with a view out to sea. To escape the midday sun, choose from two shaded seated areas – a covered al fresco dining area that leads out from the kitchen or the spacious barbecue terrace that can be accessed via the French doors from the living room.
If you fancy venturing out, Casa Corfe is wonderfully situated, with Faro Park just 10 minutes' walk away along the promenade that can be accessed from the garden. Here you'll find an array of restaurants, bars and shops, but if you want to explore a little further, a short drive to the east will bring you to the main resort of Playa Blanca.
Flat screen TV with some English Channels, air conditioning, DVD player, access to open plan kitchen, doors to pool terrace

Microwave, oven, hob, dishwasher, fridge/freezer, washing machine

Double bed, air conditioning, double wardrobes, ensuite bathroom, private sunbathing balcony

Walk in shower, WC and washbasin

Double bed, air conditioning, double wardrobes, shares family bathroom

Twin beds, air conditioning, double wardrobes, shares family bathroom

With shower over bath, WC and washbasin
Exzellenter Service

Jürgen, March 2019

"Tolles Haus und exzellenter Service Das Haus hat unsere Erwartungen voll erfüllt; die Ausstattung stimmt in allen Punkten mit der Beschreibung überein. Der Service von Optima Villas war außergewöhnlich: schnell, zuverlässig und kompetent. Die Reaktionszeiten bei kleineren Anliegen beispielhaft. So stellt man sich Urlaub und Service vor. "
Additional Information
A 20% deposit is required to secure your booking with the balance payable 30 days before your arrival. Reservations under 30 days from the date of arrival must be paid in full.
We accept card payments and there is no commission for payments on credit card. You will be contacted by email shortly after your reservation regarding payment options.
Prices shown in the price guide are for the villa itself regardless of the number of guests, they are subject to change with individual circumstances – to obtain a total price, please use the calendar to select your arrival and departure dates.
An infant is classed as a child using a cot.
14 December 2019 – 22 December 2019
£180.00
23 December 2019 – 05 January 2020
£180.00
06 January 2020 – 07 February 2020
£135.00
08 February 2020 – 23 February 2020
£180.00
24 February 2020 – 27 March 2020
£135.00
28 March 2020 – 19 April 2020
£245.00
20 April 2020 – 22 May 2020
£135.00
23 May 2020 – 31 May 2020
£180.00
01 June 2020 – 30 June 2020
£125.00
01 July 2020 – 17 July 2020
£170.00
18 July 2020 – 30 August 2020
£295.00
31 August 2020 – 16 October 2020
£170.00
17 October 2020 – 01 November 2020
£235.00
02 November 2020 – 18 December 2020
£135.00
19 December 2020 – 25 December 2020
£305.00
26 December 2020 – 03 January 2021
£305.00
04 January 2021 – 05 February 2021
£135.00
06 February 2021 – 28 February 2021
£180.00
01 March 2021 – 26 March 2021
£135.00
27 March 2021 – 11 April 2021
£245.00
12 April 2021 – 30 April 2021
£135.00
01 May 2021 – 09 May 2021
£180.00
10 May 2021 – 21 May 2021
£135.00
22 May 2021 – 30 May 2021
£180.00
31 May 2021 – 30 June 2021
£125.00
01 July 2021 – 16 July 2021
£170.00
17 July 2021 – 05 September 2021
£295.00
06 September 2021 – 15 October 2021
£170.00
16 October 2021 – 31 October 2021
£235.00
01 November 2021 – 17 December 2021
£135.00
18 December 2021 – 09 January 2022
£305.00