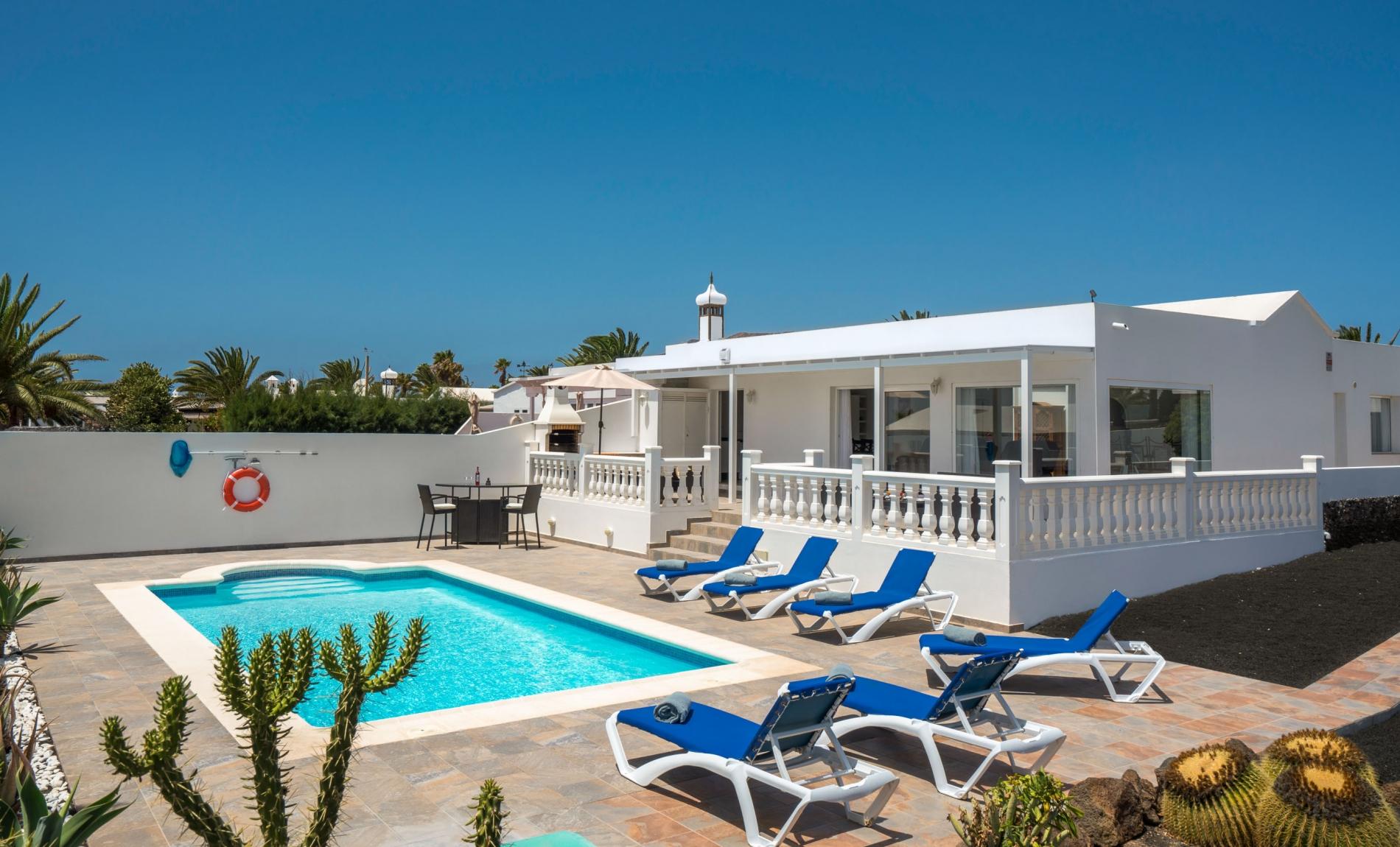 Overview
We're delighted to introduce the newest addition to Optima Villas, Casa Colleen! Thanks to its central location and proximity to Flamingo Beach and the town centre of Playa Blanca, this villa offers guests all the privacy they could want, while still being close to the action. The villa is situated in a peaceful location, but a 10-15 minute walk can see guests within the heart of the centre.
Casa Colleen sleeps up to 6 people, with the main villa benefitting from a master double bedroom with ensuite bathroom and a twin bedroom with sole use of the family bathroom. There's also a double bedroom, and this is situated in a separate studio adjacent to the villa. This studio comes equipped with its own kitchen, bathroom and lounge area – perfect for groups who want to holiday together but still enjoy privacy. All bedrooms have air conditioning units installed (coin meter).
The main villa is open plan with a dining area, lounge area and fully fitted kitchen, including filtered water taps, making it very spacious. From this area, you have stunning sea views over the Atlantic Ocean, meaning you can view all ferries coming and going to Fuerteventura – an ideal way to spend an afternoon!
Outside, Casa Colleen has a spacious pool area, which is perfect for those who want to enjoy a day in the villa bathing in the sun and soaking up the breathtaking sea views. The upper terrace has a lounge area with built-in barbecue and the lower terrace has a private pool with sunbathing terrace. For groups looking for a villa that's kitted with space and amenities but also offers privacy, Casa Colleen will not disappoint!
Kettle, toaster, oven, microwave, fridge/freezer, breakfast bar

Wall-mounted TV, open plan with doors to pool area

Double bed, ensuite bathroom, air conditioning

Twin beds, sole use of family bathroom, air conditioning

Studio – double bed, air conditioning

Semi-detached villa – comes with a safe, cots and high chairs available. Iron and hair dryer provided. Welcome pack of groceries provided. Beach towels provided. Studio comes equipped with its own kitchen, bathroom and lounge area
We had a very nice stay

Vanessa, Nov 2019

"We had a very nice stay in Casa Colleen at Playa Blanca! Everything was clean and we had more than enough towels, dishes, …etc. Always hot water in every bathroom. We were six people, but the house is so big and together with the little studio we had plenty of space! Thank you Optima Villa's and Casa Colleen! "
Additional Information
A 20% deposit is required to secure your booking with the balance payable 90 days before your arrival. Reservations under 90 days from the date of arrival must be paid in full.
We accept card payments and there is no commission for payments on credit card. You will be contacted by email shortly after your reservation regarding payment options.
Prices shown in the price guide are for the villa itself regardless of the number of guests, they are subject to change with individual circumstances – to obtain a total price, please use the calendar to select your arrival and departure dates.
An infant is classed as a child using a cot.
24 February 2020 – 03 April 2020
£140.00
04 April 2020 – 19 April 2020
£185.00
20 April 2020 – 22 May 2020
£140.00
23 May 2020 – 31 May 2020
£185.00
01 June 2020 – 30 June 2020
£140.00
01 July 2020 – 17 July 2020
£185.00
18 July 2020 – 30 August 2020
£300.00
31 August 2020 – 16 October 2020
£185.00
17 October 2020 – 01 November 2020
£240.00
02 November 2020 – 18 December 2020
£140.00
19 December 2020 – 25 December 2020
£300.00
26 December 2020 – 03 January 2021
£300.00
04 January 2021 – 05 February 2021
£140.00
06 February 2021 – 28 February 2021
£185.00
01 March 2021 – 26 March 2021
£140.00
27 March 2021 – 11 April 2021
£240.00
12 April 2021 – 30 April 2021
£140.00
01 May 2021 – 09 May 2021
£185.00
10 May 2021 – 21 May 2021
£140.00
22 May 2021 – 30 May 2021
£185.00
31 May 2021 – 30 June 2021
£140.00
01 July 2021 – 16 July 2021
£185.00
17 July 2021 – 05 September 2021
£300.00
06 September 2021 – 15 October 2021
£185.00
16 October 2021 – 31 October 2021
£240.00
01 November 2021 – 17 December 2021
£140.00
18 December 2021 – 09 January 2022
£300.00