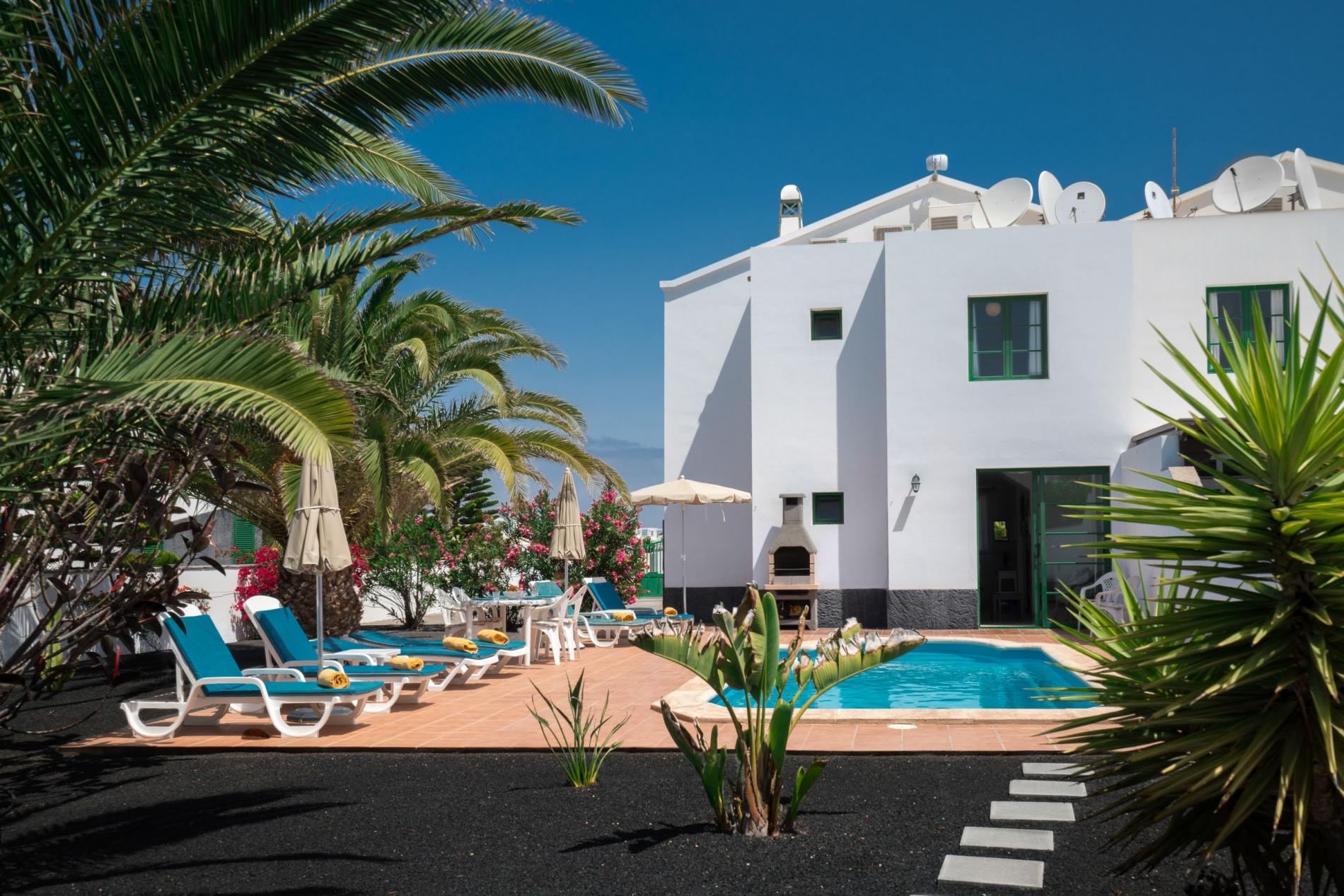 Overview
If location and comfort are top of your agenda, then Casa Bluebird, Lanzarote, is a great choice. Just 15 minutes' stroll from the centre of Playa Blanca, this fully air-conditioned villa is the perfect spot to chill out during your stay. While its location means you don't need to hire a car during your stay, should you wish to explore further afield, the villa also comes with handy off-road parking.
Sleeping 6 across 3 bedrooms, Casa Bluebird features 1 double and 2 twin rooms, making it an ideal option for families on holiday with children.
The open-plan lounge, dining area and kitchen include all the essentials you'll need for a comfortable night in, including a flat-screen TV and Wifi. The light and airy decor throughout give the villa a spacious feel, while the upstairs balcony is the ideal spot for a quiet evening drink or your morning coffee.
Heading outside, you'll find a large south-facing sun terrace and garden surrounding an inviting private swimming pool. The tiled terrace includes comfortable sun loungers, umbrellas and a table and chairs. So whether you're sunbathing poolside or enjoying an al fresco lunch, there's plenty of room for everyone to spread out and relax. In addition to the terrace, both the front and back of the villa feature a colourful established garden, full of native Canarian plants, adding to Casa Bluebird's idyllic setting.
Flat screen TV with some English and European Channels, DVD player with a selection of discs, CD player, dining area, doors to pool terrace. Air-conditioned

Microwave, oven, hob, dishwasher, fridge/freezer, washing machine, dining area

Double bed, double wardrobes, ensuite bathroom. Air-conditioned

Shower cubicle, WC and washbasin.

Twin beds, double wardrobes. Air-conditioned

Twin beds, double wardrobes. Air-conditioned

Shower cubicle, WC and single washbasin
Additional Information
A 20% deposit is required to secure your booking with the balance payable 30 days before your arrival. Reservations under 30 days from the date of arrival must be paid in full.
We accept card payments and there is no commission for payments on credit card. You will be contacted by email shortly after your reservation regarding payment options.
Prices shown in the price guide are for the villa itself regardless of the number of guests, they are subject to change with individual circumstances – to obtain a total price, please use the calendar to select your arrival and departure dates.
An infant is classed as a child using a cot.
14 December 2019 – 22 December 2019
£130.00
23 December 2019 – 05 January 2020
£130.00
06 January 2020 – 07 February 2020
£130.00
08 February 2020 – 23 February 2020
£130.00
24 February 2020 – 27 March 2020
£130.00
28 March 2020 – 19 April 2020
£180.00
20 April 2020 – 22 May 2020
£130.00
23 May 2020 – 31 May 2020
£130.00
01 June 2020 – 30 June 2020
£120.00
01 July 2020 – 17 July 2020
£120.00
18 July 2020 – 30 August 2020
£220.00
31 August 2020 – 16 October 2020
£120.00
17 October 2020 – 01 November 2020
£170.00
02 November 2020 – 18 December 2020
£130.00
19 December 2020 – 25 December 2020
£230.00
26 December 2020 – 03 January 2021
£230.00
04 January 2021 – 05 February 2021
£130.00
06 February 2021 – 28 February 2021
£130.00
01 March 2021 – 26 March 2021
£130.00
27 March 2021 – 11 April 2021
£180.00
12 April 2021 – 30 April 2021
£130.00
01 May 2021 – 09 May 2021
£130.00
10 May 2021 – 21 May 2021
£130.00
22 May 2021 – 30 May 2021
£130.00
31 May 2021 – 30 June 2021
£120.00
01 July 2021 – 16 July 2021
£120.00
17 July 2021 – 05 September 2021
£220.00
06 September 2021 – 15 October 2021
£120.00
16 October 2021 – 31 October 2021
£170.00
01 November 2021 – 17 December 2021
£130.00
18 December 2021 – 09 January 2022
£230.00