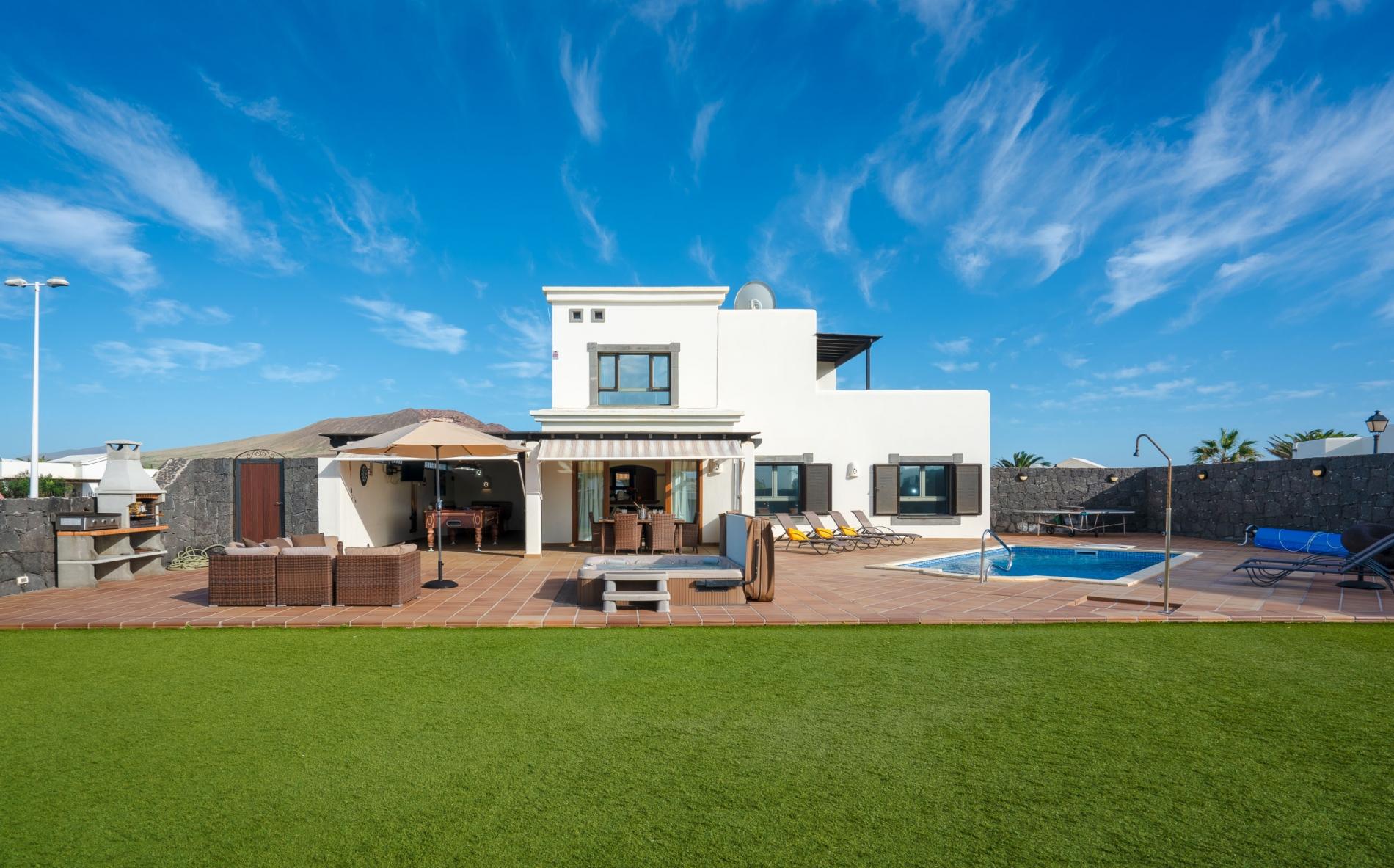 Overview
If you're looking for a spacious and comfortable 3 bedroom villa, just a stone's throw from the bars and restaurants of Faro Park, look no further than Casa Beluka.
Sleeping up to 6 guests across 3 bedrooms, Casa Beluka splits bedroom arrangements between 2 doubles and a twin room. The master bedroom even features its own ensuite and balcony with sea views, while the remaining 2 bedrooms share a family bathroom. This accommodating layout means that everyone is guaranteed to find their own corner of holiday heaven.
Downstairs you'll also find a spacious semi open-plan living room and kitchen area, with doors opening out onto the outdoor patio – as well as a dedicated games room, complete with a pool table for family evenings in.
Step outside and you'll discover Casa Beluka's spectacular sun terrace. The private swimming pool offers plenty of space for sun loungers, while the luxurious hot tub is a great way to ease those tensions away and get into the holiday spirit. And when it comes to meal times, the al fresco dining area serves as a fabulous entertaining space – with plenty of comfortable outdoor furniture to spread out. If that wasn't enough, the purpose built BBQ means you don't even have to step foot inside, so you can make the most of those warm Lanzarotean evenings.
With Faro Park, local supermarkets and the seafront promenade just minutes away on foot, you don't have to venture far to get out and about. And if you plan on renting a car during your stay, the centre of Playa Blanca lies just 5km away to the East.
Flat screen TV with some UK channels and Netflix, Xbox, access to open plan kitchen, doors to pool terrace.

Microwave, oven, hob, dishwasher, fridge/freezer, washing machine, popcorn maker

Double bed, double wardrobes, flat screen TV with some terrestrial channels, Xbox, ensuite bathroom

Shower over bath, WC and washbasin

Twin beds, double wardrobes, shares family bathroom

Double bed, double wardrobes, shares family bathroom

With shower over bath, WC and washbasin
Amazing stay in an Optima Villas property

Darryl, February 2020

"We had an amazing stay in an Optima Villas property. This was the second time that we had used the company in Lanzarote and they provided outstanding service. On both occasions we needed to contact them for some support and they responded very quickly and were able to get someone to the property within an hour. All of the staff were very helpful and keen to resolve our issues. Highly recommended."
Very well equipped and appointed

Karen, November 2019

"Lovely 3 bedroomed villa close to Faro Park parade of shops and restaurants. Very well equipped and appointed with plenty of outside space – especially good for families with young children as there is a large area of artificial grass. We had a problem getting the TV system to work, but we contacted Optima and a very kind gentleman came out immediately to help us – excellent customer service.. Would have no hesitation in recommending Optima Villas or Casa Beluka. We will be booking again soon for next year! "
Best place we've ever been

Posted to Tripadvisor, October 2018

"This is the best place we've ever been, and we have been in lots in playa Blanca. Very very clean with all the aminaties you need and more. The out side space makes the holiday for us as, we spend all are time outside but if you venture in there are lots of large TVs with all the channels and WiFi lots of space for a large family. We are 6 ladies of a certain age but WILL certainly as Arnold Schwarzenegger's said BE BACK 😁. "
Additional Information
A 20% deposit is required to secure your booking with the balance payable 90 days before your arrival. Reservations under 90 days from the date of arrival must be paid in full.
We accept card payments and there is no commission for payments on credit card. You will be contacted by email shortly after your reservation regarding payment options.
Prices shown in the price guide are for the villa itself regardless of the number of guests, they are subject to change with individual circumstances – to obtain a total price, please use the calendar to select your arrival and departure dates.
An infant is classed as a child using a cot.

04 April 2020 – 19 April 2020
£185.00
20 April 2020 – 22 May 2020
£160.00
23 May 2020 – 31 May 2020
£185.00
01 June 2020 – 30 June 2020
£160.00
01 July 2020 – 17 July 2020
£185.00
18 July 2020 – 16 August 2020
£240.00
17 August 2020 – 30 August 2020
£185.00
31 August 2020 – 16 October 2020
£185.00
17 October 2020 – 01 November 2020
£240.00
02 November 2020 – 18 December 2020
£160.00
19 December 2020 – 25 December 2020
£300.00
26 December 2020 – 03 January 2021
£300.00
04 January 2021 – 05 February 2021
£160.00
06 February 2021 – 28 February 2021
£185.00
01 March 2021 – 26 March 2021
£160.00
27 March 2021 – 11 April 2021
£240.00
12 April 2021 – 30 April 2021
£160.00
01 May 2021 – 09 May 2021
£185.00
10 May 2021 – 21 May 2021
£160.00
22 May 2021 – 30 May 2021
£185.00
31 May 2021 – 30 June 2021
£160.00
01 July 2021 – 16 July 2021
£185.00
17 July 2021 – 05 September 2021
£300.00
06 September 2021 – 15 October 2021
£185.00
16 October 2021 – 31 October 2021
£240.00
01 November 2021 – 17 December 2021
£160.00
18 December 2021 – 09 January 2022
£300.00